Although I have never cooked kale before, I bought a bunch because it was on a sale. To be honest, I had no idea what I was going to do with it. I knew it was similar to spinach, but cooks much crisper.
I had been sick for a while over the holiday vacation and was craving some soup. My sinus infection improved and I was more into cooking. A little soup is always welcome in the winter so I made some kale soup.
It's really just a simple recipe I put together as I wasn't up to making anything elaborate. The kale was delicious in the soup and I will definitely buy more of this vegetable fresh in the market.
Kale Soup with Sausage and Mushroom
Author:
Lisa | Low Carb Yum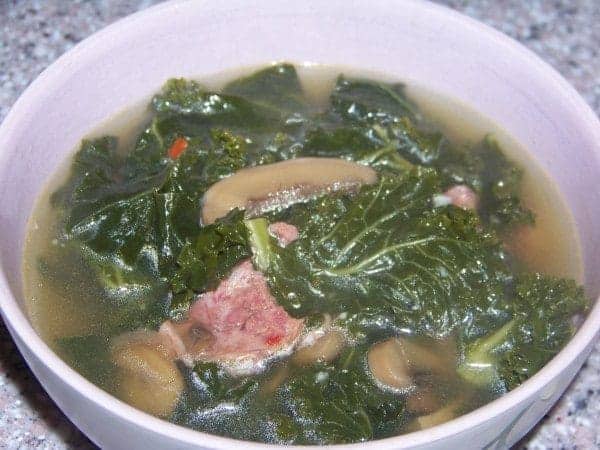 This low carb kale soup recipe is a simple blend of sausage, kale and mushrooms cooked in a chicken broth base. A delicious heartwarming meal or side dish.
Ingredients
2 cans chicken broth
1 bunch fresh kale, cut into bite sized pieces
4 links spicy sausage, cooked, casings removed and sliced
1 can sliced mushrooms, 6.5 oz
2 cloves garlic
Salt & Pepper
Instructions
Place both cans of chicken broth in large pot along with two cans worth of water. Bring to a boil over medium heat.
Add the kale, sausage, mushrooms and garlic. Season to taste with salt and pepper.
Simmer covered over low heat for about an hour.
Notes
Makes 6 servings

Net carbs per serving: 3g
Related Posts
FREE eBook!
​LOW CARB TIPS and TRICKS
Subscribe now to receive your free copy of Low Carb Tips and Tricks which includes 20 easy to prepare recipes. Plus, get access to the weekly newsletter and special offers only for subscribers!