I was browsing through Bruce Fife's coconut flour cookbook and decided to try a modified version of his low carb and gluten free pumpkin bread recipe. I've had really good results in the past making low carb pumpkin pie and pumpkin bread sweetening only with stevia. However, since erythritol gives sugar-free desserts a better taste I blended it in with the stevia. When using coconut flour for baked goods, the amount of eggs needed is typically 4 times the amount used for regular wheat flour. Surprisingly, though, breads and cakes made with coconut flour do not come out with any egg taste. Coconut flour really is a great substitute for wheat flour, especially for those on a gluten free diet. I highly recommend the cookbook Cooking with Coconut Flour: A Delicious Low-Carb, Gluten-Free Alternative to Wheat written by Bruce Fife, N.D. for those wanting a lower carb alternative to wheat flour. Although the recipes aren't written to be low carb, they can easily be converted using alternative ingredients.
This pumpkin bread turned out very moist. I used coconut oil because I think it is healthier than butter. I liked the nuts in it, but I'm sure they can be left out for those who don't like nuts in their bread. The bread wasn't overly sweet so a bit more erythritol and/or stevia could be added for those who want it sweeter.
Low Carb Gluten Free Pumpkin Bread
Author:
Lisa | Low Carb Yum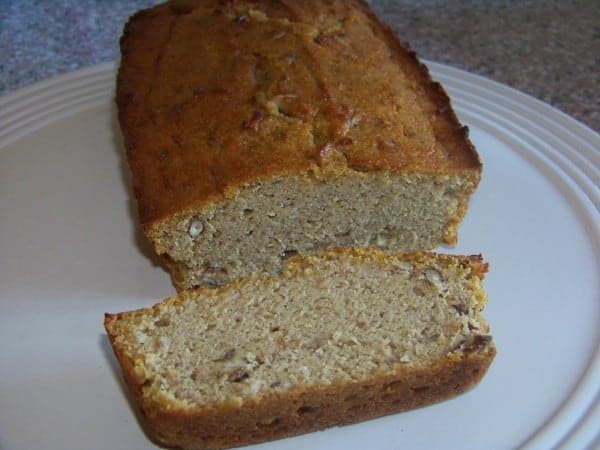 This low carb and gluten free pumpkin bread bakes up nicely using only coconut flour. It's sweetened with a sugar free blend of stevia and erythritol.
Instructions
Heat oven to 350F. Grease bottom only of loaf pan or use non-stick spray.
Mix erythritol, stevia, pumpkin, oil, vanilla and eggs in large bowl.
Mix remaining ingredients in separate bowl then stir into wet ingredients. Pour into prepared pan.
Bake 50 to 60 minutes or until toothpick inserted in center comes out clean. Cool 10 minutes.
Loosen sides of loaf from pan; remove from pan. Cool completely on wire rack before slicing.
Notes
Makes 1 loaf (about 16 slices)

Net carbs per slice: about 2g
Related Posts