A stevia sweetened dressing coats vegetables in this simple squash zucchini tomato salad. This is a great potluck dish to show off your summer garden crop.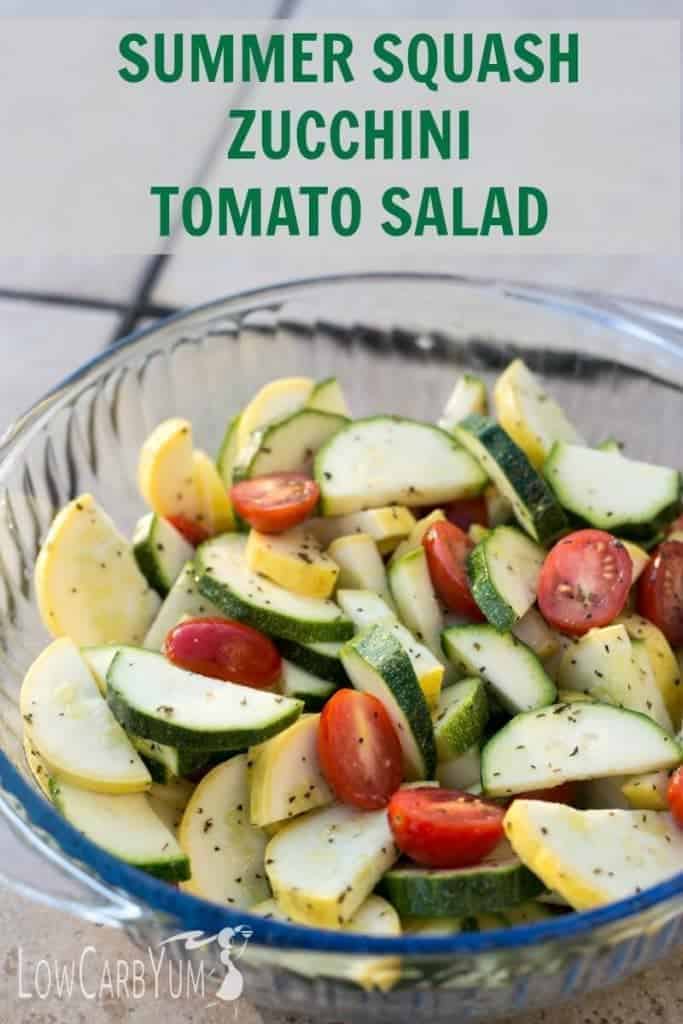 We've been getting a lot of summer vegetables from the garden. So, I thought I would try a squash zucchini tomato salad using fresh veggies from our garden.
I wasn't sure about using the squash and zucchini raw so I steamed them slightly. I wanted them to stay crisp, but have a bit more flavor. Steaming for a short period of time gives them a brighter color and helps the squash retain flavor while holding the texture.
In the past, I've always used squash as a cooked vegetable. But, I've seen it used in salads. This is the first time I've tried zucchini and summer squash in a salad. The squash zucchini tomato salad is really yummy. I'm not sure why I waited so long!
FREE eBook!
​LOW CARB TIPS and TRICKS
Subscribe now to receive your free copy of Low Carb Tips and Tricks which includes 20 easy to prepare recipes. Plus, get access to the weekly newsletter and special offers only for subscribers!
If you haven't used your summer squash and zucchini in a tossed salad, you really need to give it a try. It's a nice change from the regular cucumber and tomato salad that I've made in the past. In fact, I prefer this yellow squash zucchini tomato salad over the cucumber salad.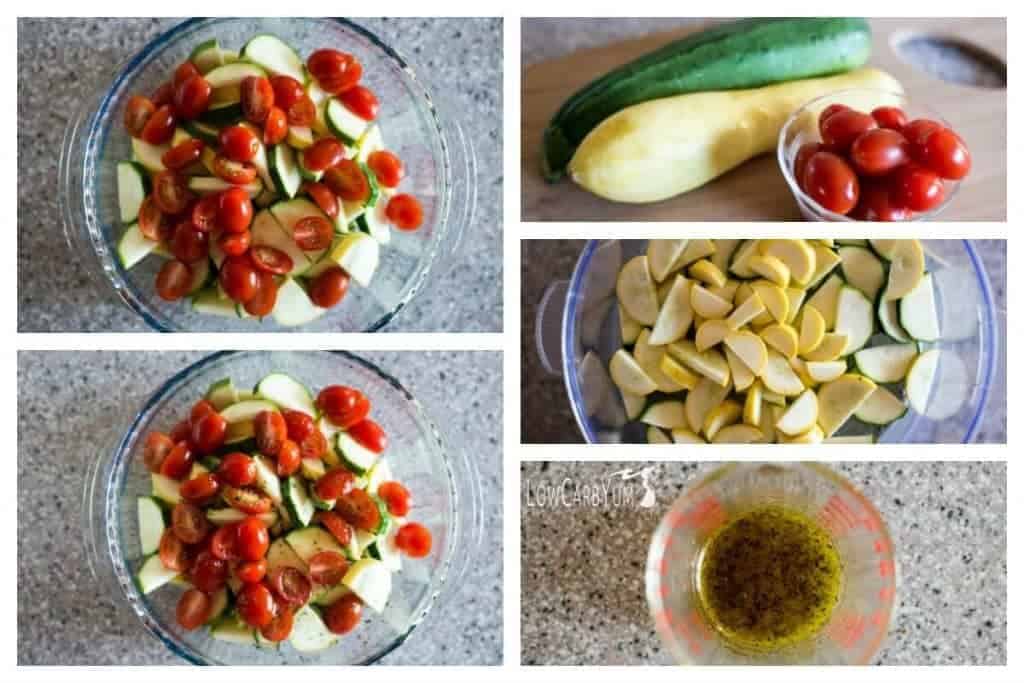 Although I do recommend steaming the squash and zucchini for a short period of time, the prep work for making the salad is super quick and easy. After steaming, you just combine the cooked veggies with the tomatoes and dressing.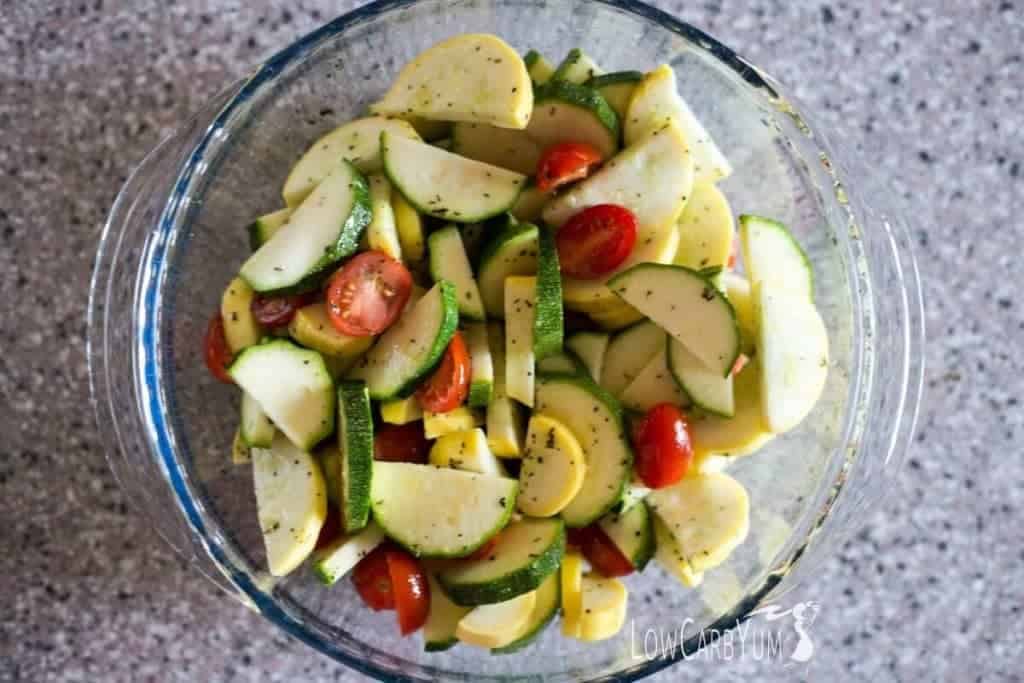 This is a great low carb dish to make for those outdoor potluck parties. You don't have to worry about it sitting outside in the sun like salads made with mayonnaise.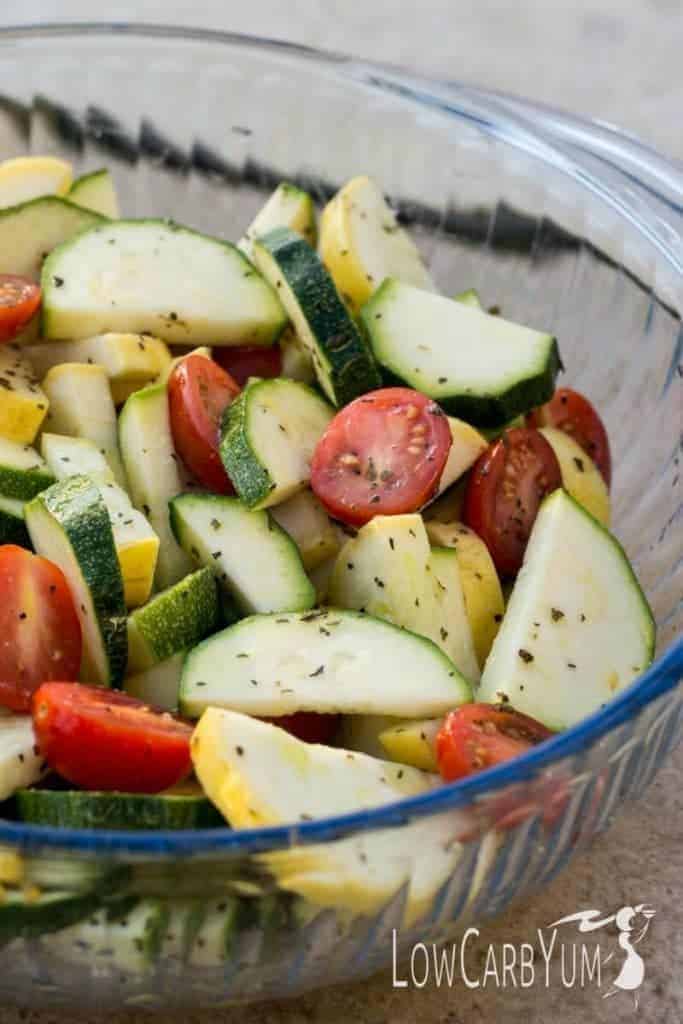 The dressing is really light. It's a blend of oil and vinegar with a bit of herbs and spices. I used olive oil and cider vinegar. You can change it up to suit your own preferences, though.
Since this salad is a great use for our garden vegetables, it's sure to be become a summer staple at our house. I'll be looking forward to making it every summer when the plants start producing.
We always have tons of mini tomatoes so this is going to be a nice way to use them up. With all the summer veggies in the house, I'll probably make another batch of this salad later this week.
What's your favorite way to use up summer squash, zucchini, and tomatoes from the garden? Do you use them to make fresh salads all summer long?
Yellow Summer Squash Zucchini Tomato Salad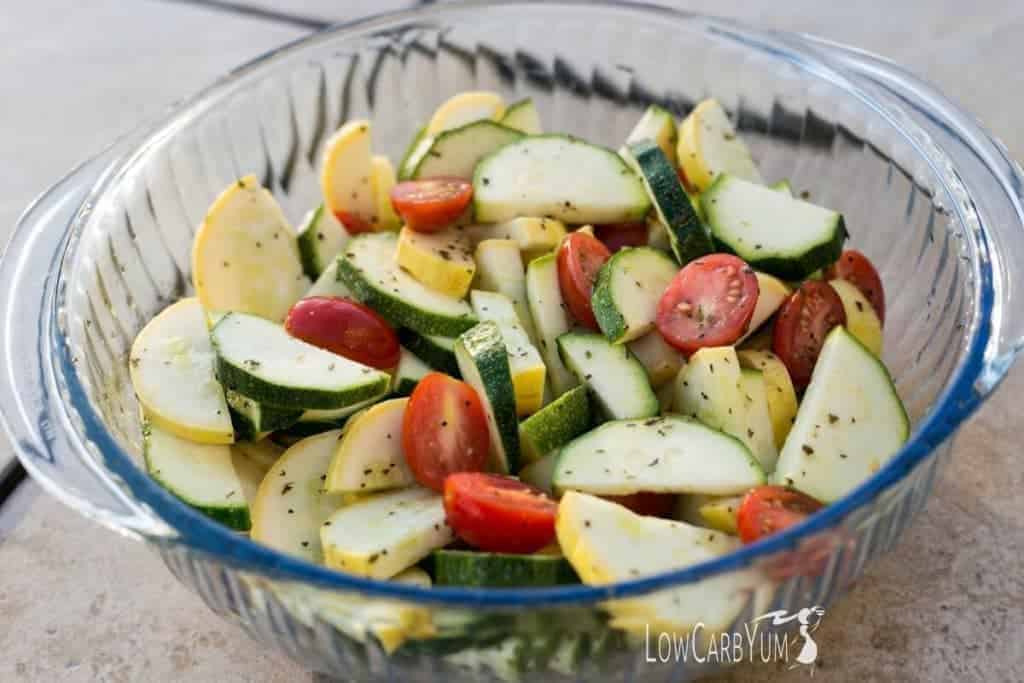 Summer Squash Zucchini Tomato Salad
Author:
Lisa | Low Carb Yum
A stevia sweetened dressing coats vegetables in this simple squash zucchini tomato salad. This is a great potluck dish to show off your summer garden crop.
Ingredients
1 large summer squash
1 large zucchini
1 cup cherry or grape tomatoes
3 Tablespoons olive oil
¼ cup cider vinegar
2 packets stevia or other sugar substitute
½ teaspoon dried basil
¼ teaspoon dried thyme
¼ teaspoon garlic powder
dash salt
dash pepper
Instructions
Slice squash and zucchini into half moons. Arrange in steamer over boiling water. Cover and steam for a minute, then place in cold water to stop cooking. Drain well. Cut tomatoes in half. Combine squash, zucchini and tomatoes in large bowl. Mix other ingredients in small bowl and pour over vegetables. Toss to coat. Can be served chilled or at room temperature.
Notes
Makes 8 servings

Carbs per serving: 3 g
Related Posts