Having a hard time finding low carb keto snacks? Why not give Keto Krate a try. Still not sure? Check out this review of the April 2016 Keto Krate box.
The April 2016 Keto Krate review is a little late. I didn't test out the products until last weekend. I've been doing an extended egg fast to slim down and get better control of my eating. So, I saved the treats until after I reached my goal weight.
I was very impressed with this month's selection of keto snacks. Every single item is fabulous! The guys at Keto Krate are really doing an awesome job putting these boxes together.
I'm a big fan of this low carb subscription service. I love it so much, I have two boxes delivered to my house every month. It helps me keep a good supply of delicious snacks at the office. There are times when I have to work late unexpectedly so it's great to have an emergency supply of low carb foods.
Like most people who eat low carb, I hope that one day it won't be so difficult to buy healthy foods to fit my lifestyle. The grocery stores are filled with processed foods full of sugar and other high carb ingredients. I skip most of the aisles in the grocery store. I shop mainly from the perimeter where the majority of whole fits are. This has really shortened the time I spend grocery shopping. But, I also don't buy many convenience foods.
The Keto Krate monthly shipments have really saved me. They provide a variety of easy foods for me to grab when I don't have a lot of time to make my own. Let's take a closer look at the items I received in the April 2016 Keto Krate Box.
April 2016 Keto Krate Box Opening
SeaBear Smoked Wild Alaskan Salmon Jerky
I was really excited to try the bag of SeaBear smoked salmon jerky. Salmon is a super healthy fish that I don't eat often enough. Having it in jerky form is a tasty way to eat it on the go without the need for refrigeration.
This bag of wild Alaskan smoked salmon jerky was my favorite item in the April 2016 Keto Krate box. This jerky is a little pricey and is available at SeaBear.com. There is a discount code included for 15% off which does help a little to stock up on more.
Thankfully, my husband doesn't care much for fish so the salmon jerky was all mine. I'm really craving some salmon after enjoying the jerky so I'll have to pick some up at the grocery store next visit. I might even have to get myself a cedar plank for cooking it on the grill. I may even have to try making my own salmon jerky when I get more time.
Raw Rev Peanut Butter and Sea Salt Bar
This is the second time I've seen a Raw Rev Peanut Butter and Sea Salt bar in my Keto Krate shipment. It's a very tasty protein bar that even the kids would love. I had to hide mine from my son who is always looking for protein to fuel his workouts.
I love the the soft chewy texture of this bar. It's really a delicious low carb keto treat that can help keep you going when you're out and getting hungry. I like to keep little snacks like this in my purse for emergencies. You have no idea how many times having a healthy treat stashed away has saved me.
The Raw Revolution company was founded by Alice Benedetto, a registered nurse and natural foods chef, back in 2004. Alice created the Raw Rev bars as a healthy snack that she would give her kids. I wish the vending machines at work had options like this in them rather than being loaded with junk food. Instead, I just have to buy my own and keep a good supply in my desk for those days that I have to work late unexpectedly.
You can find the Raw Rev bars at RawRev.com. A 15% discount code is included in the Keto Krate. You can also buy them on Amazon.com.
Rosemary & Sea Salt Pork Clouds
I always enjoy a good pork rind and I especially like the flavored ones. Pork Clouds are super light and airy. They are some of the best pork rinds I've ever eaten.
This is the second time I've seen Pork Clouds in the Keto Krate. A bag of Malabar Black Pepper flavor was included in the November 2015 box. I liked both flavors, but the Rosemary & Sea Salt ones were my favorite.
You can grab yourself some of these tasty pork rinds at BaconsHeir.com or order them right from Amazon.com. You'll find a great selection of flavors. Ordering from the Bacon's Heir site will save you 10% if you use the Keto Krate discount code.
Bacon's Heir also has another great product called Pork Dust. It's pre-crushed pork rinds that are ready to go in your favorite recipes! The ground pork rinds are a perfect replacement for bread crumbs and they are so convenient to use.
Ayoba-Yo Biltong
The highlight the monthly Keto Krate shipments is always the jerky. It was nice to see two varieties of jerky in the April 2016 Keto Krate box. Biltong is a South African style of beef snack.
The word ayoba is a slang word used in South Africa to express amazement or to refer to something that's great. The Ayoba-Yo Biltong jerky is certainly worthy of the great name! I could snack on this delicious jerky every day.
I liked the taste of this jerky. It has a tangy taste with just a touch of sweet. It's also cut into perfect bite size pieces. You can find out more about this traditional biltong at Ayoba-Yo.com. It's also available on Amazon.com. If you buy more at the Ayoba-Yo site, you'll save 15% with the included discount code.
Hi-Ball Grapefruit Sparkling Energy Water
I'm always up for trying a new low carb drink. The Hi-Ball Grapefruit Sparkling Energy Water was pretty refreshing. I loved the hint of grapefruit flavor and the fact that the ingredients are organic and fair trade sourced.
The energy boost comes from added caffeine, ginseng and guarana. All of which are from organic sources. There's also some B-vitamins in the mix as well as the natural grapefruit flavor.
Hi-Ball energy was created by Todd Berardi in 2005. He thought there needed to be an organic energy drink on the market for those looking for a healthy premium clean drink to help boost energy. He definitely did a fine job with the grapefruit flavor sparkling water.
You can find out more about the all natural healthy Hi-Ball energy drink at HiBaller.com. Hi-Ball energy water is also available on Amazon.com. It's a premium drink made with high quality ingredients and I certainly would love more to help keep me going during the day.
Chocoperfection European Dark Chocolate
A yummy dark chocolate Chocoperfection bar was included in the April 2016 Keto Krate box. I've been a fan of this chocolate for many years. I still remember when they sold chocolate chips. I was so disappointed when they discontinued them! However, I've found that the bars can be cut up in chunks and used as chips.
For me, Chocoperfection is the Godiva of low carb chocolate. It's so smooth and rich. These are the candy bars I reserve as special treats for myself. No other low carb candy really compares. I just wish they were a little cheaper.
The April 2016 Keto Krate Box included a sweet 20% off discount code for more Chocoperfection bars from the ChocoPerfection.com site. If I order soon, I won't have to worry about them melting in transit. You can also grab these delicious bars off Amazon.com.
Hilary's Eat Well Ranch Chia Dressing
Last, but certainly not least, is a full size bottle of Hilary's Eat Well Ranch Chia Dressing. This is an excellent choice for a low carb keto salad dressing that doesn't contain any nasty ingredients. It's also dairy-free!
I think the only way you'd get a better dressing is if you made it fresh yourself. But, who has time for that? I know I don't always have the time to make my own salad dressing. It's nice to finally have a healthy low carb bottled dressing that's tasty and convenient. I really loved the flavor of this ranch dressing. I'll be enjoying it to make quick and easy salads after work. I also love that they added chia to it which boosts up the nutrition.
I'm really excited to find this salad dressing. I eat a lot of salads in the warmer weather so this bottle arrived at the perfect time. I'm also going to try it at a veggie dip. I might even use it for dipping my coconut flour chicken tenders. You can find out all about this dressing at HilarysEatWell.com and see some of the other dressing flavors offered. Hilary's Eat Well dressing is also available on Amazon.com.
Conclusion
After reviewing the April 2016 Keto Krate box items, you may wonder if it's worth the price. I believe Keto Krate is a great value for what you get. I will be continuing my subscription as I haven't been disappointed with any monthly shipment yet. Want to see some of the other products that have been included in the monthly Keto Krate shipments? Below are links to my last three Keto Krate reviews.
Click here to see my review of the December 2015 box.
Click here to see my review of the February 2016 box.
Click here to see my review of the March 2016 box.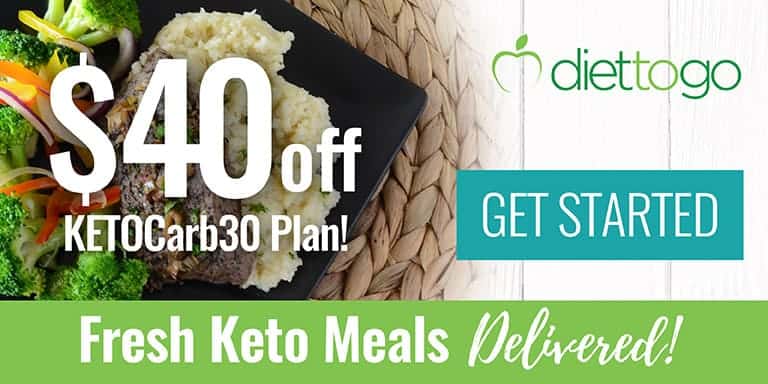 Are you ready to join the keto snack club? Click on the image below to subscribe to Keto Krate!