Keto Krate is a popular low carb subscription box that delivers keto snacks to your door. Check out the items that were featured in the April 2017 box.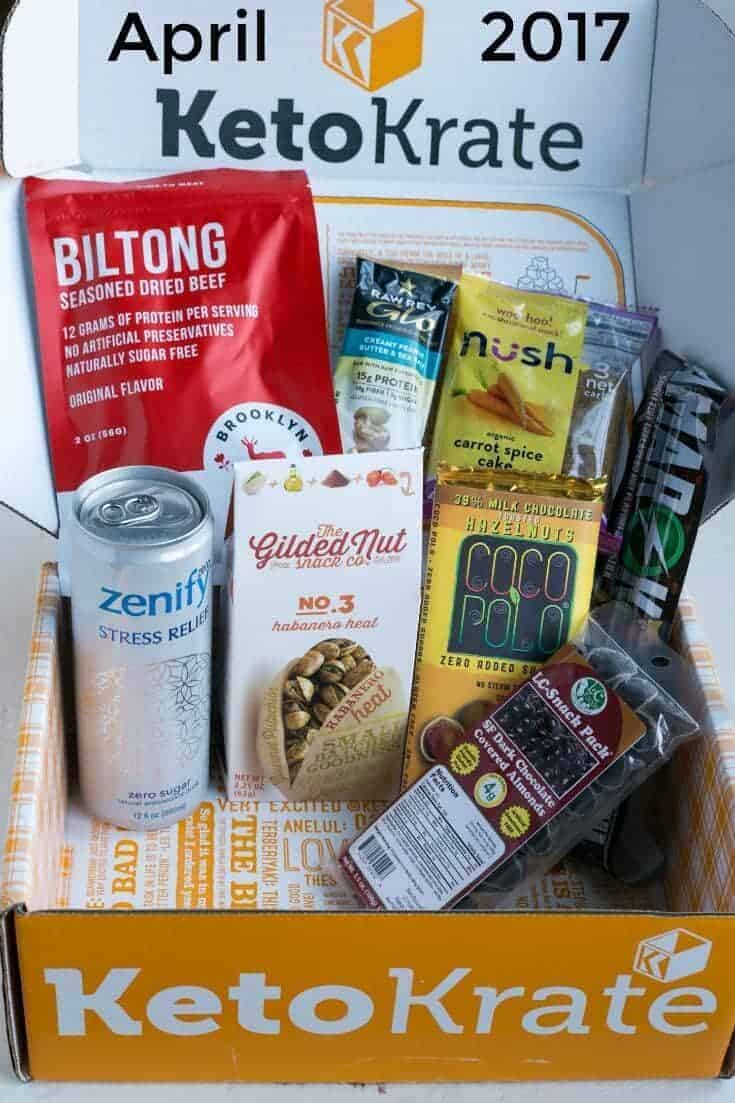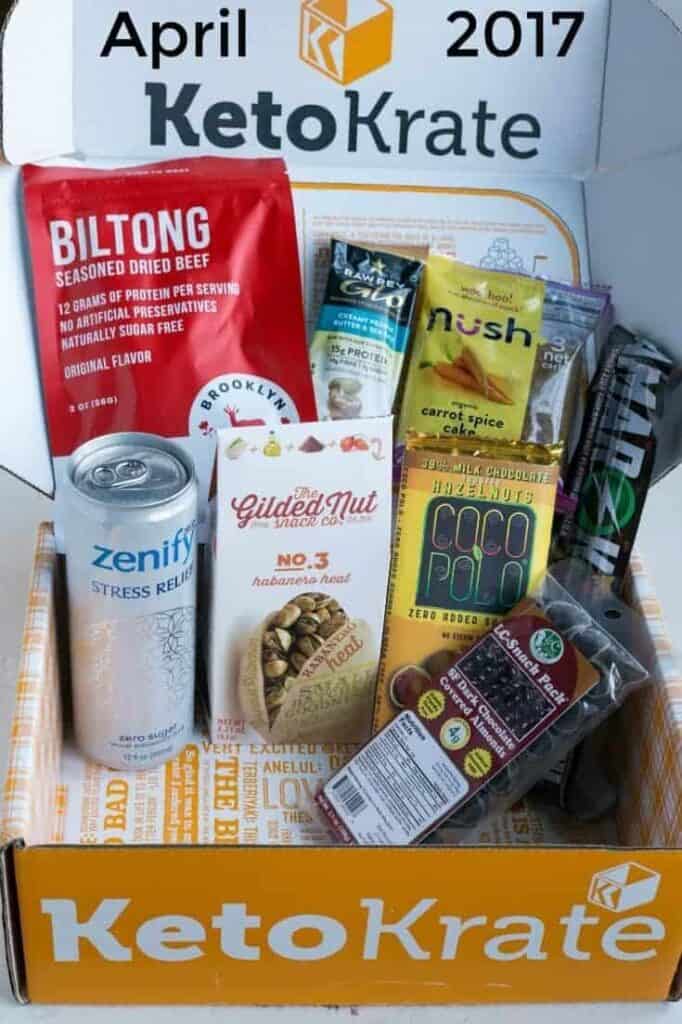 Disclaimer: The Keto Krate was provided free of charge for an honest review. But all opinions are my own.
I've been doing extra hours at work so I was going to skip my monthly Keto Krate review this month. Boy am I glad I didn't!
The April 2017 shipment turned out to be amazing. I loved every single item. In fact, I'll be doing a review of the featured item next week.
If you are considering signing up for a low carb subscription box, I highly recommend Keto Krate. The guys running the company are in tune with customers and keep improving the service based on feedback.
Just take a look at what was included in this month's delivery. Who wouldn't want this box to arrive at their doorstep each month?
Nush Carrot Spice Cake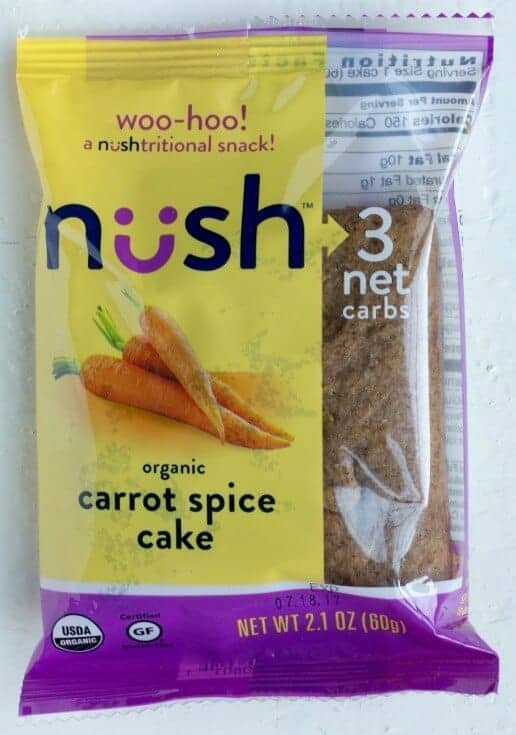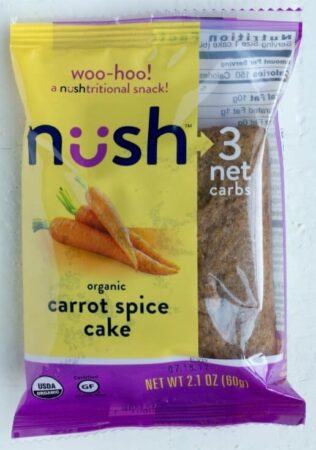 The Nush low carb snack cake arrived at the perfect time. A few days before Easter. The only thing it was missing was the cream cheese frosting.
I actually got a sneak peak at the Nush cakes before they made a featured debut in the Keto Krate low carb subscription box. I'll be providing more detailed review on these individual snack cakes next week.
The cake is a good sized portion that will only set you back 3 grams of net carbs. The texture is good, but you do get a crunch from the erythritol sweetener in them.
If you'd like to learn more about them now, simply head on over to the Nush Foods website. They are great portable treats to keep in your work desk when you want something a little sweet. Did I mention Keto Krate subscribers get 20% off?
Superpower Nutrition Grass Fed Beef Sticks

The meat products are my favorite item in the monthly Keto Krate low carb subscription box. I couldn't wait to sink my teeth into the long grass-fed beef sticks in this month's shipment.
I'm glad I grabbed the package before my husband saw it. These are much better than the meat sticks in the vending machine at work. So soft and fresh.
Although it's labeled as a jalapeno hot flavor, I didn't find the beef sticks to be overly spicy. And, they actually had a hint of sweetness.
Raw Rev Creamy Peanut Butter & Sea Salt Bar


The Raw Rev Glo bars have been featured a few times before in the Keto Krate low carb subscription box. And, they have a wonderful soft texture from the prebiotic fiber used.
There are 14 grams of fiber in the bar which makes the net carbs only 3 grams. I also love that they are gluten-free and non GMO.
I find these bars a great snack to take on the road. They are a great source of plant based protein as well.
Learn more about Raw Rev bars at RawRev.com. You can also buy them on Amazon where they come with free 2 day Prime shipping or subscription savings.
Brooklyn Biltong Original Seasoned Dried Beef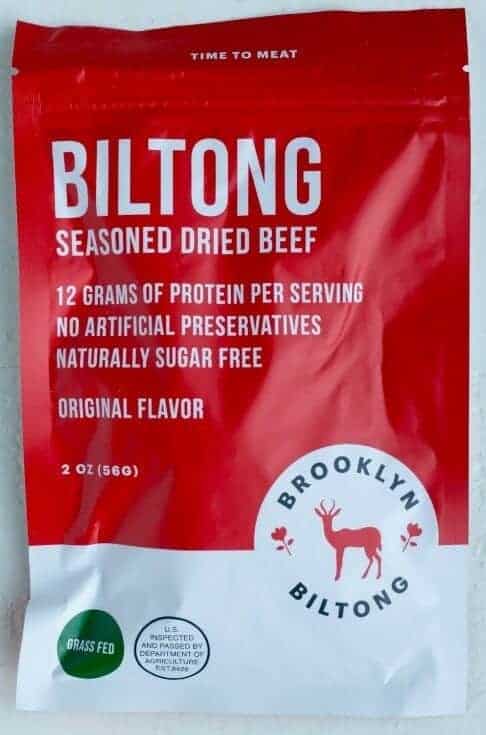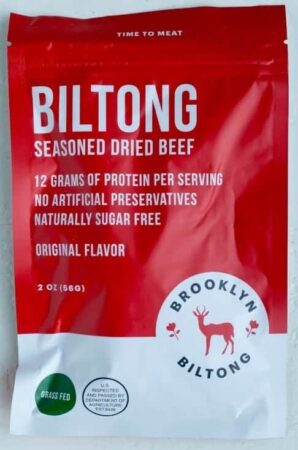 The Keto Krate low carb subscription box is responsible for introducing me to biltong. I had never even heard of this South African dried meat before.
This amazing dried beef is now one of my favorites. And, I love that it tastes great without any added sugar. When it comes to keto snacks, it's hard to beat this zero carb treat.
What makes biltong different from beef jerky is how it's made. Jerky is dried using heat whereas biltong is dried with air. This makes biltong easier to chew and it doesn't have that hard plastic texture.
Brooklyn Biltong knows their stuff when it comes to drying meat in the traditional South African way. You'll want to stock up on this grass fed dried beef. Thankfully, there's a 10% off discount included in the box.
Coco Polo Toasted Hazelnuts Milk Chocolate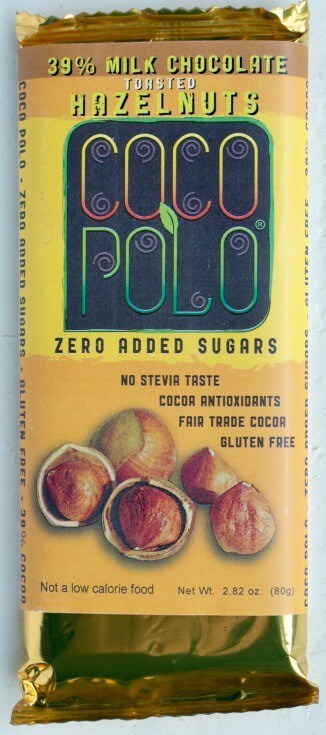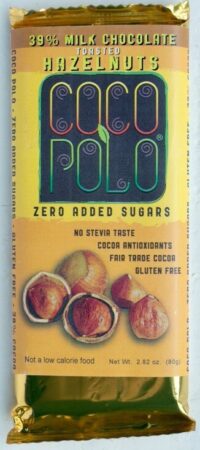 I love chocolate mixed with nuts. And, hazelnuts are one of the best to put into a candy bar. It doesn't get much better than a Coco Polo Milk Chocolate bar with toasted hazelnuts.
This delicious chocolate bar has zero added sugars. It's sweetened with a blend of erythritol, inulin (chicory root), and stevia which gives it a yummy sweetness that's very close to sugar.
Each bar has two good sized servings which will set you back 4 net grams of carbs. With the weather getting hot, I doubt we'll see another chocolate bar in the monthly low carb subscription box so I savored every bite.
There is a nice discount code for 20% off at the Coco Polo website with no expiration date. So, I'll be sure to grab a few more bars. You can also find this yummy low carb chocolate at Amazon.
The Gilded Nut Habanero Heat Pistachios – Retail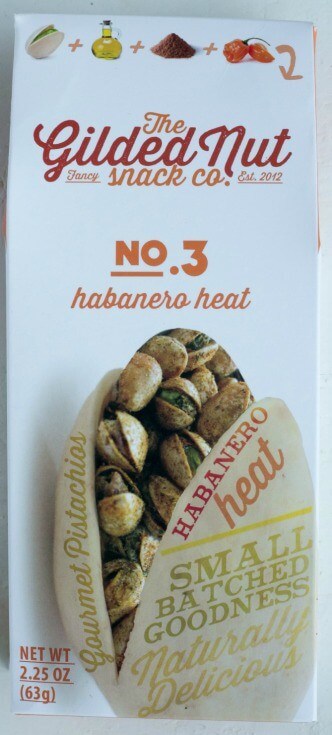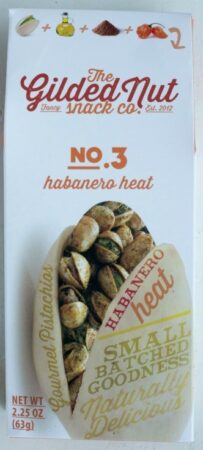 Plain nuts are okay, but seasoned ones really kick up that flavor. The Habanero Heat gourmet pistachios from The Gilded Nut really hit the spot at work.
I'm a fan of spice so I really liked the spiciness of these pistachios. As the name implies, they did have a nice bite of heat which was just right.
I don't eat a lot of pistachios because the carb count is a little higher than other nuts. But, you do need to splurge every once in a while. And my husband really likes them, although he isn't into the spicy flavors.
There's a 20% off discount code included in the Keto Krate low carb subscription box. It's a pretty good deal to use at the Gilded Nut site. You can also find these gourmet pistachios on Amazon.
LC Foods Sugar Free Dark Chocolate Covered Almonds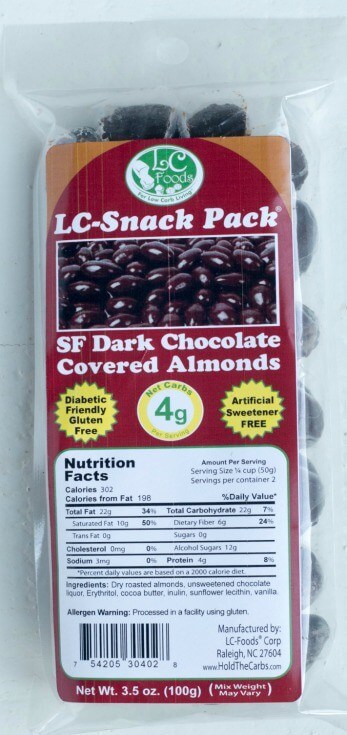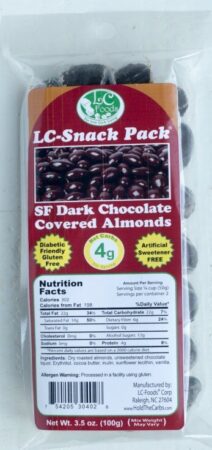 I've been wanting to try the LC Foods chocolate covered almonds. So, I was thrilled to see a pack of them in this month's Keto Krate.
The chocolate coating surrounding each almond is pretty thick. And it's a smooth dark chocolate that has a perfect amount of sweetness.
I enjoyed every bite of this one. I'm not sure why I waited so long to try these. I'm a regular visitor at LC Foods and I've had my eye on these for a while.
So head on over to holdthecarbs.com to check out their great selection of snack packs. You can also find these sugar free dark chocolate covered almonds at Amazon.
Zenify Drinks Zero Sugar Stress Relief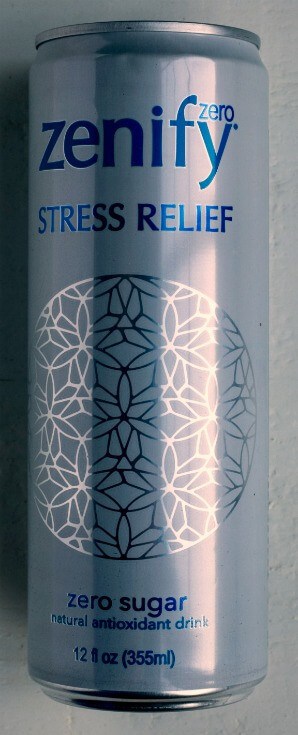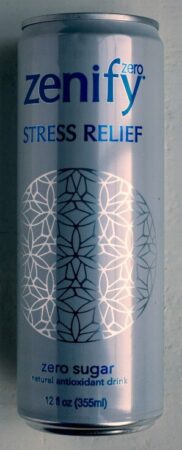 The Zenify zero sugar stress relief is a wonderful drink that's loaded with vitamins to support serotonin and dopamine. These nutrients help reduce stress without causing drowsiness.
Zenify is a natural antioxidant drink that provides a large dose of vitamin C along with B vitamins to help keep you balanced. I enjoyed the fizzy citrus flavor. And, the sweetness was just right.
There's only 10 calories per one can serving. The drink is naturally sweetened with a delicious blend of erythritol, stevia, and monk fruit. And, you get 350 mg of L-Theanine which is the active antioxidant in green tea.
You can find out more about Zenify at ZenifyDrinks.com. Or, log on to Amazon.com and check out the reviews.
Keto Krate Low Carb Subscription Box Review
This month's low carb goodie box is one of the best I've ever received! The retail value of all the items is more that the cost of the monthly Keto Krate subscription minus shipping costs.
The thing that I love about the low carb subscription box is the convenience. Plus, I'm sampling a variety of products each month that I wouldn't otherwise know existed.
Want to see some of the previous Keto Krate shipments? You can find links to my last three Keto Krate reviews below:
The January 2017 box review is available here.
The February 2017 box review is available here.
The March 2017 box review is available here.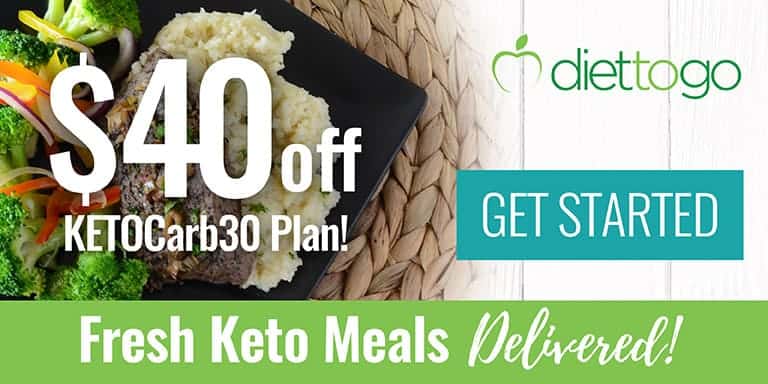 Want to sign up for this fantastic low carb keto goodie box? Just head over to Keto Krate to subscribe!