The Dark Chocolate Sea Salt Caramel Atkins Harvest Trail Bars are a convenient and portable snack. They're a nutty mix of peanuts, almonds and walnuts with just the right amount of sweetness.
This is a sponsored conversation written by me on behalf of Atkins. The opinions and text are all mine.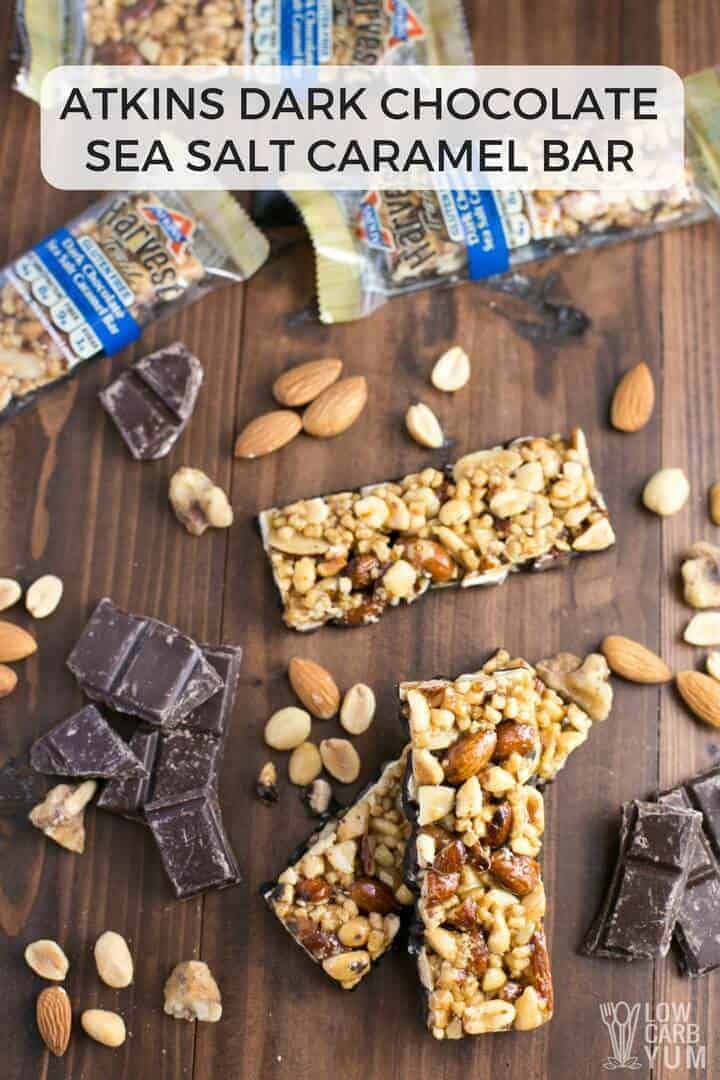 I've been doing a lot of traveling lately and I often find it difficult to find low carb snacks on the road. Thankfully, Atkins has some great products that are available in many local stores.
Although I try to pack homemade foods, I don't always have the space to bring them on a trip. So, I usually head to a local grocery store once I arrive to grab low carb foods and snacks.
The Atkins Harvest Trail Bars are a favorite when it comes to commercially prepared snack bars. I like them because they're made with simpler ingredients and contain no sugar alcohol.
And, it's tough to bake your own low carb bars when away from home. So I love the convenience that the Atkins bars provide for those watching carbs.
The macros in the Dark Chocolate Sea Salt Caramel Bars are a perfect fit for the low carb lifestyle. There's only 4 grams of net carbs with 8 grams of protein, 9 grams of fiber, and only 1 gram of sugar.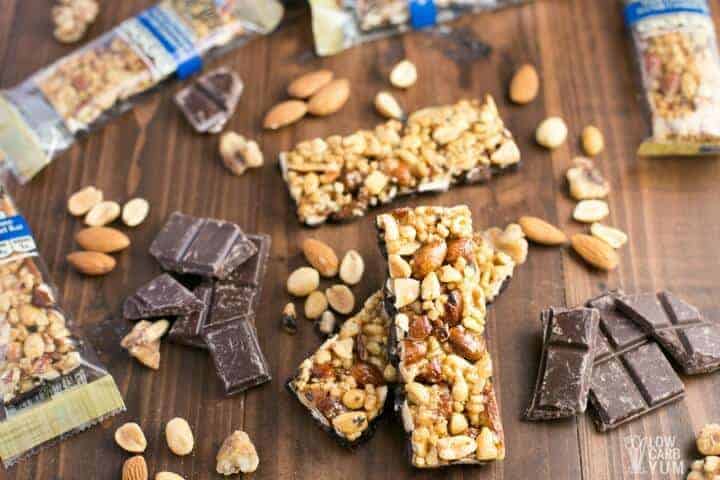 Speaking of sugar, Atkins has a new mini site on the hidden sugar effect of high carb foods. It's part of their campaign to get the word out on how too much sugar and carbs causes weight gain and health issues.
One of the interesting points made is that an average bagel has the equivalent blood sugar impact of 8 teaspoons of sugar. This is roughly seven times the amount of sugar than an Atkins Dark Chocolate Sea Salt Caramel Bar.
Even though the bagel is a savory food, you're better off eating a low carb Atkins bar. The reason is because the bagel has a much larger impact on blood sugar.
That's why I don't think twice about satisfying hunger with one of the delicious Atkins Harvest Trail Bars. And personally, I think the Dark Chocolate Sea Salt Caramel Bar tastes way better than a bagel.
Roasted almonds and peanuts are the primary ingredients in these bars. Dark chocolate, sea salt, and caramel are added for a sweet and salty taste.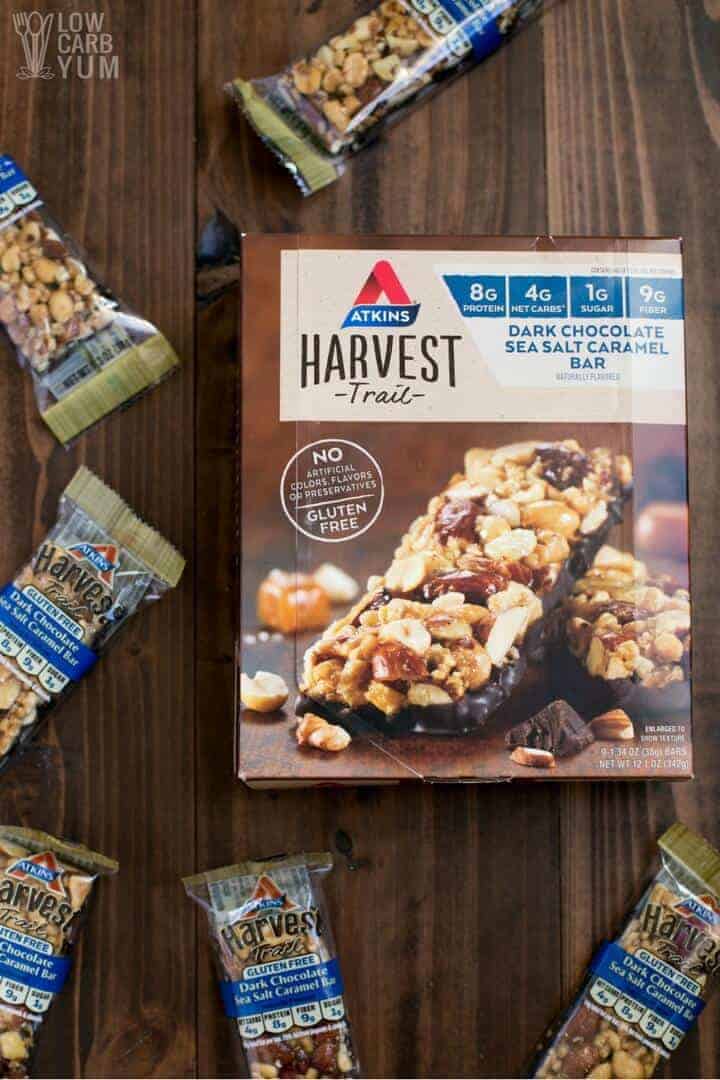 As of this writing, the gluten free Atkins Harvest Trail bars come in five amazing flavors: Blueberry Vanilla & Almond, Coconut Almond Bar, Dark Chocolate Sea Salt Caramel, Dark Chocolate Cherry & Nuts, and Dark Chocolate Peanut Butter.
The Dark Chocolate Sea Salt Caramel and Dark Chocolate Peanut Butter Bars are my favorite flavors because they have the lowest net carb count which is only 4 grams. But, I really like the Coconut Almond Bar for a special treat.
One of the things I like to do with these nutty Atkins bars is to chop them up and add them to my homemade coconut yogurt. It's a tasty way to start the morning and requires little prep time.
To make breakfast even easier, I like to pre-chop the bars and store them in a sealed container. That way, I just have to grab a serving of yogurt and a handful of the chopped Dark Chocolate Sea Salt Caramel bars for a quick meal.
You can also enjoy it with high fat, lower carb Greek style yogurts.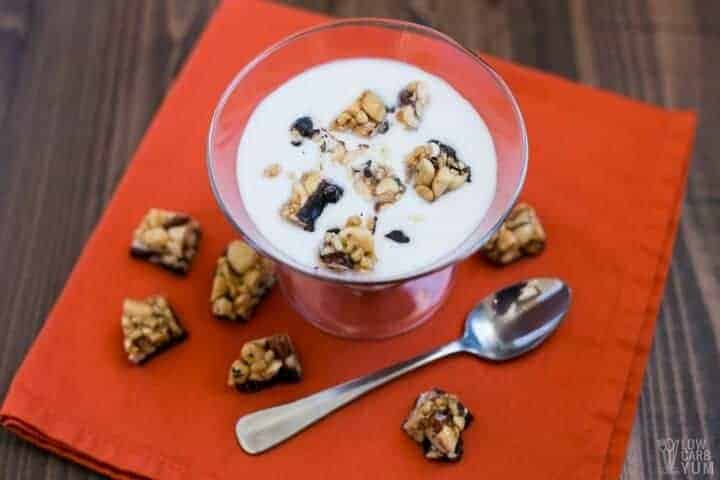 Find out more about Atkins Harvest Trail Bars
You can find out more about the Atkins Harvest Trail Bars on the Atkins website. The product can be purchased direct on the site or use the store locator to see where they are available locally.
Every one of the trail bars has 8 grams of protein and 7 grams or less of net carbs. And, there are no artificial colors, preservatives, flavors, or sugar alcohols in these lightly sweetened bars.
I think they are a great snack option while traveling or for busy times at home. They can also be used as a topping for low carb yogurt and ice cream when cut into bite sized pieces.