Want low carb keto-friendly snacks delivered to your door each month? Come see the products featured in the August 2016 Keto Krate subscription!
It's time for the monthly Keto Krate Review! Are you as excited as I am about this wonderful low carb subscription service?
I love the beginning of each month. Why? It's because I can expect my Keto Krate deliveries any day. When they finally do arrive, I always feel like a kid at Christmas opening my gifts.
The August 2016 Keto Krate delivery did not disappoint! There were 7 awesome products jam packed into the small box. So many goodies!
I think my husband was a little upset because there wasn't any traditional style jerky in the box. Instead, there was a package of shredded machaca jerky along with a yummy recipe for using it in a keto-friendly Mexican breakfast scramble.
Included in the box were some old favorites and a few new items to try. I can honestly say that I loved every product, although there is one item that isn't gluten-free. However, it's a product that used to be a regular for me when I got started with low carb eating.
August 2016 Keto Krate Review Video
Let's take a closer look at each product in the box!
Primal Kitchen Greek Vinaigrette
Primal Kitchen products have all been amazing so I was excited to try the Greek vinaigrette dressing included in the August 2016 Keto Krate. In fact, I cracked open the bottle the same day!
I had no idea that the Primal Kitchen brand was founded my Mark Sisson of MarksDailyApple.com. Did you? Anyway, it's a great place to go for information about a Paleo and Keto diet.
This tasty vinaigrette dressing is perfect for any salad. It's also great to use as a marinade. I eat lots of salad, and I love that this vinaigrette has negligible carbs. It's Whole30 approved and absolutely delicious!
I'm thinking I may need to stock up on this delicious dressing. The Keto Krate included a coupon as well as a 10% discount code to use at PrimalKitchen.com. I haven't seen the Primal Kitchen brand sold in any of my local grocery stores, so I may have to take a drive to some shops near the bigger cities. But, ordering online from Amazon is always an option.
People's Choice Machaca Jerky
The jerky included in this month's Keto Krate is a finely shredded Machaca jerky. It's perfect for mixing into your favorite low carb dishes.
I went ahead and tried the recipe for Mexican scrambled eggs that was included with the jerky. Along with the shredded jerky, you add onion, tomatoes, jalapeno, cheddar cheese and avocado into the eggs. It was super yummy!
The jerky is made with 100% USA beef and has zero sugar and carbs. There's also no additives, preservatives, MSG, or gluten. It's a terrific ingredient to add into a paleo keto diet.
Keto Krate subscribers were given a 15% off discount code to use at PeoplesChoiceBeefJerky.com for more. It's a pretty good jerky at a reasonable price so I'll probably be buying more. You can also find this shredded jerky on Amazon.
Good Dee's Chocolate Brownies Mix
Baking mixes are a favorite of mine. I just wish there were more low carb options. When will the mainstream companies realize that we want these in regular supermarkets?
If you are craving some fudgy low carb brownies that are fool-proof, you'll love the Good Dee's brownie mix. This amazing low carb mix is gluten-free and each serving has only 1g net carb.
Prefer cake-like brownies instead? No problem! With this mix, there's an option to make either fudge-like brownies or cake-like ones. I, of course, chose to make the fudgy ones. And, they were so good! I had a hard time eating just a single serving.
There's a 20% off coupon included in the August 2016 Keto Krate to use at Good-Dees.MyShopify.com for more. I was happy to see that this delicious low carb brownie mix is also available on Amazon Prime. So, be sure to check this one out!
Protings Protein Chips
I was glad to see a repeat of the Protings Protein Chips in the August 2016 Keto Krate box. These yummy low carb chips were also included in the March shipment.
These chips really satisfy the need for something salty and crispy. The Zesty Nacho flavor is my favorite, but the Toasted Sea Salt flavor is a good chip to use for dipping.
I love that these low carb chips really fill me up between meals. So, they are a great snack to have available at work. There's a 15% off discount code included so I may have to stock up at Protings.com for more! You can also grab some of these chips on Amazon Prime.
B-Up Peanut Butter & Jelly Protein Bar
Have you tried the B-Up protein bars? This was my first introduction to them. There's only 2 grams of sugar in each tasty bar. One of the sweeteners used is Isomalto-oligosaccharide (aka IMO), a prebiotic vegetable fiber.
I thought the bar was pretty tasty. It's more of a treat for me than a wholesome snack. But, certainly something that you can have every once in a while.
There's a discount code available to use at YupBrands.com for those wanting more. There's also a few flavors that you can purchase on Amazon Prime.
La Tortilla Factory Low Carb Tortillas
Although there are a lot of recipes for low carb tortillas, I still have not made my own. When I first moved to this way of eating, the tortillas made by La Torilla Factory were my favorite. Since they aren't gluten-free, I haven't bought them in years.
I'll probably share these tortillas with my family. My older daughter loves quesadillas and I used to make them for her with this brand of tortillas. She never knew that they were low carb. Pretty sneaky, huh?
I also used to make my Mexican chicken lasagna recipe with these tortillas. I may have to drag that recipe out of the archives and make it again!
No discount coupon was included. But, it's pretty economical to buy a five pack of these off Amazon.
Conclusion
What did you think of the products featured in the August 2016 Keto Krate box? Are they worth the price of the subscription?
I think Keto Krate is a great value for the convenience of having low carb products automatically delivered each month. My subscription will continue.
Want to see some of the other products that have been included in the monthly Keto Krate shipments? Below are links to my last three Keto Krate reviews.
Click here to see my review of the May 2016 box.
Click here to see my review of the June 2016 box.
Click here to see my review of the July 2016 box.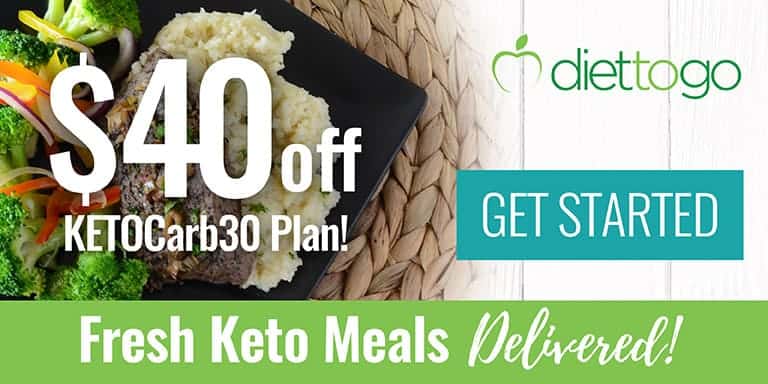 Are you ready to join the keto snack club? Just head over to Keto Krate to subscribe!