For those looking for the best loose leaf tea brands, check out Plum Deluxe. Their premium teas are made with organic fair trade ingredients.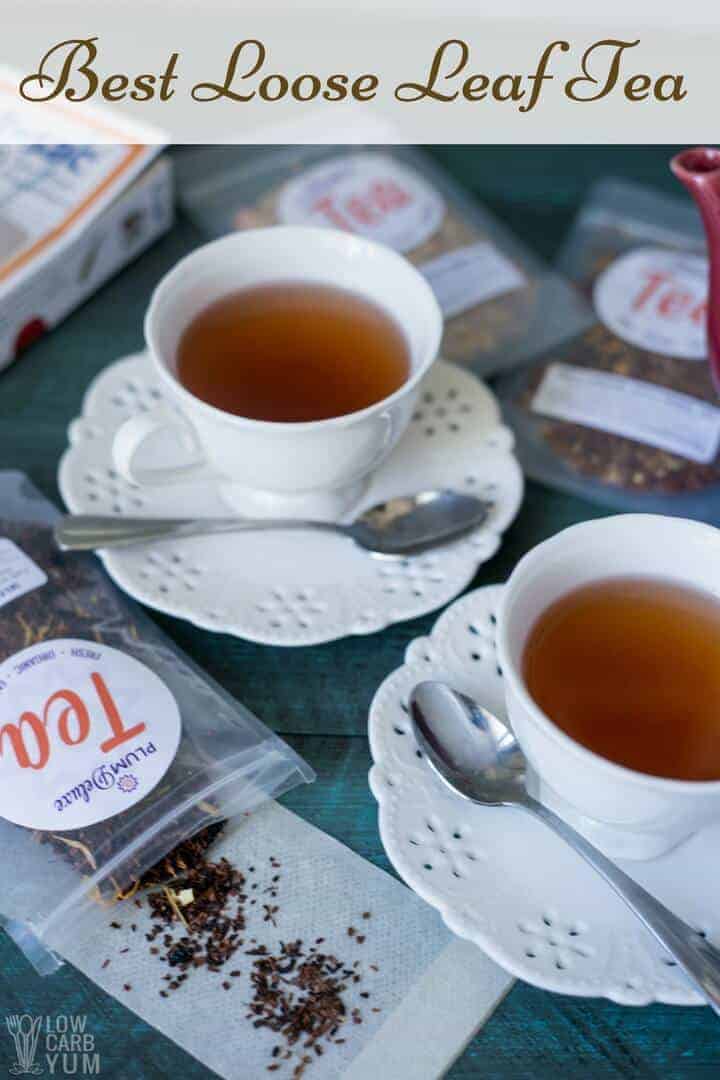 This post may contain affiliate links. As an Amazon Associate I earn from qualifying purchases. See Disclosure

Get Recipes Delivered Weekly
Join my email list and you'll receive a free meal plan with 20 keto recipes. Plus, you can opt-in for special offers only for subscribers!
Following the AIP paleo diet over the last couple weeks has been tough, but I prepared myself for it. The week before, I started cut back on coffee and sweets. And, I began eating more whole foods.
One of the things I thought I was going to have a rough time with is giving up coffee. However, it wasn't that bad. This is the third time that I've eliminated coffee. Hopefully, it will stick this time.
To replace my coffee habit, I began searching for the best loose leaf tea brands. The company that stood out the most was Plum Deluxe.
It's a small tea company that is family owned and operated. And, they hand blend all the teas in their studio in Portland, Oregon.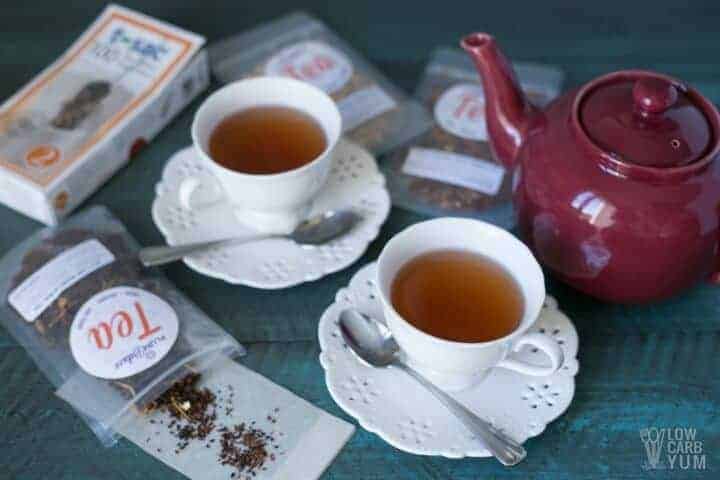 I started off by sampling three teas: Rejuvenation Herbal (Lemon/Ginger), The Self Care Blend, and a limited edition Spicy Caramel Apple Cinnamon Herbal Tea. All of the flavors tasted so fresh!
Plum Deluxe blends each in the studio before shipping out to the customer. You can really taste the difference in freshness when compared to regular tea bags. Because of this wonderful tea, quitting coffee was a breeze for me.
Plum Deluxe is certainly one of the best loose leaf tea brands arounds. I plan to keep my home stocked with their herbal caffeine free blends. I'm already shopping for my next order.
My favorite so far is The Self Care blend which contains Honeybush Tea, Elderberries, Apricots, Apple Pieces, Calendula, and Natural Apricot Essence. I love the fruity flavor blended with the sweet honeybush herb.
Since rooibos is a great alternative to coffee, I'll be ordering the Soul Warmer Herbal Tea in my next purchase. It sounds like such a great flavor to warm up during the fall and winter.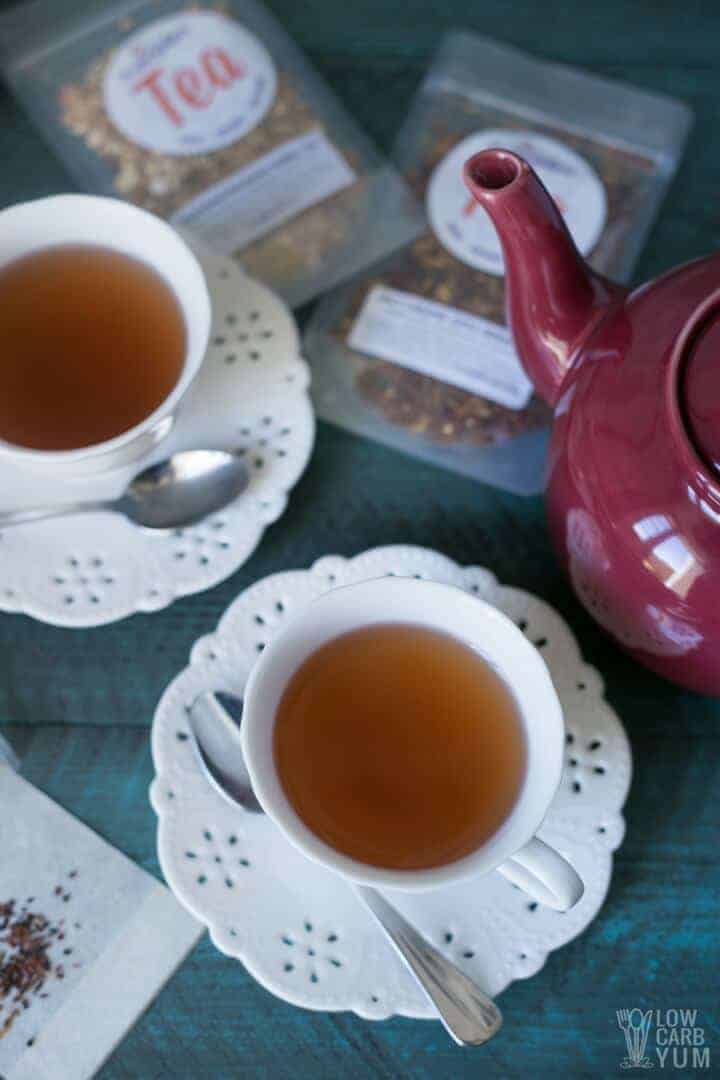 There's also a few tea drinkers on my Christmas list that I'll be ordering for. In my opinion, Plum Deluxe is the best loose leaf tea brand so I'm spreading the love. To make sure they get the freshest tea possible, my order will go in right around Thanksgiving.
I've never had good luck infusing tea with the metal strainers. So, I've been using the filter bags to brew the tea in my teapot. To get the water temperature just right, I also use an electric tea kettle.
Plum Deluxe also offers a Tea subscription box for those who want auto-delivery each month. There's even a caffeine free option. I'm thinking of giving that a try next.
Where to find the best loose leaf tea blends
Are you a tea drinker? What's your favorite blend? If you're like me, you probably like a variety of blends. No matter what your preference is, you're sure to find the best blends at the Plum Deluxe tea shop.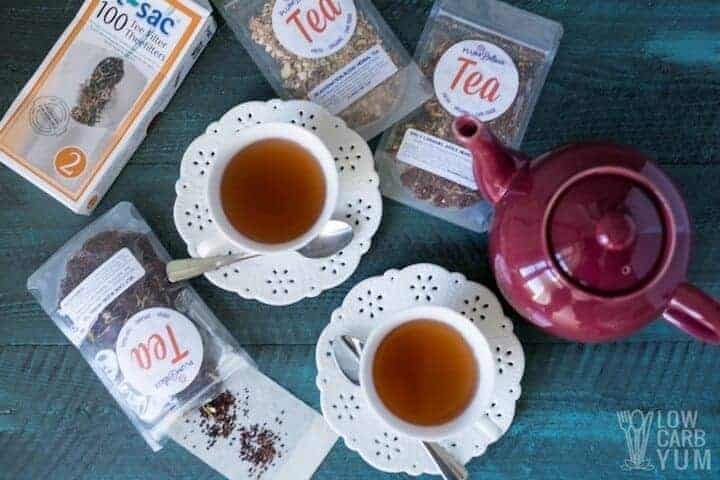 ★ Follow Me on FACEBOOK, PINTEREST and INSTAGRAM for more keto friendly recipe ideas.
★ Sign up for my NEWSLETTER to get the latest updates and a FREE Meal Plan.