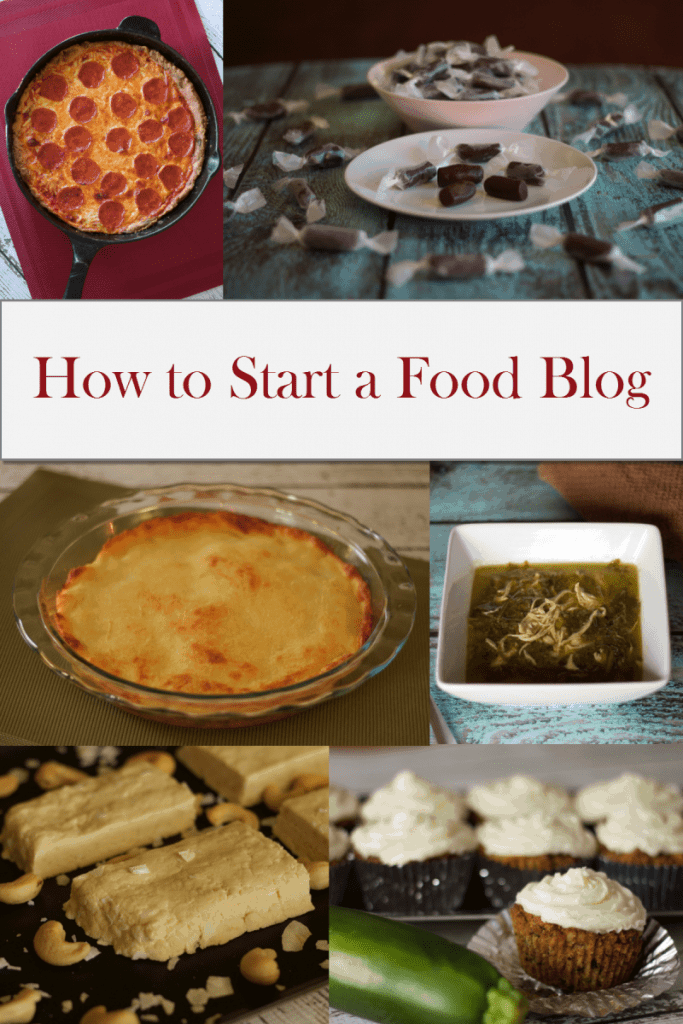 This post will show you how to start a food blog on a self-hosted WordPress website using your own domain name in three basic steps:
Disclosure: This page contains affiliate links and I will earn a commission if you end up purchasing through a link. I only recommend products that I use and trust.

1. Select a domain name that is short and sweet
Although you do not have to buy your own domain name to start a blog on a free blogging site like Blogger or Tumblr, I highly recommend that you purchase one or buy self hosting that includes a free domain. The cost of a domain name is about $10 a year and the cost for a self-hosted blog will cost less than $4 a month if you prepay for two or three years (less than $50 a year).
You will need to create an original "catchy" name for your blog that is easy for folks to remember. When I started this blog, I did not allow myself to get creative with the name of my blog and became too focused on making the domain name self descriptive. Because of this, I ended up with a ridiculously long URL that was not easy to remember and was often not remembered correctly. Your domain name will become your brand so choose one that fits your style, is easy to type, and is relatively short. The original domain name of this blog was "SugarFreeLowCarbRecipes.com" which has 23 letters before the ".com" and that was a HUGE issue for me. Therefore, I recommend you choose a name that is no longer than 15 letters and stay with the ".com" ending. Also, refrain from using a hyphen (-) in the name which people may forget to add when typing your domain.
Here's a handy tool you can use to see if a domain name is available:
I ended up changing the domain name from "SugarFreeLowCarbRecipes.com" to "LowCarbYum.com" and although the domain name change was fairly easy to do, it does take time for the new name to catch on and many external links to this site will never get changed to the new name. However, for me, it was worth the hassle to move to the shorter and easier to remember domain name. Get it right from the start and you will avoid the hassle of a domain name change.
2. Register your domain and open an account with a hosting provider
Self-hosting your WordPress blog provides you with much more control to customize the site and give it your own look. Free blogger sites only allow very limited customizations of blogs and it is a huge hassle to move a popular blog off a free hosting site to a self-hosted website. Save yourself tons of work later by starting out with a low cost self-hosted plan. A well known website hosting provider that is extremely popular with new bloggers is Bluehost because they offer unlimited plans at a very low cost.
When I started this food blog, I chose to go directly to a self-hosted blog with my own domain on an entry level Bluehost plan. This allowed me to fully customize my blog with any available WordPress design theme and software plugins available. In addition, with a self hosted blog using a paid hosting plan like Bluehost, you can do further customizations by editing the software code itself. You will be very limited in what you can do with a blog hosted on a free host server. If you want to be a serious blogger, skip the free blog and go straight to a low cost plan from
Bluehost.com
, which is probably the most popular WordPress self hosting service that can be easily upgraded as your blog gains popularity. This blog, LowCarbYum.com, was originally hosted on Bluehost. I have since moved on to
WPOpt
as they were able to better handle my traffic load as my site grew. However, Bluehost is still what I recommend for starting a blog.
Here's the process for opening a hosting account with Bluehost:
Navigate to the Bluehost website and click on the "get started now" button.
Choose the "Starter" plan.
Type in the free domain name that you would like to register for your site. Remember to keep the name short and sweet.

After filling out your account information, you need to enter your package information. For the best deal, choose the 36 month starter package. This gets you the cheapest rate per month for hosting. I also recommend adding the Domain Privacy Protection so your personal information won't be available online on the Whois system which is public information that can be seen by everyone. For less than $10 a year, you can shield your personal address and phone number that was used to register from being displayed on Whois by checking Domain Privacy Protection when registering at Bluehost. Be sure all other boxes are unchecked (you can always add these options later if you feel you need them). Here is how the package information should look:


3. Install the WordPress blogging software
Now that you have a self-hosted website at Bluehost, you need to install the WordPress blogging software. Bluehost makes installation of this software a breeze. Once you login to your Bluehost account, you are automatically taken to a page known as cPanel. Under the "Website Builders" section, you should see an icon for WordPress. Simply click on that icon.
You then need to click on the green button on the next page to initiate the WordPress install.
Click on the green "Check Domain" button.
Fill in your website information along with the username, password, and email address for the Admin user account. Be sure to write down the username and password chosen. You then need to check the terms and conditions box. Clicking on the "Install Now" button will begin installing WordPress on your selected domain.
When the software install is completed, you should get a message stating that the install is complete. At this point you will want to type in the web address www.example.com/wp-admin, replacing "example" with your domain, to access the back end of your WordPress website. This will bring up the following page:
Go ahead and log in with the Admin username and password that you set up during the WordPress install. Congrats! You have now entered into your very own WordPress blog.
If you need some help getting started with the WordPress software, check out First Steps With WordPress which is a great tutorial for beginners. Before writing your first blog post, you should take some time to play with the WordPress software and learn how it works.
For a beautiful website design without hiring an expensive website designer, I recommend purchasing one of the StudioPress Themes for WordPress that work on the popular Genesis framework. Low Carb Yum uses the Foodie Pro Theme which is designed specifically for a food blog and requires very little customizations.
I also recommend joining a Food Blogger group which can be a great resource for getting your food blog started on the right track. I belong to the Food Bloggers Central group on Facebook and have learned a lot from this talented group of bloggers. And, if you need some help getting great food shots, I highly recommend this book which I have been using to improve my food photography.
Questions? Leave a comment on this page or email me directly using the form below.
[contact-form subject='How to Start a Food Blog'][contact-field label='Name' type='name' required='1'/][contact-field label='Email' type='email' required='1'/][contact-field label='Website' type='url'/][contact-field label='Comment' type='textarea' required='1'/][/contact-form]