Chicken with zucchini and tomatoes is a great combination. Make it extra special with some mozzarella cheese melted on top. This low carb dish is delicious.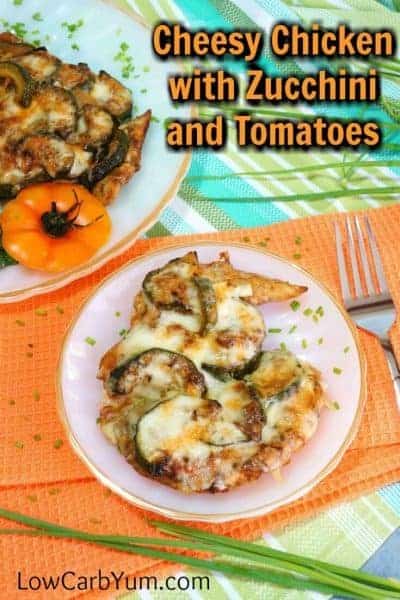 I've always liked the taste of zucchini with tomato. I usually fry the chicken separately and serve the vegetables on the side.
This time I decided to combine them together and put some melted mozzarella cheese on top. This low carb cheesy chicken with zucchini and tomatoes is a delicious dish that is sure to please.
For this dish, I sliced chicken breasts thin, added seasoning, and then browned them up in a skillet. Then, I cooked up some sliced zucchini with tomatoes and spices.
FREE eBook!
​LOW CARB TIPS and TRICKS
Subscribe now to receive your free copy of Low Carb Tips and Tricks which includes 20 easy to prepare recipes. Plus, get access to the weekly newsletter and special offers only for subscribers!
It may seem like a little extra work to cook these up separately before baking. But, I think the resulting dish is better by doing it this way.
This is also a great way to use up the garden zucchini and tomatoes. We always have an abundant supply at this time of year.
The cheese makes the whole dish extra special and really gives the chicken with zucchini and tomato dish an added flavor boost. It's kind of like a chicken pizza without the crust.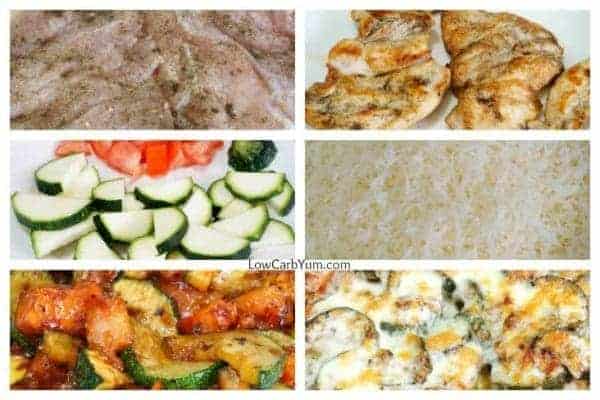 I don't know how people go dairy-free. It would be really difficult for me to give up cheese. Now, those who are lactose-intolerant have the pain issue. I'd need some serious pain to give up cheese and ice cream.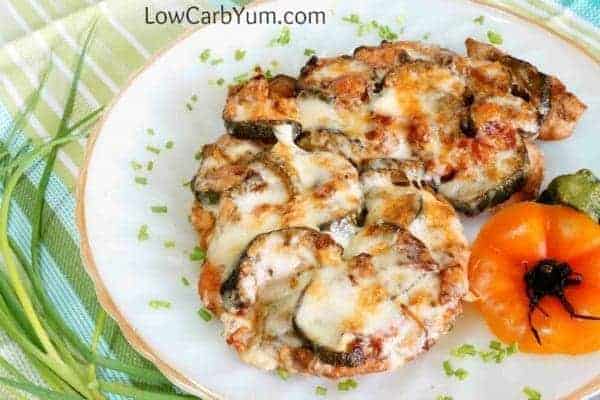 Is there a good dairy-free alternative to cheese? If there is, I suppose it wouldn't be so bad. I have had some success making dairy-free ice cream from coconut cream. So, it's really the cheese that keeps me eating dairy.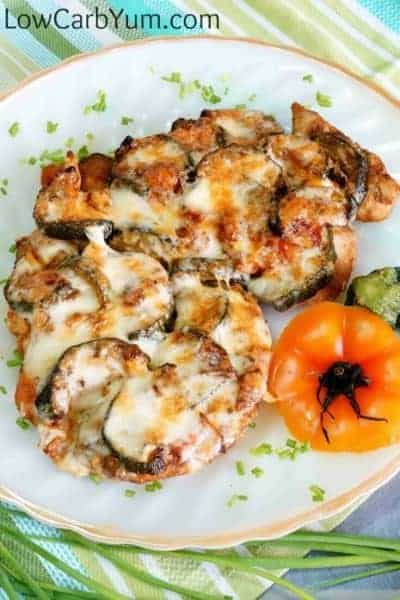 You'll want to be sure to bake this low carb chicken with zucchini and tomatoes until it's nice and brown. I find it has the best flavor when baked golden.
My family loved this meal so much that I'm going to have to put the dish on our regular rotation. It really does have a wonderful flavor and is fairly easy to prepare. Not to mention the ingredients are super easy to find.
So, pick up these staples on your next grocery trip if you don't already have them in the refrigerator. It's a family friendly chicken dish that's sure to become a regular.
If you love chicken, you may also want to check out the low carb chicken casserole recipe collection I put together here. You will find more winning chicken dinners there to keep your family off carbs.
And, if you'd like a quick and easy chicken skillet dish, our favorite is Filipino Adobo Chicken. My kids always finish it off so there's rarely leftovers. I like to make that recipe with chicken thighs, but breast meat could also be used.
Low Carb Cheesy Chicken with Zucchini and Tomatoes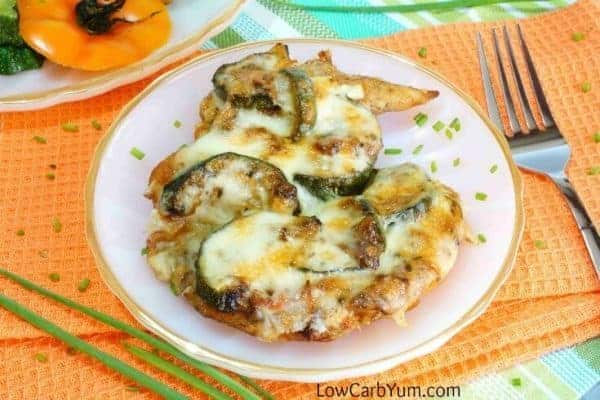 Chicken with Zucchini and Tomato
Author:
Lisa | Low Carb Yum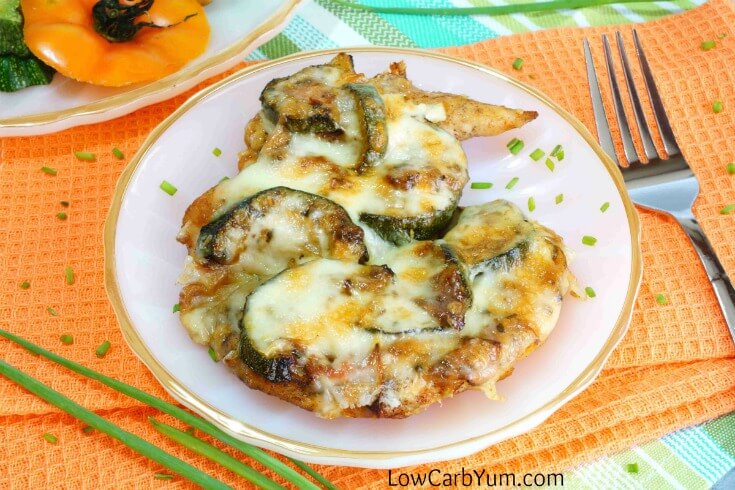 Chicken with zucchini and tomatoes is a great combination. Make it extra special with some mozzarella cheese melted on top. This low carb dish is delicious.
Ingredients
2 boneless chicken breasts
1 Tablespoon olive oil
dash garlic powder
dash salt
dash pepper
1 small zucchini
1 medium tomato, diced
½ teaspoon basil
½ teaspoon oregano
½ cup mozzarella cheese
Instructions
Butterfly slice each chicken breast in half to make four thin pieces. Season with garlic powder, salt and pepper. Brown chicken slices on each side in olive oil. Place in medium baking dish.
Saute zucchini in pan until soft. Add diced tomato, basil, and oregano. Season with salt and pepper. Cook an additional 2-3 minutes. Pour over chicken.
Cook in 325 degrees F oven for 20 minutes. Top with mozzarella cheese. Bake an additional 5 minutes.
Notes
Makes 4 servings

Carbs per serving: 4 g
Related Posts