This post may be sponsored or contain affiliate links. But all opinions are our own.
Full Disclosure
Interested in having low carb foods and keto snacks delivered to your door each month? Just take a look at the goodies in the December 2016 Keto Krate!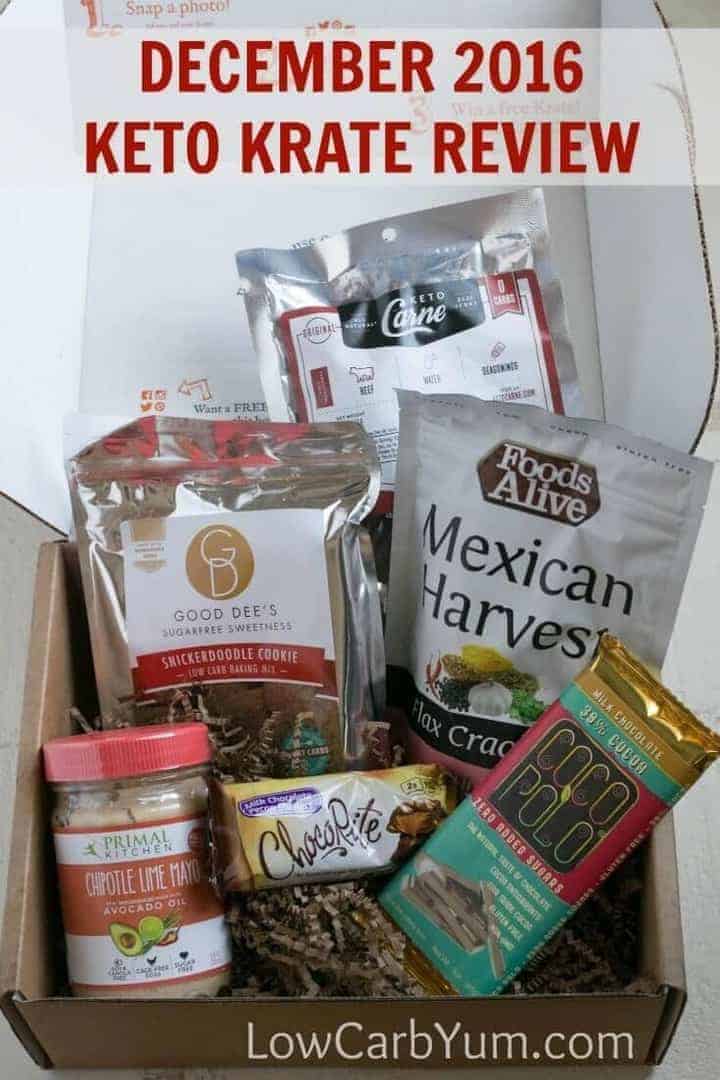 I was getting a little worried as the monthly low carb goodie box was a little late this month. But, it sounds like one or more products just took a little time to reach the warehouse.
This month's Keto Krate box was certainly worth waiting for! It contained eight terrific items that are perfect for holiday snacking.
I've been a subscriber for the last year and I look forward to trying new low carb foods each month. Keto Krate is a fantastic way to see sample low carb goodies.
The shipping cost is reasonable and there's rarely a product I dislike. And, the convenience just can't be beat! So, let's see what was in the December 2016 Keto Krate box…
Primal Kitchen Chipotle Lime Mayo – Retail $9.95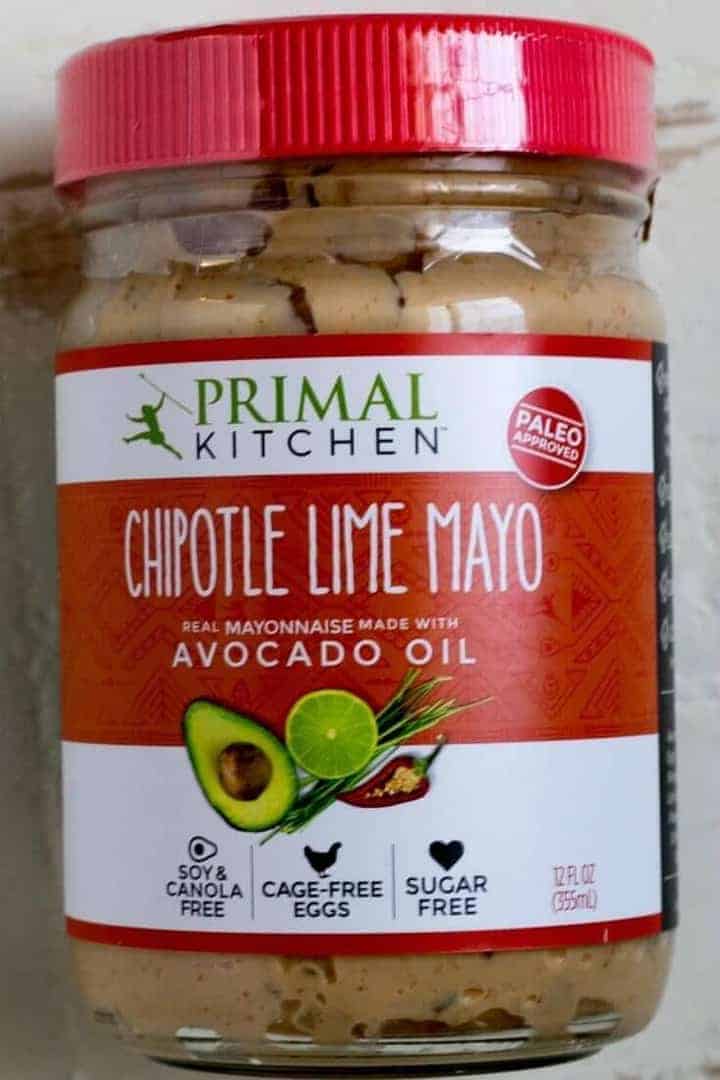 I had just made hard boiled eggs when the box arrived. So, I cracked open the chipolte lime mayo to make some quick egg salad.
The taste is so amazing! I just love the chipotle spice with lime. It gave my basic egg salad a nice kick and really upped the flavor.
I love that this mayonnaise is made with avocado oil rather than seed oil. As most of us know, seed oils can be very unhealthy and they spoil quickly.
The price of this chipolte lime mayo is pretty high so I likely wouldn't buy it often. But, it's a nice treat to have once in a while.
There is a 10% discount code included so that does make the mayo a little more affordable. However, I think you could probably make your own homemade version for much less.
Coco Polo 39% Milk Chocolate – Retail $5.99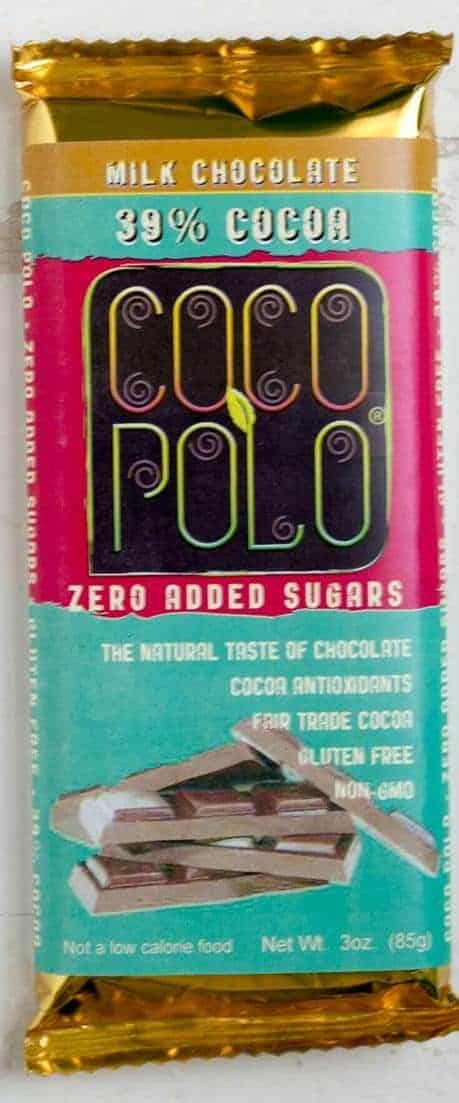 I've actually heard a lot of good things about Coco Polo low carb chocolate bars. But, I've never tried them before.
So, it was a nice surprise to see a Coco Polo 39% Milk Chocolate bar inside the December 2016 Keto Krate. What I like about the chocolate is that it doesn't contain sugar alcohols. And, they use fair trade cocoa and milk from cows not treated with rBST hormone.
Coco Polo chocolate is sweetened with erythritol, chicory root inulin, and stevia. The taste is smooth and creamy with no funny aftertaste.
There is real milk used in the chocolate so it's not a sugar free bar. But, it's only 4 grams per serving which is very low compared to regular milk chocolate bars.
Good Dee's Snickerdoodle Cookie Mix 0 Retail $11.99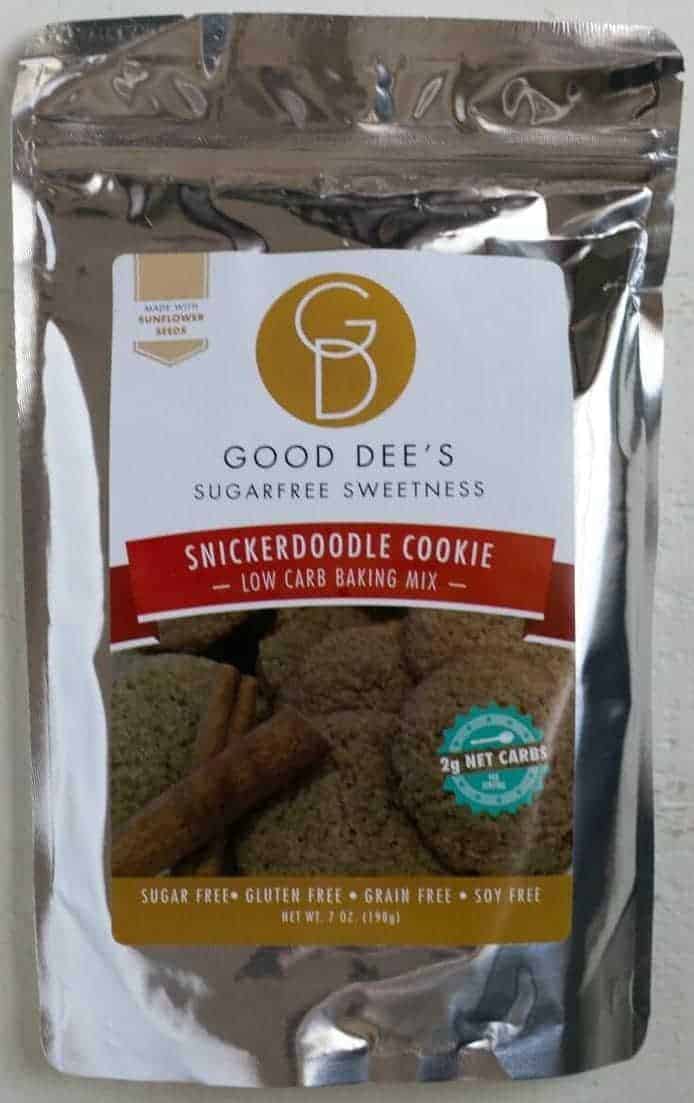 Baking mixes are a convenient way to get fresh baked low carb treats. Good Dee's brand has quickly become a favorite.
The low carb snickerdoodle cookie mix is sugar free, gluten free, grain free, and soy free. Each packet has 12 servings with only 2 grams net carbs each.
Stevia and erythritol are the sweeteners used in the mix. And the gluten free flour used is milled sunflower seeds.
The cookies have a nice crispy texture and cinnamon flavor. I do think the price of the mix is a bit high, but it is a convenient way to bake fresh low carb cookies.
Foods Alive Mexican Harvest Flax Crackers – Retail $6.99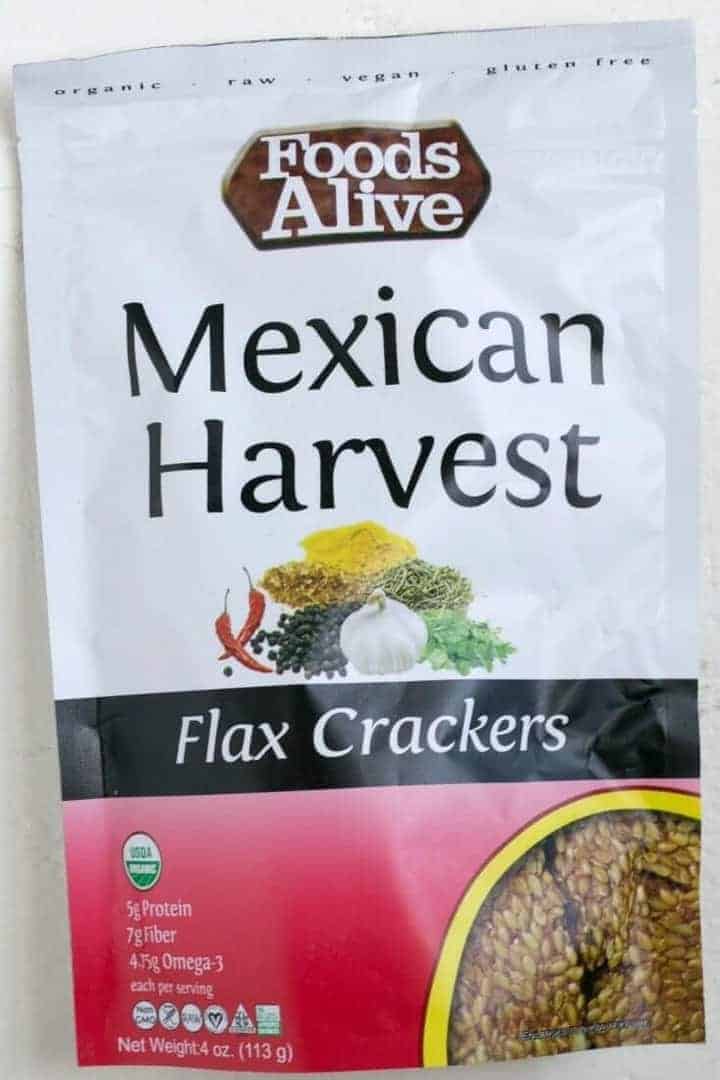 The Foods Alive flax crackers have been featured before. The December 2016 Keto Krate includes the Mexican Harvest flavor.
If you are a fan of these seed crackers, you'll love them. I don't eat flax often, but I enjoy enjoy the whole seed crackers every now and then.
These are great to serve with cheese for appetizers at parties. And, they make a great healthy snack on the go.
These crackers are made with raw flax seeds and certified organic. The Mexican spice flavor goes well with dips, guacamole, and gazpacho.
Keto Carne Original Recipe Beef Jerky – Retail $7.00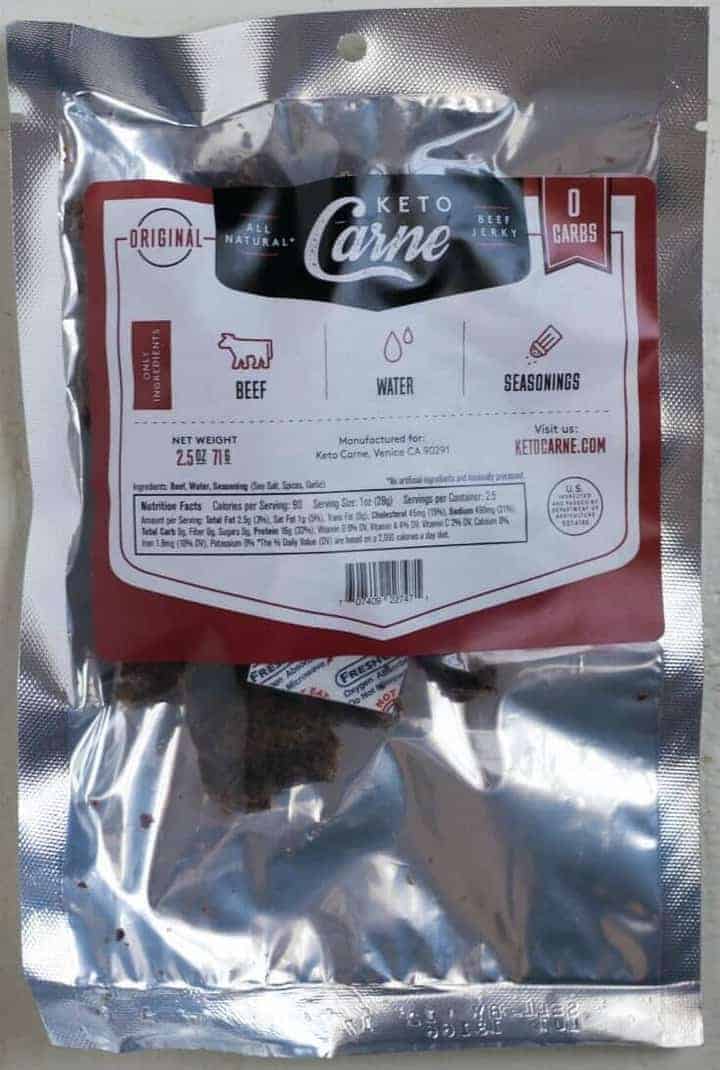 The Keto Carne beef jerky is the featured product in the December 2016 Keto Krate.
Health Smart Foods Pecan Cluster – Retail $1.59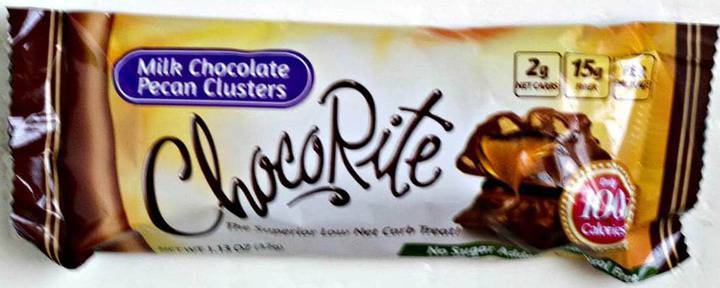 The ChocoRite Milk Chocolate Pecan Clusters taste just like regular ones. The great thing is that they are maltitol free so you won't get any painful cramping after.
The candy is sweetened with fructooligosaccharides, isomaltooligosaccharides, erythritol, and sucralose. Each 2 piece serving is only 100 calories with 2 grams net carbs.
I really enjoyed these pecan clusters, but I wouldn't want to eat them too often. They are perfect for an occasional treat.
The fiber sweeteners used in this candy can impact blood sugar levels in some people. So, eat them with caution.
Conclusion: December 2016 Keto Krate Review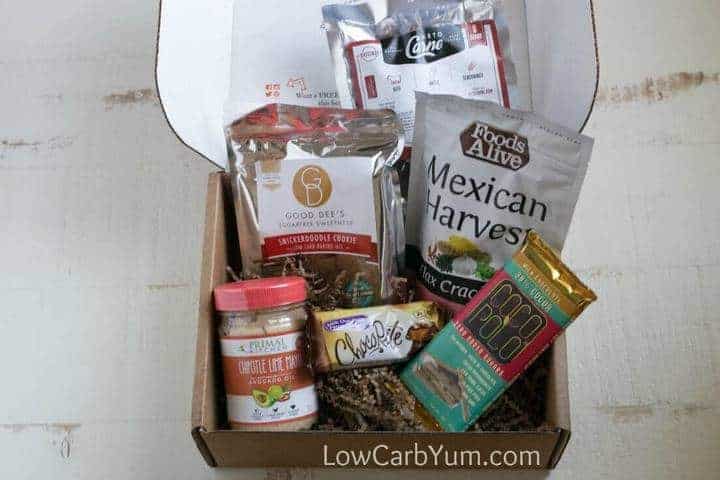 What did you think of the December 2016 Keto Krate? The retail value of all the products is $43.51. So I think the monthly cost of $34.95 plus shipping was certainly worth it.
What other products have been included in the monthly Keto Krate shipments? Below are links to my last three Keto Krate reviews.
The September 2016 box review is available here.
The October 2016 box review is available here.
The November 2016 box review is available here.
Interested in signing up? Just head over to Keto Krate to subscribe!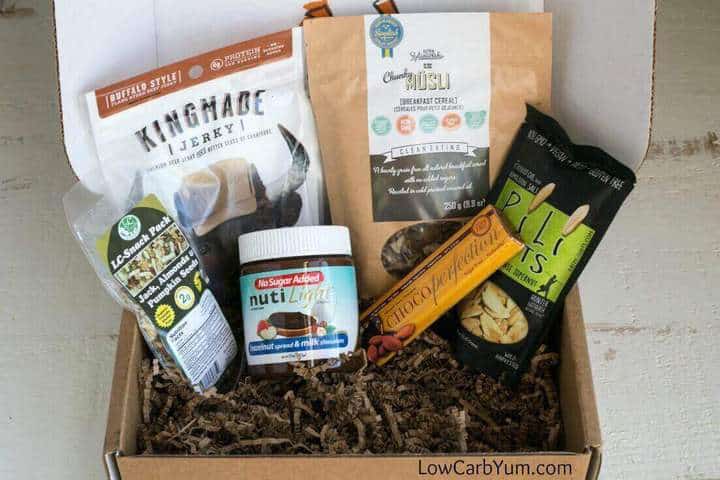 Related Posts