A simple low carb eggplant tomato appetizer covered in melted mozzarella cheese. This is a quick and tasty way to serve fresh eggplant and tomato from the garden.
I had a lot of end of summer tomatoes on hand. So I took a regular eggplant mini pizza recipe and used fresh garden tomatoes in place of the sauce.
Although the eggplant is usually peeled before slicing, I decided to keep the skin on. There are nutrients such as fiber in the skin. So, I kept it in place.
You may want to peel the eggplant if you're trying to disguise them under the tomato. The peel may give them away if you are trying to sneak them in.
FREE eBook!
​LOW CARB TIPS and TRICKS
Subscribe now to receive your free copy of Low Carb Tips and Tricks which includes 20 easy to prepare recipes. Plus, get access to the weekly newsletter and special offers only for subscribers!
These eggplant tomato appetizer rounds are a super easy way to use up those summer vegetables. We didn't plant eggplants this year, so I grabbed some at a farmer's market.
For the cheese topping, I used mozzarella. Parmesan would be a good one to sprinkle in too. Be sure to bake the appetizer rounds up until the cheese begins to brown. You may want to leave the cheese off on a few for those following a dairy-free or paleo diet.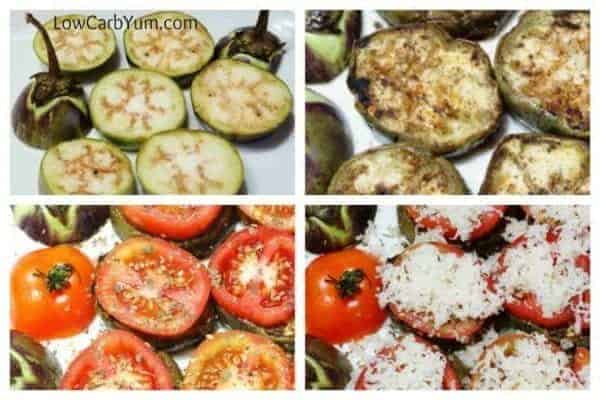 You'll want to use eggplants and tomatoes that are similar in size when sliced. This will make them look a little nicer. They don't have to be exactly the same size, but you don't want a huge slice of eggplant with a tiny tomato slice on top.
If it's too hot to turn on the oven, I've had success cooking these on the grill as well. I usually grill the eggplant slices first and then add the tomato and cheese  at the end of cooking.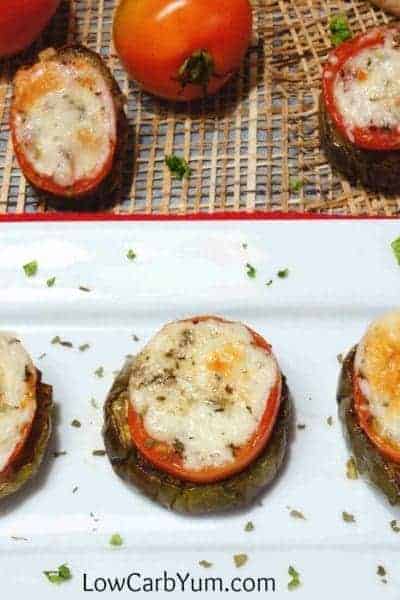 Some people like to salt eggplant slices first to remove any bitter taste before cooking. I don't think that's necessary for these eggplant tomato appetizer rounds.
If you choose to remove any bitterness in the eggplant, the process is simple. Simply sprinkle salt on the slices and let them sit in a colander for about 30 minutes. This draws liquid out of the eggplant that may be bitter.
There are lots of low carb eggplant recipes. You can find many of them here. You can even use eggplant as a bread replacement for "bread" pudding and French toast!
I also love to use eggplant and tomato to make a quick and easy hamburger skillet dish. It's a nice blend of ground beef, diced eggplant and diced tomatoes. I shared that recipe on this post.
What's your favorite way to use up extra tomatoes in the garden?
Gluten Free Eggplant Tomato Appetizer Rounds Recipe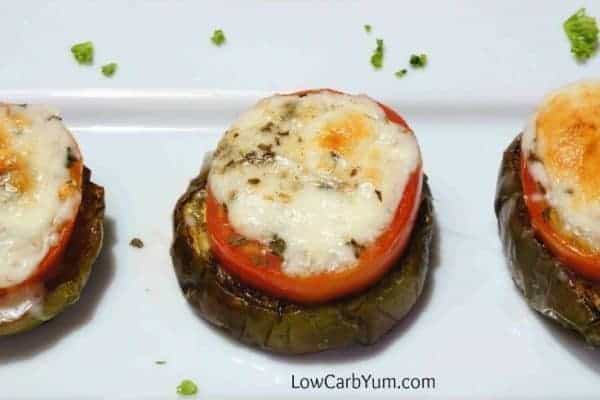 Eggplant Tomato Appetizer Rounds
Author:
Lisa | Low Carb Yum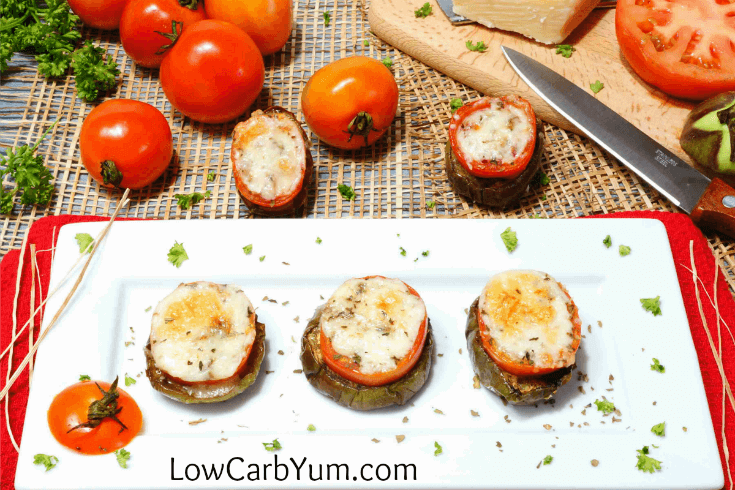 A simple eggplant tomato appetizer covered in melted mozzarella cheese. This is a quick and tasty way to serve fresh eggplant and tomato from the garden.
Ingredients
2 small eggplants
2 Tablespoons olive oil
½ teaspoon salt
dash ground black pepper
2 medium tomatoes
½ teaspoon basil
½ teaspoon oregano
½ cup mozzarella cheese
Instructions
Preheat oven to 425 degrees F.
Brush both sides of the eggplant with olive oil and season with the salt and pepper.
Bake until browned, about 10 minutes, turning once.
Place 1 tomato slice on each eggplant slice. Sprinkle with basil and oregano then top with shredded mozzarella cheese.
Bake until the cheese melts, about 5 minutes. Serve hot.
Notes
Makes 8 servings?
Carbs per serving: 5 g
Related Posts