Are you looking to buy frozen cauliflower pizza crust pizzas? Take a look at the grain-free, low-carb ones made by Real Good Pizza Co. They taste just like the real thing!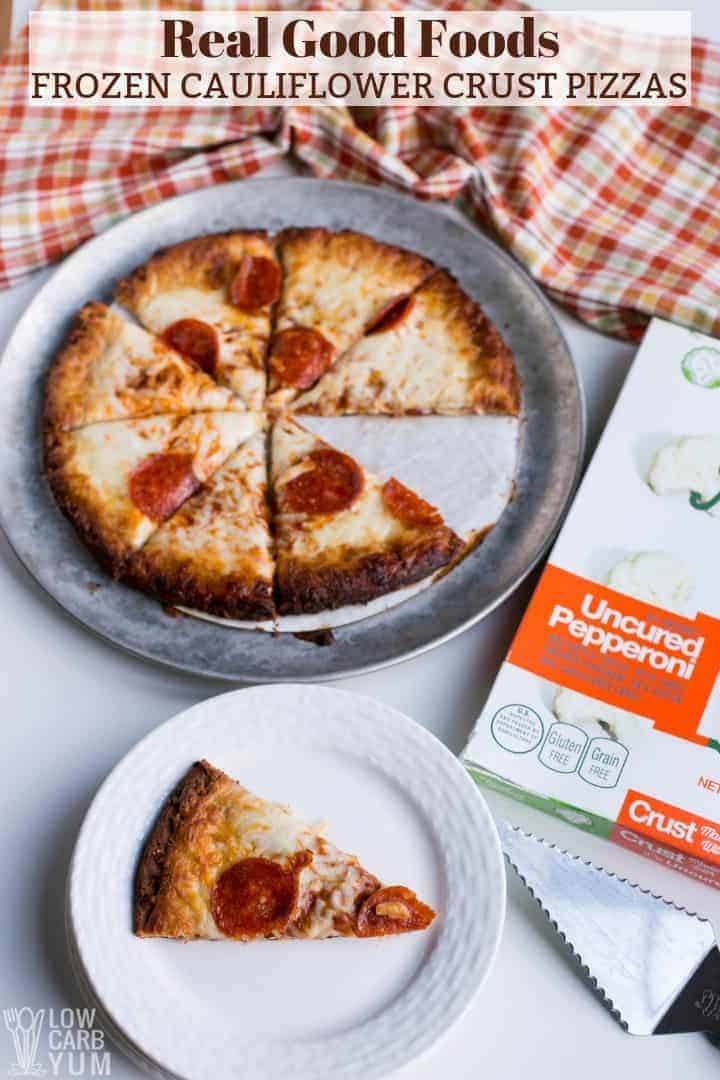 Jump to:
Disclaimer: This post has been sponsored by Real Good Foods, but all opinions are my own.
I'll admit that back in my high carb days, I made a lot of frozen pizzas. In fact, they were a staple in college when I needed something quick and cheap to eat.
But, these days I'm much smarter about the convenience foods I buy. And I read labels carefully to make sure there's nothing added that I wouldn't use in my own kitchen.
Thankfully, these days, frozen foods have gotten a lot healthier. One of my favorites is frozen cauliflower pizza and now you can buy the delicious ones made by Real Good Pizza Co. locally. It's a great low carb option when you don't have time to make your own crust.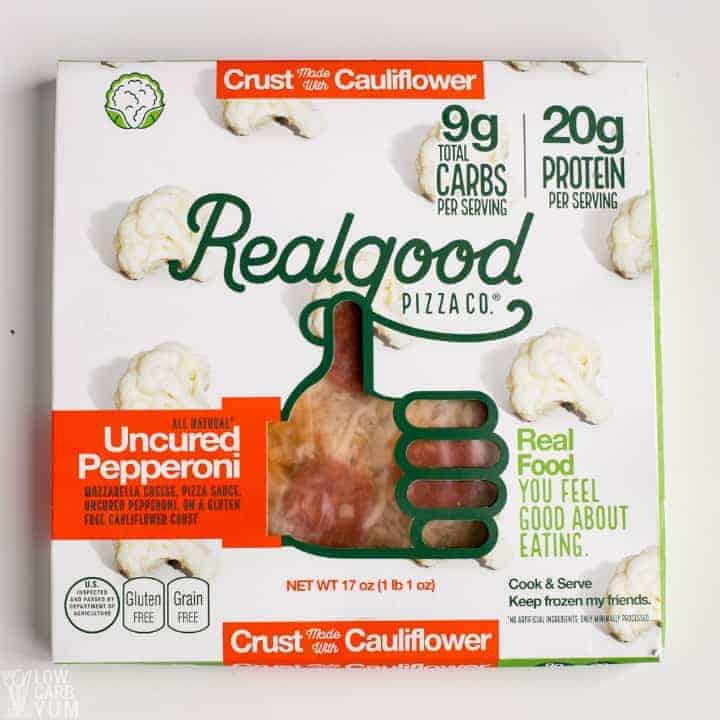 Right now, these frozen low carb pizzas are available at Kroger, Walmart, and Wegmans. If you're not sure if the product is available in your area, you can use the handy store locator.
Where to buy frozen cauliflower pizza crust pizzas by Real Foods?
Unfortunately, there aren't any Kroger or Wegmans stores where I live and I haven't seen them in the local Walmart yet. But, for those like me who can't get them locally, it's easy to buy online right from the Real Good Foods website.
My pizzas arrived fully frozen even though the weather has been warm for fall. The product is shipped in a cooler box with dry ice so it stays frozen during transport.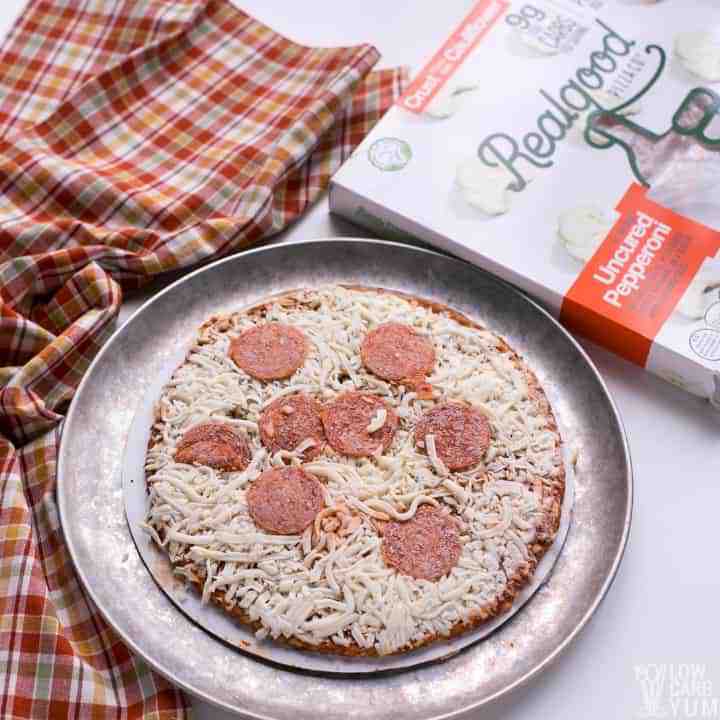 Frozen Cauliflower Pizza at Kroger, Walmart, & Wegmans
If you have a local Kroger or Wegmans grocery store near you, take a look in the frozen foods section to see if these new low carb pizzas are in stock. I think once people get a taste of them, they are sure to be a best seller.
Since neither of these stores are in my area, I'm hoping the product becomes available soon at my local Walmart store which carry some of the other Real Good Foods products.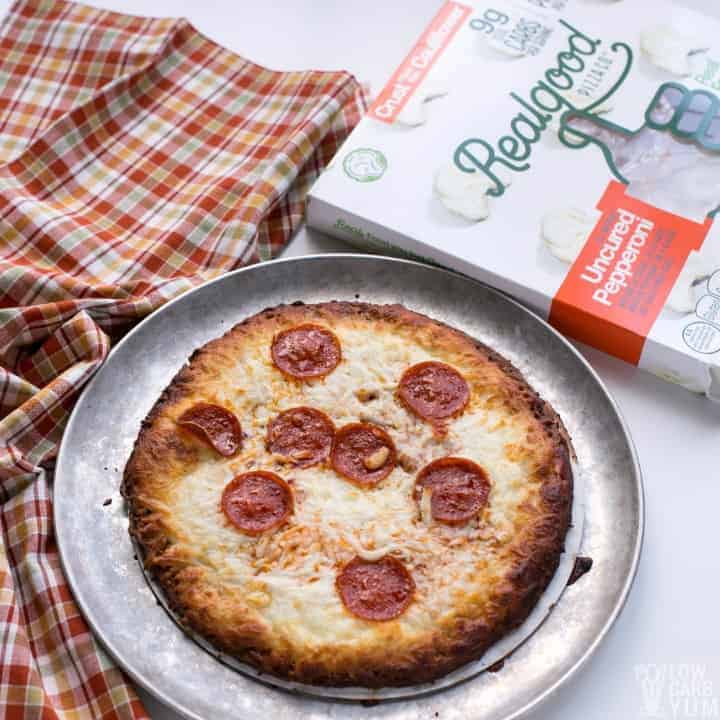 How to prepare the low carb gluten free pizzas
It couldn't be any easier to get these frozen cauliflower crust pizzas cooked and ready to serve for a quick an easy low carb meal. So you'll want to keep in the freezer for those times when you don't feel like cooking.
All you have to do is remove the pizza from the carton. Then remove the protective wrapping and cardboard. It's then placed on a baking sheet and cooked in a 400°F oven for 16-20 minutes or until browned on the edges. At this point, simply slice and enjoy!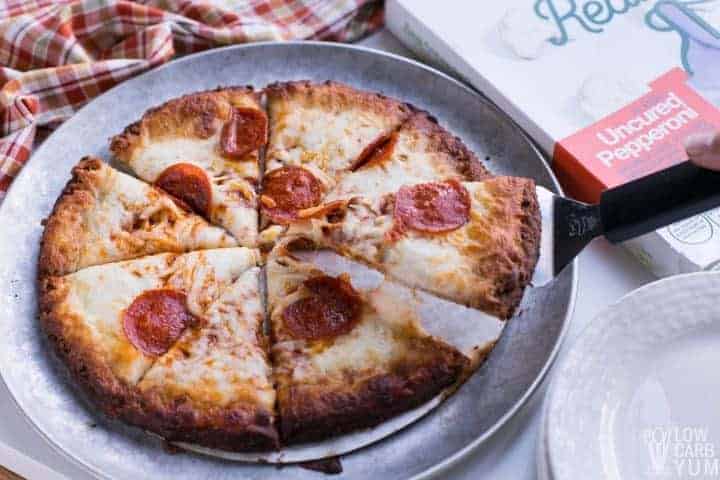 How does it taste?
I personally think this is the best frozen cauliflower pizza crust I have ever tasted. The crust is very bread like and doesn't have any detectable hint of cauliflower.
The crust is lightly seasoned with garlic and basil. There's also a cheesy taste which I really like. I also love that the pepperoni used for the topping is uncured.
This review is based on the uncured pepperoni pizza which is the product I sampled. But the frozen cauli crusts are available with three other toppings: cheese, vegetable, and margherita.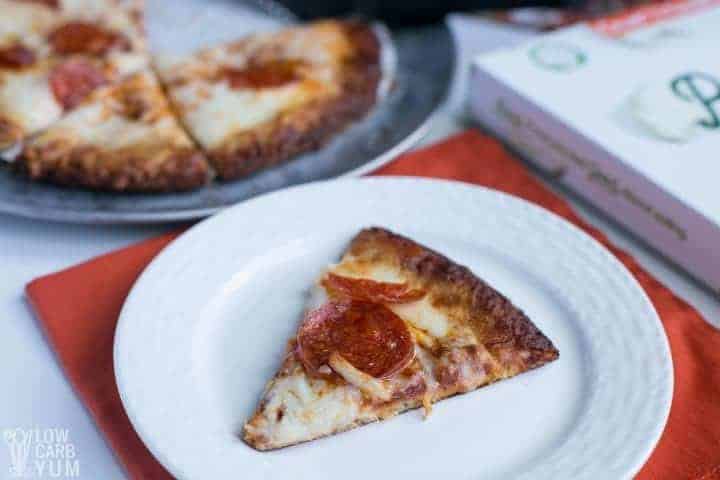 What about carbs and ingredients?
Each whole pizza serves 4 people. So if you cut it into 8 even slices like I did, each serving is two slices. And each two slice serving has 9 grams total carbs, 3 grams fiber, 6 grams net carbs, 20 grams of protein, and 21 grams of fat with 9 grams being saturated fat. This makes it a great option for a keto meal!
The crust is made with cauliflower, mozzarella cheese, parmesan cheese, almond flour, cheddar cheese, coconut flour, eggs, tapioca flour, and seasonings. So there aren't any funky ingredients that you have to worry about!
Ready to check it out?
To learn more about this new low carb pizza option, you can go to the product page on the Real Good Foods site. And if you aren't able to buy it at a local grocery store, you can order a case of pizzas to be shipped directly to your home.
★ FOLLOW ME ON FACEBOOK, PINTEREST, AND INSTAGRAM FOR MORE EASY KETO RECIPES.