Want low carb products delivered to your door? Check out some of the yummy things subscribers get in this Keto Krate review of the January 2017 box.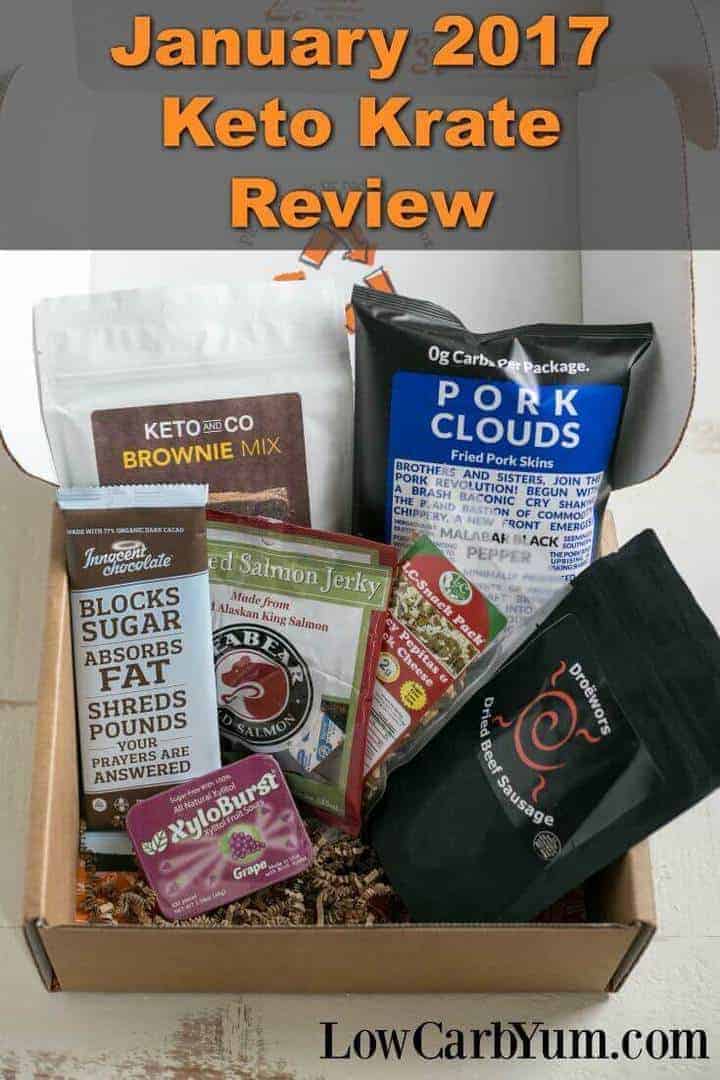 I really look forward to receiving my low carb goodie box each month from the guys at Keto Krate. If you aren't a subscriber, you should definitely give them a try.
The box is alway full of quality products. And, it's a nice way to discover new low carb products as they hit the market.
There's not obligation to continue with the service if you aren't satisfied. And, they offer a 100% money back guarantee.
I've been doing a Keto Krate review each month for over a year now. So, you can see all the great stuff I've gotten just by searching through my blog archives.
Keto and Co Chocolate Brownie Mix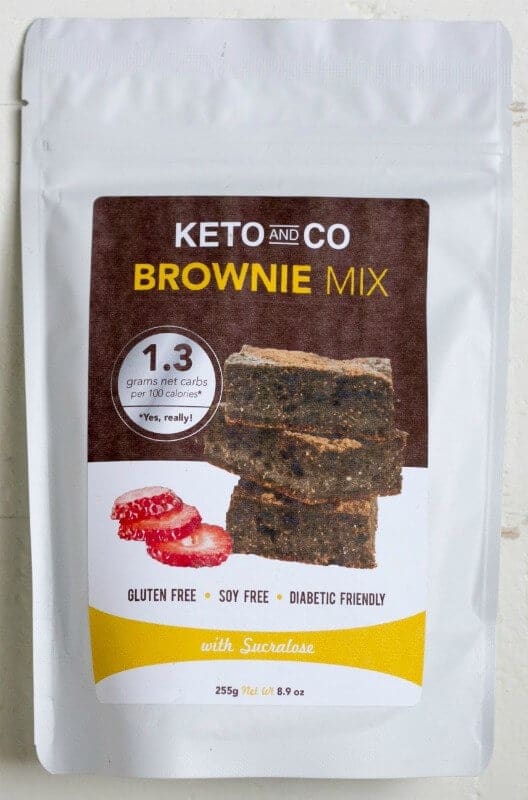 The featured product is this month's Keto Krate is a low carb brownie mix by Keto and Co. There's no sugar alcohols used in the mix as it's sweetened with sucralose.
You'll get 9 good sized brownies from the mix. Each brownie has only 80 calories with 6g total carbs, 3g fiber and 2g sugar.
The brownies are also gluten free with the main flours being almond and coconut. Other than the sweetener, the ingredients are all natural based.
To do an honest Keto Krate review, I baked up the brownies this week. They were super easy to make and came out light and fluffy.
Unfortunately, I thought these keto brownies were way too sweet, especially for those who has been on low carb for a while. These brownies may taste okay to someone just getting started, but I thought they had too much sucralose.
All products by Keto and Co have less than 1.3g net carbs per 100 calories. So, you may want to check out their website to see what else they offer. And, Keto Krate subscribers were given a 20% discount to sweeten the deal!
Braaitime Droewors Chorizo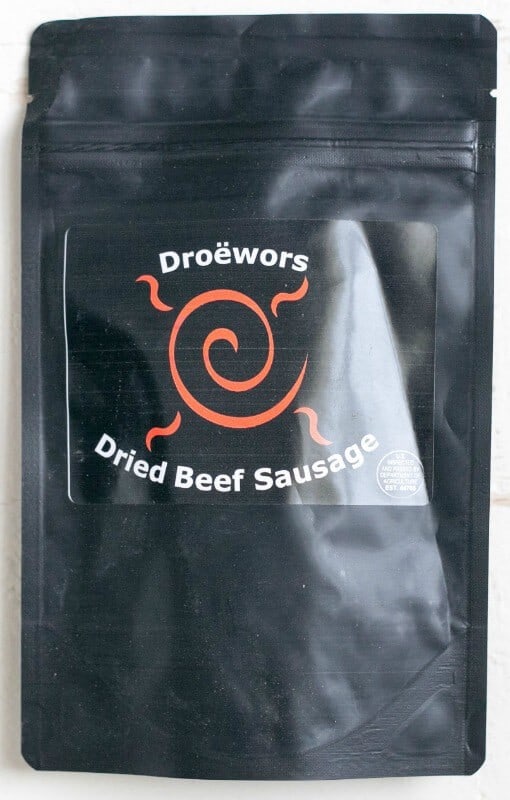 I've love dried beef, so I was looking forward to giving this sausage jerky a try for this month's Keto Krate review. There's 4 good sized sticks in the bag which is a full serving.
Droewors specializes in traditional South African biltong products. This dried beef sausage is a winner and makes a perfect low carb snack. And, there's even a recipe included in the Keto Krate that can be made with the dried beef and Pork Clouds (reviewed below).
A Droewors dried beef stick product was also featured in the October 2016 Keto Krate review that I wrote here. I really love the products so I may need to take advantage of the discount offered.
There's a 20% off discount code included for subscribers. The code is good for online purchases at the Braaitime website.
Innocent Chocolate Chocolate Bar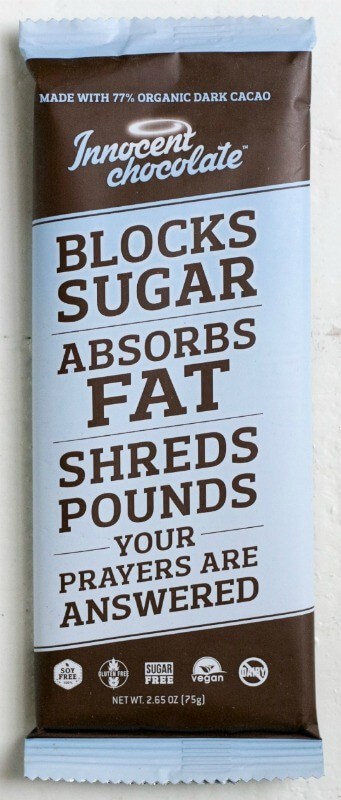 The claims on the Innocent Chocolate candy bar seem too good to be true. I mean who wouldn't want a chocolate bar that can block sugar, absorb fat, and shred pounds?
Well, this amazing chocolate bar contains ingredients that are scientifically proven to actually be good for the body. The taste if pretty awesome too!
This was the first product I chose to sample for this month's Keto Krate review. The bar is big enough for 2 healthy servings, but it didn't last long.
Rumor is that Innocent Chocolate will soon be offering guilt free shakes and puddings. So keep an eye on their website for updates! And, Keto Krate subscribers were given a 15% off plus free shipping deal.
Pork Clouds Malabar Black Pepper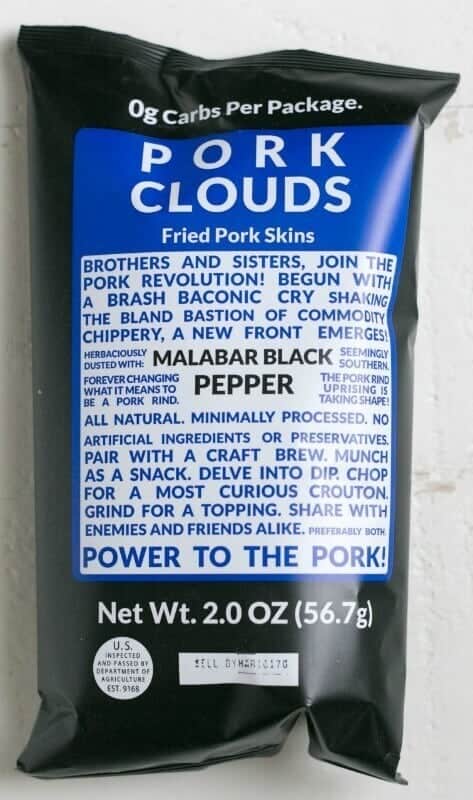 Not only was there a yummy bag of Pork Clouds for the January Keto Krate review, but a recipe was included. Subscribers got a yummy Chorizo & Cheddar Cheese Snack Balls recipe in the box made with the Pork Clouds and Braaitime Droers dried meat sticks.
I may try a modified version of the cheese snack ball recipe. Not sure if I want to use these yummy fried pork skins in a recipe.
One of the things I love about the Pork Clouds rinds is that they are lighter and fluffier than most. Many low carbers consider these the finest brand available on the market.
For those needed a chip like snack, you can't go wrong with zero carb pork rinds. And, Keto Krate subscribers can save 10% when ordering direct from Bacon's Heir.
Seabear Wild Alaskan Kin Salmon Jerky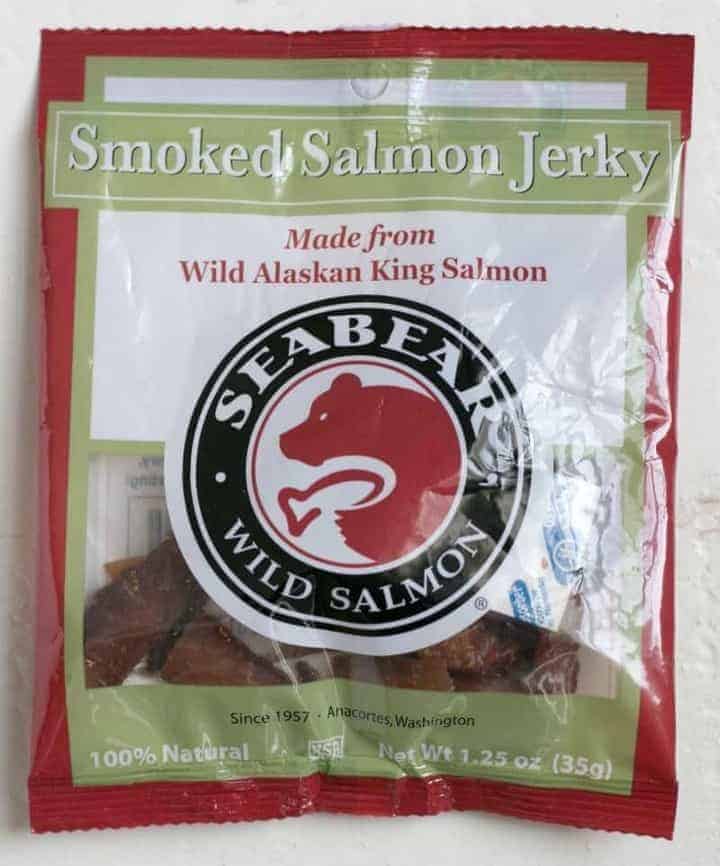 The Seabear salmon jerky was featured in the April 2016 Keto Krate review written up here. I love healthy seafood so this was quite a treat for me.
It's the dried meat snacks that I really enjoy most. In fact, I'd probably subscribe to a dried meat subscription box from one of these companies.
I actually used to do a monthly jerky subscription. But, this dried salmon is rather unique. And, it's quite tasty.
Keto Krate subscribers received a free gift offer at the Seabear Wild Salmon site. It doesn't say what the gift is, but I'm sure it's something worth grabbing.
LC Foods Spicy Pepitas & Jack Cheese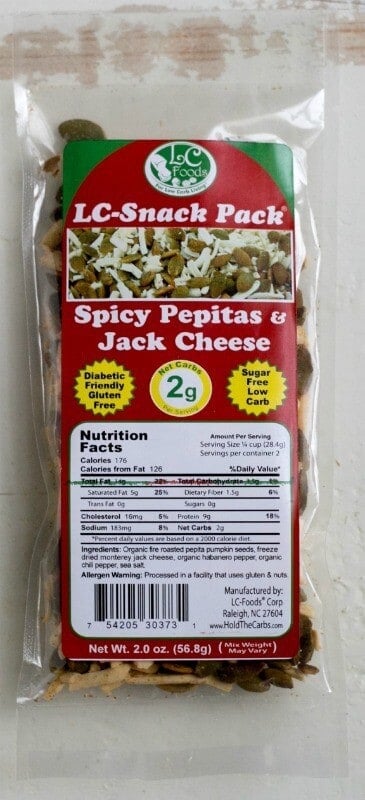 The insert that was in the box stated that a sample of LC Foods Chocolate Covered Pecans is included. However, I got a bag of Spicy Pepitas & Jack Cheese.
Perhaps they ran out of the chocolate covered nuts. I would have liked to try the candy, but I'm happy with the savory snack instead.
Since I'm trying to refrain from sweet snacks, I'm not going to complain about getting the pepitas and cheese rather than chococolate covered nuts. These are a nice snack for me to keep at work.
I'm a fan of LC Foods so I'm happy to share the word on any of their products. They offer other great snack packs so give their site a look!
Xyloburst Grape Fruit Sours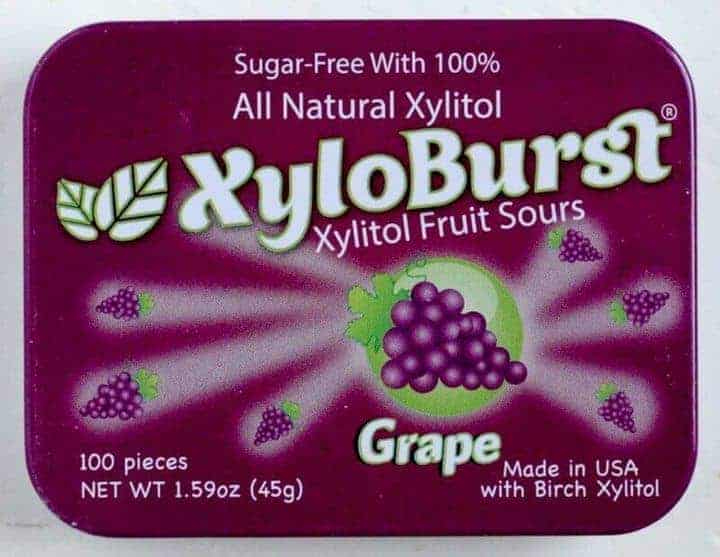 I was pretty excited to see the all natural fruit sours candy in the box. And, I was happy to give them a taste for this Keto Krate review.
Candies that have that tart taste from citric acid were always a favorite of mine. With XyloBurst, you'll get that same great taste with natural flavor and color.
These little gems reminded me of the SweeTarts candy of my younger days. But, this all natural sugar free candy is much healthier.
If you need a little Keto sweet fix, it's nice to have a little treat that won't knock you out of ketosis. You can visit Focus Nutrition's website to view all their products which includes gum, lollipops, and jam.
January 2017 Keto Krate Review Conclusion
I'd give this box an almost perfect score in this Keto Krate review. I loved every single product except the brownie mix (I ended up bringing the brownies to work for my coworkers to eat). The sucralose used to sweeten the brownies made them have a fake and overly sweet taste.
I no longer use the artificial sweetener sucralose and have moved to using natural based stevia and monk fruit sweeteners instead. The guys at Keto Krate did poll subscribers about the use of sucralose, an artificial sweetener.
In the Keto Krate subscriber poll, I voted against including products with artificial ingredients like sucralose, but the popular vote to include sucralose won out. However, most of the products I've received have been natural based, so I'm still happy with the service.
Learn More
What did you think of this month's Keto Krate review of the all the yummy products?
Want to see other featured products in some of the recent Keto Krate shipments? Below are links to my last three Keto Krate reviews.
The October 2016 box review is available here.
The November 2016 box review is available here.
The December 2016 box review is available here.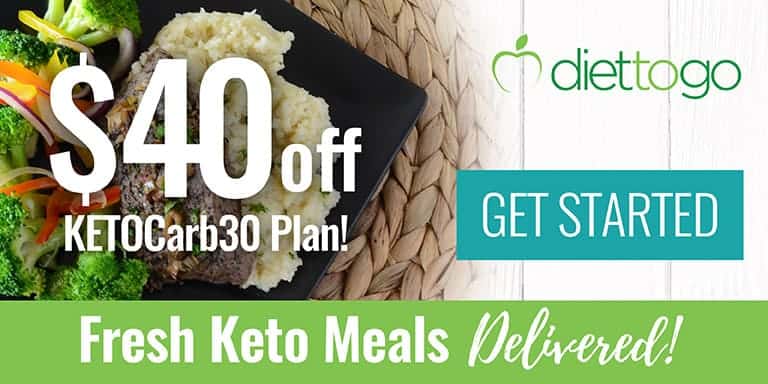 Interested in signing up? Just head over to Keto Krate to subscribe!