Interested in having low carb products delivered to you regularly? Check out the July 2017 Keto Krate unboxing for a peek at what you can expect.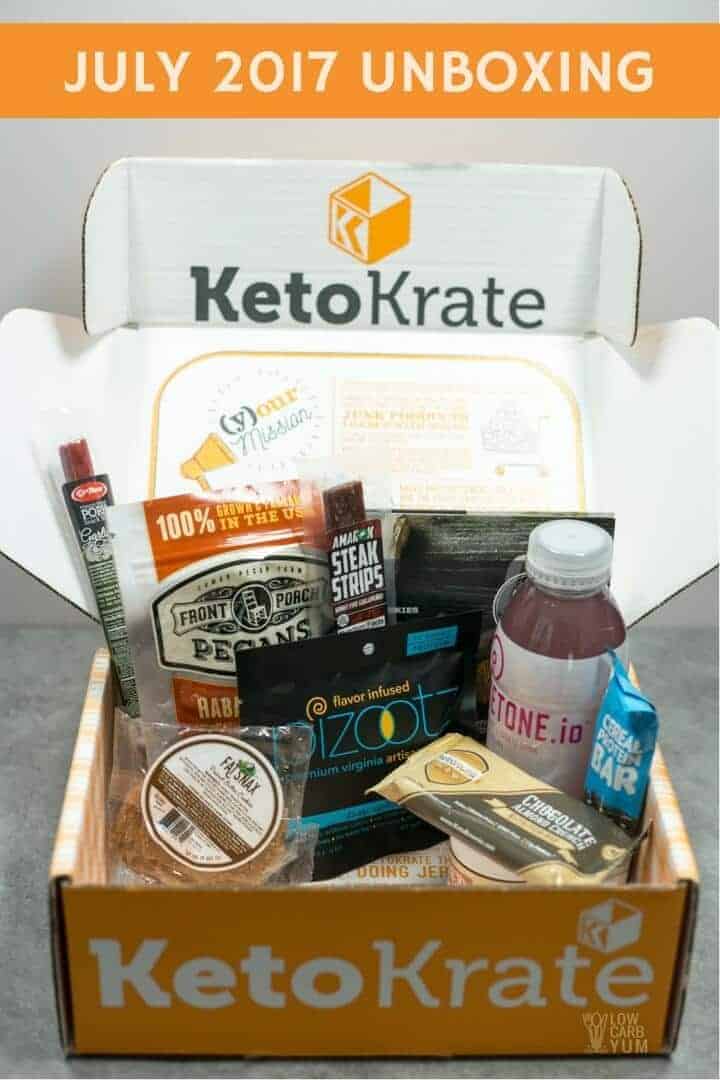 Disclaimer: The Keto Krate was provided free of charge in exchange for an honest review. But all opinions are my own.
My favorite low carb goodie box arrived a little bit late this month. But, I was totally okay with that as I was away on vacation when it normally arrives.
So, this month, my Keto Krate review is a little bit late. It was worth waiting for, though.
Let's take a look at what was in the package by starting out with a Keto Krate unboxing video…
Keto Krate Unboxing Video
July 2017 Keto Krate Low Carb Products
Fat Snax Peanut Butter Cookies – 1g net carb, 9g fat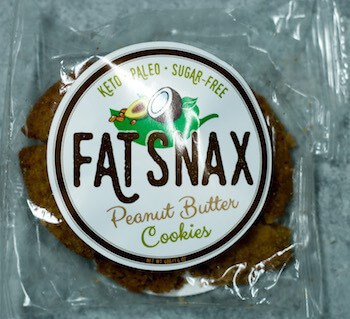 Cookies are a fantastic portable keto snack. And, it doesn't get much better than the new Fat Snax brand which are the featured product of the month.
I've provided a full review of these cookies on this post. If you haven't given them a try, you definitely need to check them out!
You can find these delicious keto friendly cookies exclusively at FatSnax.net. And, subscribers received a 15% off discount code.
Superpowered Nutrition Original Steak Strip – 1g net carb, 0.2g fat

Portable dried steak strips are a welcomed keto snack that you are easy to take along with you. As shown in the Keto Krate unboxing video, there's two great meat snacks in this month's shipment.
The first is the Amarok Grass-Fed Jerky Steak Strips from Superpowered Nutrition. And, the stick is easy to chew with a wonderful flavor.
There's also no yucky chemicals or fillers used in the meat strip. With 0 grams of sugar, 14 grams of protein, and only 80 calories, it's a fantastic on the go snack.
Quest Nutrition Chocolate Cereal Bar – 2g net carbs, 4.5g fat

The Beyond cereal protein bars by Quest Nutrition are perfect for lunch boxes or a quick snack after a workout. There's only 110 calories per bar with 2 grams net carbs.
This tasty cereal bar is made from protein versus grains. And, it's totally keto friendly even though it tastes as good as the high carb ones.
You can find these yummy low carb bars at QuestNutrition.com. But, I like to buy them at Amazon.
Dimario Foods Garlic and Fennel Pork Stick – 1g net carb, 4g fat

Meat sticks are a perfect keto treat. The July 2017 Keto Krate unboxing revealed a Garlic and Fennel Pork Stick by Dimario Foods.
This premium pork snack stick is full of flavor. And, the one ounce stick is only 60 calories with 1 gram of carbohydrate.
Need I say more? It's an enjoyable treat any time of day. You can learn more at DimarioFoods.com.
Front Porch Pecans Habanero BBQ – g net carbs, 22g fat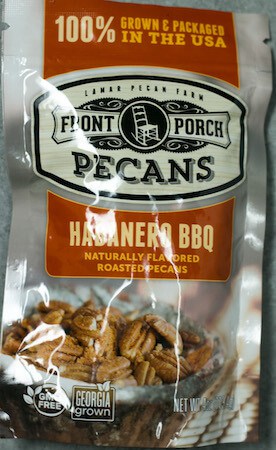 Pecans are delicious roasted and salted. But, adding in Habanero BBQ flavoring really kicks it up a notch!
I'd also like to add that the Front Porch brand of pecans are the best I've ever had. You'll probably be hooked on them too once you give them a taste.
You can find out more about these delicious pecans at FrontPorchPecans.com. They are also available through Amazon.
Pizootz Bay Spice Peanuts – 3g net carbs, 12g fat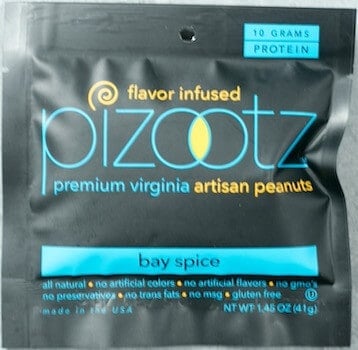 There's no doubt that the best peanuts are from Virginia. I have relatives living in the state and I always take some home after visiting.
What's even better is when you spice it up. The Pizootz flavor infused artisan peanuts are one of the best. This month's Keto Krate unboxing contained the Bay Spice flavor.
If you love peanuts, you need to give these a try. You'll find them on Pizootz.com and a 20% off code was provided.
Limited Labs Strawberry Lemonade Sports Drink – 0g net carbs, 0g fat

Exogenous ketones seem to be all the rage these days. Now you can get them in a ready-to-drink beverage by Ketone.io rather than the standard flavored powder mix.
I find that consuming ketones helps me focus better. Others say it gives them more energy and improves athletic performance.
I'm not sure if it's a good way to help you get back into ketosis, but this strawberry lemonade drink is pretty tasty. It is a bit on the sweet side so I liked mine diluted with ice. And, it's available on Amazon.
Keto Love Carrot Cake Almond Butter – 5g net carbs, 17g fat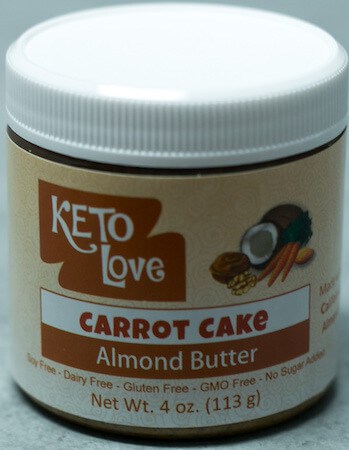 Nut butter are a fantastic option for a low carb keto snack. But, the flavor is rather bland.
Keto Love is a new company on the scene specializing in keto friendly products. Currently, they offer three products: Carrot Cake Almond Butter, Strawberry Raw Coconut Butter, and Cinnamon Vanilla Raw Cashew Butter.
A small four ounce sample was included in the July 2017 Keto Krate. It's a delicious way to enjoy the yummy flavor of carrot cake. Just grab a spoon!
Keto Brownie Chocolate Crunch Bar – 4g net carbs, 16g fat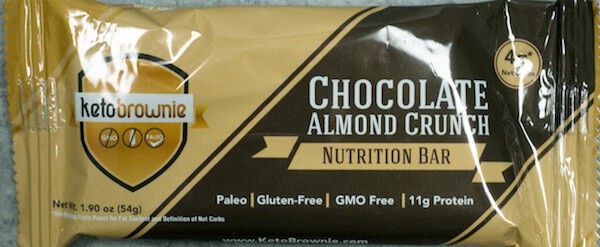 If you enjoy brownie bars, you'll love the Chocolate Almond Crunch nutrition bar from KetoBrownie. It's got a soft-baked texture with a little bit of almond crunch.
I love that this portable snack is made with natural and organic ingredients with no GMO's or sugar alcohols. It's also a gluten-free low carb treat that's paleo friendly.Definitely give this product a look.
More on Keto Krate
What do you think of this month's Keto Krate unboxing? I enjoyed every product and think the company is doing an awesome job providing this convenient service to the low carb community.
Want to see some of the other Keto Krate monthly shipments? You can find links to my last three Keto Krate reviews below:
The April 2017 box review is available here.
The May 2017 box review is available here.
The June 2017 box review is available here.
Ready to sign up? Just head over to Keto Krate to subscribe!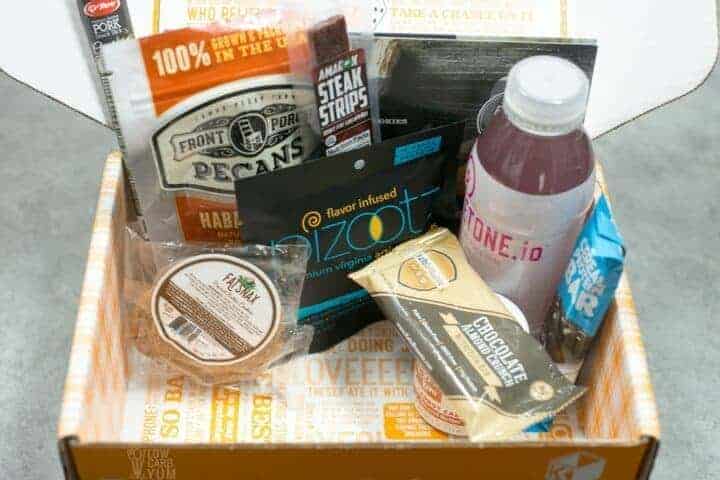 Related Posts