Interested in signing up for a low carb monthly subscription service? Come see what snack products are included in the June 2016 Keto Krate box!
I'm so excited to share this month's Keto Krate delivery with you. It's full of amazing low carb products that I just love. And, every single product comes with a discount code to save money on buying more!
I've been an ambassador for Keto Krate for about six months now. They are my favorite company to work with. Not only have I partnered with them to bring you these reviews each month, but I'm also a paid subscriber.
I know a lot of you have been on the fence about signing up. For me, it's a great deal and the convenience just can't be beat. I discover new products every month with zero time spent looking for them. The price is good and certainly beats what you'd pay buying all the products separately.
This month, I did an impromptu live video on the Low Carb Yum Facebook Page for the June 2016 Keto Krate box opening. I had just received the box of goodies a few hours before the video. If you missed me live, you can view the video below.
I'm extremely camera shy so it took a lot for me to do a live video. I'm hoping to get more comfortable in front of the camera so all of you can get to know me a little better. I know that it's always great to "see" the real person behind the blog so I hope to work on that more.
It was tough to see all the products in the live video, so let's check out each one in more detail.
June 2016 Keto Krate Box Products
SUPERSEEDZ in Curious Curry
It's no secret that I love pumpkin seeds. They are really a great low carb snack that you can find in most local grocery stores. Flavored seeds are a nice change from the plain ones.
SUPERSEEDZ are a brand that has been featured in Keto Krate before. They specialize in gourmet flavored pumpkin seeds which are super delicious. The Curious Curry flavor was included in my June 2016 Keto Krate box.
I really liked the curry flavor. There's five servings in a bag so it lasts a few days. Each once ounce serving has 3g carbs with 2g fiber so it's a great choice. And, you get 8 grams of protein so it's a sensible snack to fuel a workout.
You really can't go wrong with pumpkin seeds and the SUPERSEEDZ brand is non-GMO verified. If you like spices, particulary curry, you'll love these flavored seeds. There's a 15% off coupon included so I may have to buy a few more bags at superseedz.com. You can also buy these seeds on Amazon.
Rawxies Crunch in Chili Lime
The Rawxies Crunch is a product I haven't seen before. The flavor included in June 2016 Keto Krate box is Chili Lime. This crunchy snack is awesome!
If you are looking for a yummy snack to take on the road, you must check these out. They are crunchy like crackers made with sunflower seeds, flax meal, flax seeds, sesame seeds, pumpkin seeds and chia seeds. You'll love that they are also grain-free, gluten-free, vegan, egg-free, raw, dairy-free, sugar-free, and nut-free.
I guarantee you will not be disappointed with these delicious seed crackers. In addition to the super yummy Chili Lime flavor, they also come in Curry Chipolte and Smoked Paprika.
These Rawxies Crunch snacks are so good, I'm going to have to stock up using the 25% off discount code. You can find them on Amazon.
Keto Shakes in Vanilla Cinnamon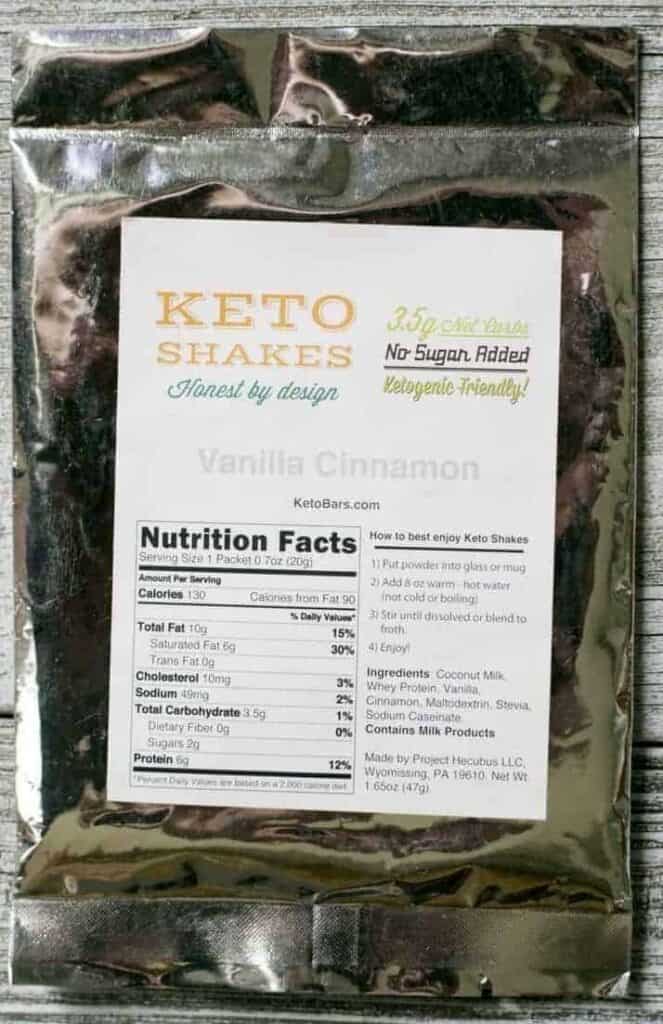 A one serving packet of Keto Shakes was in the June 2016 Keto Krate box. I tried this shake out for breakfast the day after I got it. It's a cinch to make. All you have to do is add 8 ounces of warm to hot water to the mix and stir until frothy.
The ingredient list is pretty impressive. There's coconut milk, whey protein, vanilla, cinnamon, and stevia in the mix. One serving has 3.5 grams of carbs, 0 grams fiber, 2 grams of sugar, and 6 grams of protein. There's also 130 calories and 10 grams of fat. I suspect the sugar grams are from the powdered coconut milk.
I found the shake to be a bit sweet, but I'm pretty sensitive to sweet these days. It did have a wonderful vanilla cinnamon flavor. It's a great product for breakfast or morning snack.
You can find Keto Shakes on ketobars.com where they also sell Keto Bars. The keto bars were in a previous Keto Krate box and I thought the bar was pretty yummy. I do like the bars and wouldn't mind trying the shakes in the chocolate and coffee flavors.
Aunt Lizzie's Cheese Straw Bites
If you miss those high carb square cheese crackers, you will love these Aunt Lizzie's Cheese Straw Bites. My only issue with them is that they aren't gluten-free. The ingredients list soy protein, oat bran, and wheat gluten which are things I don't normally eat. Each one ounce serving has only 1 gram of carb so it's a great choice if you haven't gone gluten and grain free.
You get a lot of crackers in the bag. It's definitely a snack that should last over a few days. However, they are pretty easy to overeat so you'll want to take out a serving and get the rest of the bag out of sight. They have a nice crunch and a great cheese flavor. I just wish they were gluten and grain-free. If they were, I'd be all over them!
You can find out more about Aunt Lizzie's cheese bites at auntlizzie.com. They do offer gluten-free cheese straw bites, but they aren't low carb. You can also find the low carb cheese bites on Amazon. They also come in a Jalapeño flavor.
Nick's Sticks Turkey Stick
I really enjoyed these turkey sticks by Nick's Sticks! You get two very long meat sticks in the 1.7 ounce package which is a very good sized serving. There's no carbs and the two stick serving has 75 calories, 3 grams fat, and 10 grams of protein.
I love that the turkey used in the sticks are free range and there's no added antibiotics, gluten, or MSG. The sticks also have no nitrites added except those that occur naturally in sea salt and celery juice. There's a whole lot to love about these turkey sticks!
Nick's Sticks was founded by Nick Wallace after moving to natural foods during his cancer battle. Nick is now cancer free and lives by the philosophy of allowing animals to roam free on nourishing feed. In addition to the free-range turkey sticks, the company also makes grass-fed beef sticks. I certainly need to try the beef sticks!
I've already got more of these on order. You can grab some at nicks-sticks.com or Amazon. There's a 15% off discount code to use at the Nick's Sticks website to order more. And, the discount is good until the end of July. I may just have to stock up!
The Gilded Nut Pistachios in Mediterranean Herb
The Gilden Nut Pistachios have been in a previous Keto Krate. In the June 2016 Keto Krate box, a package of Mediterranean Herb is included. We love pistachios and the flavored ones are a real treat.
The ingredients listed on these flavored pistachios are all natural. The roasted pistachios are coated with first cold pressed extra virgin olive oil and then tumbled in premium herbs and spices. The taste is awesome!
The box of pistachios is a little over a serving. One ounce of these Mediterranean Herb pistachios have 160 calories, 13g fat, and 8 grams of total carbs of which there's 3g fiber and 2g sugar. There's also 6 grams of protein.
You can find out more about these tasty flavored pistachios at gildednut.com. Other flavors available are original, Habanero Heat, and sea salt & pepper. Seasoned nuts are always a good choice to take along on your summer road trip. Using the included discount code saves 20%.
Adapt Fatshot in Coconut
In a previous Keto Krate, I was introduced to Adapt bars. I thought the bar was rather small. Adapt also offers Fatshots which are squeezable pouches to get a little fat boost on the go.
I'd say this fat shot is basically a fat bomb that you can take with you. The June 2016 Keto Krate box included a coconut flavor Fatshot. The ingredients are macadamia, cashews, coconut oil, palm oil, MCT oil, whey protein, butter, salt, and stevia. I'm a bit disappointed that there's artificial flavors. I had the same issue with the Adapt Bars.
If you'd like to learn more about the Adapt products, you can head over to adaptyourlife.com. There is a 10% off discount code included for more if you'd like to stock up on these portable fat bombs.
Sweetwood Cattle Co. Fatty Stick
I was pretty excited that there were two varieties of meat sticks in this month's box. Also in the June 2016 Keto Krate box was a Fatty hickory smoked meat stick made by Sweetwood Cattle Co.
Unlike the Nick's Sticks meat sticks, the Fatty stick does have a little bit of sugar added in the flavoring so it's not a zero carb snack. There is 1 gram of sugar listed for the 2 ounce serving. And, dextrose and sugar are listed as ingredients. Both of those are things I try to avoid. However, the meat stick is low carb so it certainly shouldn't hurt because the added sugar is so low.
You can see the whole line of Fatty meat sticks at sweetwood.com. You can also find these oversized meat sticks at Amazon. Keto Krate did include a generous 25% off discount code for additional sticks so you'll save big if you'd like more.
Conclusion
After reviewing the June 2016 Keto Krate box items, do you think it's worth the price?
I believe Keto Krate is a great value for what you get. I plan to continue my subscription for a while. Want to see some of the other products that have been included in the monthly Keto Krate shipments? Below are links to my last three Keto Krate reviews.
Click here to see my review of the March 2016 box.
Click here to see my review of the April 2016 box.
Click here to see my review of the May 2016 box.
Are you ready to join the keto snack club? Just head over to Keto Krate to subscribe!
Related Posts