Check out the low carb products featured in the June 2017 Keto Krate monthly box. Get more details on each product by reading this month's review.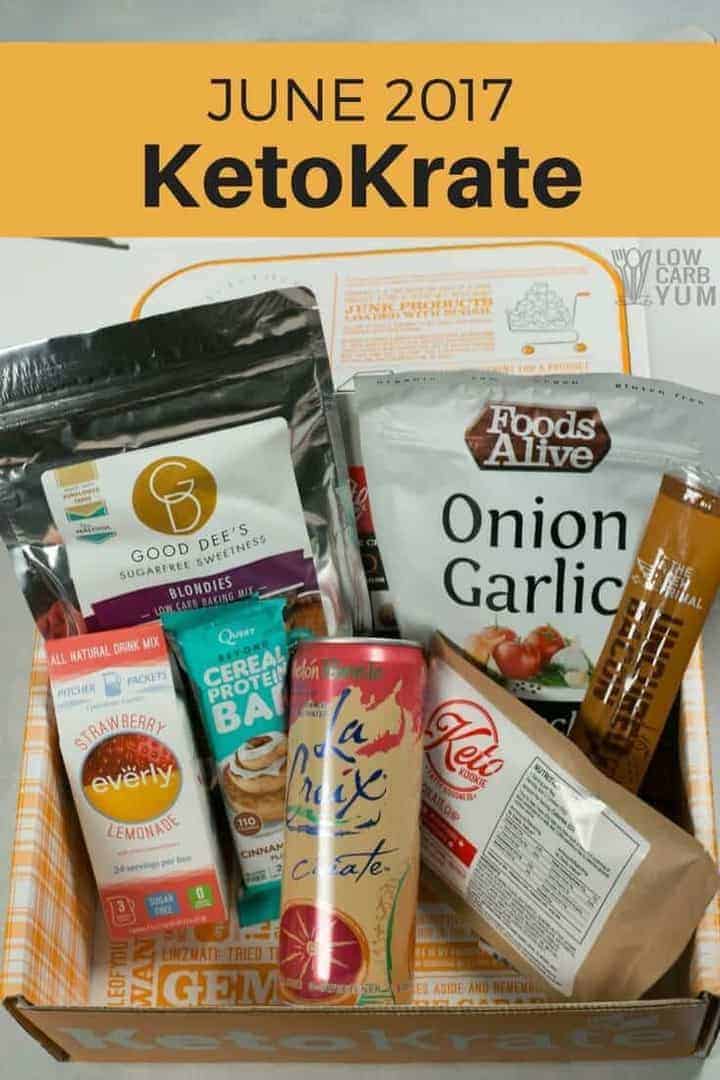 It's that time of month again to see what's featured in the Keto Krate shipment. I had planned to discontinue these review posts, but it seems a lot of folks enjoy discovering the latest products that are being featured. So, I've decided to continue.
As usual, the box was full of goodies and new surprises. I do enjoy receiving these yummy low carb products each month so it it's been worth my time writing up a review each month just so I can get a sample box.
Since I've been working on my video skills, I decided to add a video below of the Keto Krate unboxing so you can see how everything is packaged. You really do get a nice assortment of 6-8 low carb goodies each month!
June 2017 Keto Krate Unboxing Video
You'll find more details on each of the low carb products included in the box below…
Chocolate Chip Keto Kookie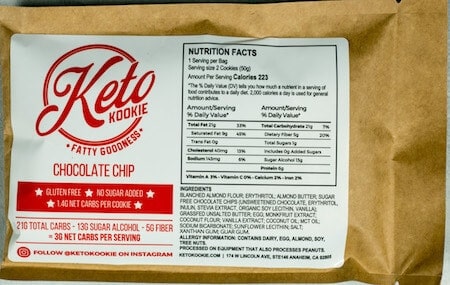 The June 2017 featured product is a package of Chocolate Chip cookies from Keto Kookie. I've heard about these amazing cookies, but this is the first time I've tasted them.
There's two cookies in the single serving pack. Eating both cookies will only set you back 3 grams net carbs and 223 calories. Each cookie has only 1.4 gram net carbs so you could divide the serving if you'd like
The texture of the cookies is similar to homemade. It's a soft baked cookie, not a crunchy one. And, the ingredients are similar to what I'd use in my own kitchen: almond flour, coconut flour, grass-fed butter, and natural sweeteners.
You can learn more at the Keto Kookie website. Keto Krate subscribers were given a 20% off discount code to stock up on more yummy low carb keto cookies!
Lacroix Water
I've seen the La Croix flavored water in my local stores. But, I haven't given it a try until receiving a sample of the Melon Pomelo flavor in the June 2017 Keto Krate. It's a blend of cantaloupe and pink grapefruit.
The ingredients in this keto beverage are sparkling water and natural essential oils for flavor. The taste is wonderful and I love that there's no added sweetener to the natural essenced water.
Keep a few of these chilled in your refrigerator for a refreshing drink this summer. With zero carbs and calories you get great flavor and nothing else.
To find out where LaCroix Water is sold near you, check out their website here. You can also grab yourself a variety pack on Amazon.
Quest Nutrition Cinnamon Bun Cereal Bar

I really enjoyed the waffle flavored cereal bar included in last month's Keto Krate. That's why I was excited to see another flavor featured in the June 2017 Keto Krate box.
It's a toss up on which flavor I like best. They both taste pretty good. I think the cinnamon roll flavor won me over just a little more.
These taste just like the high carb cereal bars. But, at only 2 grams net carbs, you won't have to worry about all the sugar.
If you can't find these tasty bars locally, they are available online at Quest Nutrition. You can also order them conveniently on Amazon.
Foods Alive Onion Garlic Flax Crackers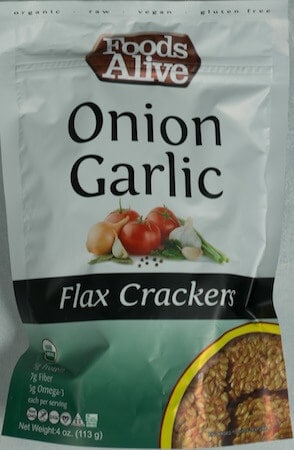 I try not to eat too much flax to avoid hormonal impacts. But, when I do indulge, flax crackers are my favorite way to eat it. And, Food's Alive is one of the best brands to buy.
Although the Food's Alive flax crackers weren't the featured product of the June 2017 Keto Krate, a recipe was included to go with them. The featured recipe of the month is a smokey bacon and cheddar dip that's perfect for dipping the crackers in!
The bacon and cheddar dip recipe calls for an ounce of the Onion Garlic flax crackers to be ground up and sprinkled on top. So, these yummy crackers are not only great for eating, but they work in recipes too.
You can find out about the flax crackers at FoodsAlive.com where subscribers can use a discount code for 20% off. The Foods Alive flax crackers are also sold on Amazon.
Good Dee's Blondies Mix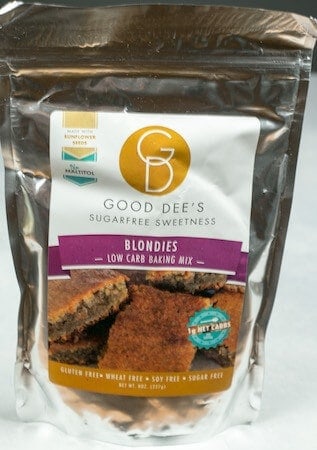 I love convenient low carb baking mixes. So I couldn't wait to bake the Good Dee's Blondies with my four year old daughter.
The blondies are so simple to make, my daughter didn't need much help. You just have to add a couple eggs, some oil or butter, and a little vanilla extract to the mix.
I love that the mix uses ground sunflower seeds as the low carb flour and there's no sugar alcohols or artificial sweeteners. And, the blondies come out super moist and soft just like high carb ones.
You can find more of these low carb baking mixes at GoodDees.com and a 20% off discount code is provided in the July 2017 Keto Krate. You can also buy some of the Good Dee's low carb baking mixes like the chocolate chip cookies at Amazon.
The New Primal Uncured Maple Bacon Stick

The guys at Keto Krate always find a way to stuff in at least one keto meat snack in the box. And, I always look forward to them. This month contained an uncured maple bacon stick by The New Primal.
Since there was only one meat stick and no jerky, I took a taste and gave the rest to my husband. However, our youngest daughter wanted half as the meat sticks are her favorite.
Although I only got one bite, it was enough to get a good taste. The flavor was very good and the stick is soft and easy to chew. My daughter and husband loved it.
Since I didn't get more than a bite, I may have to order more with the 20% off discount code at TheNewPrimal.com. You can also find The New Primal uncured meat sticks at Amazon.
Everly Strawberry Lemonade Drink Mix – Retail

With the hot weather of summer in full swing, the box of strawberry lemonade mix was a welcomed sight. There's 3 packs of mix in the small box which is enough to make 6 quarts of lemonade.
I've had the individual drink mix sticks from Everly. But, being able to make a pitcher of lemonade at a time is much better for me. And, each eight ounce serving has zero calories.
There's no artificial coloring or flavoring used which makes it a perfect drink to share with the kids. The sweeteners used are stevia and erythritol.
You can learn more about this natural low carb drink mix at GoEverly.com. You can also buy Everly drink mixes the next time you shop Amazon.
June 2017 Keto Krate Low Carb Products Subscription Box Review
The retail value of all the items that came in this month's box is on the low end of most Keto Krate boxes. But, factoring in the cost to buy the products separately, it's still a good deal. And, it's so convenient to have these surprise boxes shipped each month to your door!
Want to see some of the other Keto Krate monthly shipments? You can find links to my last three Keto Krate reviews below:
The March 2017 box review is available here.
The April 2017 box review is available here.
The May 2017 box review is available here.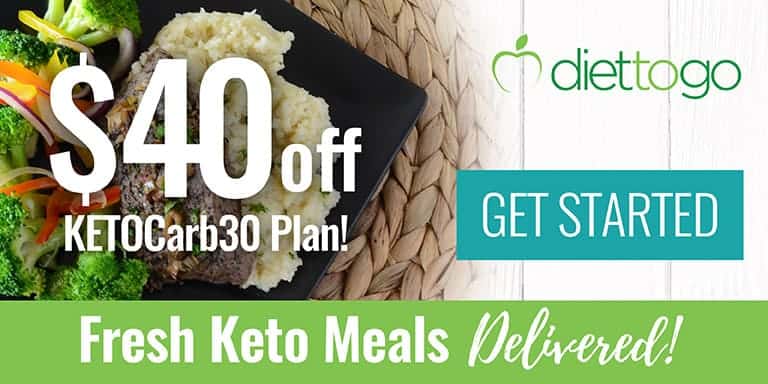 Ready to sign up? Just head over to Keto Krate to subscribe!