Interested in getting low carb snacks delivered? Check out my Keto Krate Box Opening February 2016 review to see what arrived.
My Keto Krate arrived right on time this month and it was a welcomed sight after coming home from a long day at work. I've been including a monthly post on these goodies because I know a lot of you are on the fence about signing up for this service.
I've enjoyed 3 snack boxes and I have been pleased with them all. So far, there has only been one product I didn't care for and it was included in this month's box. I'll discuss that later when I get to that product. However, the other products in the package more than made up for that one disappointment. It's practically impossible to please everyone 100% of the time so I'd still say that Keto Krate is doing an amazing job with the product selections.
I've included a video of the box opening this time so you can see exactly how the Keto Krate goodie box arrives and the great packaging they do. I love the convenience of this service. It's like having your own personal shopper for low carb food.
Here's my detailed review of the products in this month's Keto Krate:
Dave's Meat and Nuts Jerky
Keto Krate always does a fine job finding the best low carb jerky. The February 2016 selection was amazing. I'm a big jerky fan so I always smile when I see a bag of jerky included in the monthly snack pack.
The package of Dave's Meat and Nuts Jerky was the first item that I ate and finished. The bag contained two servings of delicious low carb jerky. There are no added sugars like most jerky you see on the market. And, it was soft and easy to chew. A definite winner with me!
There are only 5 ingredients in this jerky: Beef, Salt, Black Pepper, Celery Powder, Lactic Acid Culture. Nothing funky in this jerky so it's a perfect low carb keto treat!
Dave's Meat and Nuts Jerky is so yummy, I will be ordering more very soon. Great thing is that there's no rush. The 20% off discount code included is good indefinitely so I can stock up on this terrific jerky at a nice discount!
Ultima Replenisher
If not looking closely, one may miss the small pouch of Ultima Replenisher that was included in the box. This is a nice electrolyte drink that is free of all the unnecessary carbs that fill the majority of sports drinks. Ultima replenishes the key electrolytes in the body which are magnesium, potassium and sodium. And, Ultima uses no artificial colors, flavors or sweeteners!
The included coupon code saves a nice 35% off future purchases of this drink pouch and the discount is good until the end of 2016. That's great news for those who like to replenish electrolytes in the body with a tasty drink. I may use the discount to buy more as I like to have these flavored drinks in the summer.
2 Cans of Zevia Soda
I'm already a fan of Zevia, stevia sweetened soda. I've been drinking it ever since it came out. Although I'm not a big soda drinker, I like to have a fizzy drink on occasion and Zevia is my preferred choice.
The Keto Krate snack box included a can of Black Cherry and Cream Soda. Two great flavors. Actually, there isn't a flavor of Zevia that I don't like. Black Cherry is my favorite so it was nice to see that one.
I used the included coupon within days of receiving it. Both of my favorite grocery stores carry Zevia soda. I picked up a 6 pack of ginger ale Zevia as that's a favorite to drink when I'm sick and I have been a little under the weather this winter.
Paleo Wraps
I've been a fan of Paleo Wraps ever since I first discovered them. They are made from coconut meat and I am a huge lover of coconut. If you don't like coconut (how can that be???), you probably wouldn't care for them, but I think they are fantastic. I like to take a pack to work and snack on a sheet at my desk. I don't even bother using them as a wrap.
I was happy to see a discount code to stock up on these amazing Paleo wraps. The Keto Krate box included a code for 10% off or free shipping on 6 items. I'm going to look into getting more. The cost is a bit high for these wraps, but I think they are worth it.
I should probably try using these thin low carb sheets as intended and try them for a breakfast or lunch wrap. I have often wondered how they would perform if fried or baked. I've had a few ideas for using these tasty wraps in recipes, but haven't had a lot of time to experiment.
Rhythm Superfoods Roasted Kale
Would you believe I had never had kale chips before? Surprisingly, it's true. These tasty smoky bacon roasted kale pieces made by Rhythm Superfoods really hit the spot.
These roasted kale chips were so good! I have to buy more. Unfortunately, there wasn't a discount code so I'll have to order them at retail until I can find another way to buy them at a discount. It will be worth it, though.
I really enjoyed this healthy low carb snack and I'm not a big fan of kale. I suppose I could make my own kale chips. That's something I need to experiment with, especially after trying this yummy treat.
I'm going to search the local natural food stores and see if they sell any type of kale chips. I may have just been passing them over when shopping. Now I know why the recipes for kale chips have been so popular! Why did it take me so long to figure this out?
Go Lo Foods Almond Butter
The flyer that came in my Keto Krate shows a Go Lo Foods sugar free dark hazelnut spread. Unfortunately, I didn't get that packet. Instead, I got a Go Lo Foods almond butter packet.
To be honest, I've never had Nutella so I would have liked to try it. Oh well. There is a discount code included to get 10% off. I suppose I can order some or just make my own. I see so many recipes for low carb Nutella. Since I've never used it, I don't know what I'm missing. Perhaps I need to see what all the fuss is about.
I did like the single serving pouch that the Go Lo Foods Almond Butter came in. It is convenient and portable for taking with you. It's not that great taking a jar and spoon on the road so this is a great idea. It's a perfect size portion of almond butter so you won't overeat it. It's a 100 calorie pack. Just enough to satisfy hunger between meals.
Ziggy Marley Sea Salt & Pepper Hempseeds
It's inevitable that eventually there will be an item in the Keto Krate that you just don't like. The Ziggy Marley Sea Salt & Pepper Hempseeds was that product for me. I tried to eat them plain and the taste was just unbearable. I like sea salt and pepper so it must be the hempseeds themselves that didn't go well with me.
I even tried putting a few on a salad. It was a little more tolerable, but still not good. This is the second time Keto Krate has included this product in one of their monthly boxes. I hope others feel the same way I did and it doesn't get included again. I may have just gotten a bad batch, but even so, I don't think I'll try another. It was that bad for me. Luckily, all the other products made up for it. And, I'm still breaking even as I will be using enough discount codes to make up the cost.
Value Breakdown of February 2016 Keto Krate
Even though I didn't like one of the products this month, I still think Keto Krate is a good deal and I'm going to continue my subscription. And, I really love being surprised by new products each month. I'm a busy working mom so I need all the help I can get. Having low carb snacks delivered each month really saves me shopping time. I'm a fairly new subscriber so I'd like to see what other goodies are coming this year!
Click here to see what was in the November 2015 box.
Click here to see my review of the December 2016 box.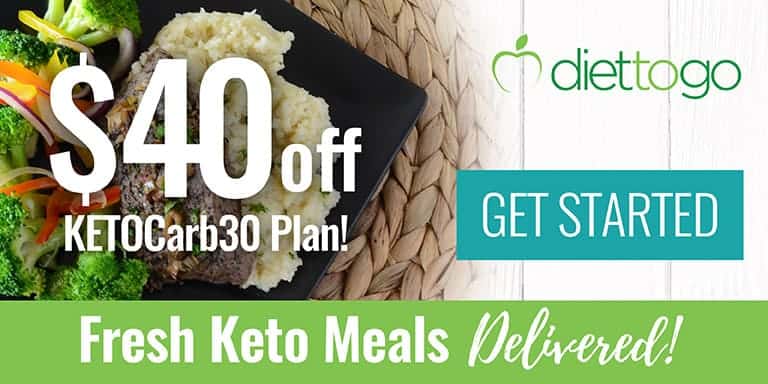 Are you ready to join the keto snack club? Click on the image below to subscribe to Keto Krate!