The Keto Krate December 2017 box was packed full of delicious low carb products. Check out the review to see all the keto friendly items.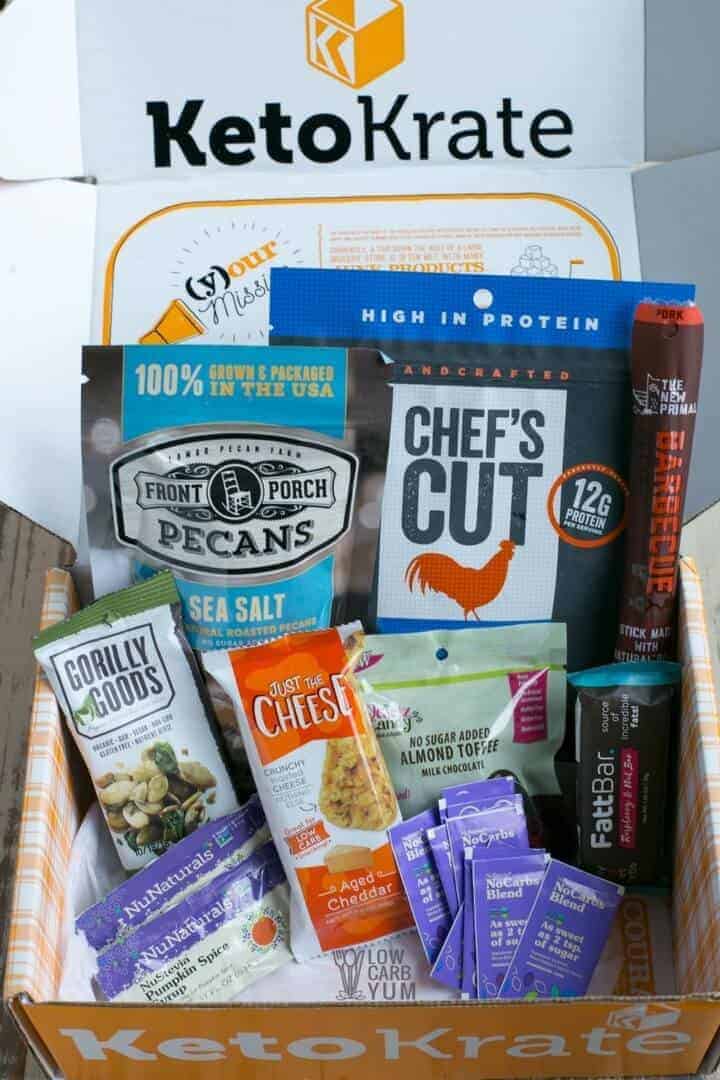 It's that time of the month again! Yup. I've continued with my monthly review of the Keto Krate subscription box even though things have been quite busy this holiday season.
And, as usual, this box contained a few subscriber favorites along with some new products. It's another fabulous selection of keto friendly foods.
I made a quick video clip showing the items in the December 2017 Keto Krate box. Just click the play button in the player below:
Keto Krate December 2017 Unboxing Video
Front Porch Pecans (1g Net Carb, 22g Fat) – $6.95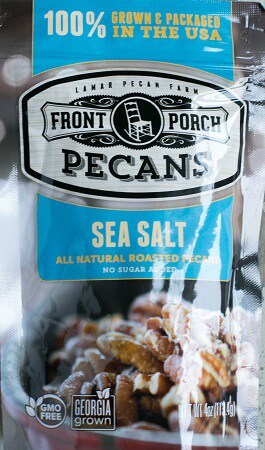 The Featured Product of the month for the Keto Krate December 2017 box is the Front Porch Pecans. And, there's a fantastic recipe for Chocolate Pecan Shortbread included in the box.
I'm planning to use the pecans to make the shortbread cookies for Christmas. I know my family is going to love them even if they aren't avoiding sugar. Santa is sure to love them too!
Of course, Front Porch Pecans are delicious straight out of the bag as well. In fact, they are my favorite brand of pecans. The nuts are crisp and perfectly salted.
I may have to order a few more bags using the included 15% off code at FrontPorchPecans.com. You can also order Front Porch Pecans at Amazon.
The New Primal BBQ Pork Stick (2g Net Carbs, 7g Fat) – $2.50

Meat sticks are an ideal keto snack. The New Primal Barbecue Pork sticks are one of the finest you can buy. The meat is very tender with just the right blend of spices.
My five year old daughter loved this too so it's also a keto snack that kids enjoy. The taste is a bit sweet and smoky without being too spicy.
You'll also find The New Primal meat sticks in a variety of other flavors. The Habanero Pineapple Beef sounds interesting.
The Keto Krate December 2017 box included a 25% off discount code to use at TheNewPrimal.com as well. It's a great deal to purchase more.
The Natural Low Carb Store FattBar (4g Net Carbs, 9g Fat) – $2.50

Chewy fruit and nut bards are a great stand in for those that miss granola bars. It's tough to find one that's low in carbs, but The Natural Low Carb Store figured out how to create one.
The Natural Low Carb Store is a UK based low carb shop that offers low carb meals as well as treats like this Raspberry & Nut Bar. Right now, they don't ship to the US, but hopefully that will change soon.
That's one of the great things about Keto Krate. You get to sample a lot of different products. And, sometimes, it's a product debut that has not been available before.
If you're in the UK, you definitely need to check out these yummy nut bars. And, take a look at the other products The Natural Low Carb Store offers.
Chef's Cut Chicken Jerky (3g Net Carbs, 2g Fat) – $6.99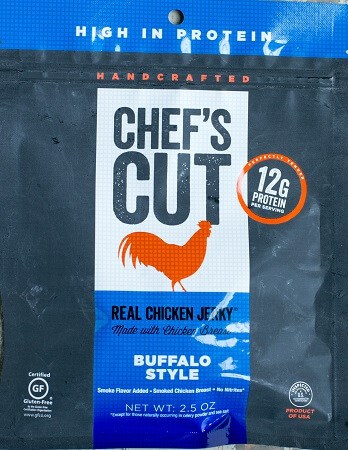 The Chef's Cut Buffalo Style Chicken Jerky is a welcomed repeat product. It's a tasty take on jerky and a great way to enjoy the taste of Buffalo chicken on the go.
Meat is one of the best keto snacks you can have as the carb count is super low. That's why I always look forward to the jerky and meat sticks in each Keto Krate.
You also get a good amount of protein to help meet your daily macro goal. And, if you don't like Buffalo flavor, check out some of the other flavors offered by Chef's Cut.
Just The Cheese Aged Cheddar (0g Net Carbs, 12g Fat) – $1.99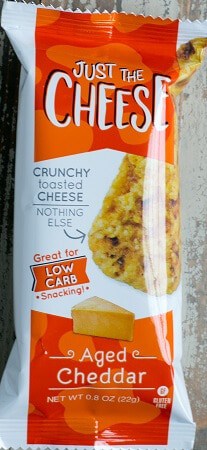 For those that like cheese crackers, the Just The Cheese Aged Cheddar Bar cheese snack is for you. It's got all the flavor and crunch of chips or crackers with none of the carbs.
The guys over at Keto Krate suggest dunking a Just The Cheese bar in a bowl of low carb tomato soup instead of a grilled cheese. Sounds like a great combination to me!
I love the convenience of being able to take cheese on the road without the need for refrigeration. And, there's a 15% off discount code tucked into the Keto Krate December 2017 box to use at Amazon to buy more Just The Cheese bars.
Gorilly Goods Pumpkin Seed and Kale (3g Net Carbs, 17g Fat) – $2.19

Raw snacks are super popular these days. And, it doesn't get much better than a healthy combination of vegetable and seeds.
Gorilly Goods combines pumpkin seeds and kale in their Hillside snack mix. Its a tasty seasoned blend that's perfect for grab and go.
If you're wondering about the name, Gorilly Goods donates 2% of their process to the Diane Fossey Gorrilla Fund. That's just one more reason to love this product.
There's also a generous 25% off discount code included for Keto Krate subscribers to use at Gorilly Goods. So, it's a great time to stock up.
NuNaturals Stevia Packs (0g Net Carbs, 0g Fat) – $12.00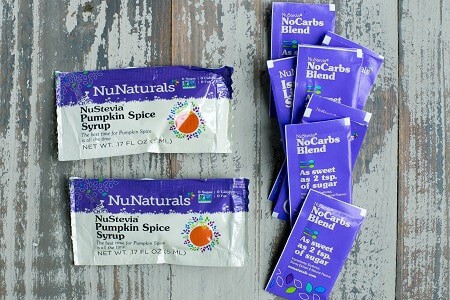 I've been a fan of NuNaturals stevia for a few years. It's one of the stevia products I keep in stock in my home. The stevia syrups are of of my favorites.
The pumpkin spice syrup can be used to flavor your morning coffee. Jut whip in some heavy cream and a serving of the syrup and you've got a delicious pumpkin spice latte!
Each small syrup packet has plenty to share. Since it's highly concentrated, there's enough for 4 servings in each packet. The syrup is also sold in bottles and it's a great way to add flavor and sweetness with one product.
Now is the time to stock up on NuNaturals stevia products. A hefty 40% off discount code was included in this month's Keto Krate. I'm going to grab a few bottles of the syrups.
Curly Girlz Milk Chocolate Almond Toffee (3g Net Carbs, 7g Fat) – $5.59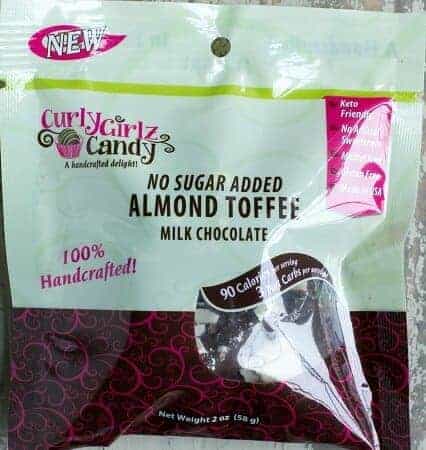 Unfortunately, the chocolate toffee at Curly Girlz Candy has sold out on their website. I bet being featured in the Keto Krate December 2017  box played a big part of that.
Like many others, I loved the candy so much, I went to order more using the 15% off discount code. But, the toffee had already been sold out.
But, Curly Girlz Candy is making candy all the time, so I checked a few days later. And, I found that this yummy chocolate almond toffee was back in stock!
If you find something out of stock, it's definitely worth waiting for this delicious candy. I'm hoping this small company continues to do well so they can offer us more keto friendly treats.
Concluding thoughts on the Keto Krate December 2017 Box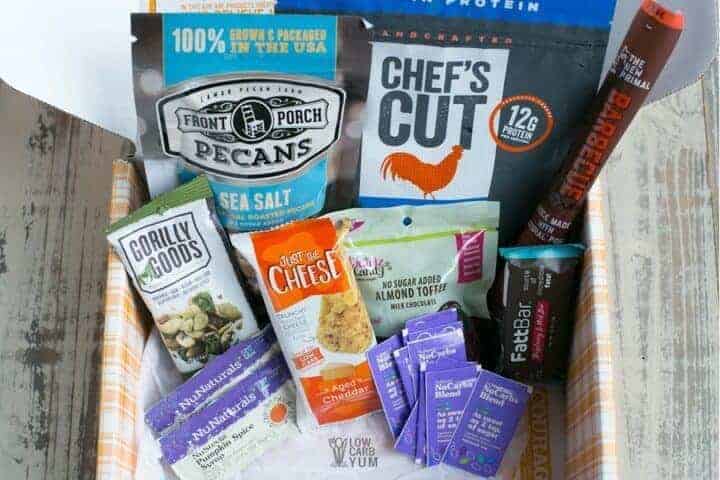 Keto Krate put together another terrific box of goodies. I discovered a new fruit and nut bar that hasn't hit shelves in the US yet along with some deep discounts on products I love. Which product did you enjoy the most?
Want to see some of the other items that were featured in past shipments? Here's the links to my last three Keto Krate reviews:
September 2017 box review
October 2017 box review
November 2017 box review
Interested in signing up for this awesome low carb product delivery service? Head over to the Keto Krate website to subscribe!

Related Posts