This post may be sponsored or contain affiliate links. But all opinions are our own.
Full Disclosure
Want delicious keto snacks delivered to your door every month? Check out my review of Keto Krate, a service that delivers monthly boxes of keto snacks.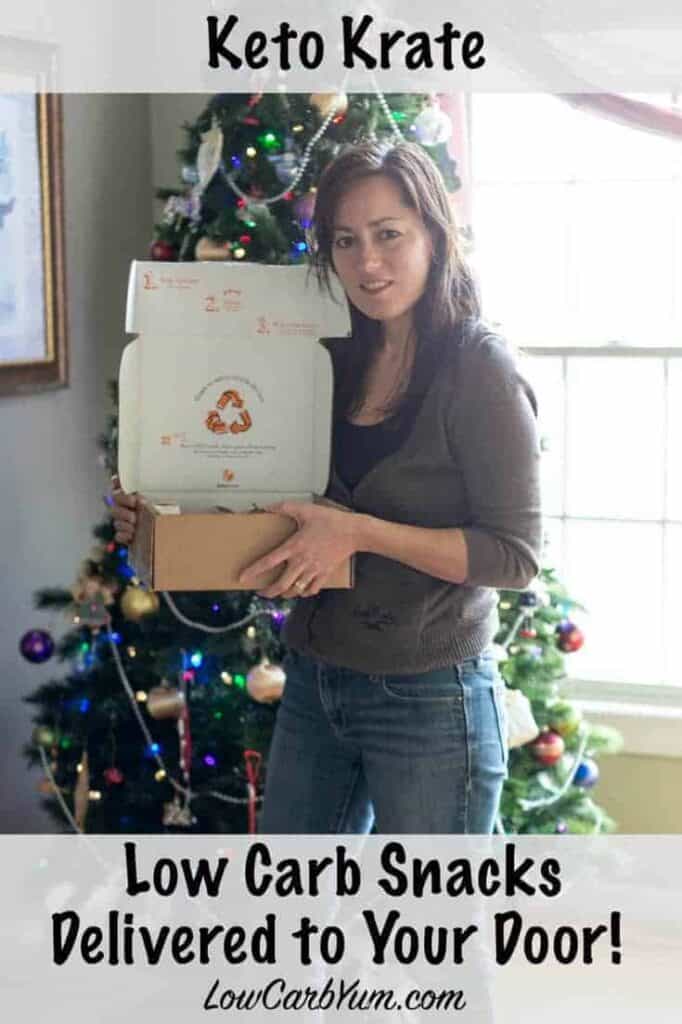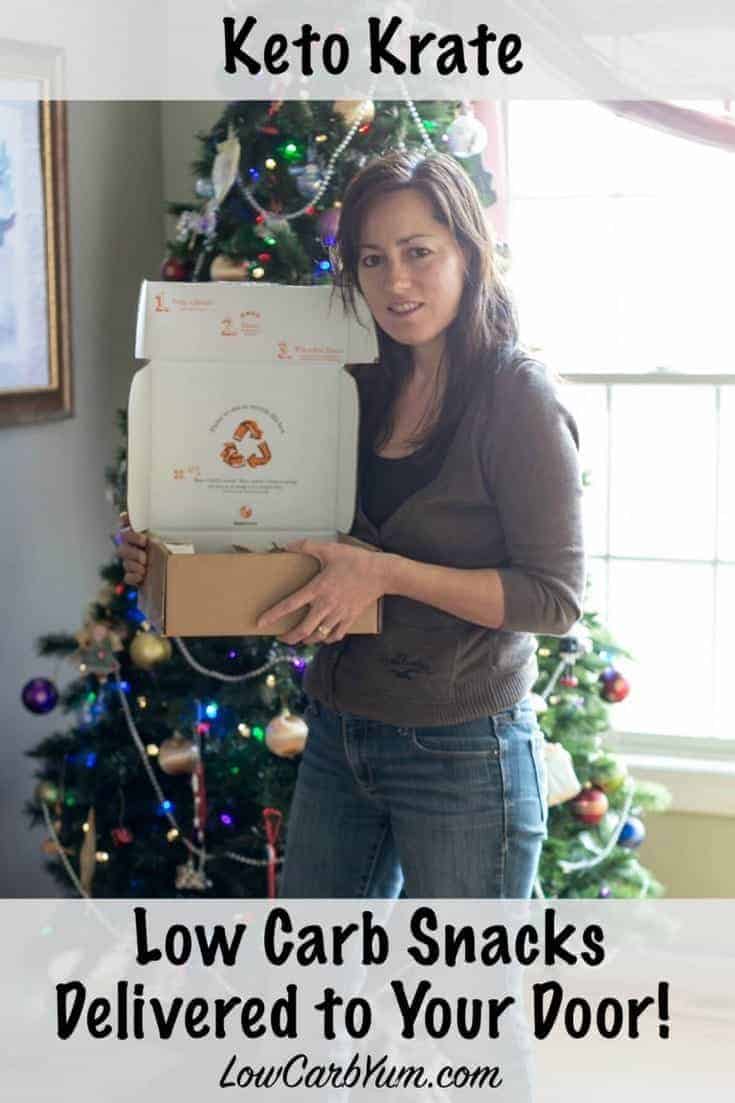 Last week, I got an early holiday treat. Two Keto Krate boxes showed up at my door compliments of Jordan at KetoKrate.com. Both boxes were full of yummy delicious keto snacks!
Keto Krate is a fairly new service to have delicious low carb keto snacks delivered to your door. They started delivering monthly keto snacks in July 2015.
This is an excellent way to try different low carb snacks each month without spending a lot of money or time shopping around. I absolutely love the idea of a surprise package of low carb goodies showing up at my door every month. And, all snacks in Keto Krate have less than 5g of carbs per serving. Often, the carbs are much less!
For the low cost of $34.95 plus $4.95 shipping (within the USA), you get the following benefits by joining the Keto Krate monthly low carb snack delivery service:
6-8 low carb keto snacks worth more than $34.95 in retail value
$20+ in discount codes to stock up on the keto snacks you like
No contract. Cancel at any time!
100% money back guarantee
Keto Krate also makes a wonderful gift! Got a difficult person to shop for? Who doesn't like snacks? Even those who don't regularly follow a low carb diet would love a box of delicious keto snacks. Ready to order? Simply head over to the keto snacks delivery website or click on the button below!
Still unsure if Keto Krate is for you? Let's take a look at the keto snacks included in the November 2015 box. I'll review the contents of the December 2015 box in another post.
November 2015 Keto Snacks from Keto Krate
Let's take a closer look at the 8 keto snacks that the November 2015 box contained. It's a nice mix of savory snacks with a few sweets mixed in. It was a tough job, but I personally tried every item!
The products in the box are Grandpa's Beef Jerky, Chocoperfection Bar, Pork Clouds, Keto Bars, Chef's Cut Chicken Jerky, Sarayo Sauce, Flackers: Flax Seed Crackers, and Krunchy Melts Meringues.
Chef's Cut Chicken Jerky – $6.99 Retail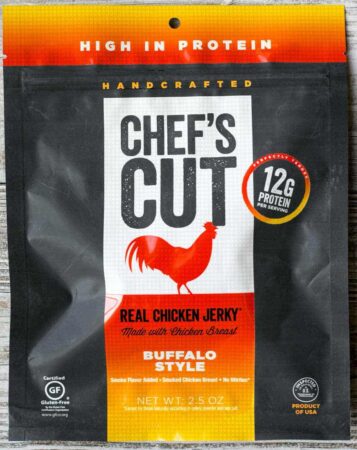 What a novel idea! Buffalo chicken in a portable snack that won't make a mess when you eat it.
If you went over the Amazon, this bag of jerky costs about $12 with your free Prime shipping. That's a lot of money for one bag of jerky! Or, you could buy a four pack of this jerky for about $26.50.
A 4 pack of this jerky costs $27.96 at the company website, but you'd have to order over $40 in products to get free shipping.
Luckily, this yummy jerky was included in your affordable Keto Krate along with a 15% off coupon to use at Chef's cut if you'd like to order more! Using the discount code to purchase more jerky at ChefsCutRealJerky.com will get it down to $5.94 a bag if you buy an 8 pack.
Chocoperfection Bar – $3.99 Retail
One of my favorite chocolate bars was included in the November 2015 Keto Krate, a dark chocolate Chocoperfection bar. These taste just like the expensive Godiva chocolates I used to treat myself to before moving to a low carb lifestyle. Who wouldn't want to enjoy a Chocoperfection bar? Clearly the leader when it comes to keto chocolate bars.
On Amazon, a 12 pack of dark chocolate Chocoperfection bars costs a whopping $47.95 with free shipping, about $4 a bar. With Keto Krate, you could stock up with the included 10% coupon code to use at chocoperfection.com where retail is $46.95 for a box of 12 with free shipping which gets it down to about $3.50 a bar if you want more.
Keto Bars – $2.59 Retail
The included Keto Bars reminded me of my delicous low carb coconut chocolate fudge, but in a more candy bar like bar. It has a soft texture with lots of yummy coconut mixed in. It's great for busy people like me who don't always have time to make keto snacks on the weekends.
The ingredients in these chocolate coconut bars are very similar to what I would use for my homemade treats: coconut, eggs, baker's chocolate, whey protein, heavy cream, butter, vanilla extract, and stevia. It has a nice bitter sweet chocolate flavor.
Keto bars are handmade and are sold at ketobars.com for $21.99 for a 10 pack and shipping is $3.99. Keto Krate provides a coupon to save 15% off an order of $40 or more.
Pork Clouds – $4.00 Retail
Similar to pork rinds, Pork Clouds are made from salt cured pork skin. However, these pork skins are first coated with olive oil and then seasoned to make delicious crispy low carb chips. Occasionally, with regular pork rinds, I'll get a few that are super hard and difficult to bite. Not the case with Pork Clouds which are much lighter and fluffier. My box had a bag of Malabar Black Pepper flavored chips which had the seasoning dusted on in just the right amount. Yummy! I need to buy some more. Perfect snack when watching movies!
On Amazon, 10 large bags of Malabar Black Pepper Pork Clouds are $38.50 plus $5.49 shipping. At the BaconsHeir.com site, you can get a 3 bag variety of these for $12 with free shipping. Add in the 10% off discount code from Keto Krate and you'll get more for $3.60 a bag. That's a savings of 40 cents a bag or $1.20 total.
Flackers: Flax Seed Crackers – $5.99 Retail
Flackers are crackers made from whole flax seeds that provide plenty of fiber and crunch. I received a bag of Rosemary Basil flavored Flackers.
Although these crackers look like bird food, they are amazingly delicious. I couldn't get enough of them and they certainly fulfilled the needed snack crunch. These would go great with a holiday cheeseball.
Amazon offers these for $6.44 a box with free Prime shipping. On the company website, DrInTheKitchen.com, a box is $5.99 with a $4 flat rate shipping fee. Keto Krate provides a discount code to save 25% if you'd like to buy more from the Dr. In the Kitchen website.
Grandpa's Beef Jerky – $11.99 Retail
It's tough to beat a bag of Grandpa's Beef Jerky. This brand is often called "the prime rib of jerky" for good reason.
The hickory flavor included in my Keto Krate is the most popular and it's made from premium top-round steak. This delicious jerky is soft and tender with a mild pepper spice to it. It's cut into smaller manageable pieces which I really like.
It doesn't look like like Grandpa's Beef Jerky is sold on Amazon. On the Grandpa's Beef Jerky website, a bag sells for $11.99. It's a premium brand of jerky so it will be difficult to get it cheaper. I would have loved to buy some more, but there wasn't a discount code and it's a bit steep for jerky since we have tons of local venison in the freezer that I could turn into jerky.
Sarayo Sauce – $4.00 Retail
A bottle of Sarayo creamy, spicy umami, sriracha mayo was neatly tucked into the Keto Krate. This sauce gives a nice kick to ordinary deviled eggs. I also drizzled a little over a dinner salad and it added a nice touch of spices. A little bit of this sauce goes a long way and you can use it in your cooking or as a condiment.
Apparently, this has been a popular product with Keto Krate customers as it's already been featured twice. It is a very tasty sauce to have on hand. I may even try a few of the Sarayo Sauce recipes.
I was pleased to see this yummy Sarayo sauce available on Amazon prime for a reasonable price of $9.95 for two 11.8 ounce bottles. However, it's still cheaper to get it in your monthly Keto Krate shipment. And, in with the monthly snacks was a 10% off discount code to use at SarayoSauce.com where shipping is free for USA orders!
Krunchy Melts Meringues – $2.59 Retail
Last, but certainly not least, is a container of delicious keto meringue cookies. You won't have to worry about over-indulging in these treats because the included Strawberry Krunchy Melts Meringues is a single serving setting you back only 45 calories.
I absolutely loved these cookies. They do contain isomalt, so you'd want to be cautious and eat them in moderation if you are sensitive to this sugar alcohol.
Unfortunately, there was no discount code to buy additional cookies. They are available in a 12 pack on Amazon, but it's $23.99 + $5.29 shipping ($2.44 each). You can also grab some at KrunchyMelts.com. These yummy cookies are also sold in larger containers if you prefer those over the single serving ones.
Bottom Line: Is Keto Krate Worth It?
The folks at Keto Krate work hard to make sure your box is well worth the cost.
Here's the break down of how the November 2015 Keto Krate stacks up in value:
$42.14 – Retail cost of products
$15.99 – Money saved on shipping one box vs. individual product orders
$18.70 – Discount code value
$76.83 – TOTAL VALUE
The two complimentary boxes I received from Keto Krate totally sold me on this terrific subscription service. It's less than $40 to try it out. If you don't like it, you can cancel at any time. Don't like the products that you receive? No problem, they offer a 100% money back guarantee!
Believe me, you will LOVE getting these treats delivered to your door each month. It's just so hard to find good low carb keto snacks so why not have them come to you? If you're ready to join the club, just click on the image below!
Disclaimer: I have joined Keto Krate as an affiliate because I absolutely love the service they offer. If you use one of my links to sign up with them, I will receive a small compensation for the referral which is of no cost to you. Affiliate programs help to offset the costs keeping this website running. All opinions expressed are my own. Thanks for your support!
Related Posts