The KetoDiet app is a full featured low carb app to help keep track of macros and plan meals. It's the easiest way to monitor progress while following a ketogenic diet.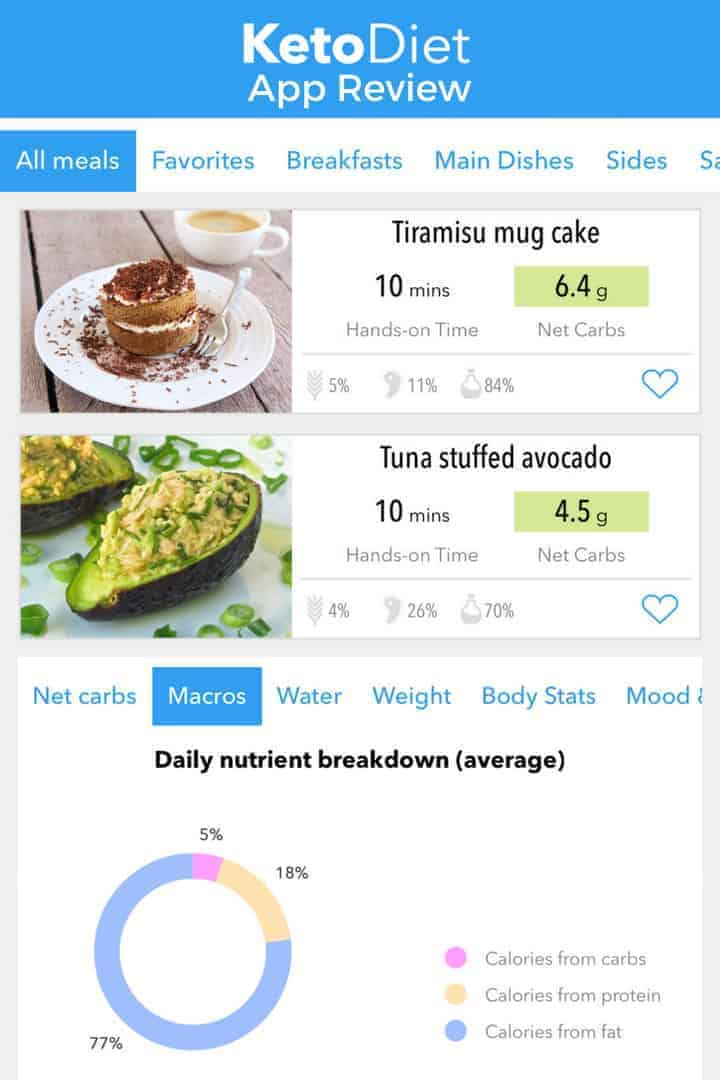 Jump to:
Disclaimer: This post has been sponsored by the KetoDiet app. However, all opinions are my own.
Over the last couple months, I've been trying out a few different Keto Diet Apps on my cell phone. The reason is because I haven't been watching carbs carefully.
Although I've been eating a low carb diet for about 16 years now, I haven't paid much attention to my macros. But after reading about all the benefits of keto, I figured I'd try to see if tracking carbs makes a difference.
The KetoDiet app
There's a number of carb tracking apps out there. This month, I've been testing out the popular low carb app known as the Keto Diet App.
You may already be familiar with my friend Martina Slajerova over at the KetoDiet Blog. She's always publishing mouthwatering keto friendly recipes.
But you may not be familiar with the Keto Diet app which has been around since 2012. And, the app has had many improvements over the years.
In fact, the KetoDiet app is constantly being updated with new recipes and features. It's got everything you'd ever want in a keto app.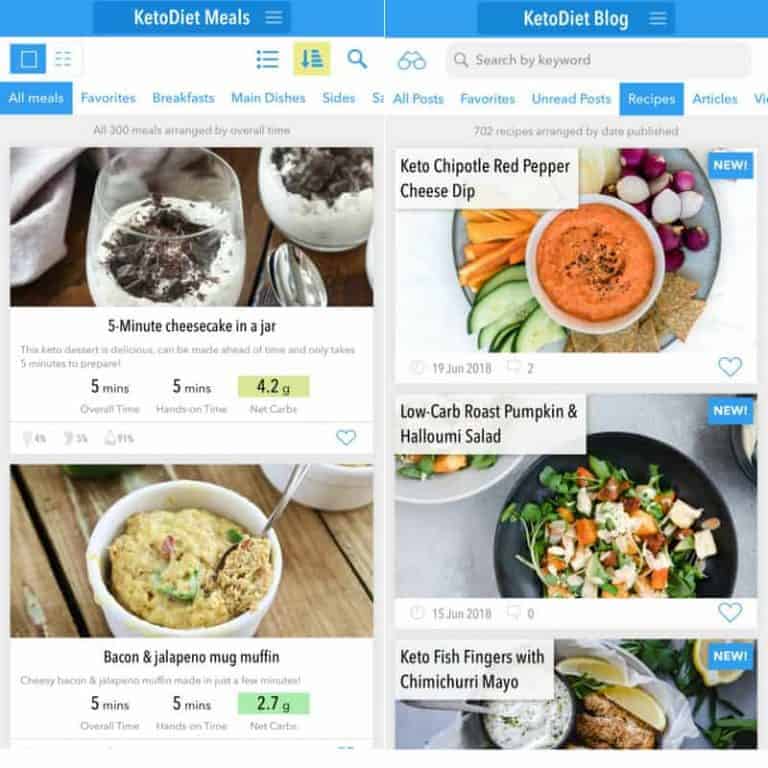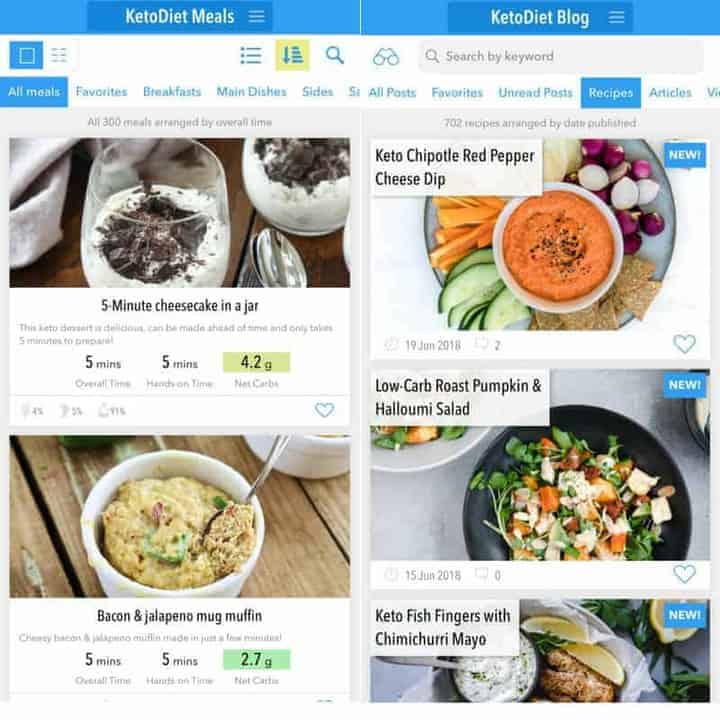 Key features on this low carb app
I'm loving this low carb app so far. And I love that there's about 1000 low carb recipes built right in. This makes it so easy to make your own meal plans.
You can also add custom meals by adding in your own recipes like my healthy ground beef and zucchini. The ingredient database has thousands of foods listed, including tons of branded products.
And there's a handy bar code scanner which makes it simple to find the right product in the database. There wasn't a single ingredient in my kitchen that wasn't in the database.
The KetoDiet app is super simple to use. To start, you want to add your profile information which includes your current body stats.
The app will then calculate your target macros based on your essential data and goal. There's even a spot to track body measurements to mark that progress along with weight loss.
As you add in the meals consumed, the macro charts will begin to fill out for the day. These charts show net carbs, protein, fat and calories.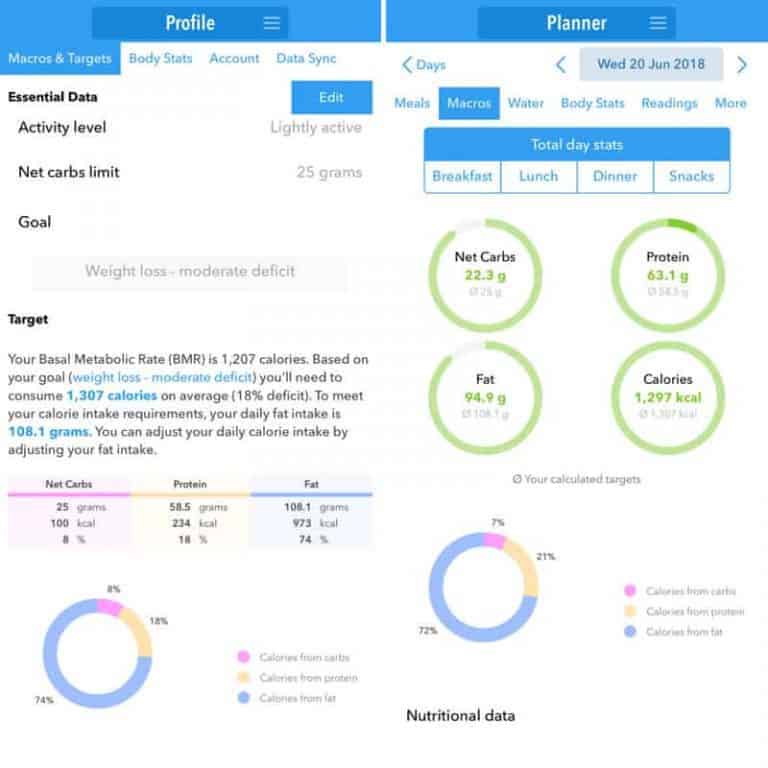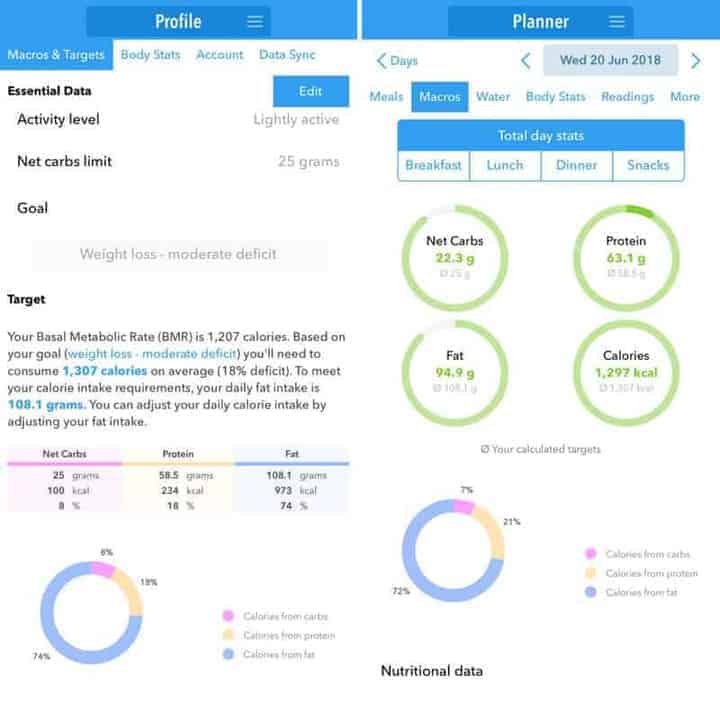 You'll also be able to see how well you match up to your daily macro targets in real time. And, the app provides a running average of the daily percentages so it's easy to see if you've stayed on track as you move along.
Since it's really important to drink adequate water during the day, there's a spot to keep track of that too.
I like the bar charts for daily macros and calories. The graphs for tracking daily weight and body fat are also nice to have.
Low carb eating out at restaurants
One of the things I really like about the KetoDiet app is that it's got a database for restaurants. I find this feature to be very handy since we often eat out.
Although I usually have a good idea of which items are low carb, it's fantastic to have this information right at your fingertips. That way I can order wisely.
It's always better to eat foods you've cooked yourself, but we go out a lot just for the social aspect. So, I'm glad to have this handy tool right on my cell phone.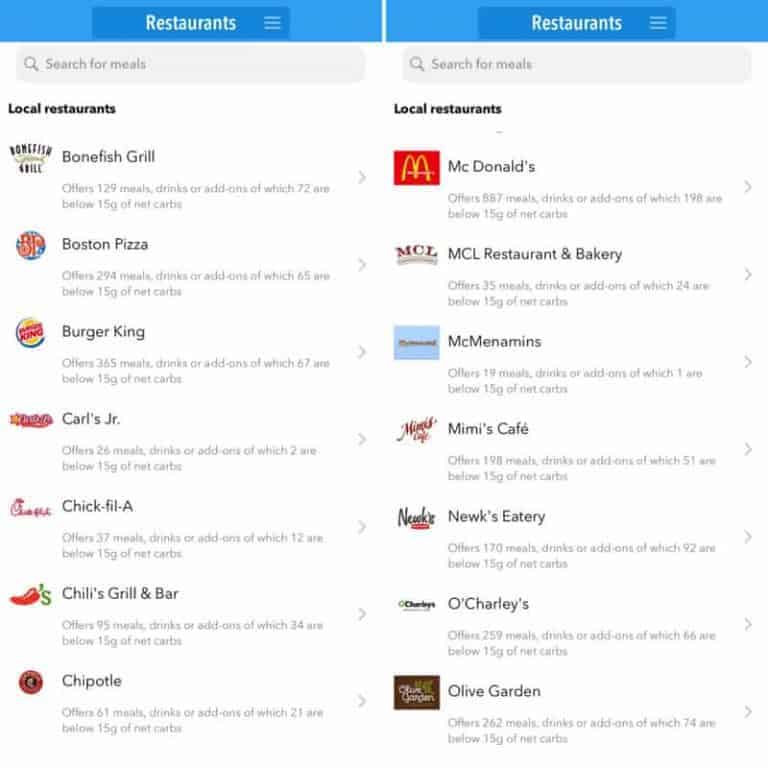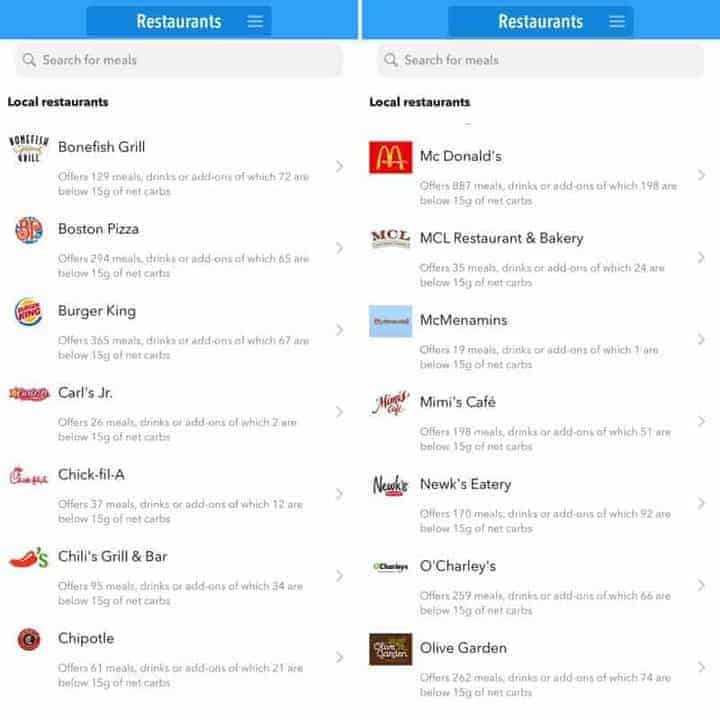 Special features of the KetoDiet app
There's some pretty neat features included with the KetoDiet app program. It's the first low carb app I've used that allows you to track your blood work numbers.
A lot of people have home meters to measure ketones, glucose and cholesterol levels in blood. These are excellent markers to keep track of on a keto diet.
Another cool feature is that you can track your mood and energy levels for each day. It's well known that certain foods can impact both energy and mood.
So, by keeping track of what your eating along with how you are feeling is a great way to determine if you are sensitive to certain foods. For me, eating egg whites makes me very tired.
I've also noticed that certain foods give me headaches. And, with the KetoDiet app, I can write daily notes to help see patterns between food and how I feel.
If you're having trouble sticking to a diet plan, definitely give this low carb app a try. It's an easy way to help you stay on plan.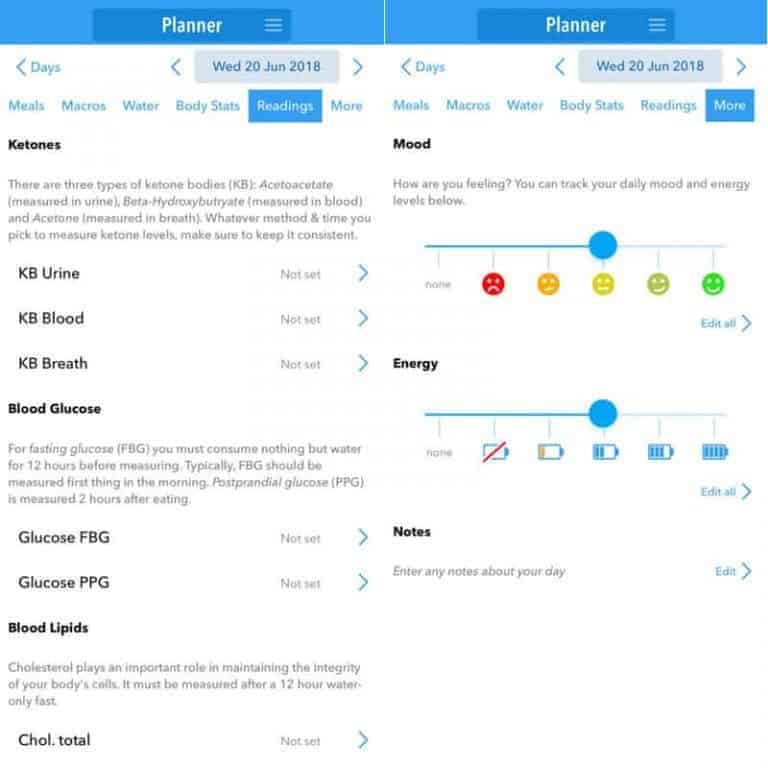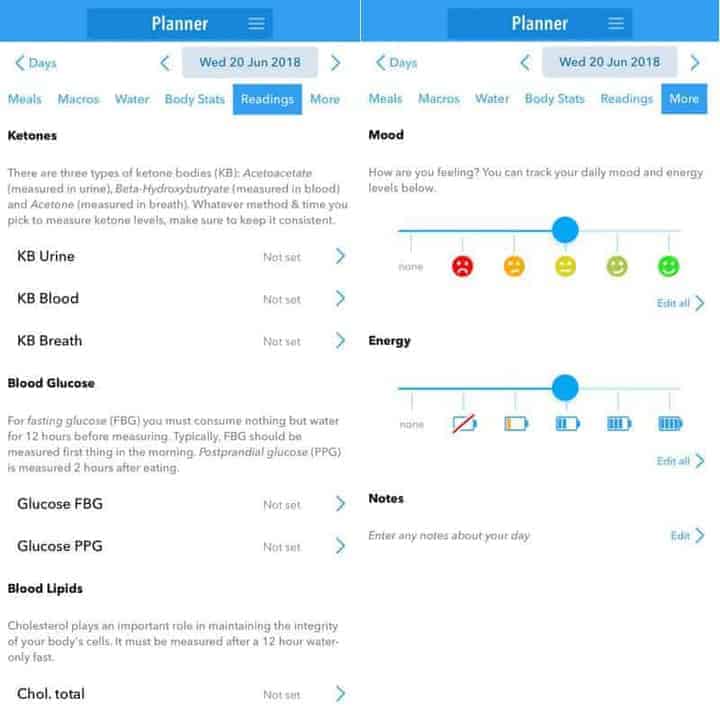 How to get the app
With all these wonderful features and continuous updates adding new features, you may be thinking this is a high priced app. The good news is that it isn't.
For a one-time low price, the KetoDiet app is very affordable.
I haven't tested the Android version as I have an iPhone and iPad. So, my review is based solely on the iOS version.
The best thing is that there's no subscription. You only pay once for the app to get all these features and any updated features in the future.
There's also a basic version for both iOS and Android but you won't get all the features of the full version. You may also want to check out the Keto Diet Tracker app.
★ FOLLOW ME ON FACEBOOK, PINTEREST, AND INSTAGRAM FOR MORE EASY KETO RECIPES.