Health is often improved by increasing beneficial bacteria in the gut. See how Lovebug Probiotics for women, children, and men can help.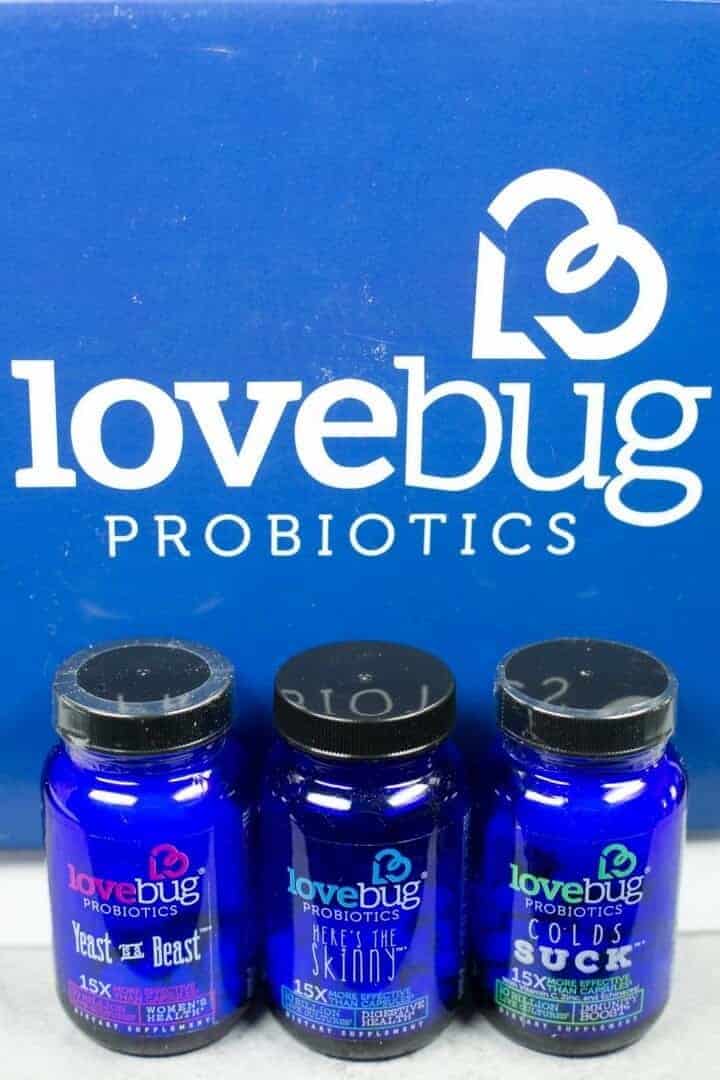 If you've moved to a low carb diet to improve your health, you may be wondering what other steps you can take to be healthier. One of the supplements I swear by are probiotics. However, not all are created equal.
I recently discovered Lovebug Probiotics which deliver more beneficial bacteria to the gut when compared to standard capsules. I've been taking them for a few weeks now and I seem to have increased energy. It may not be related, but I've also lost a few pounds without doing anything else differently.
People supplement with probiotics for a number of reasons. I started taking them recently because I took a strong dose of antibiotics for Lyme Disease symptoms. Although my blood test results come out negative for Lyme, there are a lot false test results and I was having strange body aches after getting bit by a tick. It was better to be safe than sorry.
I took started on a probiotics for women supplement when I started the antibiotic. And, I've continued to take antibiotics since then. I switched to Lovebug Probiotics after learning how much more effective they are when compared to the regular capsules.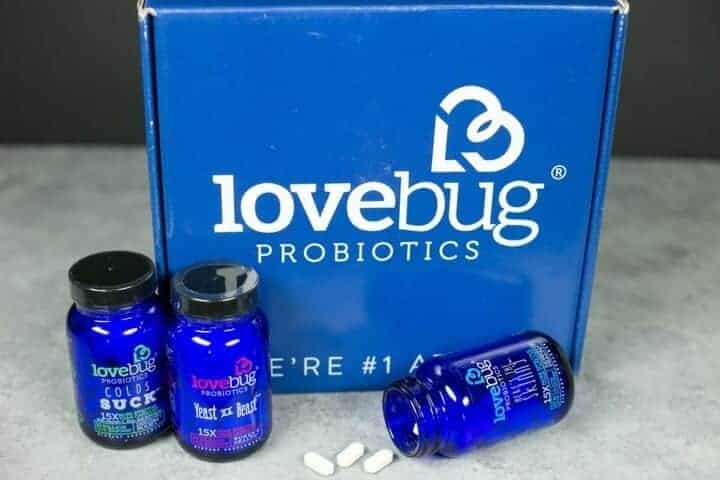 You may be wondering what makes Lovebug Probiotics so special. The big difference it the patented BIO-tract® technology used which has been shown to deliver fifteen times more live cultures to the gut than standard capsules. In fact, in vitro testing shows the survival rate of the probiotic past the stomach acid was only 4% in standard capsules versus 60% for Lovebug Probiotics.
Lovebug offers probiotics for women, children, babies, and men. They have the whole family covered! To boost general health, they offer the Here's The Skinny blend. And if you want to boost immune system to prevent or fight cold they offer the Colds Suck blend.
You can read about probiotic pros and cons at All Natural Ideas. Or, visit the Lovebug website to learn about gut health. The biggest reason for using probiotics is to restore balance in the gut due to the overuse of antibiotics as well as chemicals in the environment that destroy the good gut bacteria.
The probiotics for women include Yeast Is A Beast and Labor of Love. The Yeast Is A Beast probiotic is made to improve urinary tract health. Labor of Love is for supporting good health during pregnancy and for the period right after.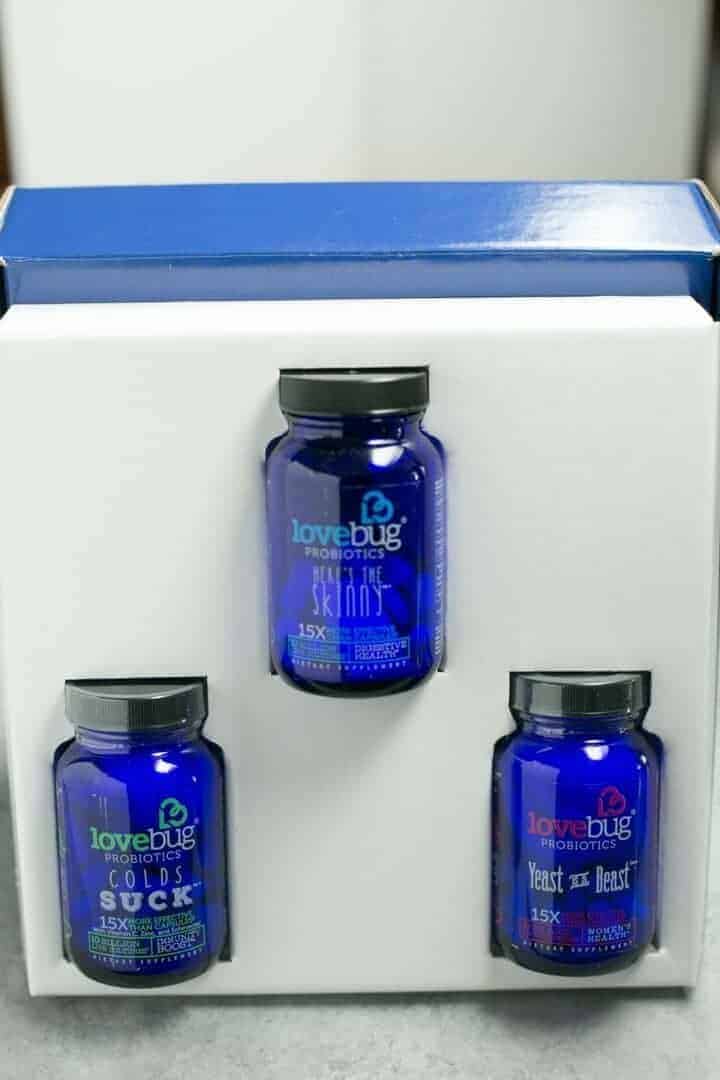 I've been taking the Here's The Skinny blend. But, when cold season nears, I plan to start taking the Colds Suck. Thankfully, I never have urinary track issues anymore. But, I used to get yeast infections quite frequently before going low carb. I wish the Yeast Is A Beast probiotic was available back then.
I'm so impressed with the quality of Lovebug Probiotics that I'm interested in becoming an Ambassador for them. I believe that incorporating probiotics into your every day routine can help improve health and prevent illness. My plan is to continue taking them every morning.
You may be wondering where you can buy these high quality probiotic supplements. The great news is that many local stores carry them. You'll find them at Wegmans, Meijer, Target, Jet, and Fairway. My favorite online store, Amazon, also carries them. And, you'll get a discount if you order them on Subscribe & Save.
Check out the unboxing video below to see how they are packaged. The pills come in a high quality blue glass jar. And, there's organic cotton stuffed into each jar to prevent the pills from breaking.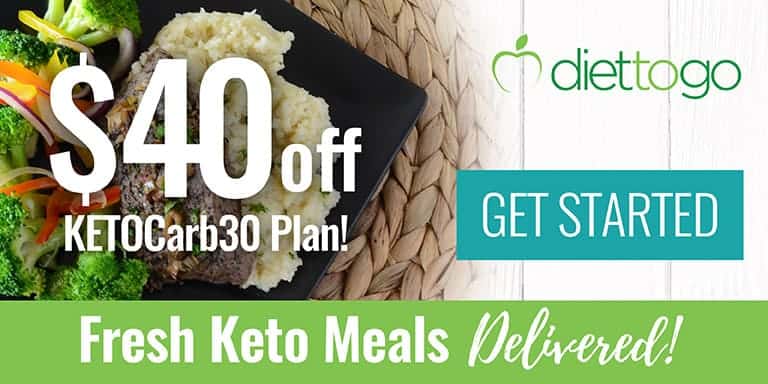 Lovebug Probiotics for Women, Children, and General Health Unboxing
I also love that Lovebug Probiotics are:
Non GMO
Gluten-Free and Yeast-Free
Lactose-Free
Sugar-Free
Preservative-Free
Free of artificial colors and flavors
Made in the USA