A recipe for psyllium bread based low carb buns with a texture and taste close to wheat based ones. Slice them in half to use as hamburger rolls!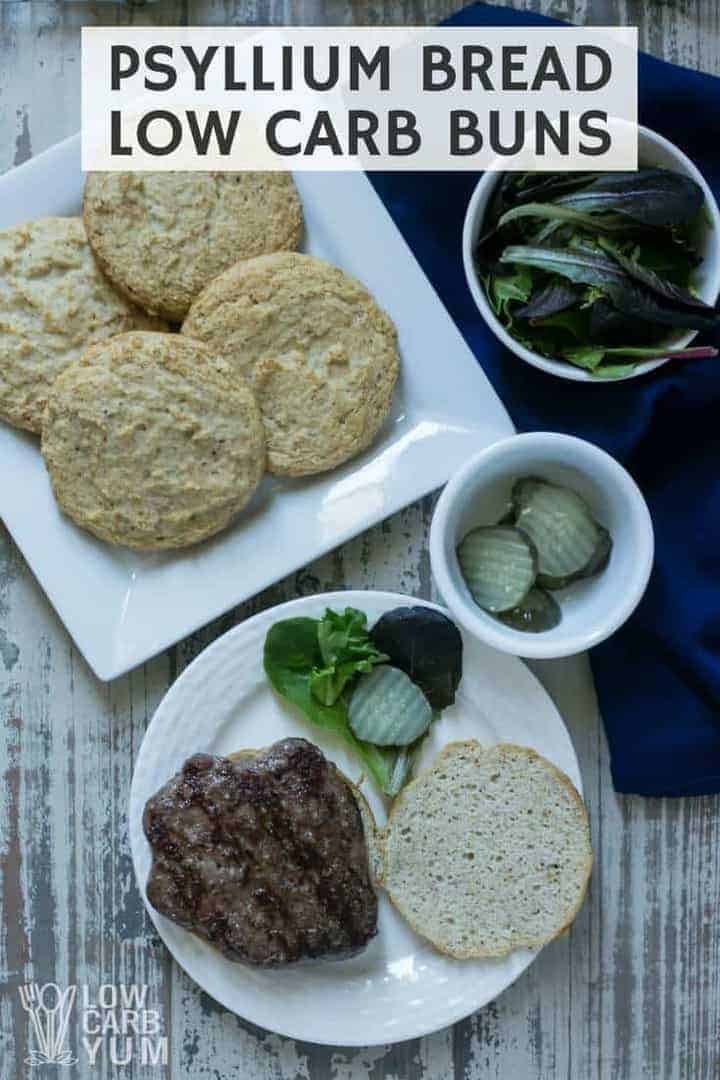 Do you miss having bread with your meals? Have the low carb bread recipes been a flop? If so, you need to buy some psyllium and learn how to make your own keto bread.
I'm not sure who came up with the idea of using psyllium in low carb gluten free bread recipes. But, the Amazing Bread by Maria Emmerich is the first one to come to mind so I like to give her the credit.
I spent a few weeks working on low carb buns to use as hamburger rolls for a guest post. However, I had a lot of trouble getting the low carb bread to have the right texture.
That's when I got the idea to make psyllium bread rolls that could be used for hamburgers. Rather than create something new, I used a slightly modified version of my coconut flour bread with psyllium.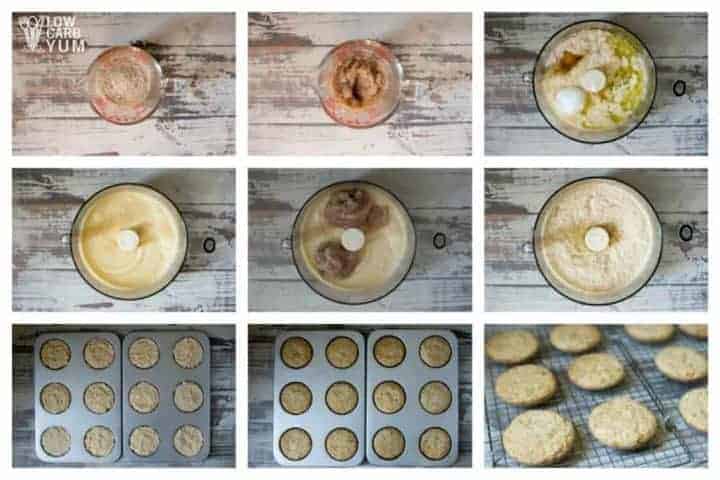 I removed a lot of the egg yolks from the original recipe to get rid of any unpleasant taste. Psyllium can react with the yolks causing an ammonia smell and nasty greenish color.
So, rather than use fresh eggs, I added in a one pint carton of egg whites to the batter for these low carb buns. Then, I used a couple whole eggs to match the original volume of eggs.
I suppose I could have just increased the psyllium and water as well. That might be something to try in another recipe. One egg can be replaced with about 1 tablespoon psyllium husks and 2 tablespoons water.
However, I didn't notice any funny smell, taste or color with these low carb buns. So, there's no need to remove a few egg yolks in the recipe unless you have a sensitivity to them.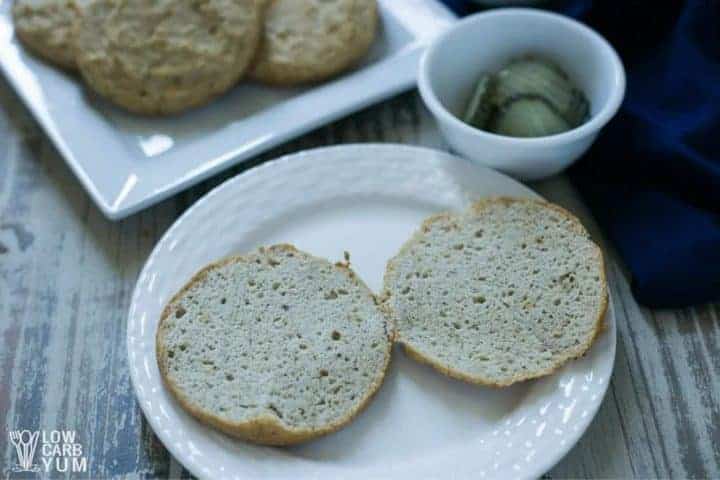 To bake these psyllium bread rolls into a nice round shape, I used a muffin top pan. You could also use English muffin rings which are about the same size.
If you want smaller and taller low carb buns, just use smaller molds. You'll just have to adjust the baking time until they are fully set and spongy.
Psyllium is a good ingredient for making keto rolls as all carbs are fiber so it has very little impact. If you are counting total carbs, you may want to test to see if it raises blood glucose levels. For most people, it doesn't.
I don't like a lot of bread with my hamburger so these rolls are pretty thin when cut in half. That also keeps carbs to a minimum as the portion size is smaller.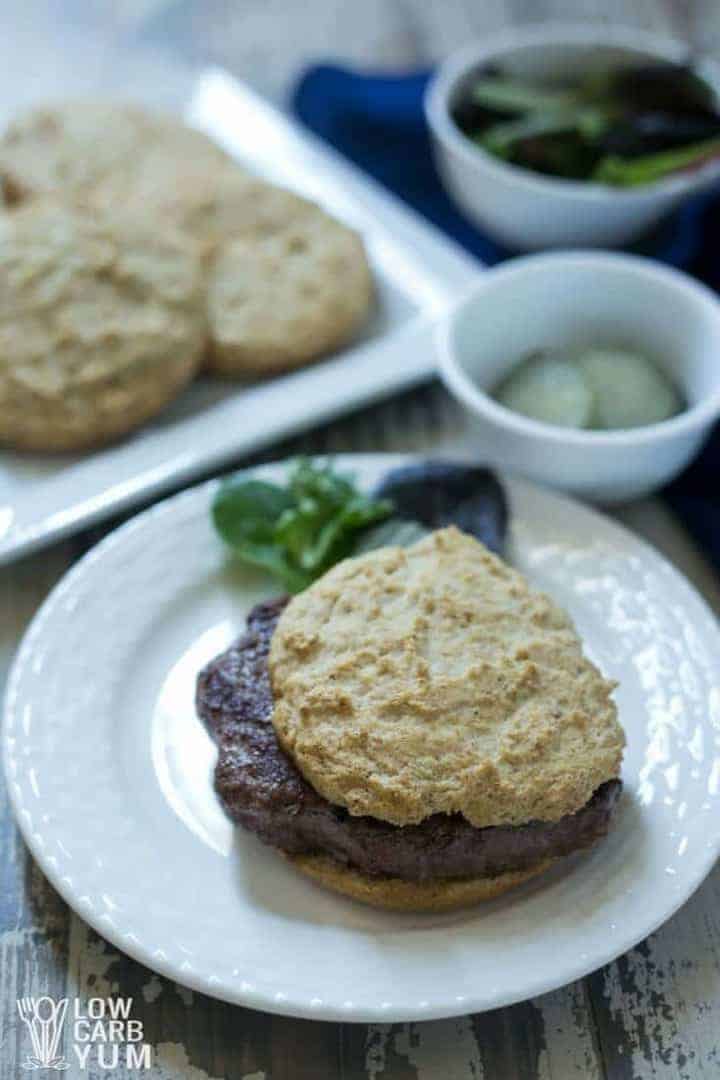 If you're still looking for that perfect low carb bread recipe, definitely give these psyllium based low carb buns a try. It can be baked into rolls or a loaf.
The amount of batter is perfect for an 8×4-inch loaf pan if you'd rather have traditional sliced bread for sandwiches. And, the bread freezes well so you can enjoy some now and save the rest for later.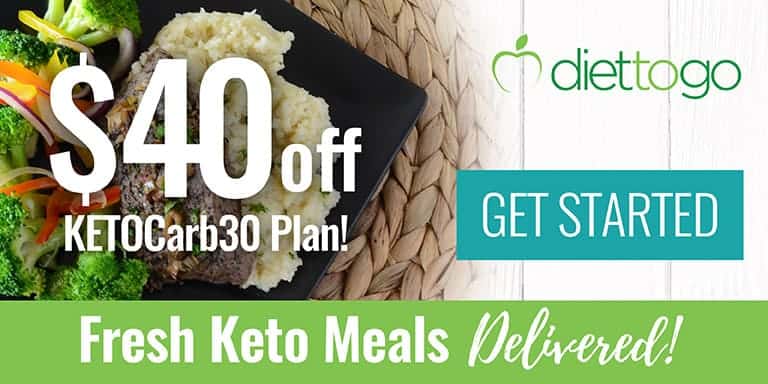 Low Carb Buns – Psyllium Bread Rolls Recipe
You'll find the recipe for these low carb bread rolls on my guest post at Wholesome Yum.