Need another coconut flour recipe? Try these delicious low carb chocolate chip pumpkin cookies. They are perfect for snacking or sharing over the holidays.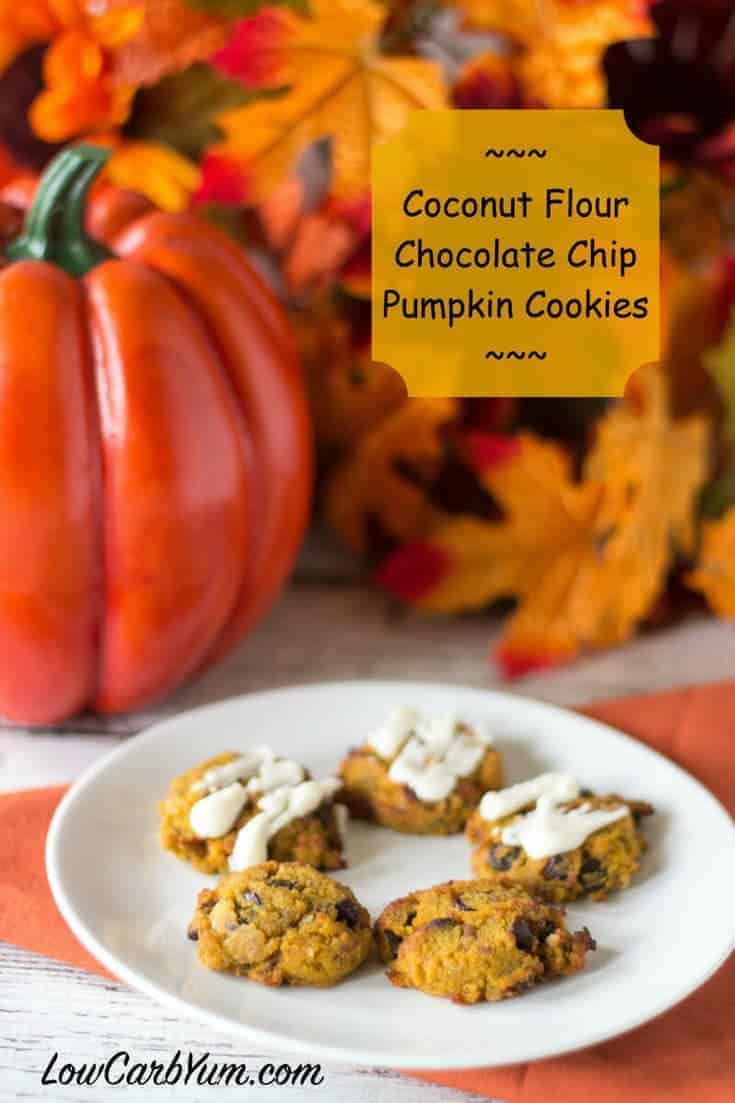 Do you love cookies? It seems like these tasty baked treats are everywhere over the holidays. Probably not the right time to be cutting back on sweets, but I have been trying to minimize my low carb treats lately. I made batch of low carb chocolate chip pumpkin cookies last month when I was going crazy with pumpkin recipes. I've just been holding back on sharing the recipe until it got a little closer to the holidays. Seems like now is a great time to share this delicious low carb chocolate chip pumpkin cookies recipe just in time for the holiday baking season.
I do love the flavor of pumpkin. If you look in my pantry at any given time, you'll usually find at least one can of pumpkin puree. Although much more popular during the Fall season, I like to enjoy pumpkin year round. Some of my favorite recipes are pumpkin chia pudding, pumpkin lasagna, and pumpkin bread.
You can easily whip up the dough for these chocolate chip pumpkin cookies in a matter of minutes. The recipe makes a lot so you may want to half the ingredients or freeze half the dough to use later. Like most cookie dough, you can pre-scoop or freeze the dough in an airtight container and scoop just before using. When I freeze cookie dough, I like to freeze in scoops so I can just bake a few cookies at a time. You can even bake all the dough and freeze the cookies. I've had great success freezing low carb cookies made with coconut flour.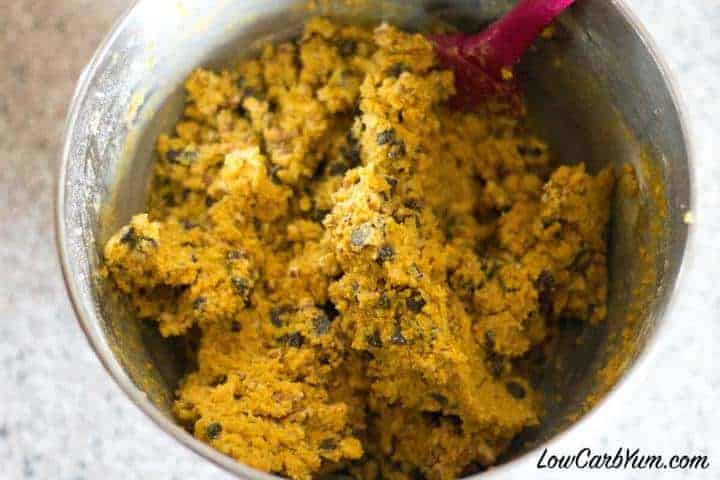 You can use either a small spoon or cookie scoop to measure out the batter. I prefer using a standard size cookie scoop as it makes perfect round scoops. I also like to line my cookie sheet with a silicone mat for easy release.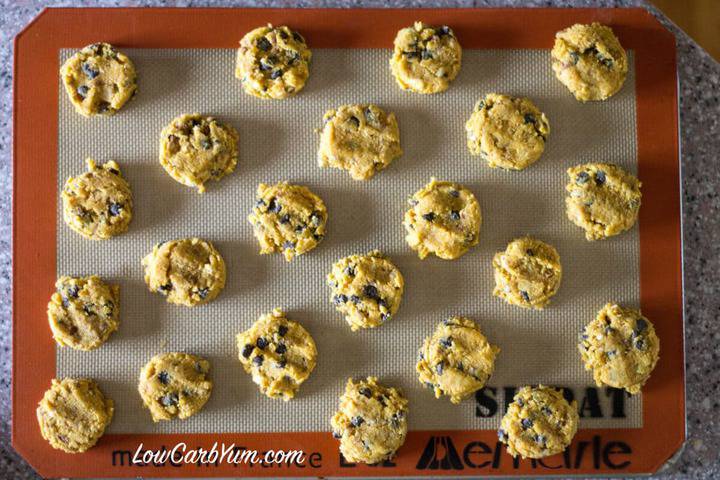 Once you have all your cookies scoops on the cookie sheet, you need to press each cookie down. You can use the bottom of a drinking glass or just your fingers. You may want to put a sheet of wax paper on first so the dough doesn't stick to the glass or your fingers.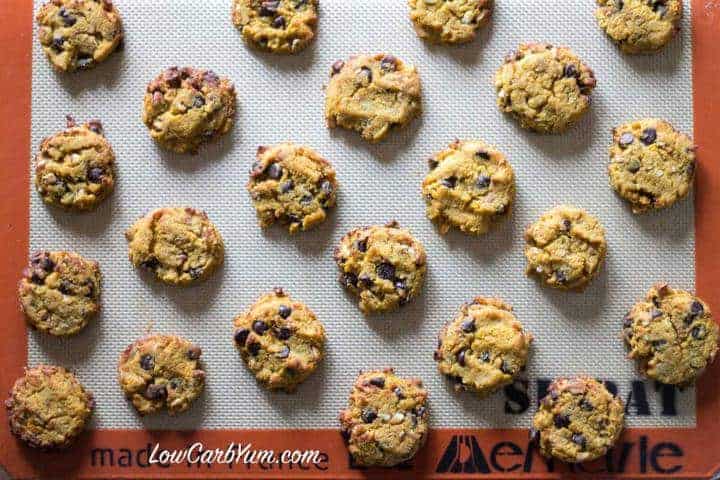 The cookies are done when they have browned nicely around the edges. I like to let them sit for a few minutes on the cookie sheet before transferring to a cooking rack.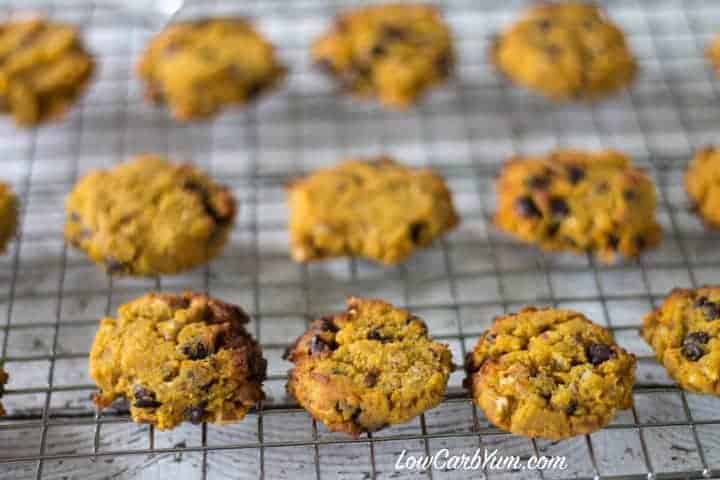 As the cookies are cooling on the rack, you'll want to prepare your glaze. I didn't put a lot of sweetener in the cookie dough because I didn't want them to be too sweet after glazing.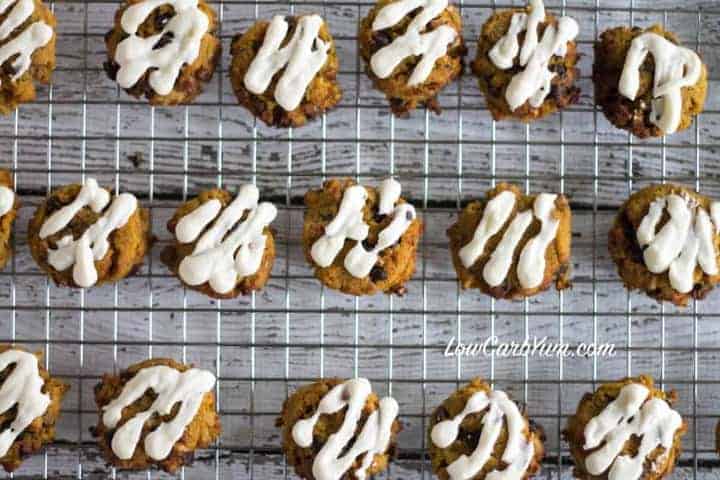 The cream cheese in the glaze will offset the cooling erythritol taste making it almost non-detectable. You can either spread a thin glaze on the top of each cookie or drizzle it over the cookie tops. Depending on how you will use it, you'll want to adjust the liquid as needed when making the glaze. A bit thicker for spreading, and thinner to make drizzling easier. These cookies are sure to be a hit over the holidays.
Chocolate Chip Pumpkin Cookies Recipe
Check out the recipe for my low carb glazed chocolate chip pumpkin cookies on A Sweet Life.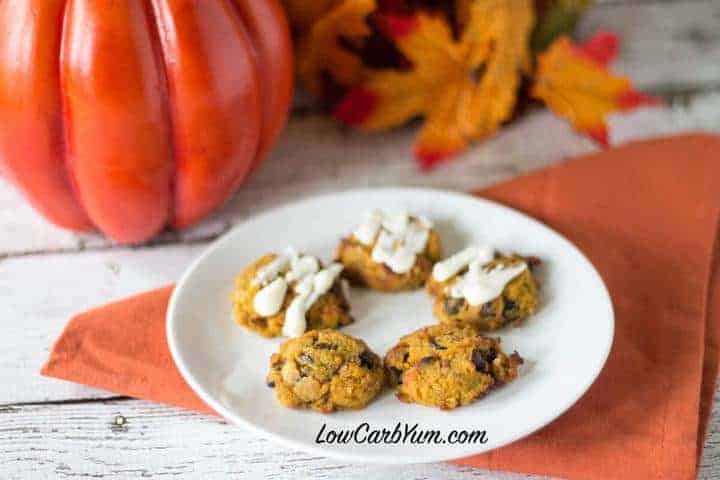 ★ FOLLOW ME ON FACEBOOK, PINTEREST AND INSTAGRAM FOR MORE EASY KETO RECIPES.