Are you struggling with sticking to a low carb diet due to food choices? Take a look at this list of low carb foods to help you stay on track.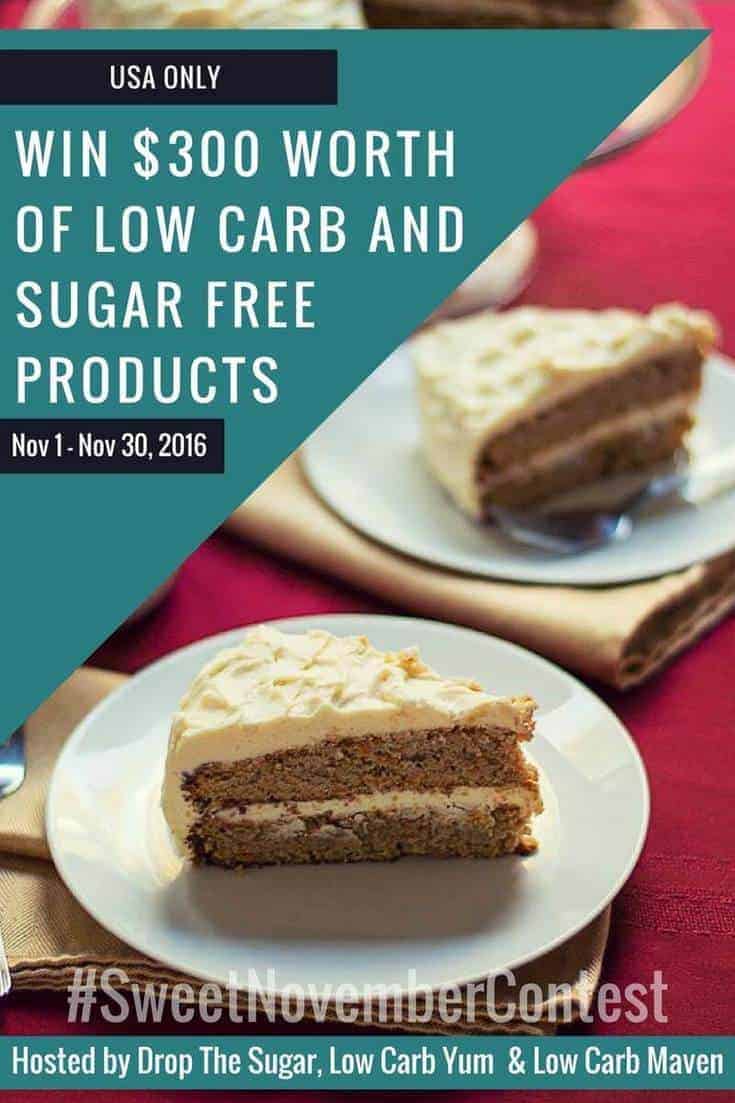 When you first start a low carb way of eating, it can be difficult. If you decide to also go gluten free and grain free too, it also means that you might be baking a lot more. Whether you're low carbing or going gluten free, Low Carb Yum can help!
Starting today, November 1st, you can enter the Sweet November Contest being hosted by myself, Lisa at Drop The Sugar, and Kim at Low Carb Maven. With each entry, you'll have a chance to win $300 worth of low carb foods and other products to help you stay on track over the holiday season. The prize is perfect if you're just getting started or want to sample some new products.

The contest is limited to residents of the USA who are over the age of 18. One lucky winner will win the following items: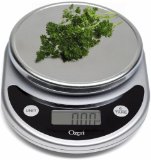 Ozeri Pronto Digital Multifunction Food Scale by Ozeri
I've found that it's best to weigh certain ingredients like low carb flours. Recipes can easily be off if they aren't written by weight. This is something that I hope to improve upon in the future. Unfortunately, different brands of flours can weigh differently for each cup. That's why a recipe may not turn out quite right, even if you've followed it exactly. So, having a kitchen scale is important to have.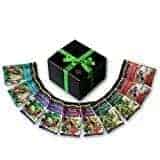 Walden Farms Calorie Free Dressings by Walden Farms
Salads are typically a good choice for a low carb meal. But, you need to be careful of any dressing you use. Many commercially sold salad dressings are loaded with sugar and unnecessary carbs. When I first started on this way of life, I switched to Walden Farms dressings which are calorie free and low carb friendly.
The variety pack you'll receive includes two packets of the following flavors: Ranch, Italian, Creamy Bacon, Thousand Island and Honey Dijon.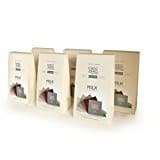 ChocZero™ Milk Chocolate
by ChocZero
I'm never giving up on chocolate. So, it's a good thing that there are low carb options available. ChocZero is a fantastic choice when it comes to low carb milk chocolate. These treats have no sugar added, no sugar alcohol, and no artificial sweeteners. I know you are going to love them.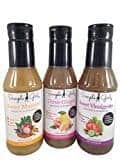 Simple Girl Salad Dressings by Simple Girl
Since I believe salads are one of the best low carb foods you can eat, you'll get a few more varieties of salad dressing. The Simple Girl dressings are both sugar and gluten free. In this pack, you'll get three varieties: Sweet Vinaigrette, Sweet Mustard, and a CitrusGinger.

If you want to flavor your coffee, give plain whole fat yogurt so flavor, or just enhance the flavor of baked goods, SweetLeaf sweet drops are a good choice. They add sweetness and flavor. With the 5 flavor variety pack you get the following flavors: Chocolate, Coconut, Vanilla, Caramel and Natural.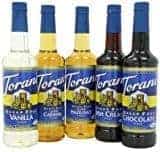 Do you miss the flavored coffee from your favorite coffee shop? It's easy to get that at home with Torani Sugar Free Syrup. I relied on them in the beginning of my low carb journey to kick the sugar habit. Just add a dash or two of the syrup with heavy cream into your coffee. They can also be used as flavorings for low carb treats. This 5 flavor pack includes Vanilla, Caramel, Hazelnut, Irish Cream and Chocolate.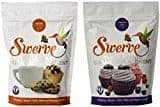 A lot of low carb recipes call for Swerve Sweetener. That's because it's a one for one sugar replacement that makes it easy to make low carb treats. It's made with a blend of erythritol, oligosaccharides and natural flavor. And, studies have shown that Swerve does not affect blood glucose or insulin levels.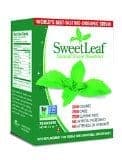 I'm a big fan of stevia and SweetLeaf is one of my favorite brands. I like to add a packet of stevia into plain yogurt with few frozen berries. It's also great for making a single serving of sweet tea. The packets are handy to take along for using at work or restaurants. Sometimes, I even use them in recipes so I don't have to measure out stevia powder.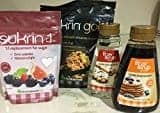 Sukrin Sweetener Kit by Sukrin
Sukrin has been a popular sugar replacement in Europe for years. Now, these low carb sweeteners are available at a reasonable cost for us in the US. With the Sukrin sweetener kit, you'll get Sukrin Gold (my favorite brown sugar alternative), Sukrin:1 (a one for one sugar alternative), Sukrin Fiber Syrup Gold (a perfect sub for honey or molasses) and Sukrin Fiber Syrup Clear (a terrific sub for corn syrup).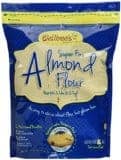 Low carb baking just wouldn't be the same without our beloved almond flour. I use it to make a crispy chicken coating as well as for weekend pancake breakfasts. You'll get a good supply in this 5-pound bag.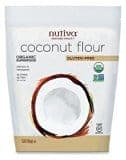 Another great low carb flour that I have grown to love is coconut flour. Mixing it with almond flour gives a blend that bakes up very similar to regular flour. Nutiva is one of the best brands and you'll get a 3-pound bag to get you started.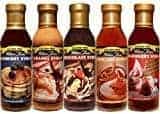 The syrups at Walden Farms are both calorie and carb free so you can indulge without worry. This brand helped me to transition to low carb quick and easily. You are going to love them!
________________________________________________________________________________
Prize: $300 worth of preselected low carb foods along with a kitchen scale.
How to Enter: Use the Rafflecopter below to enter the contest. and complete all the required steps.
*If you're having trouble signing up for the newsletters, please let me know. Here are the links to sign up to each newsletter in case of issues: Drop The Sugar, Low Carb Yum, Low Carb Maven
Hosts: Drop The Sugar, Low Carb Yum, Low Carb Maven

Rules: No purchase necessary. Giveaway ends on 11/30/2016 at 11:59 PM EST and is open to USA entrants. Random winner will be chosen and notified via email. If the winner does not respond within 72 hours of notification, a new winner will be chosen at random. See "Terms and Conditions" via Rafflecopter for further info.
Note: Products may be sent in multiple shipments.
Low Carb Foods November 2016 Contest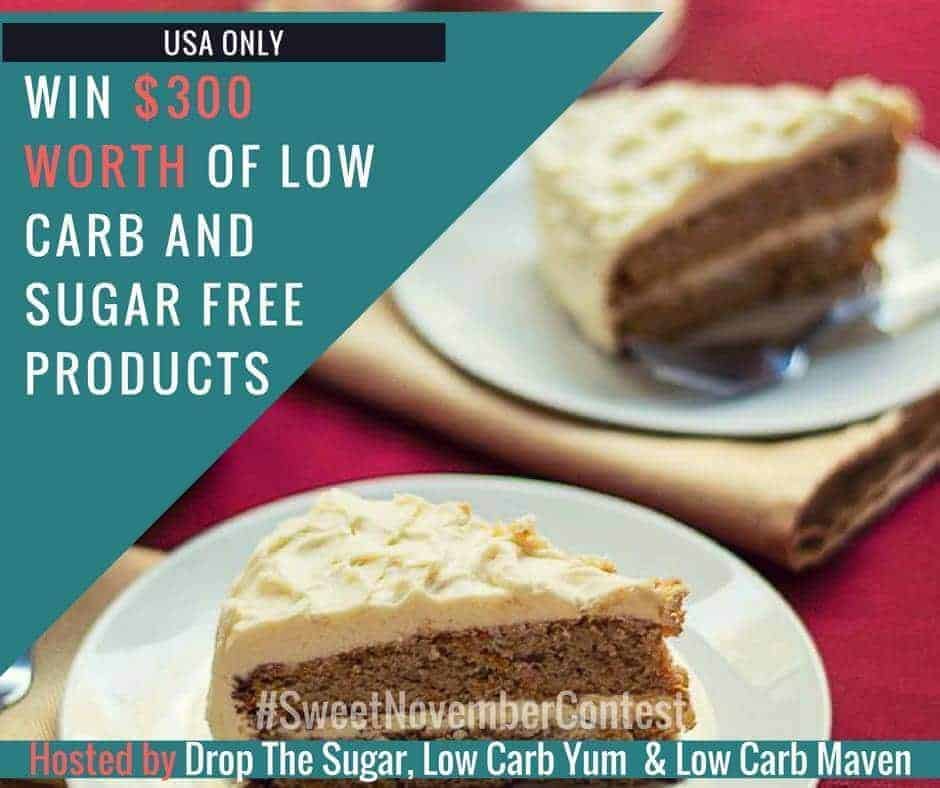 Related Posts