If you don't have time to cook, check out the low carb meal delivery offered by Ketoned Bodies. Simply shop the online menu for keto meals delivered.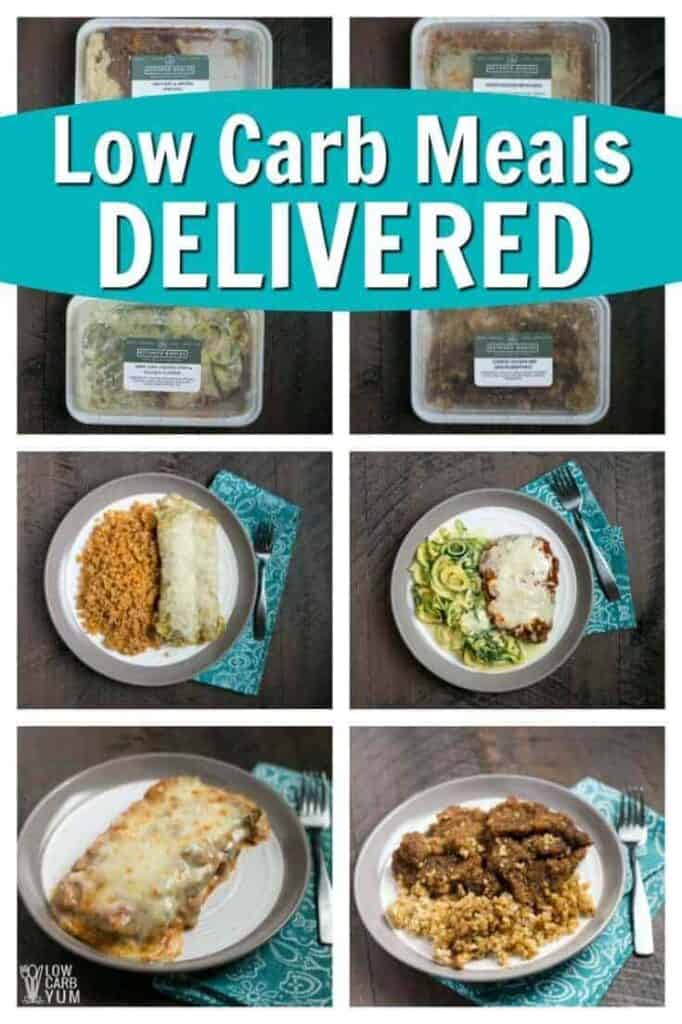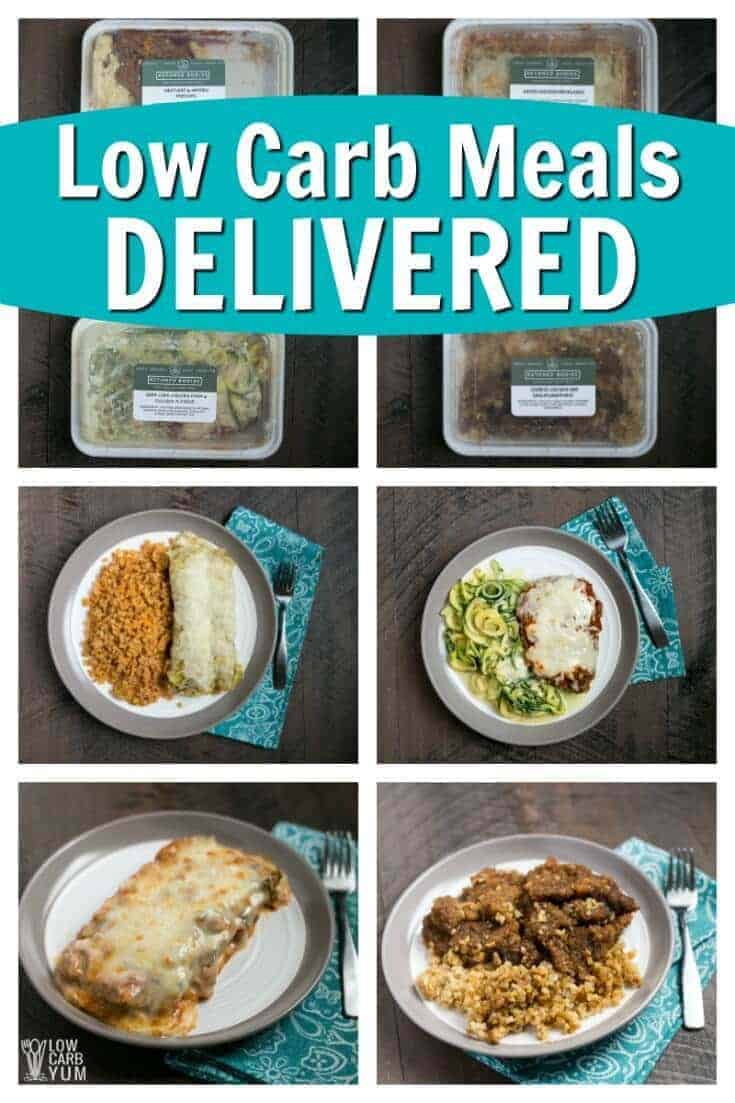 I've always wanted a personal chef who could prepare delicious meals for me. But, I know that's never going to happen.
The next best thing to having your own personal chef is to have low carb meals delivered. And, there just happens to be a fantastic low carb meal delivery service at Ketoned Bodies. And, if you use discount code "YUM5" or "YUM10" to save!
The company is out of the New York City (NYC) area and if you are within 15 miles of NYC, shipping is FREE. For those outside of the 15 mile area, but within 1.5 hours have a reasonable delivery charge.
I was provided with a sampling of six meals to try in exchange for an honest review. I'm about 2 hours from New York City so my meals were shipped overnight in a cooler box and arrived well chilled.
What did I think of the food? Read on to find out…
Ketoned Bodies Low Carb Meal Delivery Review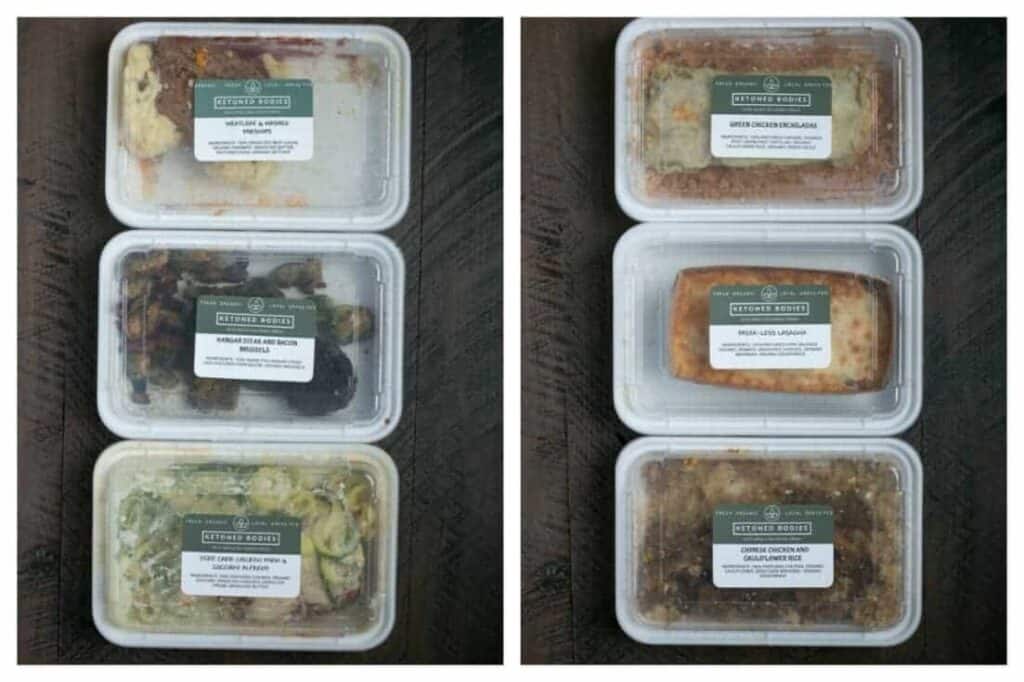 All six meals from my Ketoned Bodies low carb meal delivery shipment arrived neatly tucked away inside a styrofoam cooler within the shipping box. The food is kept cold with frozen gel packs.
Each dinner comes in a plastic to-go container and is fully cooked and just needs to be reheated. I stored the meals in the refrigerator and they were eaten within a week. They stayed fresh as is in the containers.
If you'd like to store them longer, they can be frozen. I recommend using a vacuum sealer to keep prepared meals from getting freezer burn.
To heat each meal up, I simply removed the food from the container and placed it on a microwaveable dinner plate. I microwaved each meal for two minutes at 50% power.
Each meal was delicious. The only thing that I thought was missing was the nutritional data. I like to know what I'm getting so I can stay within the macros that work best for me.
Pasta-Less Lasagna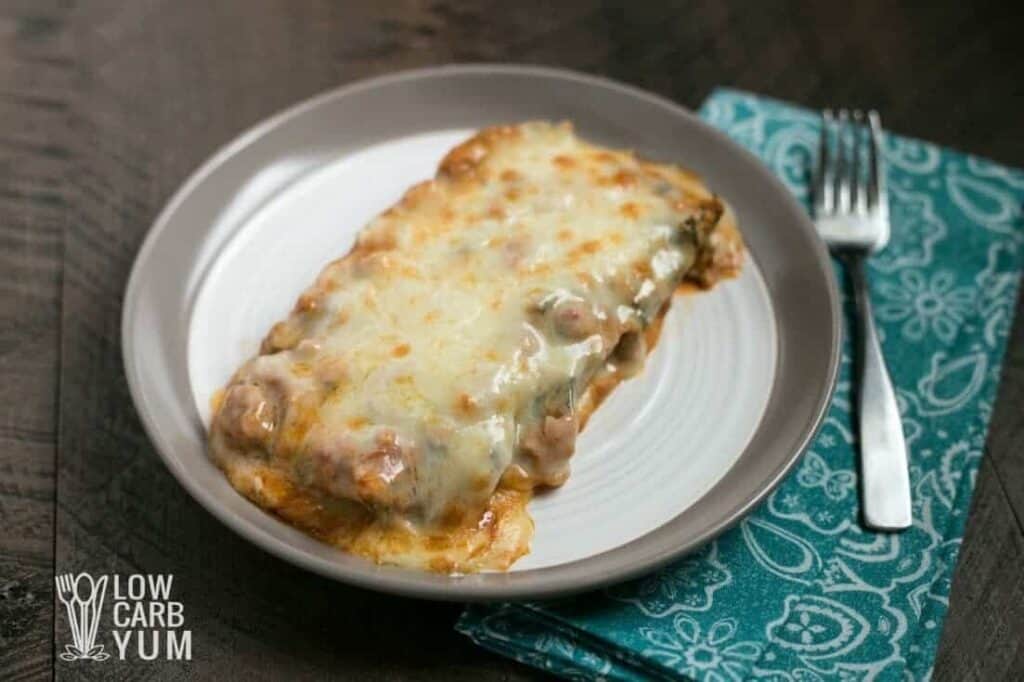 The Pasta-Less Lasagna was my favorite dish in the Ketoned Bodies low carb meals delivery box. I could eat this popular Italian meal any day. And, this lasagna is so good, you may not even notice there's not pasta in it.
The portion size is huge so I only at half of the container for each meal. There's plenty of yummy cheese in this one and you'll get your vegetable serving in with the added spinach. I highly recommend this one!
Just head over to ketoned bodies to order.
Ingredients: 100% Pastured Pork Sausage, Organic Spinach, Grass-Fed Cheeses, Organic Marinara, Organic Seasonings
Zero Carb Chicken Parm & Zucchini Alfredo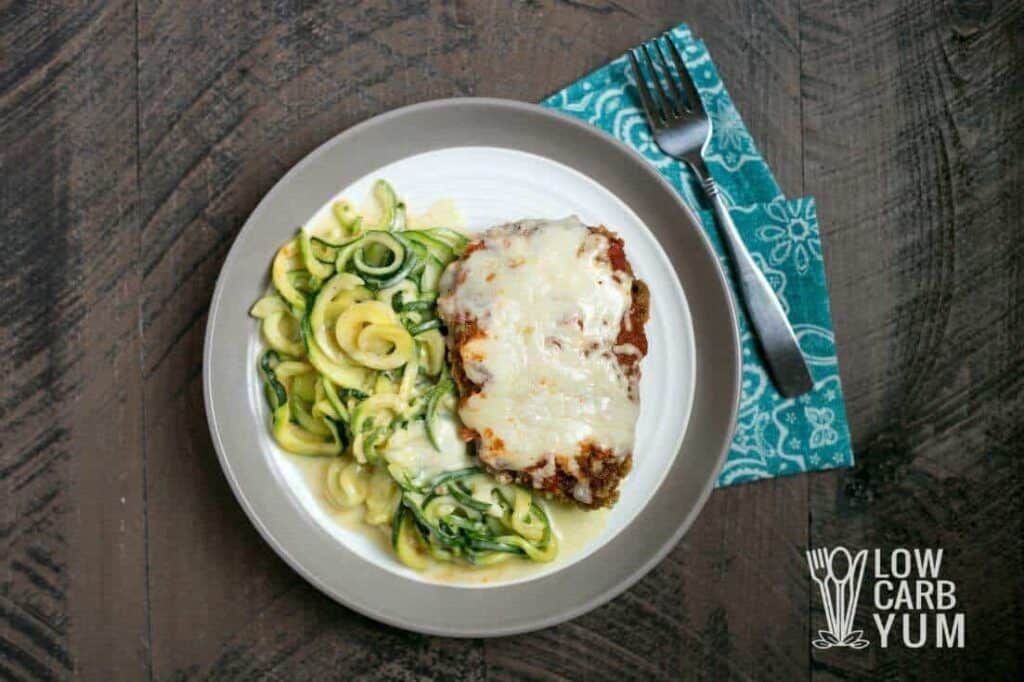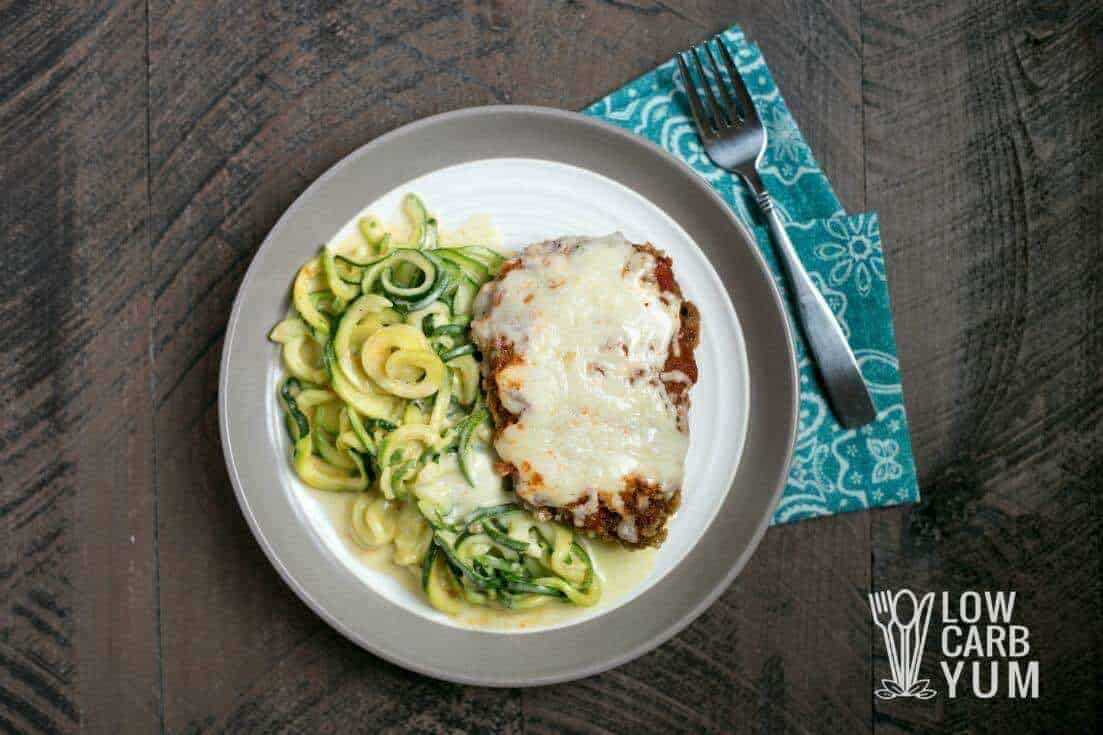 I also enjoyed the Zero Carb Chicken Parmesan that came complete with a side of Zucchini Alfredo. The zero carb breading keeps the meet tender and juicy inside.
The marinara sauce tasted very fresh and there was a good amount of cheese on top. The Alfredo sauce is perfect on the Al-Dente zucchini noodles. You won't be disappointed with this yummy dish!
Just head over to ketoned bodies to order.
Ingredients: 100% Pastured Chicken, Organic Zucchini, Grass-Fed Cheeses, Grass-Fed Cream, Grass-Fed Butter, Zero Carb Breading, Organic Marinara
Hangar Steak & Bacon Brussels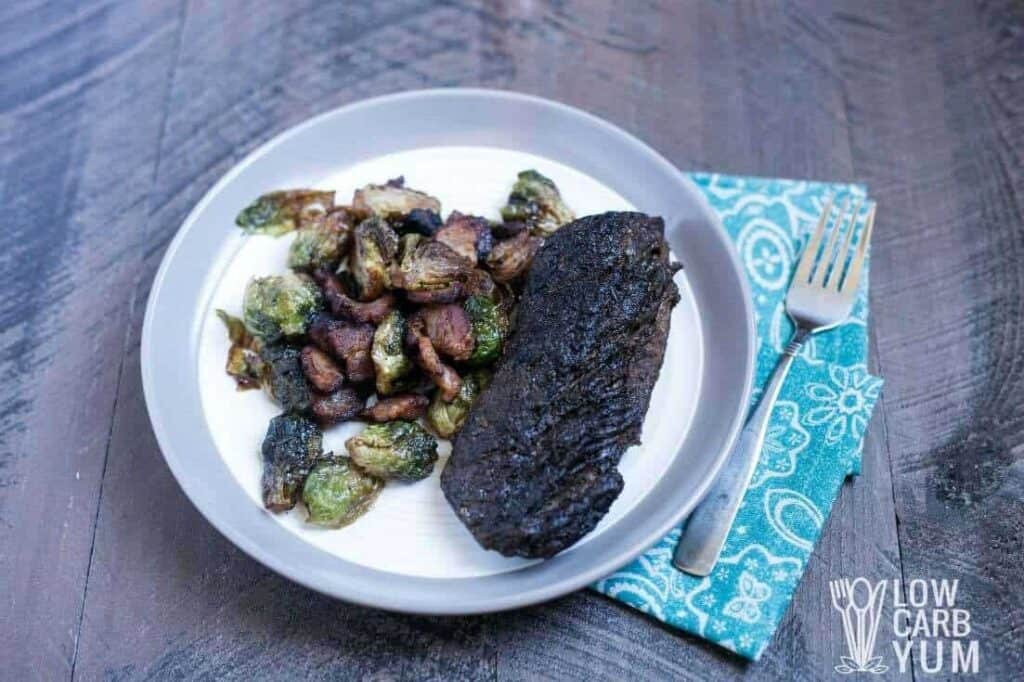 I've never tried a hangar steak so I thought I'd give it a try. It was very tender and nicely browned on the outside. The marinade used on the steak gives it a good flavor.
However, My favorite part of the dish was the side of Brussels sprouts with bacon. I don't eat enough of these tasty veggies and they are the best when cooked with bacon. Overall, I liked this dish, but I'd like to try the other steaks next time to compare.
Just head over to ketoned bodies to order.
Ingredients: 100% Grass-Fed Hangar Steak, 100% Pastured Pork Bacon, Organic Brussels
Chinese Chicken and Cauliflower Rice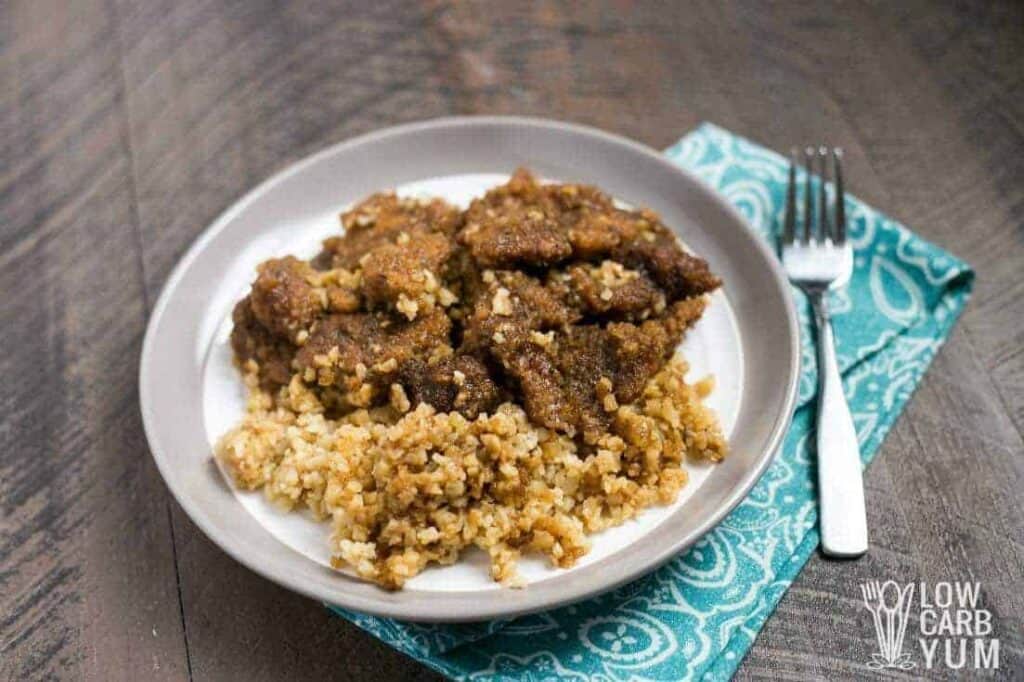 The Chinese Chicken tastes just like the General Tso dish. It's got a bit of hot spice and a touch of sweet. The chicken is coated in a zero carb breading and served with a side of cauliflower rice.
I haven't had General Tso chicken in a long time. I'd order this one again in a Ketoned Body low carb meal delivery shipment. It was a good sized portion, too. I could only eat half at time. Highly recommended!
Just head over to ketoned bodies to order.
Ingredients: 100% Pastured Chicken, Organic Cauliflower, Zero Carb Breading, Organic Seasonings
Meatloaf & Mashed Parsnips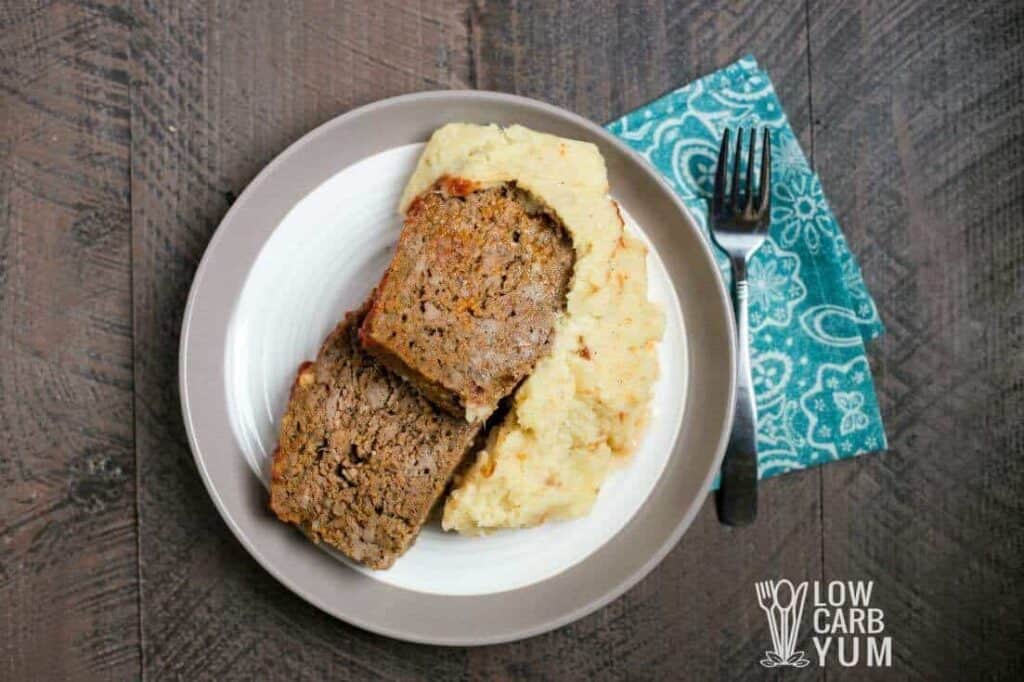 It doesn't get much better than grass-fed meatloaf and mashed veggies. In this dish, the vegetable is organic parsnips.
The meatloaf had a very good taste. Onions aren't listed on the ingredients, but I do believe they are added.
Mashed parsnips was new to me. They were okay, but I like the bland flavor of mashed cauliflower better. And, mashed cauliflower has fewer carbs. It'd be great to see the carb count on this one.
Just head over to ketoned bodies to order.
Ingredients: 100% Grass-Fed Beef Chuck, Organic Parsnips, Grass-Fed Butter, Pastured Eggs, Organic Ketchup
Green Chicken Enchiladas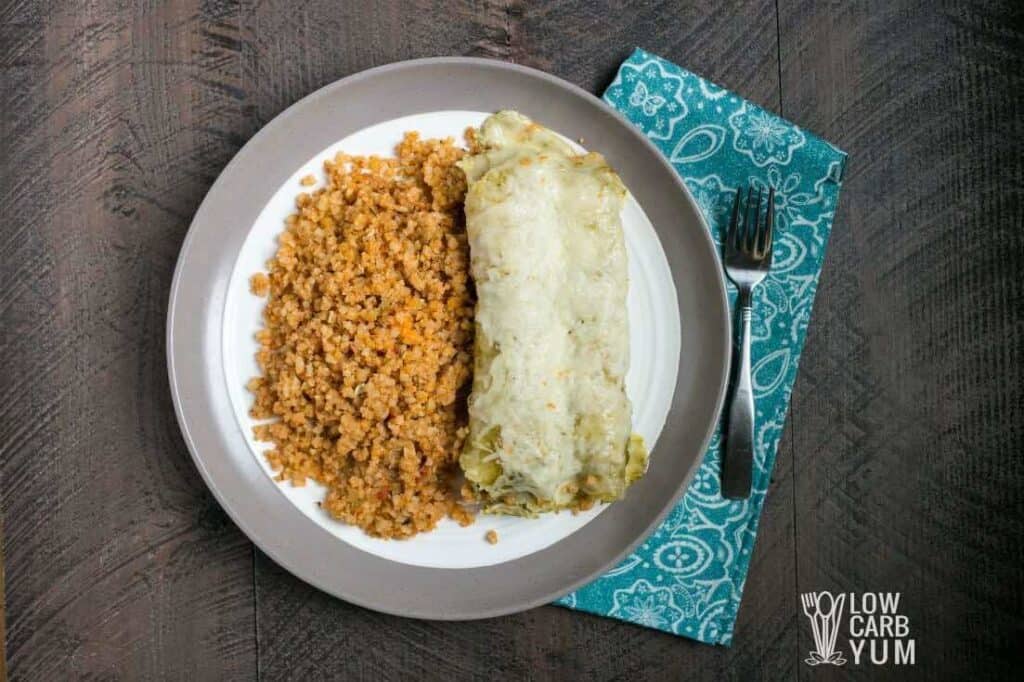 The enchilada was well stuffed with seasoned chicken. And, there's was enough cauliflower rice for two. So, I divided the meal into two servings.
I'm not sure how low carb the grain-free tortilla is. It's made with cassava root which isn't that low in carbs. I'd rather see a psyllium or coconut tortilla used.
The Mexican dish does taste very authentic. It's got great flavor. I'd just like to know what the total carb count is.
Just head over to ketoned bodies to order.
Ingredients: 100% Pastured Chicken, Cassava Root Grain -Free Tortillas, Organic Cauliflower Rice, Organic Green Sauce
Related Posts