This post may be sponsored or contain affiliate links. We may earn money from purchases made through links mentioned in this post, but all opinions are our own. We are a participant in the Amazon Services LLC Associates Program, an affiliate advertising program designed to provide a means for us to earn fees by linking to Amazon.com and affiliates sites.
This sugar free white chocolate coconut bark will satisfy your sweet tooth without busting your diet. And, it's an easy to make low carb treat.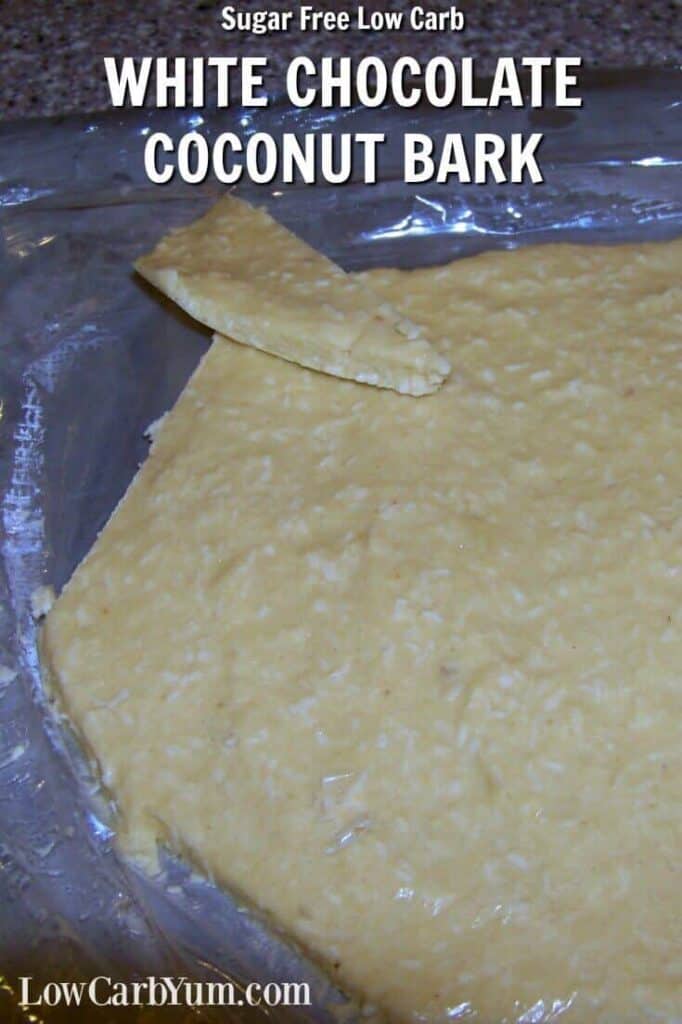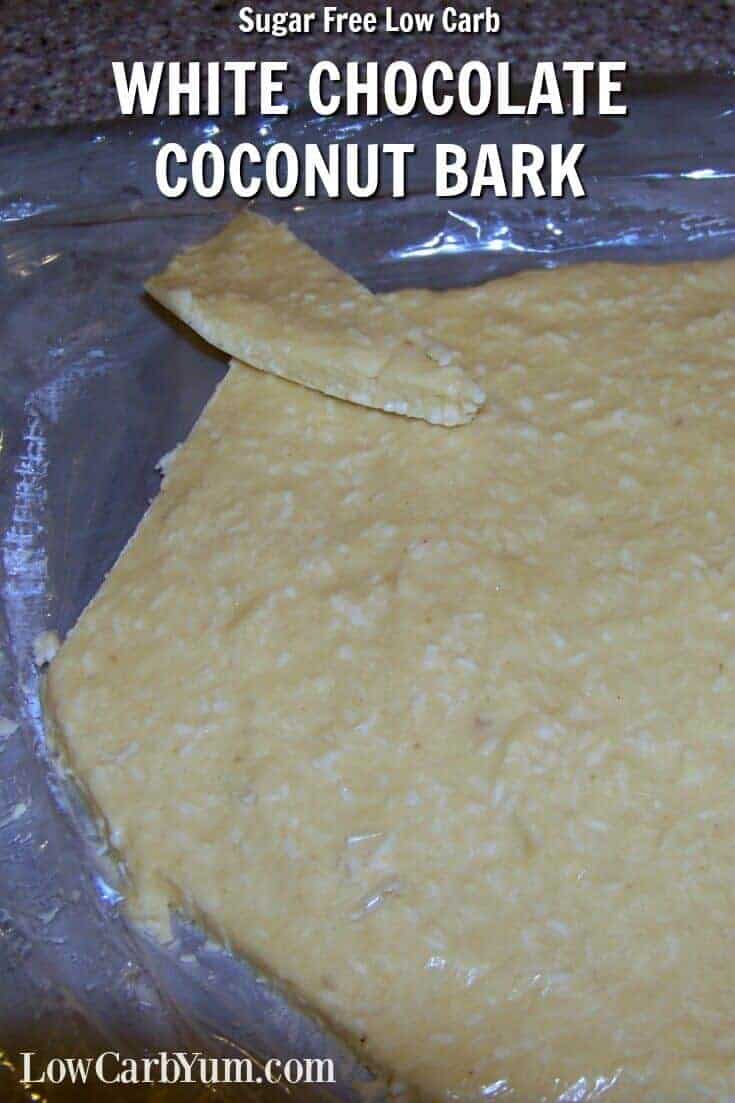 The basic low carb white chocolate recipe was developed by Jennifer Eloff and posted on the Low Carb Friends forum. I bought a couple of Jennifer's low carb cookbooks shortly after they were published. But, I find that many of her recipes involve too many specialty ingredients and aren't as simple as I like.
I prefer to use my own simplified version of a low carb sweetened condensed milk. It's a pretty simple recipe and uses ingredients that I typically have on hand.
The white chocolate recipe is just a batch of low carb sweetened condensed milk mixed with melted cocoa butter. My favorite white chocolate is a bar made by Lindt that has coconut in it.
The Lindt bar is called "White Coconut" and I was hooked on it after one of my coworkers introduced me to it. I added some unsweetened coconut to Jennifer's basic recipe to make this sugar free white chocolate coconut bark.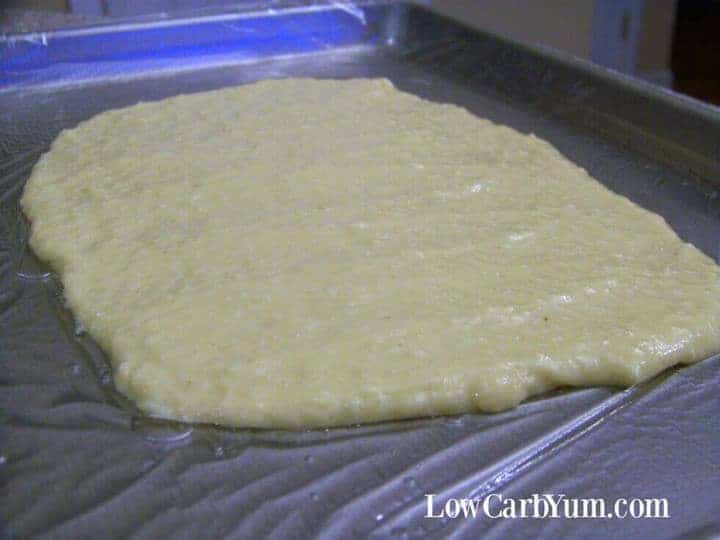 This low carb white chocolate is very soft so it has to be kept in the freezer. I suppose adding more cocoa butter might harden it up. I'll experiment with that later.
It's great to finally have a sugar free white chocolate coconut candy that won't upset my stomach. Most of the low carb chocolates have sugar alcohols that give my serious digestive pain.
One day, I'm sure more companies will begin to market goodies that are low in carbs. Until that time, I'll continue to make my own treats and snacks.
Update: I have a few low carb white chocolate recipes that do not require freezing. You can find my basic white chocolate recipe here and an almond bark recipe on this post.
Sugar Free White Chocolate Coconut Bark Recipe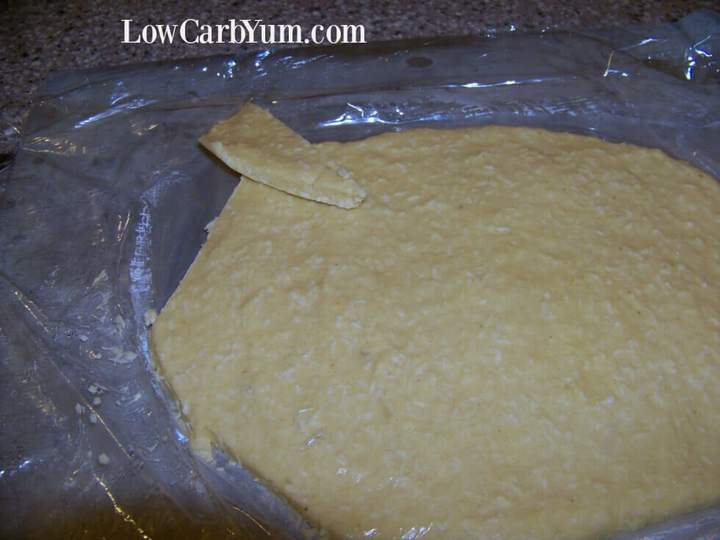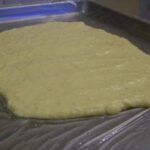 Sugar Free White Chocolate with Coconut
A basic low carb white chocolate recipe with unsweetened coconut. This easy to make sugar free white chocolate coconut candy won't bust your diet.
Instructions
Melt cooca butter in microwave about 3 minutes. Stir to ensure all cocoa butter has melted.

Pour melted cocoa butter into prepared condensed coconut milk. Add shredded coconut. Stir mixture until well blended.

Pour onto a cookie sheet lined with plastic wrap. Freeze until firm. Keep frozen.

Thaw a few minutes before cutting. Eat cold.
Recipe Notes
Total carbs in recipe: about 11 grams
Nutrition Facts
Sugar Free White Chocolate with Coconut
Amount Per Serving
Calories 198
Calories from Fat 153
% Daily Value*
Total Fat 17g 26%
Cholesterol 14mg 5%
Sodium 73mg 3%
Potassium 25mg 1%
Total Carbohydrates 7g 2%
Protein 6g 12%
* Percent Daily Values are based on a 2000 calorie diet.
Related Posts