If you are having trouble finding low carb keto snacks, you need to check out the items in the March 2016 Keto Krate box.
I've been a subscriber to the Keto Krate subscription service for a few months now. Although I'm still testing the waters, I'm very satisfied with the service so far.
The best thing about being a subscriber is that you get to try new products each month that you never knew existed. This month, I found a couple products that I would certainly purchase again. I'll talk a little bit about that in my review of each product I received.
I really think the guys at Keto Krate are doing a super job with the subscription box. It can't be easy finding all these great low carb foods. This month, there was a special message in the snack box.
The folks at Keto Krate are on a mission to take down the sugar industry which is no easy task! They believe there are too many companies selling cheap sugar filled products in order to gain big profits. I'm totally in agreement with this.
By supporting Keto Krate and the companies that produce the low carb food products included in each monthly subscription box, we can help these small companies grow. With help from all our low carb friends, we can help replace some of the junk on the supermarket shelves and replace them with healthy low sugar items.
For a small monthly charge, you get delicious keto snacks delivered right to your door every month. Let's take a look at the fantastic selection of snacks that was included in the March 2016 Keto Krate snack box.
Video of March 2016 Keto Krate Box Opening
Detailed Look at the March 2016 Keto Krate Box Contents
Wild Friends Almond Butter
We all know that almond butter is a great snack if you aren't allergic to tree nuts. I especially like the single portion size of these packets. I keep one in my desk for that emergency snack attack!
Wild Friends has a variety of different nut butters and there's even a nut-free option for those who can't eat nuts. Check out their website to see their fantastic selection of peanut, almond and sunflower seed butters. All products are organic, non-GMO, and of course all-natural!
The larger jar of this classic creamy almond butter is perfect for using in your favorite recipes as well as snacking. It's also great for adding to fruit smoothies like my coconut milk strawberry smoothie that whips up in no time! You can even use this almond butter to make a simple and fluffy gluten free bread.
Skout Raw Pumpkin Seeds
When it comes to snacks, I'm a big fan of pumpkin seeds. The flavored ones are especially tasty when you want something a little extra special. In fact, pumpkin seeds are a perfect keto snack. They are full of nutrients including those key electrolytes that are so important when you are following the low carb way of eating.
These delicious raw flavored pumpkin seeds from Skout are some of the finest available. You can see the selection they have on their site or simply order from Amazon. Ordering from the company website will save you 15% if you use the included discount code.
Each package contains 2 servings and I can tell you that it's hard to stop at just one. The Black Pepper BBQ flavor does have a touch of sweetener which I'd prefer not to have. But, they have other flavors like Jalapeno Salsa and Pacific Sea Salt which are more savory. I'm not a big fan of BBQ flavor anyway.
NutiLight Sugar Free Chocolate Hazelnut Spread
I was really excited to see this NutiLight Sugar Free Chocolate Hazelnut Spread in this March 2016 Keto Krate box. Although there are several amazing looking recipes for low carb Nutella, I just don't have the time to spend making it. I'd rather take the lazy route and buy a pre-made version with great ingredients. Well, I've just discovered that product!
NutiLight is made with the 100% natural sweetners chichory, erythritol, and stevia. Pretty much the same sweeteners that I would use in a homemade version anyway. So, why not just save yourself some time and buy this awesome product that can be used in all those low carb Nutella recipes you see floating around the internet.
Where do you purchase this wonderful product? Head over to the NutiLight website or snag yourself a jar on Amazon, my favorite online store. What can you do with this product other than eat spoons of it from the jar? Don't worry, Carolyn at All Day I Dream About Food has you covered with her fantastic Low Carb Nutella recipe round-up!
Protings Protein Chips
Are you lacking protein? Although most of us on low carb get plenty, some may need a little more for working out or building muscle. I have to tell you that these chips are the real deal. They will certainly satisfy any need for crunch in your snacking.
The March 2016 Keto Krate box contained two bags of Protings chips. One was a Southern BBQ flavor and the other was a Zesty Nacho. Being that I prefer savory flavored chips, I liked the Zesty Nacho flavor best, but both bags were fantastic. They were so good that I finished them in the first few days. It felt like I was cheating as I chowed down on them at my desk.
Interested in trying these protein chips? Check them out on the Protings website or grab yourself a variety pack on Amazon. There's a 15% of discount code included in the box if you order from the company website.
KINGMADE Jerky
I always look forward to the jerky in the Keto Krate boxes, but this time I gave the bag to my husband. He's also a big jerky fan even though he doesn't follow a low carb eating plan.
The reason I gave up the entire bag is because the jerky marinade contained gluten and brown sugar. I'm sure the sugar amount wasn't enough to spike insulin, but I stay away from products with gluten if I see it. Even though the amount was likely insignificant as it was contained in the soy sauce used.
I'm hoping the guys at Keto Krate will find more jerky brands that are free of added sugar and gluten. I did have a small bite just to taste and it was a good jerky. My husband loved it. I may even use the 15% off discount code just to get more for my husband at the KINGMADEJERKY site. The jerky is listed as being low in sugar, but it isn't sugar-free. You can also buy the jerky at Amazon, but it will cost a little more.
Food Alive Flax Crackers
I don't eat a lot of flax so I can happily indulge in flax crackers when they come in the monthly Keto Krate box. The Foods Alive Italian Zest flax crackers in the March 2016 Keto Krate box was really delicious. They have a nice pizza like flavor. You can even top them with mozzarella cheese and pepperoni if you wish!
Also inside the snack box was a brochure about Foods Alive and the products they offer. In addition to the Artisan crafted crackers, they offer chocolate, cold-pressed oils, superfood dressings, superfoods, and more! You can check out their website for more information. You'll find recipes, product highlights, videos and more on the Foods Alive site.
The Foods Alive company is family owned based in Indiana. They are offering a 25% discount code to Keto Krate subscribers. That's a great discount so I'm going to browse their site and see what they offer. The Pyrex glass straws shown in the included brochures sound pretty interesting. I may need to try one! I really hate using plastic products. You can also find their products on Amazon.
After reviewing the March 2016 Keto Krate box items, you may wonder if it's worth the monthly charge. The retail value of the products alone plus shipping would certainly cost more. And, with the included discount codes, you'll save even more to get more of the products you love.
I'm sold on the Keto Krate idea and I do believe it is a good deal for what you get. I plan to continue my subscription for a while. I look forward to finding great new low carb products each month and the convenience just can't be beat. A big two thumbs up to this fantastic keto snack subscription service!
Click here to see what was in the November 2015 box.
Click here to see my review of the December 2016 box.
Click here to see my review of the February 2016 box.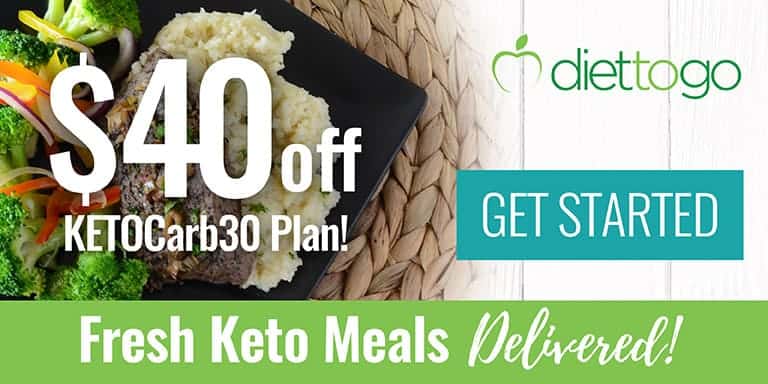 Are you ready to join the keto snack club? Click on the image below to subscribe to Keto Krate!