For those looking to sample fantastic low carb products every month, give Keto Krate a try. Here's a review of the March 2017 subscription box.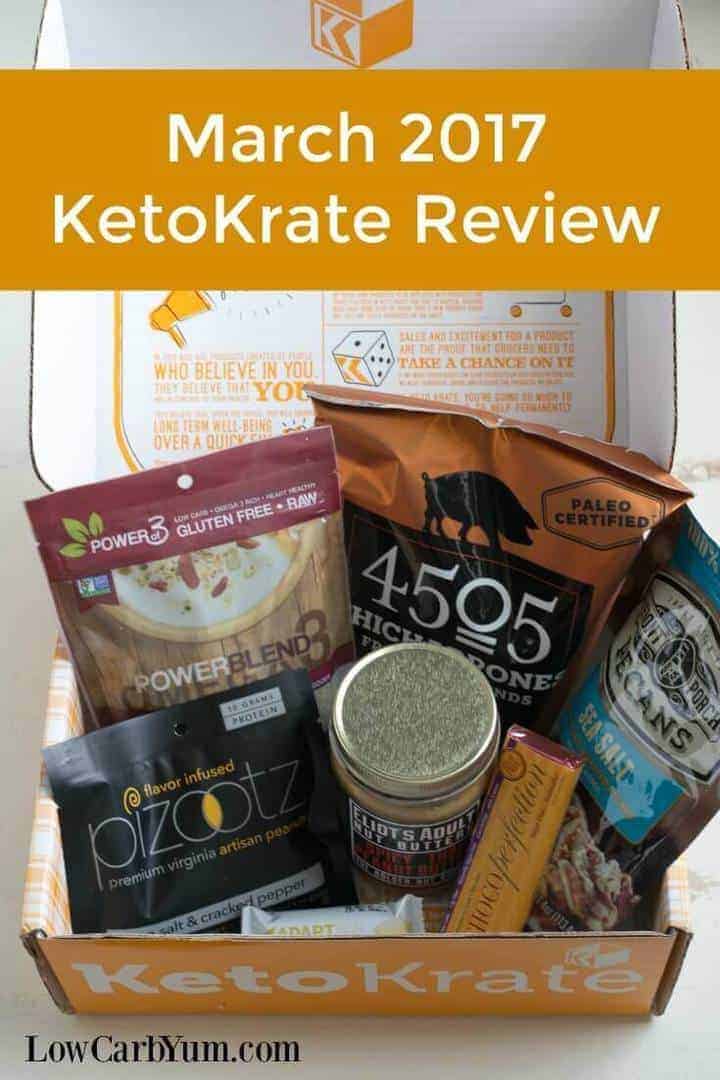 It's a new month which means it's time to check out another Keto Krate subscription box. Are you a subscriber? If so, I'd love to hear what you thought about this month's box.
If you haven't heard of this service, it's a great way to sample low carb products each month. I do look forward to receiving the monthly shipment of goodies each month.
I've been doing Keto Krate monthly reviews for about a year and a half. But, I may need to take a break from it some months. It does take some time to sample and write up the reviews.
I'll be super busy next month so I may not have another review until May. There were some fantastic products featured in this month's box, so lets see what subscribers received this month…
Dark Chocolate Raspberry Chocoperfection Bar

The featured product this month has been a favorite of mine for a long time. It's a Raspberry Dark Chocolate Chocoperfection bar. Definitely one of the best low carb chocolates available.
The raspberry dark chocolate is my favorite flavor. But, all of the Chocoperfection chocolate bars are delicious. I wish they still sold sugar free chocolate chips because they were my favorite.
What more can I say about this yummy chocolate bar? We all know that chocolate is delicious and Chocoperfection lives up to it's name as being a perfect chocolate bar.
Subscribers of the Keto Krate low carb products service scored a 20% off discount code on Chocoperfection. The code can be used for orders placed at Chocoperfection.com.
Eliot's Adult Nut Butters Spicy Thai Peanut Butter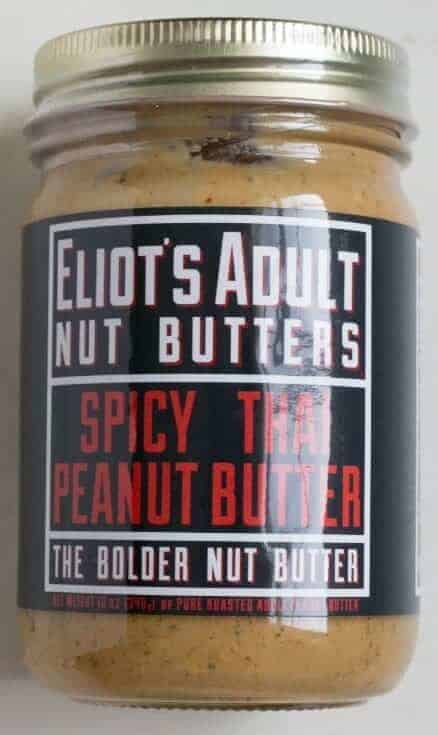 Nut butters can get pretty boring. Don't you agree? That's why it's great to change up the flavor. And, Eliot's Adult Nut Butters do just that!
I have been wanting to try the flavored nut butters. So it was great to see a jar of Spicy Thai Peanut Butter in my monthly Keto Krate of low carb products.
There's even a delicious recipe included for Thai Shrimp Stir-Fry with Browned Butter Cauliflower Rice! I can't wait to give the recipe a try.
This spicy peanut butter will be perfect for mixing into shiratake noodles. And, the guys at Keto Krate have included a 20% off discount code to buy more at EliotsAdultNutButters.com.
Lemon Cheesecake Adapt Bar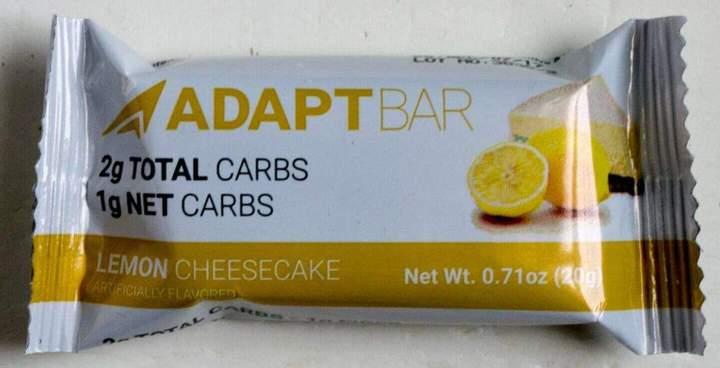 The Adapt Bar keto snacks have been included in previous shipments. This month, we got a sample of the Lemon Cheesecake flavor.
At 2 grams of carbs with 1 gram of fiber, you get a nice little treat that's only 1 gram net carbs. There's also 9 grams of fat which is plenty to refuel in a such a tiny bar.
I really enjoyed the lemon cheesecake flavor. I'd even go as far to say that it's the best flavor of Adapt Bar that I've tried so far. It's a delicious lemon snack that's super portable.
If you are looking for a slightly sweet keto snack to take on the road, the Adapt Bars are a perfect choice. There's a 10% off coupon code included to purchase more at AdaptYourLife.com.
Power of 3 Coconut Goji Seed Blend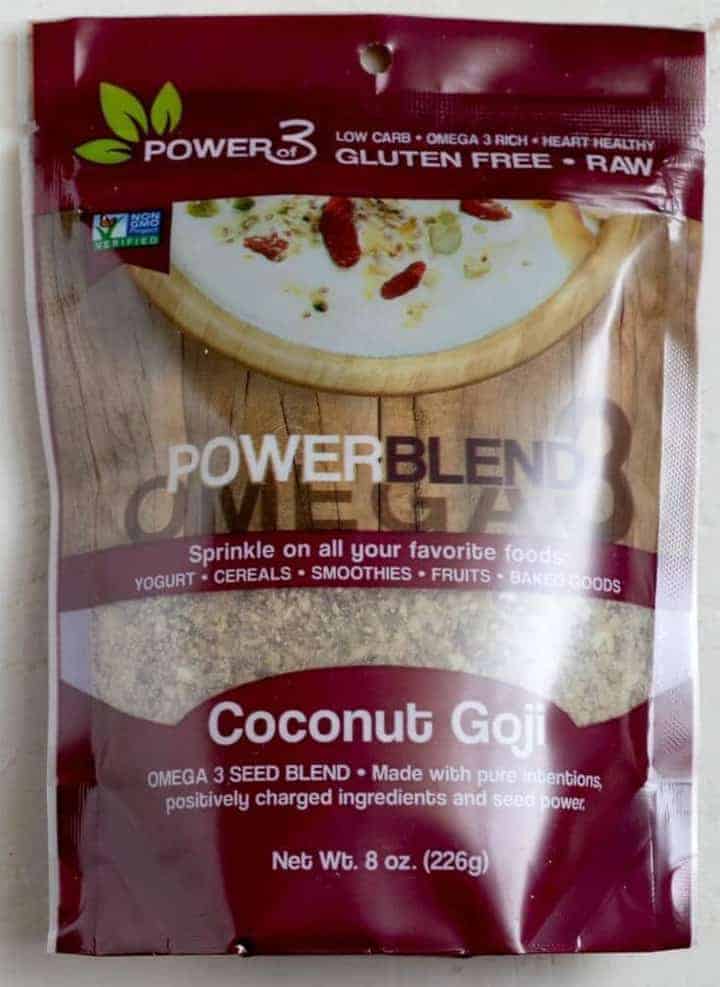 Smoothie bowls seem to be a super popular these days. But, I never know what to put in them. With Power of 3, you get a perfect blend of Omega 3  seeds  to sprinkle into a smoothie or yogurt.
What kind of seeds are in the blend? There's raw hemp, raw pumpkin, raw flax, and raw chia. The featured Coconut Goji blend also includes healthy goji berries and coconut flakes.
If you're like me and take your breakfast on the run, the Power of 3 blends are great to boost nutrition for meals on the go. And, there's only 1 gram of net carb per tablespoon in this Coconut Goji blend.
Raw organic omega 3 seeds are one of the healthiest low carb products you can buy. If you love them, Keto Krate provides a discount code to get free shipping on the purchase of two or more bags at PowerOf3Nutrition.com.
4505 Chicharrones Smokehouse BBQ Fried Pork Rinds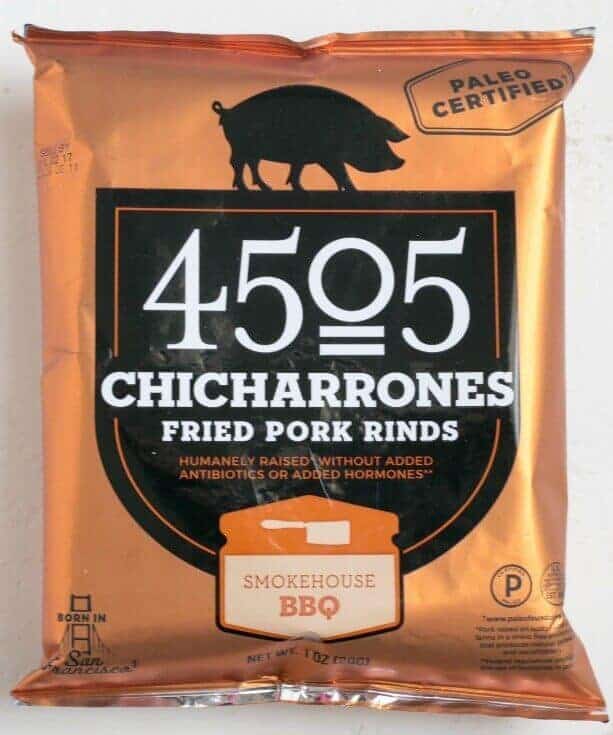 Pork rinds are one of my favorite low carb products. I loved them even before the keto diet became popular. My father used to make a vinegar and soy sauce dip for pork rinds. It was so delicious.
Flavored pork rinds are a nice option to kick up the flavor on the go. A bag of 4505 Chicharrones Smokehouse BBQ fried pork rinds was included in the March 2017 Keto Krate.
There is a little coconut sugar added to give a touch of sweetness. But, the label lists carb count as zero per half ounce serving so it's really negligible.
I do love that the 4505 Chicharrones pork rinds use only humanely raised hogs without antibiotics or hormones. The taste is awesome too. There's a 30% off coupon included for buying more off Amazon so I'm planning to stock up.
Front Porch Pecans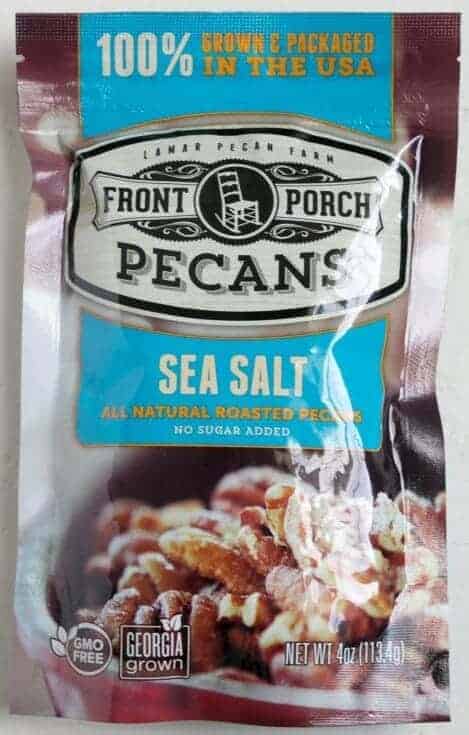 Nuts are one of the most popular low carb products. I always have a stash in the house for snacking and baking. And, pecans have a great fat to carb ratio.
The pecans from Front Porch are all natural and GMO free. They are high quality nuts grown in Georgia. There's just the right amount of sea salt added to enhance the flavor.
Each 30 gram serving (40 pieces) has only 4 grams of carbs with 3 grams fiber. So, you get a nice keto snack with only 1 gram of net carb.
Pecans are also high in potassium, magnesium, and calcium which helps to balance out electrolytes. Keto Krate subscribers also received a 10% off coupon to buy more of these yummy pecans at Amazon.
Pizootz Sea Salt and Cracked Pepper Peanuts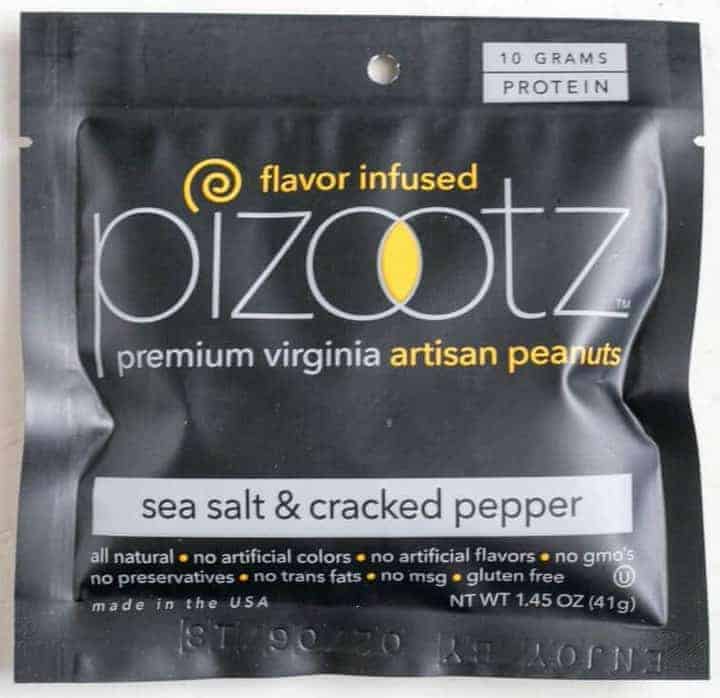 Virginia is well known for their peanuts. In fact, the peanuts grown there are the best you can buy. I always stock up on peanuts when I visit Virginia.
Pizootz Peanuts are infused with flavor. The sea salt & cracked pepper flavor had just the right amount of spice. And, there's no artificial flavors or GMOs to worry about.
If you haven't tried premium Virginia peanuts, you are in for a real treat with these. The single serving pouch also ensures you don't overeat this yummy low carb snack.
I can't wait to check out the other flavors. Good thing there's a 10% off coupon to use at either Amazon.
Final Thoughts on the March 2017 Keto Krate Low Carb Products
Which of the low carb products is your favorite from month's Keto Krate box? I really loved the spicy peanut butter.
Not sure if Keto Krate is for you? You can check out some of the other products featured in this low carb subscription box. Links to my last three Keto Krate reviews can be found below:
The December 2016 box review is available here.
The January 2017 box review is available here.
The Feb 2017 box review is available here.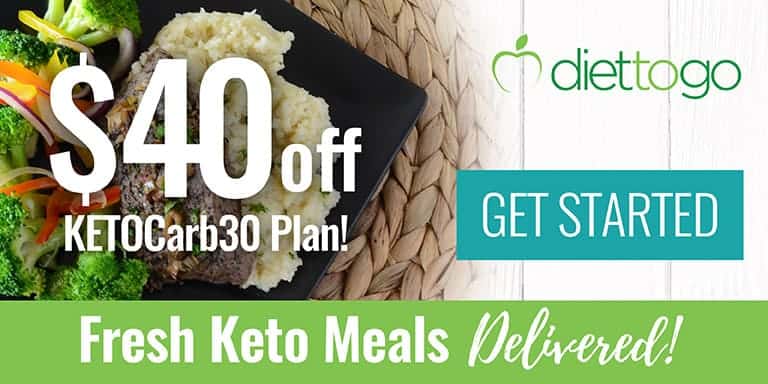 Want to sign up for this fantastic low carb keto goodie box? Just head over to Keto Krate to subscribe!