Unsure about signing up for a low carb food monthly subscription service? Come see what products are included in the May 2016 Keto Krate low carb snack box!
It's that time of the month again! I'm still a happy Keto Krate customer after several months and I'll be continuing to share my review of all the included products on a monthly basis.
I do need to state that as a blogger, I receive a free Keto Krate box each month in exchange for my review. However, I have also been a paid subscriber since January 2016. I end up sharing the goodies with my family so it's nice to have that extra box of low carb treats.
In this May 2016 Keto Krate review, I have something special for all of you. I'm hosting a giveaway on my blog where you can try Keto Krate for free if you win.
I was pretty excited to see a couple products included in this month's keto snacks that are okay for an egg fast. I'm getting ready to go on another egg fast after working long hours at my engineering job. And, I still have a few more pounds to go before the summer weather hits.
So, for those of you wondering what was in the May 2016 Keto Krate, I've included details on each product below.
May 2016 Keto Krate Review
Power of 3: Power Blend
Most people have a diet that's too high in omega-6 and don't consume enough omega-3. I actually wrote about this on my other blog. You can read more about the importance of a healthy omega-6 to omega-3 ratio in the post I wrote here on AllNaturalIdeas.com.
An easy way to up your omega-3 intake is to take a supplement that's high in omega-3. Another way is to eat more omega-3 foods like wild salmon, high omega-3 eggs, krill oil, grass fed beef or dairy, flax seeds, and chia seeds.
If you want a convenient way to add omega-3 to your every day foods, Power of 3 has a solution. They make a Power Blend in different flavors made from a blend of Pumpkin Seeds, Hemp Seeds, Chia Seeds, Milled Flax Seeds, and spices. You simply sprinkle some of this on your salad, yogurt, smoothies, or other foods you eat.
You can find out more about this omega-3 Power Blend at PowerOf3Nutrition.com or see what others think at Amazon.com. If you buy at the Power of 3 site, you'll get free shipping through the month of May with the included discount code. I think this omega-3 blend is a terrific way to balance out the omega fats and it tastes really good.
Kitchen Table Bakers: Parmesan Crisps
I don't have a lot of time to bake my own Parmesan chips, so I get pretty excited when I see them included in my monthly shipment of low carb snacks. In the May 2016 Keto Krate, a bag of Kitchen Table Bakers mini Parmesan Chips is included.
My only issue with Parmesan chips is that I can easily eat the whole bag. So, I have to count out a single serving and hide the bag. The Parmesan chips made by Kitchen Table Bakers are super crisp and totally satisfy your need for crunch. If you like Parmesan cheese, you will fall in love with these crisps.
The regular size Kitchen Table Bakers Parmesan Crisps were in a previous Keto Krate. I kind of like these mini size better. You can find these mini size crisps at KitchenTableBakers.com and Amazon.com. They come in a great little bag that's perfect for taking on your summer travels!
D's Naturals: No Cow Bar
Next up is a D's Naturals No Cow Bar. The flavor in my box was raspberry truffle. The bar is soft and chewy because it's made with IMO syrup, which is the same sweetener I used in my own homemade protein bars. If you don't have the time to make your own, this No Cow Bar is a great option.
The D's Naturals protein bar is made with natural ingredients with no sugar added. It's sweetened with a blend of fiber syrup, stevia, and monk fruit. My only issue with this bar is that IMO syrup can impact insulin levels so you need to be very careful. I don't recommend eating the whole bar. Half or 1/3 of the bar should be enough to satisfy without causing issues.
Want to learn more? Check the company out at DNaturals.com. The No Cow Bar is also available on Amazon.com.
FBomb Oils: 100% MCT Oil
So, as many of you know, I've been doing an egg fast every now and then. You can see all the great food that I eat in my Egg Fast Recipe Round-up. One of the popular ingredients for keto dieters which is used a lot in egg fasting is MCT Oil. It's an oil that helps create those ketones that all low carb eaters love to generate. MCT oil is a well known keto booster!
A lot of people use MCT oil to make their bulletproof coffee each morning. It's also a terrific fat booster when making a low carb milkshake. I've even been known to use it to make coconut oil mayonnaise. Well, FBomb Oils makes a mighty file MCT Oil and a sample of it was included in the May 2016 Keto Krate box.
I do love the FBomb name as it's pretty catchy. I mean, who wouldn't get a kick out of dropping an FBomb on a daily basis? It's a name that you can certainly have fun with. Want to learn more? Check them out at DropAnFBomb.com .
Long Beach Jerky Co.
I only got a small taste of the Gramps' Original jerky included in my May 2016 Keto Krate subscription box. My husband snagged it from me and finished the whole bag before I got a chance to grab more.
Although not an exclusive low carb eater, my husband loves jerky. He's a picky guy so you know the jerky has to be really good for him to finish the bag in the first day. I thought the jerky had just the right amount of sweet.
The folks at Long Beach Jerky Co. take care in using sugar responsibly and sparingly with their meats. So you get the benefit of a touch of sugar without the guilt. I know that you'll love this one.
I may have to order more of this delicious jerky since it was such a hit with my husband. It's available at LBJerkyCo.com and there is a discount code for 20% off included in the Keto Krate.
Adapt Your Life: Adapt Bar
Next up is a small Coconut Flavor Adapt Bar. It was pretty tasty, but you really don't get much. I single serving is 20 grams and with that is 9 grams fat, 2 grams carbs, 1 gram fiber, and 5 grams protein. It is a good keto snack, but seems a bit expensive for what you get.
Another thing I don't like about the Adapt Bar is that is contains artificial flavors. I mean, they use real coconut flakes so why don't they use real coconut and or vanilla flavoring? I'm not really sure what artificial flavor they are using because it's not stated on the label. The bar was a nice little treat, though. And, it certainly fits into a low carb lifestyle.
So, if the cost were a bit more reasonable and the artificial flavor was eliminated, it may be a better option. You can see more on this product at AdaptYourLife.com and there is a discount code for 10% off if you want to buy more. The price does go down if you buy them in bulk.
Coffee Booster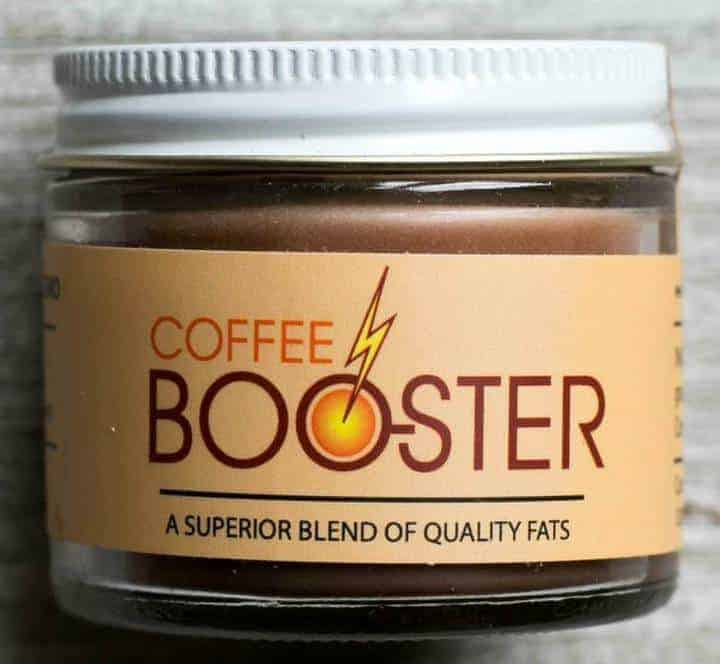 Last, but certainly not least is a tasty little treat for your coffee in the May 2016 Keto Krate box. The idea behind this is absolutely genius! This Coffee Booster is a convenient way to get a bulletproof coffee with a hint of chocolate.
Coffee Booster is a blend of virgin coconut oil, grass-fed ghee, and raw cacao powder. The label states that it's all natural, organic, and non-GMO. You can feel good about using it!
How do you use it? You just use a tablespoon of it in your coffee. It spoons easily out of the jar, unlike coconut oil. It's a nice way to add flavor and fat to your morning coffee. It also has a nice taste. I never thought to add a hint of chocolate to my coffee.
Learn more about this fantastic Coffee Booster product at CoffeeBooster.net.
Conclusion
After reviewing the May 2016 Keto Krate box items, do you think it's worth the price?
I believe Keto Krate is a great value for what you get. I'll be continuing with the service. Want to see some of the other products that have been included in the monthly Keto Krate shipments? Below are links to my last three Keto Krate reviews.
Click here to see my review of the February 2016 box.
Click here to see my review of the March 2016 box.
Click here to see my review of the April 2016 box.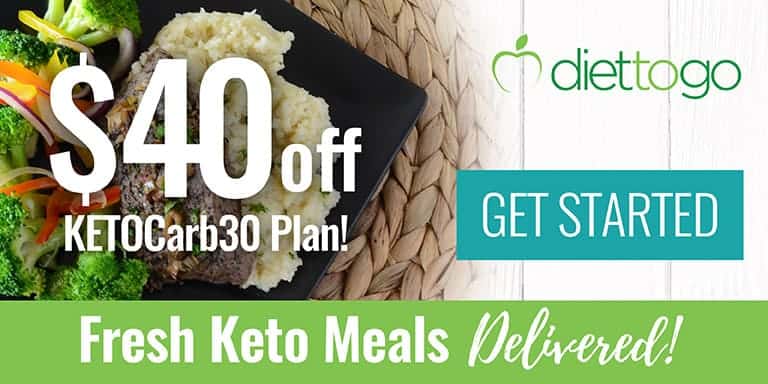 Are you ready to join the keto snack club? Just head over to Keto Krate to subscribe!