This post may be sponsored or contain affiliate links, but all opinions are my own. I may earn money if purchases are made through links (at no additional cost to you) which helps support this site and keep the content free.
These low carb no bake chocolate chip cashew butter bars with coconut and sunflower seeds have enough protein to satisfy hunger as a snack between meals.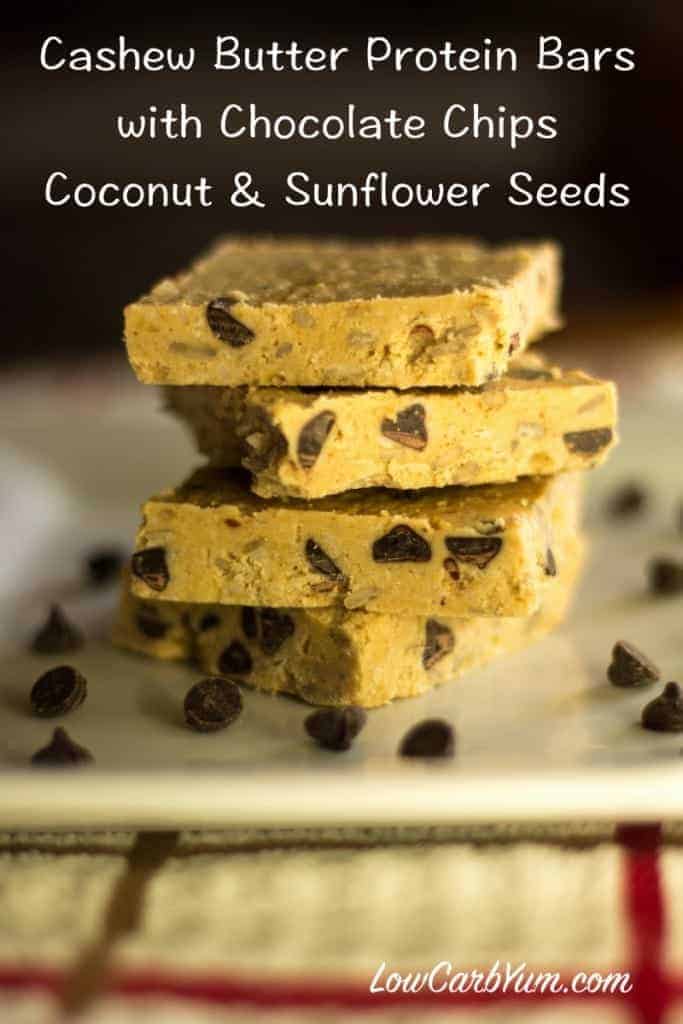 One of my favorite snacks are protein bars and I have been wanting to make my own low carb protein bars for a while. This is my first attempt, but after calculating the nutritional value of these chocolate chip cashew butter bars, the amount of protein in each serving isn't as high as I'd like.
I may have to cut back on the additional ingredients next time to increase the protein per serving. Nonetheless, these are pretty tasty no bake sugar free chocolate chip cashew butter bars and they are much healthier than most of the low carb protein bars I used to buy.
My husband got me a Magic Bullet NutriBullet blender/mixer for Christmas last month and I've been testing it out over the last month. I've found that this mixer is the perfect machine for making a powdered sugar replacement out of regular granular low carb sweeteners.
FREE eBook!
​LOW CARB TIPS and TRICKS
Subscribe now to receive your free copy of Low Carb Tips and Tricks which includes 20 easy to prepare recipes. Plus, get access to the weekly newsletter and special offers only for subscribers!
With the NutriBullet, I can make the powdered sweetener as I need it. This is really great for low carb granular sweeteners like Natvia which are not sold as a confectioner powder.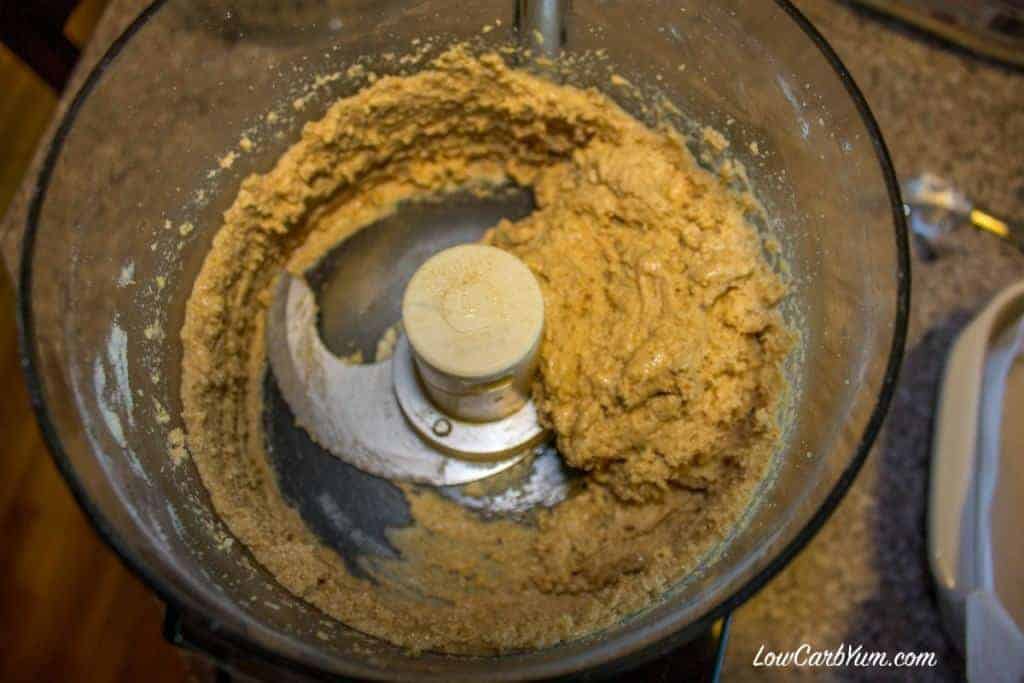 Granular sweeteners can also be powdered in a regular food processor, but my processor is a large 14 cup and the smaller Magic Bullet blender is better suited for powdering smaller batches of sweetener and it does it in only a few seconds. I powdered 1/4 cup of Natvia in the NutriBullet for these low carb cashew butter bars and it was done in like 5 seconds.
I'm not sure why I never thought to get one of these blenders before as it is so useful and really love it. I also enjoy making low carb smoothies in this powerful little machine.
I chose to put dried shredded coconut in these cashew butter bars and added it into the food processor so that it would get blended well into the cashew butter. I wanted the sunflower seeds and chocolate chips to stay whole so I stirred them in rather than mixing in the food processor. This is really a matter of preference.
You may want to blend in the seeds rather than keep them whole or maybe add a different kind of seed or nut. In fact, you could really use any kind of nut or seed butter you like. I chose cashew butter which doesn't have a strong taste, but I may try sunflower seed butter next time.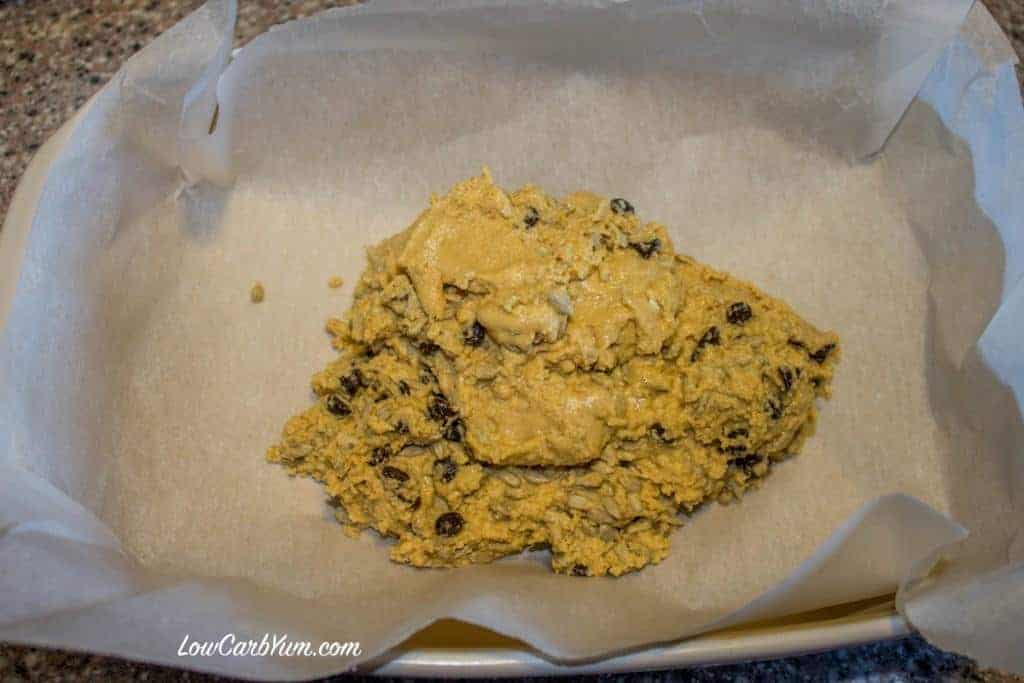 You'll want to line the pan with parchment paper so the entire sheet of bars will lift right out. Although a 9×13 inch pan could be used, I thought the bars came out too thin. A 7×11 inch pan is a better size to use for the amount in this recipe to get the appropriate thickness for the snack bars.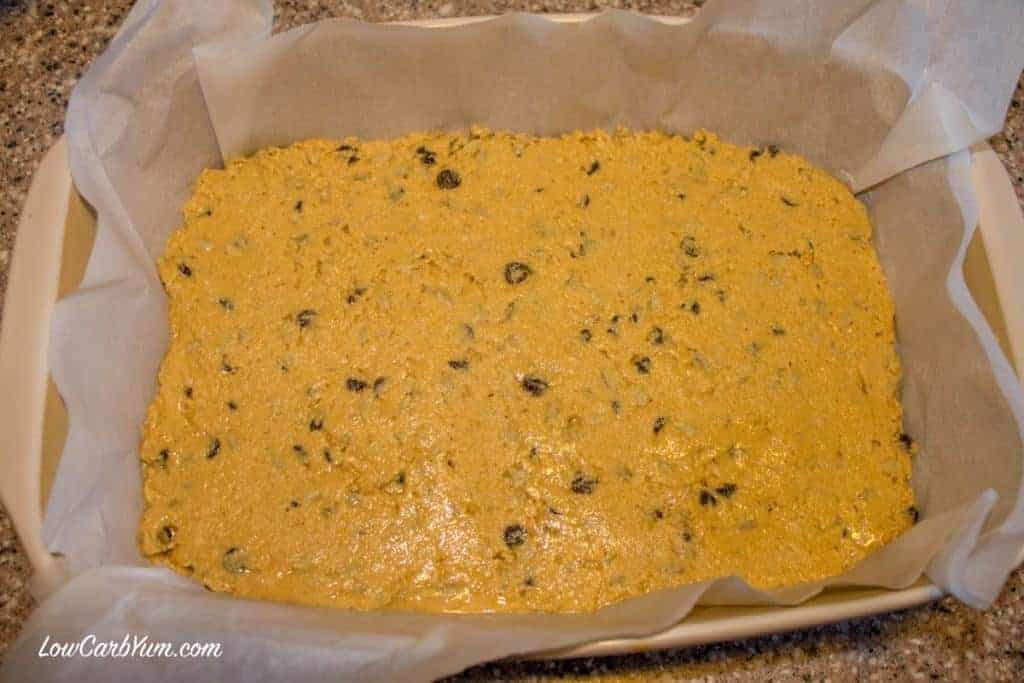 A spatula works well to spread the mixture out in the pan. To get a smooth top, I ran the back of a spoon over the top. After the mixture has been spread out evenly in the pan, it needs to go in the refrigerator to harden.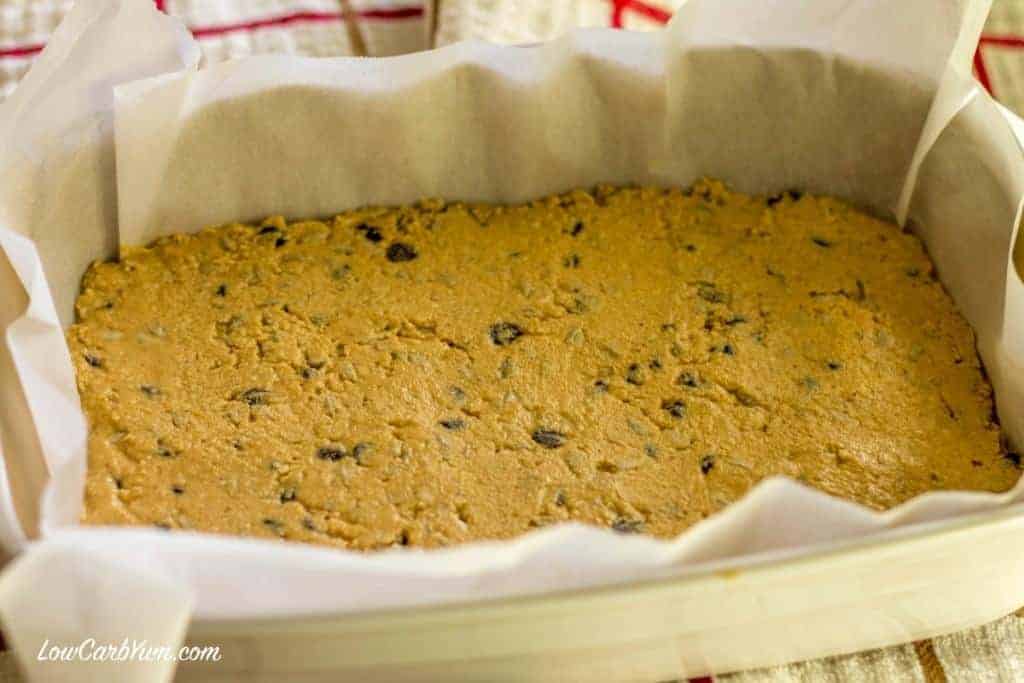 The bars will harden up in the refrigerator in about 1-2 hours. Then you just lift the entire hardened sheet of bars out of the pan and cut it into serving size bars or squares. You shouldn't remove the hardened mix from the parchment paper until after cutting it into pieces. That way, the bars won't stick to the cutting board and they will lift right off the parchment paper.
No Bake Chocolate Chip Cashew Butter Bars Recipe – Low Carb and Gluten Free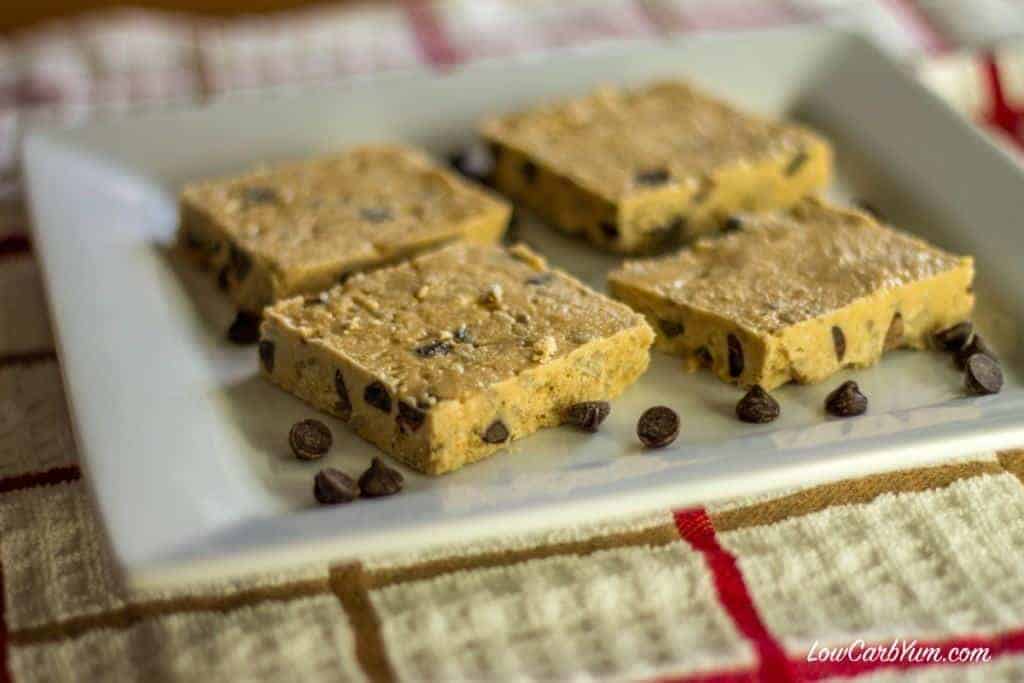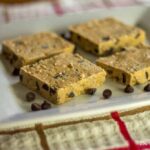 No Bake Chocolate Chip Cashew Butter Bars
These low carb no bake chocolate chip cashew butter bars with coconut and sunflower seeds have enough protein to satisfy hunger as a snack between meals.
Instructions
Place whey protein, stevia extract powder, sweetener, coconut, and cashew butter into food processor.

Melt coconut oil if necessary then stir in sea salt and vanilla.

Add coconut oil mixture into food processor then process until ingredients start to form a ball on one side.

Stir in sunflower seeds and chocolate chips.

Line a 7x11 pan with parchment paper and spread the mixture out in the pan.

Place pan in the refrigerator for at least an hour to harden.
Recipe Notes
Makes 15 squares

Nutrition per square
198 calories, 17.3g fat, 57mg sodium, 8.5g carb, 1.3g fiber, 2.6g erythritol, 4.5g net carbs, 7.8g protein
Nutrition Facts
No Bake Chocolate Chip Cashew Butter Bars
Amount Per Serving (1 g)
Calories 198
Calories from Fat 156
% Daily Value*
Total Fat 17.3g 27%
Sodium 57mg 2%
Total Carbohydrates 8.5g 3%
Protein 7.8g 16%
* Percent Daily Values are based on a 2000 calorie diet.
Related Posts