Discover all the tasty products that were included in the November 2017 Keto Krate Box! If it looks great, find out how to get it delivered to you.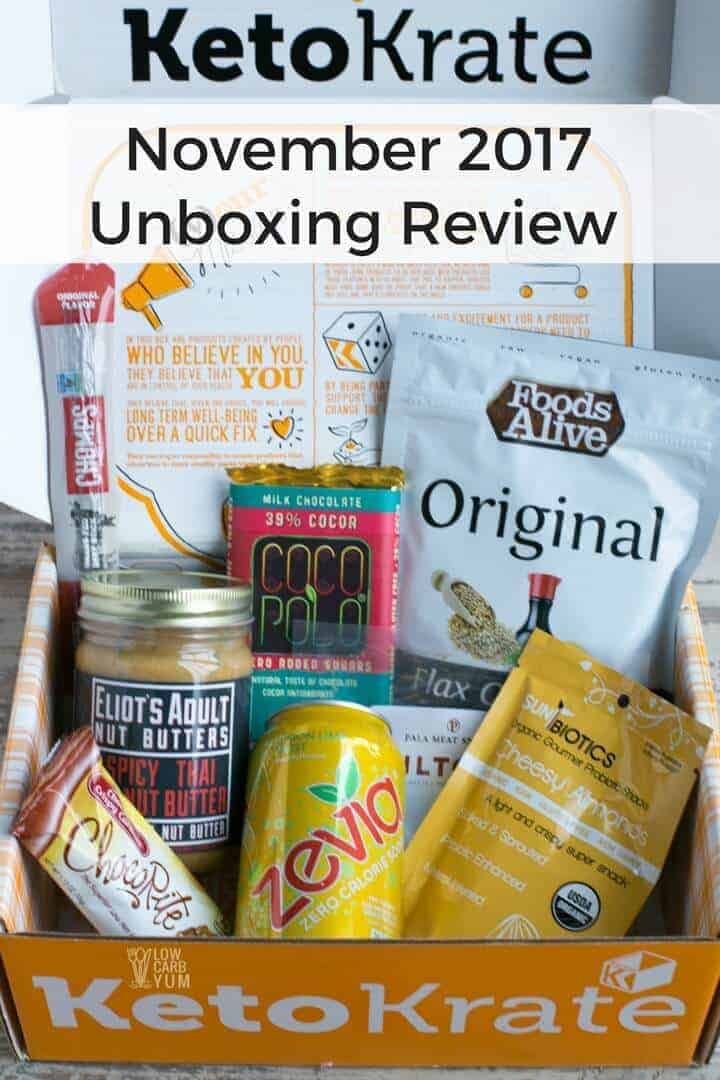 Can you believe it's already November? The month of October really flew by for me because I've been super busy.
With the holiday season in full swing, it was nice to get some convenient snacks in my monthly Keto Krate low carb subscription box. And, as usual, it was a fantastic assortment of goodies.
I've been receiving these low carb product boxes for a couple years now and they have never disappointed me. If you aren't familiar with Keto Krate, you can check out some of my past reviews by doing a search for "Keto Krate."
I always like to start the review off with an unboxing video, so click to play the video below to see what was included this month. If you pay close attention to the video, you'll see a meat stick at the bottom of the box that didn't get pulled out. No worries, there's a detailed review of it, including a photo, at the end of this post.
November 2017 Keto Krate Unboxing Video
Sunbiotics Cheesy Probiotic Almonds (13g fat, 4g net carbs)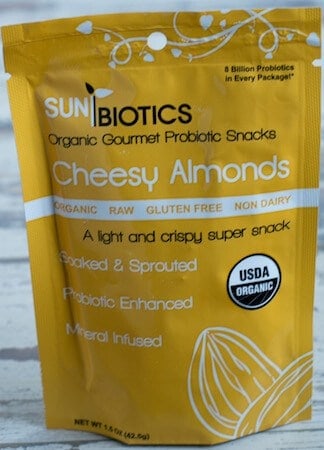 I was pretty excited to see that the featured product is a non-dairy cheesy almond snack. I've been missing cheese since moving to a dairy free diet so this may become a regular item for me.
You may be wondering how they can make "cheesy" almonds without dairy. Turns out that using a blend of nutritional yeast along with probiotics will give you a cheese taste.
I've been wanting to experiment with making my own non-dairy cheese. But, since I don't have a lot of time, it's nice to know that Sunbiotics sells a raw almond snack with an all natural cheese flavor that has no dairy.
Probiotics are so important for a healthy gut that you can feel good about getting a nice dose of them with this healthy snack. I'm planning to buy some more with the included 15% off discount code over at Windy City Organics.
Biltong Pala Meat Snacks (5g fat, 2g net carbs)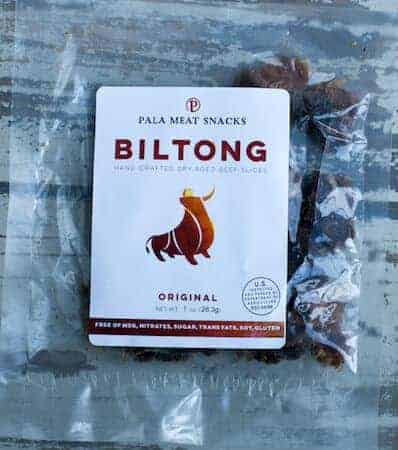 I never tried biltong until I started getting the Keto Krate low carb subscription box. This South African style dried beef has become a regular in the monthly shipments.
What I love about biltong is that is has no sugar or nitrates added. And, the Pala Meat Snacks meat comes from humanely raised American beef without any added hormones or antibiotics.
The flavor is spot on in this dry aged meat snack. Once you give it a try, you'll be sold and be looking to stock up on more. At least that's how I felt after taking a bite.
There's a generous 25% off discount code included in the November 2017 Keto Krate so I'll be using that to save some cash. To learn more, check out the Pala Meat Snacks site.
Coco Polo 35% Milk Chocolate (15g fat, 5g net carbs)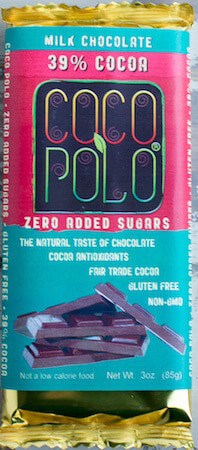 The Coco Polo brand of low carb chocolate is a real treat. It's smooth and creamy like a fine milk chocolate should be. And, I love that it's made with fair trade cocoa and hormone free milk.
This is the ultimate holiday indulgence so you won't be tempted by any of those high sugar holiday sweets. Coco Polo is sweetened with a blend of erythritol, inulin, and stevia which provides a clean taste to the chocolate.
I LOVE the luscious taste of this high quality chocolate. I'll be purchasing more with the 20% off discount code included in the November 2017 Keto Krate to give as gifts.
You can find out more on this delicious snack at Coco Polo. It's also available on Amazon.com.
Foods Alive Flax Crackers (10g fat, 0.5g net carbs)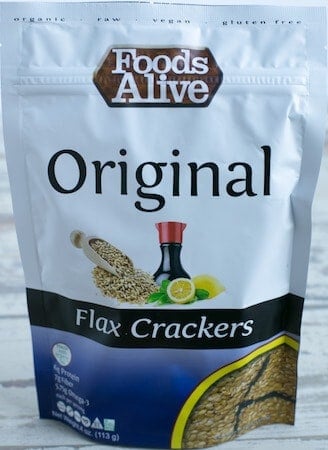 With the holidays coming up, you are definitely going to want to stock up on some crackers. And, flax crackers are one of the best choice for a crunchy chip.
These tasty low carb crackers are perfect for dipping scooping into your favorite dips. They are also great with cheese slices or serving with a cheese spread.
My favorite way to enjoy them is right out of the bag! It's a simple snack that's made with whole organic ingredients that you'd use at home.
Definitely give Foods Alive a look as they offer more than just crackers. I'm loving the 20% off coupon that Keto Krate included in the box.
ChocoRite Chocolate Crispy Caramel Bar

I've moved away from low carb candies, but it's nice to indulge in them once in a while. The ChocoRite brand has always been one of my favorites.
This month, there's a sinful Crispy Caramel Chocolate treat included. It's kind of a copycat of the 100 Grand bar. The caramel is rich and buttery just like the original.
There's two pieces in the package and eating both will only set you back 2g net carbs. So go ahead and indulge in this occasional low carb candy.
If you still have a sweet tooth, Choco-Rite candies are one way to satisfy those cravings while staying on plan. And, with the coupon in the November 2017 Keto Krate, you'll save 15% off.
Eliots' Adult Nut Butters Spicy Thai Peanut Butter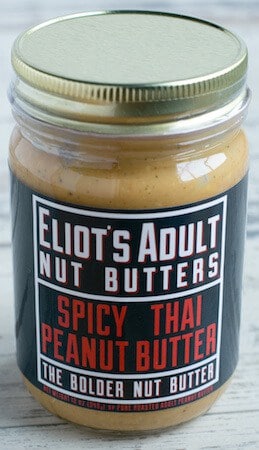 The Eliot's Adult Nut Butters Spicy Thai Peanut Butter was also featured in the March 2017 Keto Krate as well as in this month's box. I made a peanut sauce with it last time to serve over Miracle Noodles.
If you're a fan of Thai Food, you'd love the Thai Shrimp Stir-Fry Cauliflower Rice recipe that was included on this month's product sheet.
I've been trying to stay away from peanuts so I'll be giving this jar to my son along with the stir fry recipe. Hopefully, he'll give that recipe a try.
Eliot's Adult Nut Butters come in 7 yummy flavors so be sure to check them out. You'll also find the Spicy Thai flavor sold on Amazon.
Zevia Lemon Lime Twist Soda (0g fat, 0g net carbs)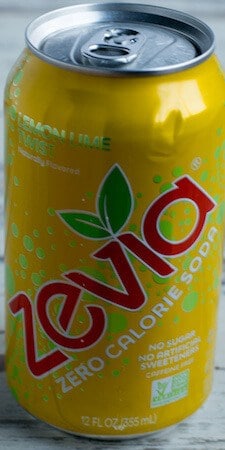 I've been a fan of Zevia soda ever since they first came out. I still remember how excited I was when one of the local stores started selling it. Before that, I'd order a huge case off Amazon.
Luckily, Zevia is readily available nationwide in all the major grocery stores. I'm not much of a soda drinker any more, but it is nice to enjoy one once in a while.
As of this writing, there's 14 different flavors of Zevia to choose from so the hardest part is picking just one. So, be sure to check out their website for the full line. I received a refreshing lemon lime flavor in my box.
A coupon was also stashed in the November 2017 Keto Krate box. I'll be using it to pick up a six pack at my local store for the holidays. Zevia is perfect for making low carb cocktails on New Year's Eve!
Chomps Original Beef Snack Stick

If you watched the video, you may have noticed that I forgot to pull this one out of the box. Sorry about that! When I realized it, it was too late to shoot another video.
Although this is the last product, it's certainly far from my least favorite! I only buy grass-fed beef these days because it's got a much better nutrient profile. So, it's great to see this beef stick is made with 100% grass-fed.
Another thing I love about the Chomps Snack Sticks is there's no sugar or nitrates added. And, it's got a nice blend of natural spices that makes the stick a perfect keto treat.
There's a 25% off discount code included for subscribers to use at Chomps.com. You can also purchase the Chomps meat sticks on Amazon if you prefer.
Final Thoughts on the November 2017 Keto Krate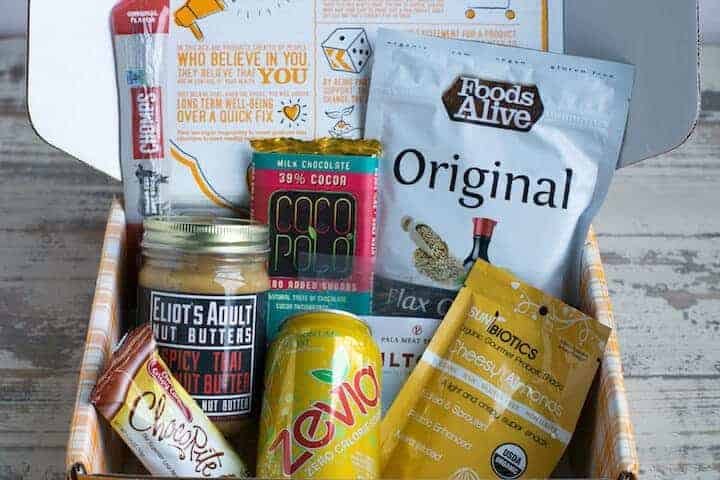 The guys at Keto Krate pulled off another fantastic box of goodies. I found a new cheesy snack without dairy and some delicious keto meat snacks. The rest of the items were old favorites. Which product did you like best?
Want to see some of the other items you can expect to receive? Here's the links to my last three Keto Krate reviews:
July 2017 box review
September 2017 box review
October 2017 box review
Ready to sign up? Just visit the Keto Krate website to subscribe!
Related Posts