Want low carb products shipped regularly to your door? If so, take a look at the October 2017 Keto Krate Review to preview what you'll get each month.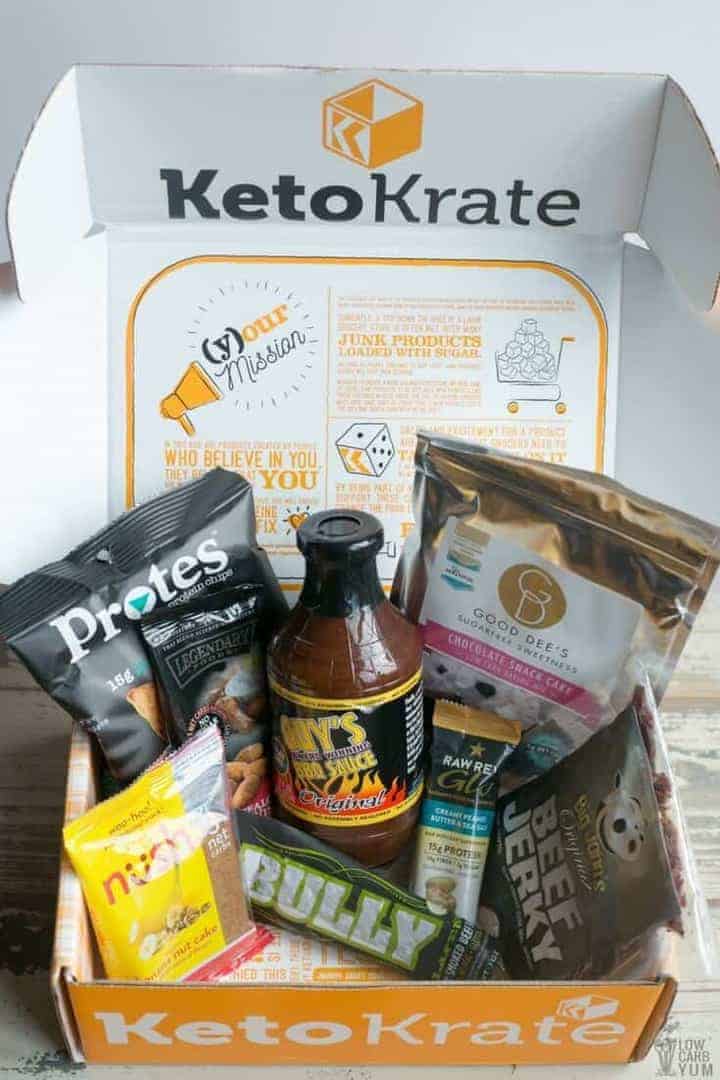 It's time to showcase another great selection of low carb products featured in Keto Krate! I've been receiving these monthly shipments for almost 2 years and it's always a special day when the box arrives.
I've been introduced to so many keto friendly convenience foods using the service. We all know how difficult it is to find snacks that fit into the low carb lifestyle. That's what's so great about the subscription box.
You really just sign up for the low monthly fee which is comparable to or less than what you'd pay for buying the products on your own. Then, the goodie boxes are delivered to your door every month. And, it comes with a 100% money back guarantee.
The subscription can also be canceled at any time. You can even skip a shipment if you're going to be away or want to take a break. I love the convenience and the great selection of foods I get.
October 2017 Keto Krate Unboxing Video
Now that's you've watched the video preview, let's check out the details on each product below…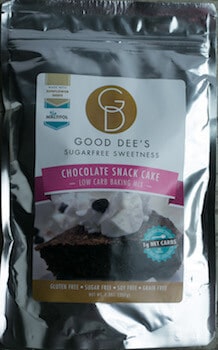 Good Dee's Chocolate Cake Mix – 4.5g Fat, 2g Net Carbs
The featured product of the month is a great one. It's a new product in the very popular line of Good Dee's sugar free baking mixes. It's a keto friendly mix for chocolate cake.
There's no need to worry about not having the right ingredients or wasting time measuring everything out. Just like those unhealthy box cake mixes, you just need to add oil or butter and eggs. So simple!
And, the cake tastes so good that I don't even bother with a frosting. And, the October 2017 Keto Krate subscribers were the first to sample this product as it made it's first debut in this month's box.
Be sure to check out Good Dee's chocolate cake mix on Amazon where you'll receive it with free shipping on Prime. Subscribers also got a 20% off discount code to use at Good Dee's.

Legendary Foods Buffalo Blue Wing Seasoned Almonds – 20g Fat, 3g Net Carbs
Flavored nuts have become a popular keto snack for good reason. And, the spicy ones are the ones I love. That's why I really enjoyed the Buffalo wing flavoring.
Nuts are a fantastic snack to take on the road. I tend to over eat nuts, so I'm glad these ones come in individual to-go packs. They are perfect for keeping at work when a snack attack hits.
If you aren't a Buffalo wing fan, no need to worry. Legendary Foods also offers Cheddar Bacon and Tangy Ranch seasoned almonds as well as Wasabi Soy Sauce seasoned macadamia nuts.
Definitely check out some of the other products offered at Legendary Foods. The October 2017 Keto Krate box also contained a 15% off discount code.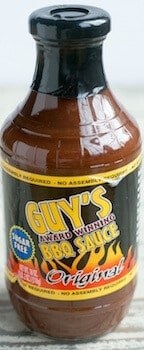 Original Flavor Guy's BBQ Sauce – 0g Fat, 2g Net Carbs
We all know it's impossible to find barbecue sauce that's keto friendly at local markets. That's why many of us end up making our own low carb BBQ sauce.
Luckily, there are company's out there that make sugar free sauces. Guy's is certainly the most popular by far. And, they offer 5 different flavors.
If you don't have time to make your own sauce, give Guy's a try. You'll find it available in Original, Spicy, Smokey Garlic, Smokey Bacon, and Hot flavors.
Just head over to the Guy's website to learn more. This month's Keto Krate also has a delicious pizza recipe using the sauce.

Bully Jalapeno Beef Bar by Sweetwood – 6g Fat, 1g Net Carbs
The Sweetwood Smokehouse makes some awesome jerky and meat sticks. I always enjoy the Fatty sticks that have been in previous Keto Krate boxes.
This month has a sample of the Bully Jalapeno Hickory Smoked Beef Bar. I really enjoyed the taste and texture of this one. I may even like it better than the meat sticks.
The macros on this bar are great as well. There's a lot more fat than you typically see in meat snacks. So, it fits well with the high fat keto eating plan.
Sweetwood meat products are great for snacking on the go. In addition to the Bully bars, they have the Fatty sticks and Jerky.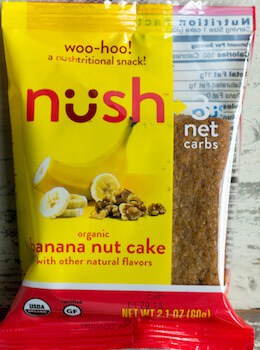 Nush Banana Nut Cake – 11g Fat, 3g Net Carbs
Be sure to check out my Nush low carb cake review if you haven't already read it. I provide more details on what I thought about all the flavors there.
The October 2017 Keto Krate included on Nush Banana Nut Cake. It has a great taste and texture with awesome ingredients.
It's tough to find great low carb cakes so this product is definitely a winner. It's a perfect treat any time of day and goes well with coffee or tea.
Subscribers were given a 20% off discount code to use at the Nush Foods website.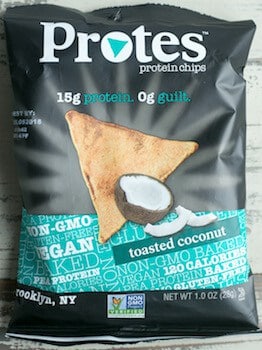 Protes Toasted Coconut Protein Chips – 4g Fat, 4g Net Carbs
For those that miss crunchy snack chips, the Protes Protein Chips are for you! They are a delicious keto friendly snack made from pea protein.
Each serving has 15 grams of protein and 3 grams of fiber. And, they have a nice crunch that goes well with any low carb dip.
Because they are made with plant protein, these chips are vegan friendly too. Of course, they are also gluten-free. I'm a big fan of coconut so I really enjoy the toasted coconut flavor.
You can learn more about these protein chips at EatProtes.com. I hope you love them as much as I do.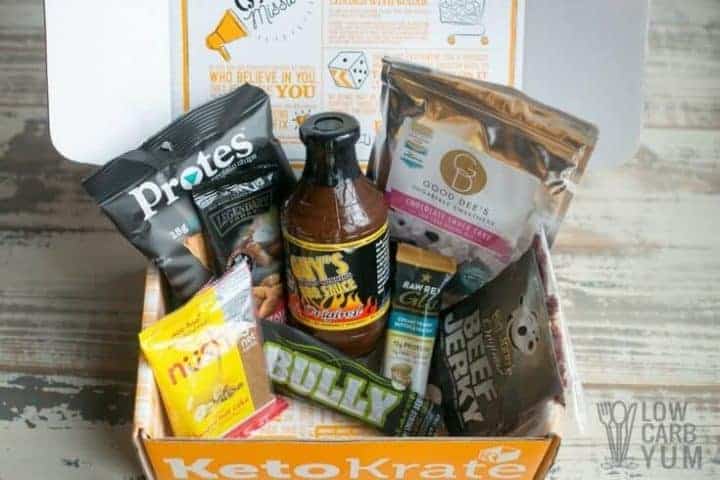 Final thoughts on the October 2017 Keto Krate Products
I enjoyed each product in this month's shipment. The Good Dee's chocolate cake mix was a nice surprise as the product launched in the Keto Krate. And, I got to share that one with my family. Which one is your favorite?
Want to see some of the other items you can expect to receive? Here's the links to my last three Keto Krate reviews:
The June 2017 box review is available here.
The July 2017 box review is available here.
The September 2017 box review is available here.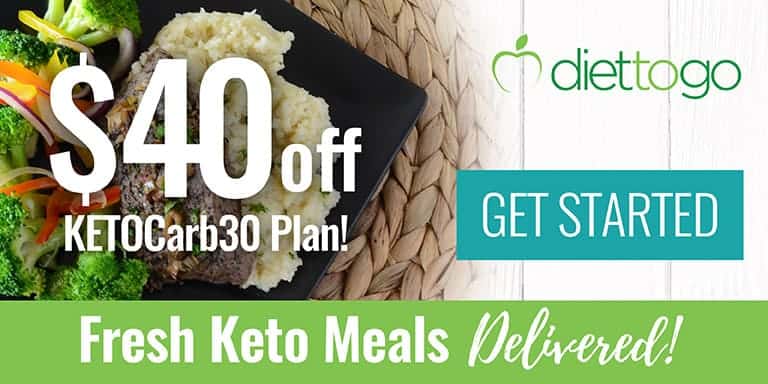 Ready to sign up? Just visit the Keto Krate website to subscribe!