A review of the September 2016 Keto Krate subscription service providing keto snacks. Well worth a look for those following the low carb way of eating!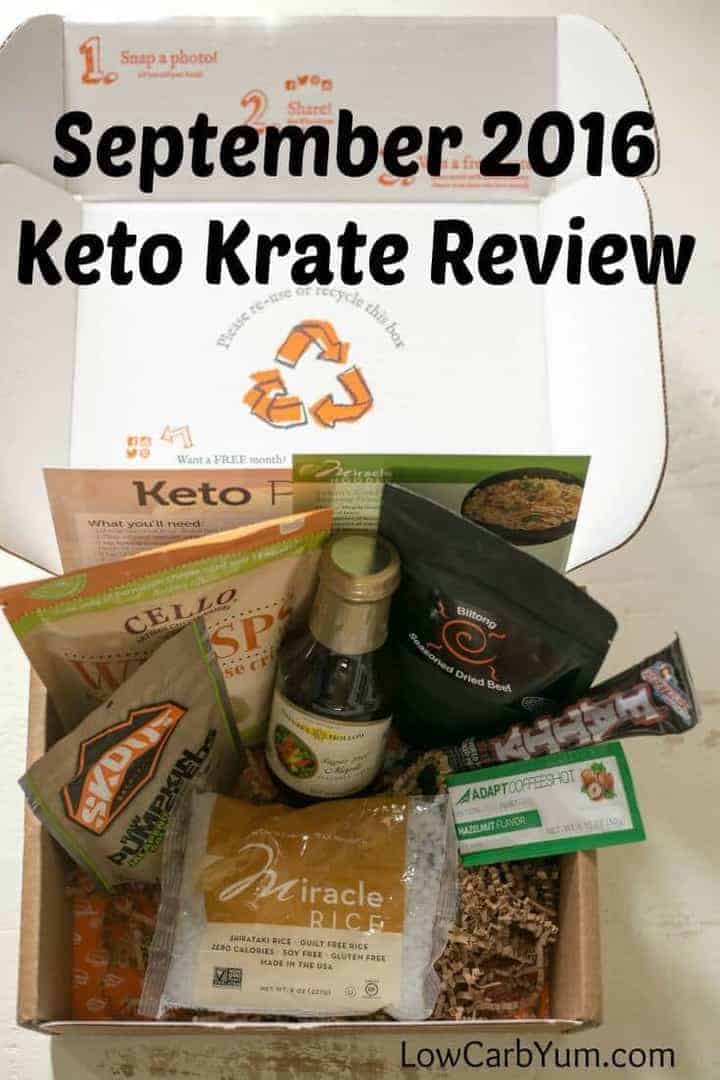 This month's Keto Krate subscription box did not disappoint. As usual, there was a good variety of items, including a good sized bottle of sugar free maple syrup and some shiratake rice.
There were a couple repeat products. You know that those items are typically great when they are repeated. When customers love something, you should keep giving it to them. Right?
The September 2016 Keto Krate also included a recipe for keto pancakes. They are perfect to serve with the included low carb maple syrup. However, I ended up using them on a batch of my fluffy almond flour pancakes.
Since there is a bag of Miracle Noodle shiratake rice, there's a product card included from the company. There's some preparation tips on the card as well as a couple recipes. The sesame noodles recipe looks delicious. There's also a recipe for Miracle Noodle Rice Pudding, but the ingredients listed aren't all low carb. However, the recipe could easily be converted to use low carb products.
So, without further ado, let's check out the items in the box in more detail!
Cello WHISPS Parmesan Cheese Crisps
I was so excited to see the Cello WHISPS Parmesan Cheese Crisps in the September 2016 Keto Krate. Cheese crisps are one of my favorite snacks. And, the Cello brand is the one that I've been able to get a local grocery store.
These chips are reminiscent of the high carb Cheeze-It crackers. The crunch is very similar to a cracker which is why I love them. Although perfect right out of the bag (15 chips are a very satisfying serving), I also like to dip them or add them to salads.
Check out your local grocery store for the Cello WHISPS Parmesan Cheese Crisps. They are worth every penny! If you can't find these delicious cheese crisps at your local store, you can grab them off Amazon Prime. You can also find out more information about the product at CelloWhisps.com.
Sweetwood Cattle Co. Fatty Stick
The Fatty Stick is another repeat item. However, the June box included the original flavor. This month's Keto Krate had a BBQ flavor. Both flavors are great choices and I liked them about the same. There's also a jalapeno flavored Fatty Stick. Maybe that one will be included in a future krate. I love anything a little spicy!
You really can't go wrong with meat sticks. I take them along on the road because it can be difficult to find good low carb food when away from home. These sticks are pretty meaty so they really satisfy hunger when you need a little something to carry you over to your next meal.
You can find out more about the Sweetwood Cattle Co. Fatty Sticks at Sweetwood.com. There's a 25% discount code included in the September 2016 Keto Krate box to use on the Sweetwood Cattle Co. website. You can also buy them off Amazon, but they aren't available on Prime.
Braaitime Gourmet Cured Meats: Biltong

The highlight of any Keto Krate box always seems to be the jerky. This month's biltong style jerky was amazing! It's made by Braaitime which a family owned and operated business. The company goal is to provide this tasty South African meat snack to the USA. I'd say they are succeeding in meeting that goal!
When making the biltong, Braaitime using an FDA approved low heat drying process. The method allows all of the natural fats and enzymes to remain in the meat. Isn't that awesome! So, you can enjoy keto friendly meat on the road without it spoiling.
You can learn more about this gourmet cured meat at Braaitime.com. There also a generous 20% off discount code included for Keto Krate subscribers. I'm loving the jerky so I'm thinking I need to stock up on more. This yummy Biltong meat snack is also available on Amazon. If you've never tried biltong style jerky, you definitely need to test it out!
SKOUT Backcountry Pumpkin Seeds
The SKOUT brand flavored pumpkin seeds are another repeat product. The March 2016 Keto Krate included a bag of black pepper BBQ flavored raw pumpkin seeds. This month's flavor is Jalapeno Salsa. Both tasty!
Pumpkin seeds have always been a favorite low carb snack. The flavored ones add a little extra zing. The seeds used by SKOUT are raw, organic, and non-GMO. You can feel good about that! Did you know that pumpkin seeds are a great source of potassium? It's just another reason why you can feel good about eating them.
There's a 15% discount code provided to order more SKOUT pumpkin seeds at Skoutbackcountry.com. You can also buy them on Amazon Prime.
Miracle Rice by Miracle Noodle
I'd due to make another batch of low carb rice pudding, so I was glad to see a bag of Miracle Rice by Miracle Noodle in this month's shipment. There is a recipe for Miracle Noodle rice pudding included in the Keto Krate, but it's not a low carb recipe.
Miracle Rice is the best sub for regular rice that I've found. Of course, you can always use cauliflower rice as a substitute, but the shiratake version is lower in carbs and works best in recipes like rice pudding. If you haven't tried this product, I'd recommend it just for making delicious rice pudding. You can order Miracle Rice at Miraclenoodle.com or Amazon.
AdaptYOURLIFE Hazelnut Coffee Shot
The little single serving coffee shot is a nice idea. It's a nice way to add some fat into your morning coffee easily. It's super convenient as you know you'll be getting the exact measurement for a serving.
My only issue with the Adapt product is the use of artificial vanilla. Natural vanilla is a much better option. I've stopped using artificial colors and flavorings so I probably wouldn't buy this item after reading the ingredient label. However, it a nice keto friendly product and the flavor is good. There's a 10% off discount to order more at AdaptYourLife.com.
Nature's Hollow Sugar Free Maple Syrup

Last, but certainly not least is a bottle of Nature's Hollow Sugar Free Maple Syrup. The syrup is sweetened with Xylitol which is naturally derived. However, some people can be impacted by it, so it should always be used in moderation.
Although I don't use xylitol often, I'm okay with using it once in a while. I really liked the taste of this sugar free syrup. It's much better than the ones made with sucralose, an artificial sweetener.
The consistency of the syrup was perfect. It tasted just like the sugar loaded pancake syrup that I enjoyed before going low carb. For those that don't have any issues consuming xylitol, it's a terrific option.
A 20% off discount code is shown in the September 2016 Keto Krate box to use at Natureshollow.com. If it weren't for the xylitol, I might be tempted to buy more. It really is delicious. The company also sells a xylitol based sugar-free honey. I bet that product is pretty good too.
Conclusion – September 2016 Keto Krate
What did you think of the products featured in the September 2016 Keto Krate box?
I really enjoy the monthly Keto Krate goodies. It's a good value for the convenience of having low carb products automatically delivered each month.
The guys who run the subscription service also listen to the feedback they get on the products. So, I believe the service will only improve as time goes on.
Want to see some of the other products that have been included in the monthly Keto Krate shipments? Below are links to my last three Keto Krate reviews.
Click here to see my review of the June 2016 box.
Click here to see my review of the July 2016 box.
Click here to see my review of the August 2016 box.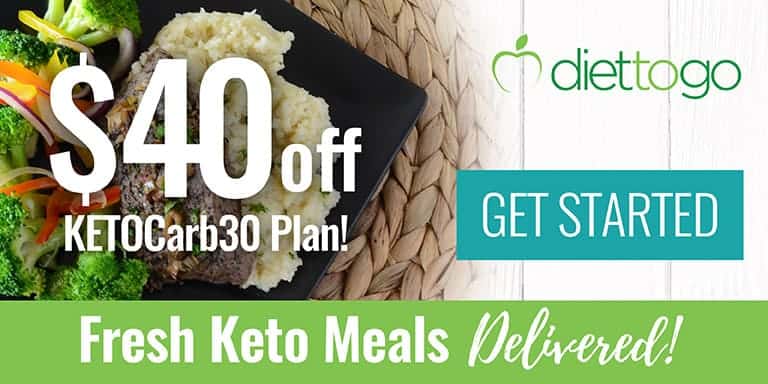 Are you ready to join the keto snack club? Just head over to Keto Krate to subscribe!