This post may be sponsored or contain affiliate links. But all opinions are our own.
Full Disclosure
The Primal Low-Carb Kitchen Cookbook is filled with delicious whole food recipes by Kyndra Holley, founder of the Peace, Love and Low Carb food blog.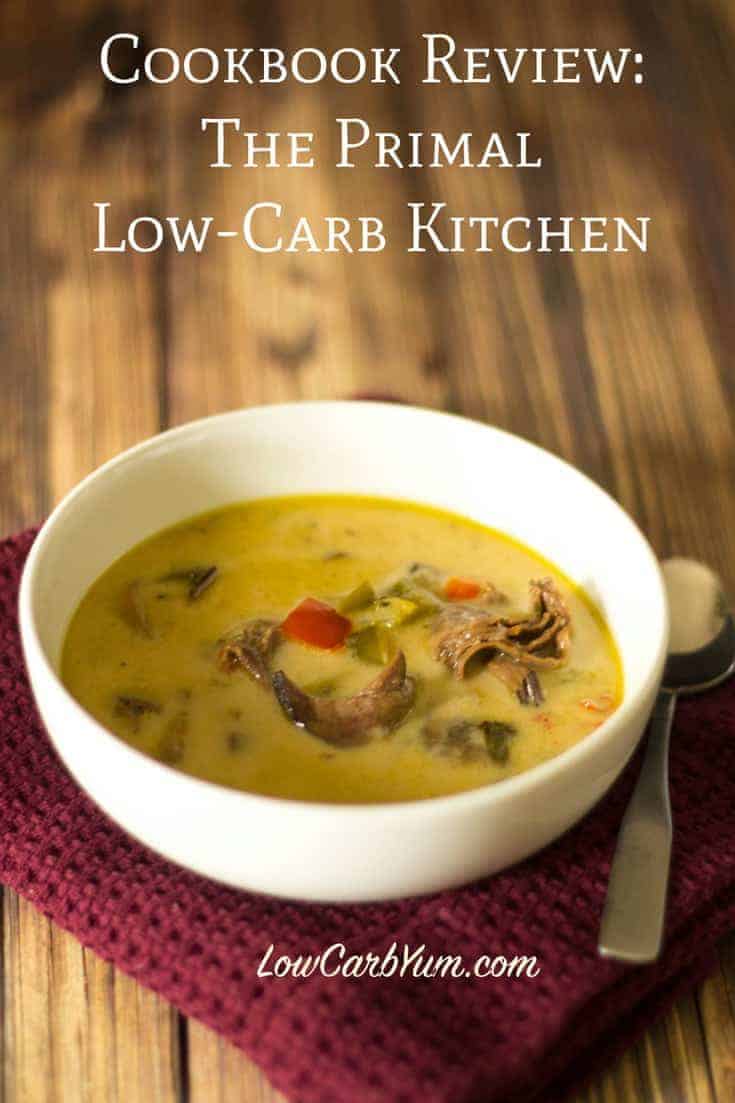 Being a blogger can have a few advantages. As a food blogger, I was lucky enough to obtain an advanced copy of the new cookbook "The Primal Low Carb Kitchen" by Kyndra Holley for an honest review. Kyndra is the founder of PeaceLoveAndLowCarb.com and I have been a fan of her blog for several years.
If you are a serious low carber like me, you have probably already heard of Kyndra and tried some of her very popular blog recipes.  Unlike me, Kyndra focuses more on real foods and less on sweets. I have learned a lot of tricks for cooking delicious keto friendly meals by following the Peace Love and Low Carb blog.
When I received Kyndra's new cookbook a few days ago, I was so happy to see that each recipe comes with a full page color photo. I like to know what the dish will look like before attempting to make it.
A visual image of the final product not only helps me decide whether I really want to make the recipe, but it also helps to validate that I followed the directions correctly when finished.
The recipes in The Primal Low-Carb Kitchen cookbook are all made using real whole foods that are easy to find in most grocery stores. The directions are simple and easy to follow. There isn't any thing complicated and its a great cookbook for those who are just starting out in the kitchen.
Kyndra provides some helpful hints in the first chapter on the basic needs of every kitchen. She even gives recipes for common spice blends to use for every day cooking like taco seasoning, seasoning salt, and steak seasoning.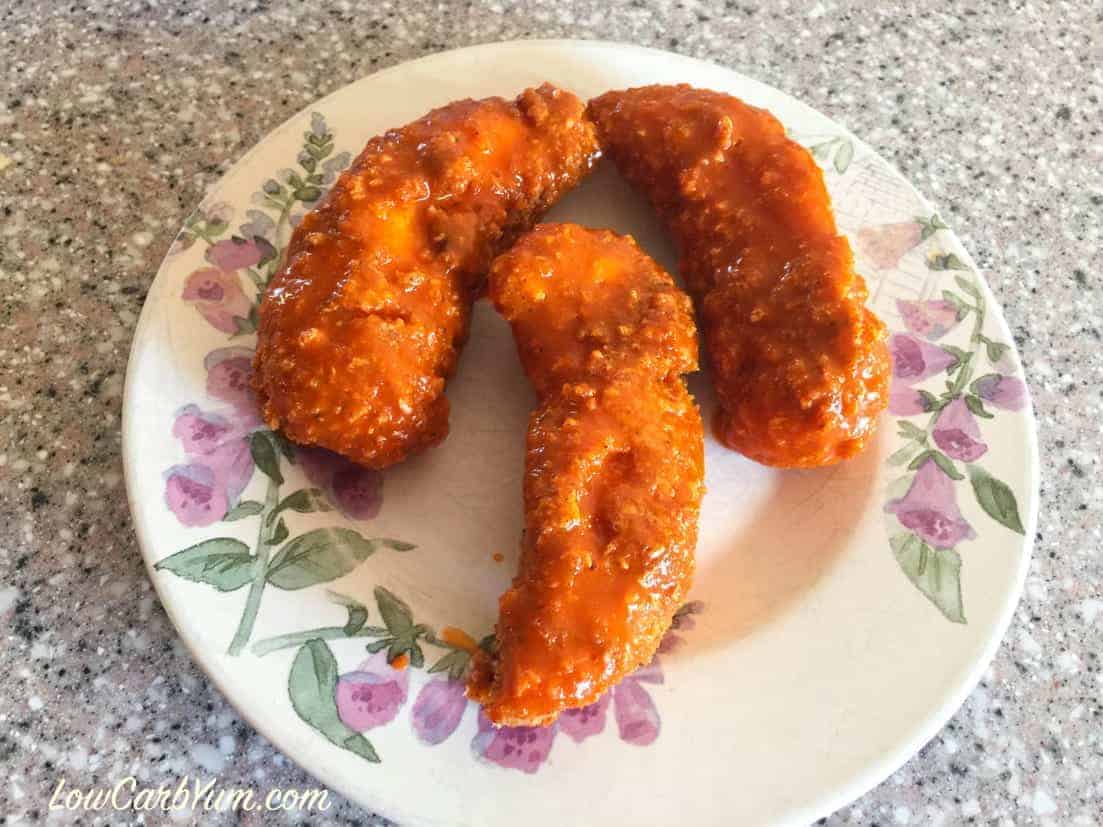 At the request of my 18 year old daughter, the first recipe I tried was the Buffalo Chicken tenders. Normally, I would prepare these in the oven, but I dusted my deep fat fryer off and fried them in oil instead.
I have to say that the near zero carb breading for the chicken was fantastic and perfectly seasoned even before drenching them in the spicy wing sauce. My husband is not a fan of spicy food so I left a few pieces for him to eat without the sauce.
He really enjoyed the crispy outside and juicy inside. My daughter and I enjoyed them with the hot sauce. I am sure to make these Buffalo spiced chicken tenders again and will definitely be using my deep fat fryer more often.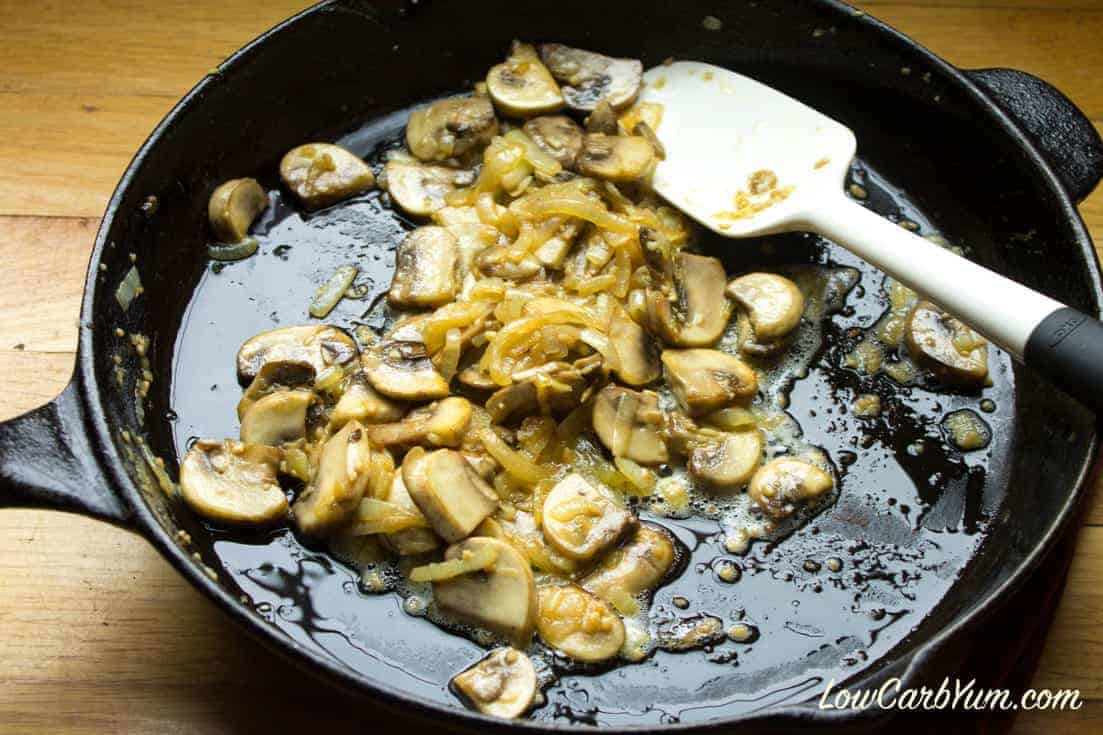 Yesterday was cold and rainy here in Connecticut, so I opted to try the Philly Cheesesteak Soup. I used deli sliced roast beef to save time from making my own. The soup is made in a crock pot with a beef stock base and a beautiful blend of peppers and onion.
The sliced onion is carmelized in butter first with garlic and mushrooms. Sautéing the onions, garlic, and mushrooms prior to simmering in the crock pot gives a much more robust flavor. An hour before turning off the heat to the crock, a bit of cheese and cream are added. This makes it a wonderful creamy broth soup.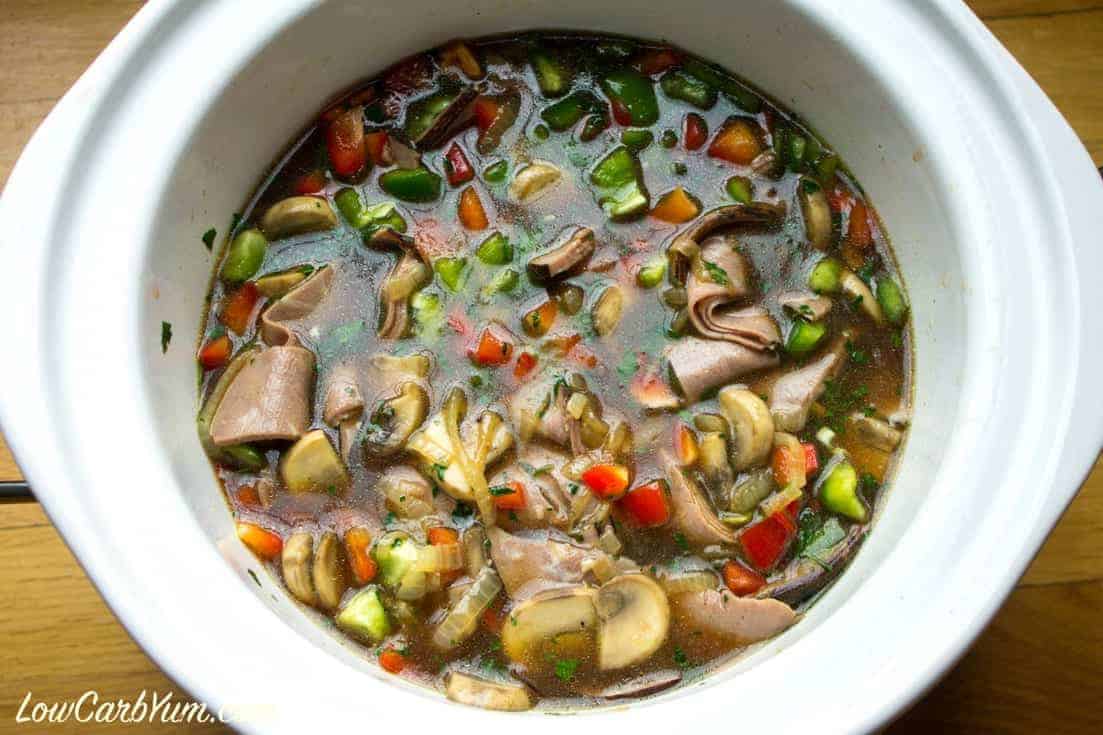 Although I have tried only two of the recipes in The Primal Low Carb Kitchen cookbook so far, I can tell you that this has quickly become my favorite low carb cookbook. I love Kyndra's simple approach to low carb cooking and her magical blend of flavors that will make you feel as if you are dining in a fine restaurant with each of the dishes.
The cookbook is filled with low carb comfort foods that are sure to be loved by non low carbers as well. I am the only one who eats low carb in my house, yet the two dishes I tried were enjoyed by the non low carbers without complaint.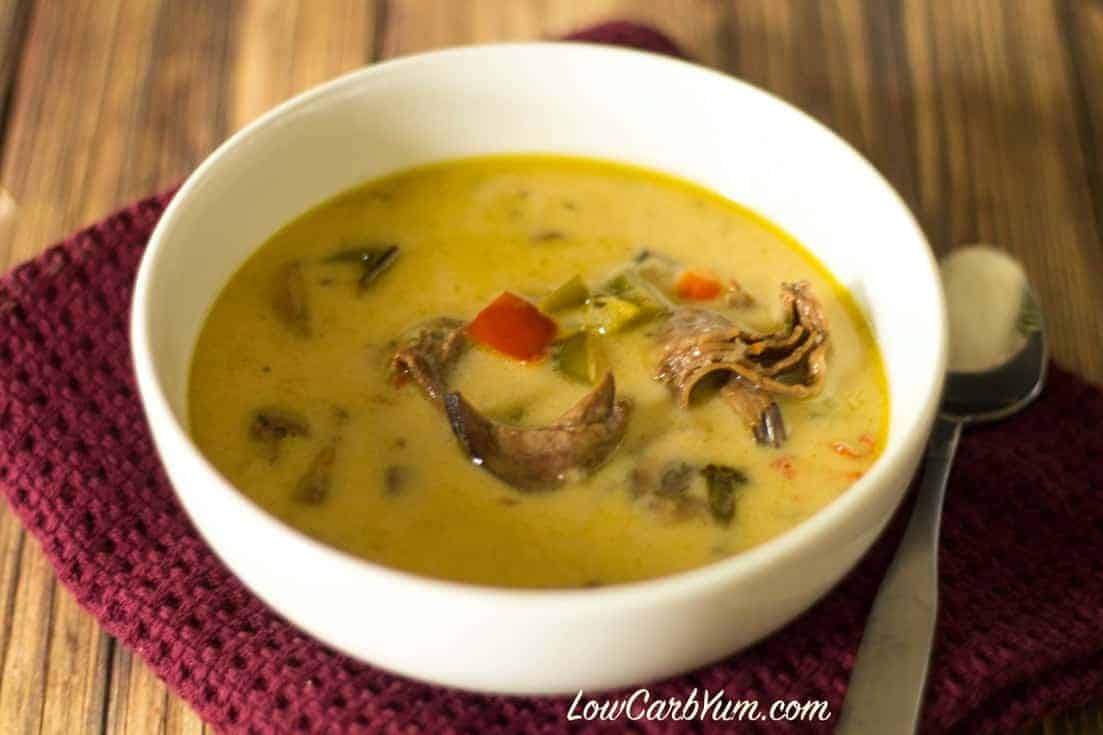 The Primal Low-Carb cookbook would make the perfect gift for someone just getting started on a low carb way of eating as the recipes are all super easy to follow. I have already ordered a few extra copies to share with family and friends who are interested in going low carb.
The Buffalo Chicken Tenders and Philly Cheesesteak Soup recipes featured in this post are only two of the many recipes available in the cookbook. A few of the other recipes I'll be trying include Cajun Crab Cakes, Deconstructed Cabbage Rolls, Chili Lime Shrimp Avocado Boats, Coffee-Cocoa Roasted Nuts, and Kitchen Sink Breakfast Skillet.
The final chapter of the cookbook is also full of dressing and sauce recipes I want to try like Sweet and Tangy Bacon Barbeque Sauce, Creamy Avocado Citrus Dressing, and Thai Peanut Sauce. You can get your own copy of this wonderful cookbook at major book retailers or save a trip and purchase The Primal Low-Carb Kitchen at Amazon.com.

Related Posts