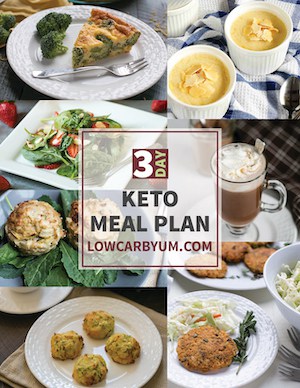 Subscribe to FREE eNewsletter
to Download 3 Day Meal Plan:
No obligation. You can cancel or unsubscribe at any time!
Benefits of Subscribing
Our 3-Day Keto Meal Plan
Planning meals that meet the optimal keto diet daily macro percentages can be really difficult. ​
To make things easier, we are offering this FREE printable 3 Day Keto Meal plan featuring 20 delicious low carb recipes!
Weekly Newsletter
Get weekly updates of all the latest keto friendly recipes and tip from Low Carb Yum to help you stay on track.
Receive notification of optional special offers only available to active Low Carb Yum subscribers!