When it comes to the ketogenic diet, macros are one of the most important concepts to understand. Knowing what macros you should be eating on keto can help you hit your goals and stay in ketosis. In this article, we'll explain what macros are and how to calculate them for your own diet.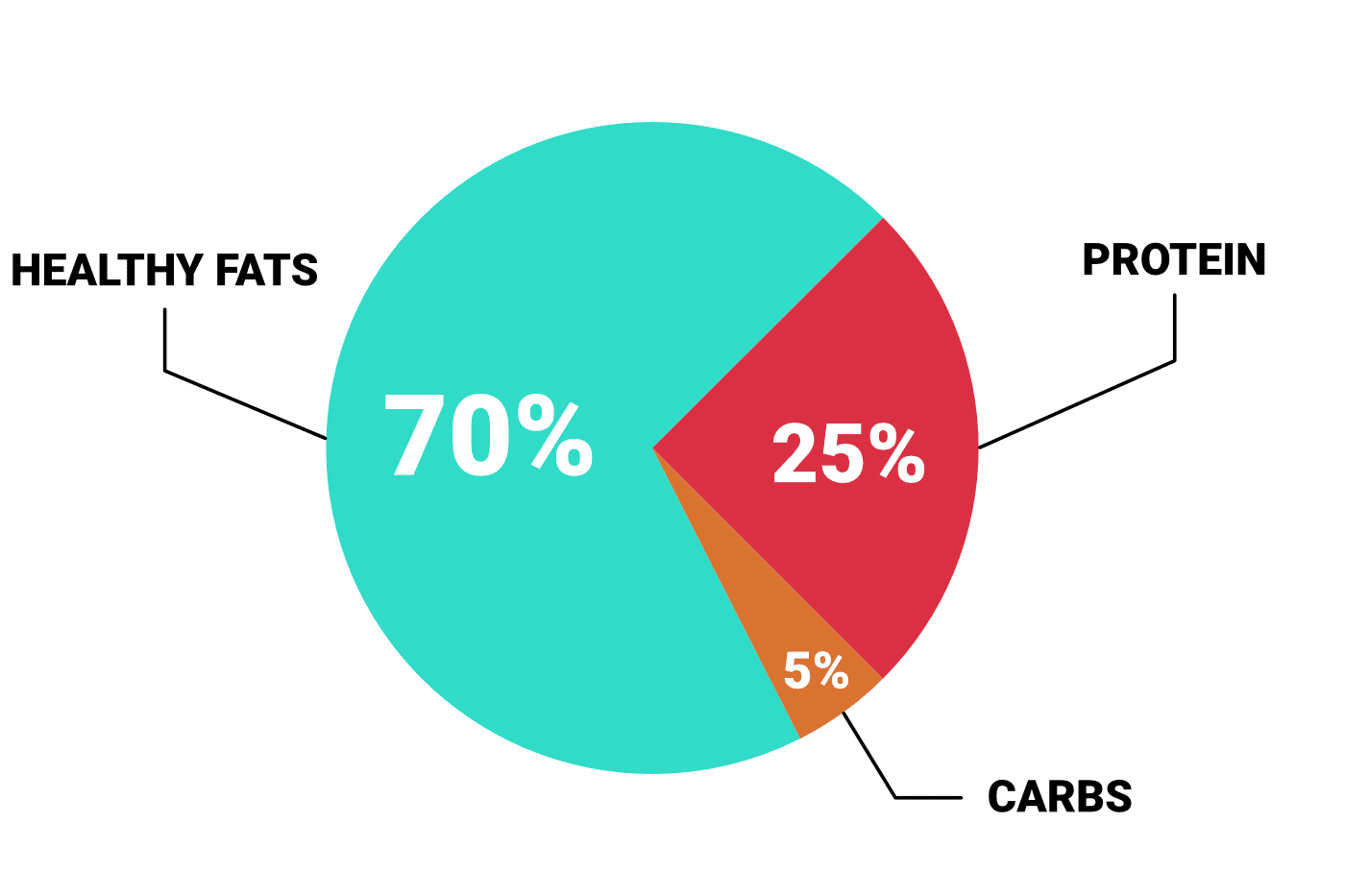 What are macros in keto?
Whether your goal on the keto diet is to lose weight or you want to achieve other benefits (like more energy), you'll have to track your macros.
So what are keto macros?
Macros is a word that is short for macronutrients. There are four main macronutrients that people track when they follow the ketogenic diet:
Fiber
Fat
Carbohydrates
Protein
Tracking macros is done one of two ways. Either you will eat a percentage of calorie intake for each macro, or you will eat a specific gram-amount of each one.
Everyone's target macros (how much of each macronutrient they should eat) will be different. It depends on current weight, activity level, sex, and age.
Generally speaking, on a standard keto diet, most people will eat:
70-80% Fat Intake - 165 grams
5-10% Carbohydrate Intake - 40 grams
10-20% Protein Intake - 75 grams
Your fiber intake will change the net carbs.
To find net carbs, you subtract the amount of fiber from the total carbs. Then track the net carbs you eat.
Keto macro calculator
When you are on the keto diet, you need to figure out how much protein, fat, and carbs you should eat each day so you can effectively track macros and stay in ketosis.
The easiest way to find your macros is to use a keto macro calculator. Our macro calculator is free and easy to use!
You'll need to input your:
Age
Weight
Height
Activity level
Body fat percentage
Net carbs (the daily amount you'd like to consume)
It's more accurate to factor in your body fat percentage than to use your body weight since the body fat is what you want to burn.
The keto calculator will even give you totals to consume if you want to lose weight or maintain weight.
Keto macros for beginners
If you are new to the keto diet, then all this talk about macronutrients might feel a little overwhelming. Let's break this down into simple terms that make more sense.
Ketosis
The goal of any ketogenic diet is to put your body into a state of ketosis, where it begins to burn fat for energy instead of carbohydrates.
To achieve and maintain this state, you need to stop consuming large amounts of sugars and carbs, which your body has been used to burning for energy throughout your life.
If you continue eating the same amount of carbs, your body will not enter ketosis as it will keep running off sugar for fuel; meaning no weight loss or other benefits associated with being in a state of ketosis.
Net carbs
How many carbs should you eat in order to go into ketosis? This is why you need to figure out your keto diet macros.
After you know how many fats, carbs, and protein to eat, you need to remember to calculate net carbs.
To calculate net carbs, you take the total carbs in something and subtract the total fiber in it. The number left over is the amount of carbohydrates your body can digest and use for energy.
For example, if a recipe has 10 grams of total carbs and 5 grams of fiber, your body will use 5 grams of net carbs as energy.
Limiting carbs will help you lose weight and obtain the lean body mass of your dreams.
Now, let's look at the three types of macronutrients you will track.
Carbohydrates
Carbs include sugars, starches, and fibers in food. You'll find carbs in grains, starchy vegetables, beans, dairy products, and fruit.
When you are on a keto diet, you'll want to consume low-carb vegetables and low-carb fruits.
Remember, always calculate net carbs. This way, you make sure you are eating plenty of fiber at the same time!
Fats
When you track fats, you will be tracking what most people call "healthy fats." These are fats that come from nutrient-dense, whole foods. Try to avoid any fats that come from over-processed oils and fried foods.
On the ketogenic diet, healthy fats come from the following sources:
Avocados and avocado oil
Nut and seed butter
Flax seeds
Chia seeds
Olive oil
Coconuts and coconut oil
Full-fat Greek yogurt
Fatty fish
Whole eggs
Butter
Cheese
Protein
Protein is what makes up muscles and muscle tissue. Each person needs a different amount of protein, and it all depends on their age, overall health, and body composition.
Your goal should be to build lean muscle because when you have lean muscles, your metabolism will increase, and you will burn fat while you are resting.
The most common keto sources of protein include eggs and meat. Nuts and nut butters are high in protein too, but they also contain more carbs, so it's best to eat them in moderation.
Keto macros for weight loss
If your goal is to lose weight, then it is extra important to track macros on the keto diet.
While you might be able to lose weight while following a general macros number, you'll be even more successful if you calculate keto macros for your body and activity levels.
Use the keto macro calculator and follow the numbers it gives you. They are mathematically accurate.
Body fat percentage
Yes, you need to know your body fat percentage in order to calculate how many macros you should eat. This is because when you have more body fat, you need to eat more healthy fats.
The healthy fats will keep you feeling full longer while it trains your body to burn fat as fuel at the same time.
The easiest way to measure body fat is to use a scale. If your scale doesn't measure body fat, you can still calculate it manually. You'll need a measuring tape and this body fat calculator.
Calorie deficit
If you just focus on your macros, you can still lose weight. You don't have to count calories.
If you are hitting a weight loss plateau, you might want to go into a calorie deficit (burning more calories than you consume).
Exercising more and eating fewer calories while you eat your target macros is a winning combination for weight loss.
Keto macros for muscle gain
Other people following a keto diet might have a goal to gain more muscle. This is a fantastic goal, especially if you want to increase your resting metabolism.
When building muscle is your main goal, your keto macros will change. Remember, it follows your body fat percentage and activity level.
As you build more muscle, you will be able to adjust how many macros you consume.
Calorie surplus
Building muscle is different from losing weight - you need to be in a calorie surplus to build muscle. That means you need to eat more calories than you burn consistently.
It might seem like the recipe for weight gain - but it's not. This type of eating will only work if you consistently lift heavy weights and do hard workouts.
Eat enough protein
Since protein is the building block of muscle, you need to consume plenty of protein in order to build them.
Most studies suggest consuming 0.7 - 0.9 grams of protein per pound of body weight when you are trying to build more muscle.
Restrict carb intake
Many bodybuilders who don't follow the ketogenic diet will "carb load" before they work out. This helps them bulk up. However, when you are eating low-carb, you still need to keep your overall carb intake low.
If you need the extra energy to perform better at the gym, try eating most of your daily carb macros before your workout.
FAQs
Here are some questions people often ask about macros on the keto diet. If you don't see your question in this list, please leave them in the comments.
What is a good macro ratio for keto?
It's essential that you use a keto calculator to find your personal macros when you follow the ketogenic diet. Generally, most people consume the following ratios:
70-80% Fat - 165 grams
5-10% Carbs - 40 grams
10-20% Protein - 75 grams
How do I calculate my macros to lose weight on keto?
Calculating macros is important for all types of keto diets, especially when losing weight is your main goal. Use the free macro calculator, and you'll have more luck with fat loss.
What is the most important macro to hit on keto?
Protein is the most important macro to hit. You need to know how many grams of protein you are eating so that you don't lose muscle as you lose weight.
Is keto good for muscle building?
Yes, you can do keto while also building muscle. You might gain weight, but you will gain muscle, not fat.
How do people on keto build muscle?
Keto dieting can help you burn body fat and increase your muscle mass at the same time. They do this by following a strict workout regimen and making sure they are eating enough protein.
What is lean mass, and how do I find mine?
Lean body mass is the total weight of your body minus the weight from fat mass. It includes your organs, skin, bones, body water, and muscle mass. There are scales that try to tell you this number, but they are pretty inaccurate. It's better to just read the body fat percentage and follow that.
Related recipes
As you follow the keto diet, here are some delicious low-carb meals that will help you maintain your macros. They are some of my favorite recipes!
Follow us on FACEBOOK, PINTEREST, and INSTAGRAM for even more tasty keto-friendly recipes!