If you are still on the fence about whether the keto diet is right for you and your lifestyle, I'm here to offer you some info to help you decide. Keep reading to discover some surprising health benefits of being on a ketogenic diet.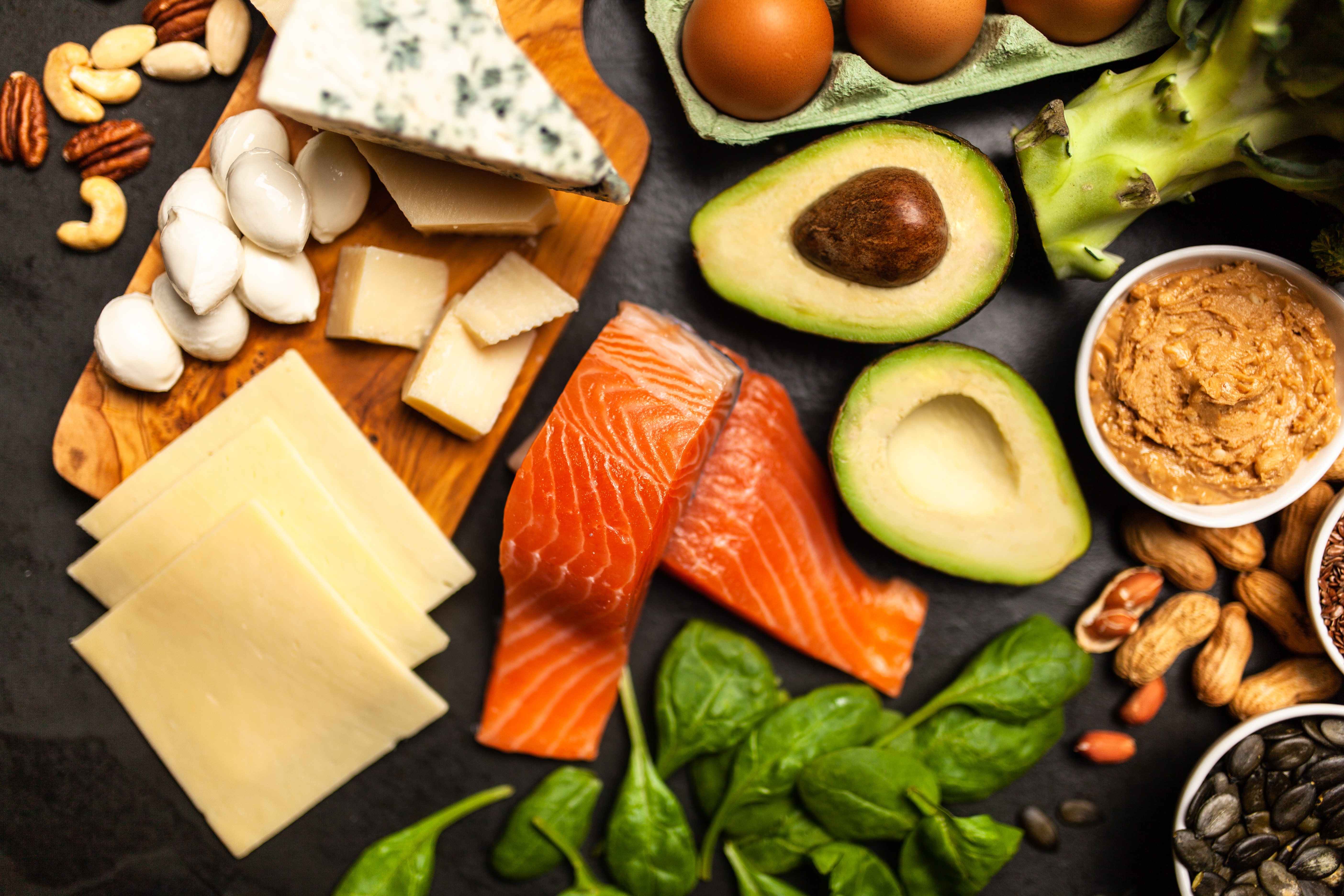 Benefits of a Keto Diet
Most people follow a typical ketogenic diet because they want to lose weight. While that is the main benefit of it (and the most well-known), there are tons of other health benefits that might surprise you.
Most of these benefits are a side effect of your body going into the state of ketosis. Ketosis happens when your body produces ketone bodies or ketones.
Ketones are substances that serve as fuel for the body when there isn't enough glucose to use as energy. When your body is in ketosis, the ketones burn fat for energy instead of carbs!
Let's look at the different health benefits people might experience while in ketosis.
Note: If you have questions about your health, please talk to your physician. Not everyone will experience all of these health benefits.
Lowers Cardiovascular Risk Factors
Burning fat and losing a significant amount of weight is really good for your heart health. This shouldn't be much of a surprise to anyone.
However, studies show that keto diets may be associated with improvements in risk factors, such as obesity, type 2 diabetes, and HDL cholesterol levels.
Weight Loss
It's also very well-known that eating a ketogenic or low carbohydrate diet contributes to significant weight loss.
This is due to the fact that when you deprive your body of carbs and sugar, it begins to burn body fat for energy instead!
More Energy
Many people experience a surge in energy after they switch to eating mostly keto-friendly foods. These foods include:
The lack of sugar also accounts for the lack of blood sugar spikes and subsequent dips.
Cancer Treatment
There is emerging evidence that pairing a keto diet with chemotherapy might help in fighting cancer cells. Scientists have found that cancer cells feed on glucose, so depriving the body of glucose essentially starves the cancer cells.
Keto alone cannot treat cancer, but it could be a helpful part of a treatment plan. Speak to your doctor with more questions!
Positively Affects Brain Mitochondrial Metabolism
Mitochondria are the energy factories in brain cells. A recent study shows more energy in the hippocampus (the part of the brain responsible for memory) in people who ate a low-carb diet.
Fights polycystic ovary syndrome (PCOS)
Another potential health benefit of a keto diet is the treatment and/or prevention of PCOS.
People with PCOS might experience:
Obesity
Ovarian cysts
Irregular periods
Fertility issues
The Cleveland Clinic led a study to target insulin resistance in women with PCOS. The results showed that patients lost weight and experienced regular periods after a history of irregularity.
Lower visceral fat
Visceral fat is the fat you can't see - it wraps around your abdominal organs. Even though it isn't near your heart, higher visceral fat markers mean higher cardiovascular disease risk.
It's also directly linked with higher total cholesterol levels and insulin resistance.
Eating a keto diet has been shown to burn visceral fat, which improves cardiovascular health!
Lowers risk for Alzheimer's disease
Ketogenic diets also lower your risk for neurological disorders like Alzheimer's. Studies also show that eating keto can help improve memory and cognition for people that already have Alzheimer's.
What are some advantages of following the keto diet?
Now that you know some astounding benefits of eating a low-carb diet, let's look at its advantages.
This isn't for everyone, but it could be really helpful for you!
1. Prevents Metabolic Syndrome
Eating a high carbohydrate intake diet puts you at risk for a host of diseases and health issues, such as:
Heart disease
Stroke
Diabetes
These are all clumped together under what's called "metabolic syndrome." Eating a ketogenic diet lowers your risks.
2. Blood Pressure
If you are struggling with high blood pressure, the keto diet may be a viable option for you. Several studies show that the keto diet can help lower blood pressure levels.
One study showed that the systolic blood pressure (the top number) decreased by an average of 10 mm Hg in those who followed a very low carbohydrate diet for six weeks. diastolic blood pressure (the bottom number) also significantly decreased by an average of 5 mm Hg.
3. Weight Loss
One of the biggest reasons people start a low-carb diet is because they want to lose weight. And the keto diet is no different – it can be a great tool for weight loss! In fact, studies show that the keto diet is more effective for weight loss than other low-carb diets.
Losing weight is a natural consequence of your body burning fat for fuel. How much weight you lose depends on:
How many carbs you eat
How active you are
Not only will you see a change on the scale, but you will also experience better energy levels, improved mental clarity, and reduced inflammation throughout your body.
4. Blood Sugar Control
Another health advantage of a low-carb diet is that it helps you keep your blood sugar under control too.
Many people eat a keto diet to prevent insulin resistance. Insulin resistance is a precursor to type 2 diabetes.
Many people experience lower insulin levels when they are in ketosis. Eating fewer carbs also eliminates large spikes in blood sugar, which makes your body need less insulin.
FAQs
Here are some questions that people often ask about some of the benefits of eating on the keto diet. If you don't see your question in this list, please leave it in the comments.
Is a keto diet a low-fat diet?
No, a keto diet is actually a high-fat diet. You will be eating lots of healthy fats from olive oil, coconut oil, and fatty fish (like salmon). Low-fat diets are not the same thing as keto.
Should I eat a low-calorie ketogenic diet in order to lose weight?
It's better to count macros, not calories. When you keep your carb amounts lower, your body will burn fat for energy, and you will lose weight. You don't have to count calories to lose weight when you are following a ketogenic diet.
Will I experience rapid weight loss on keto?
The rate of weight loss you experience will depend on how active you are and what kind of macros you are eating. Building lean muscle will help you burn more fat even faster.
What are some healthy high-fat foods I should eat on keto?
The best sources of healthy high-fat foods include olive oil, coconut oil, almond flour, and fatty fish like salmon.
Will I gain weight if I stop eating keto?
The amount of weight gain you might experience depends on your eating habits after you stop eating a low-carb diet. If you flood your body with more carbs, it will go back to its old shape.
Introduce carbs slowly and practice restraint and strive to maintain an active lifestyle.
Tasty keto recipes
Now that you know the benefits of the keto diet, it's time to kickstart! If you want to try a few easy keto diet recipes, try these tasty low-carb recipes next. They are naturally gluten-free and full of flavor.
Follow us on FACEBOOK, PINTEREST, and INSTAGRAM for even more tasty keto-friendly recipes!