Is there a difference between low-carb vs. keto? Is following a ketogenic diet and eating foods low in carbs the same thing? And is one eating plan better than the other? Here are the answers to all of your questions!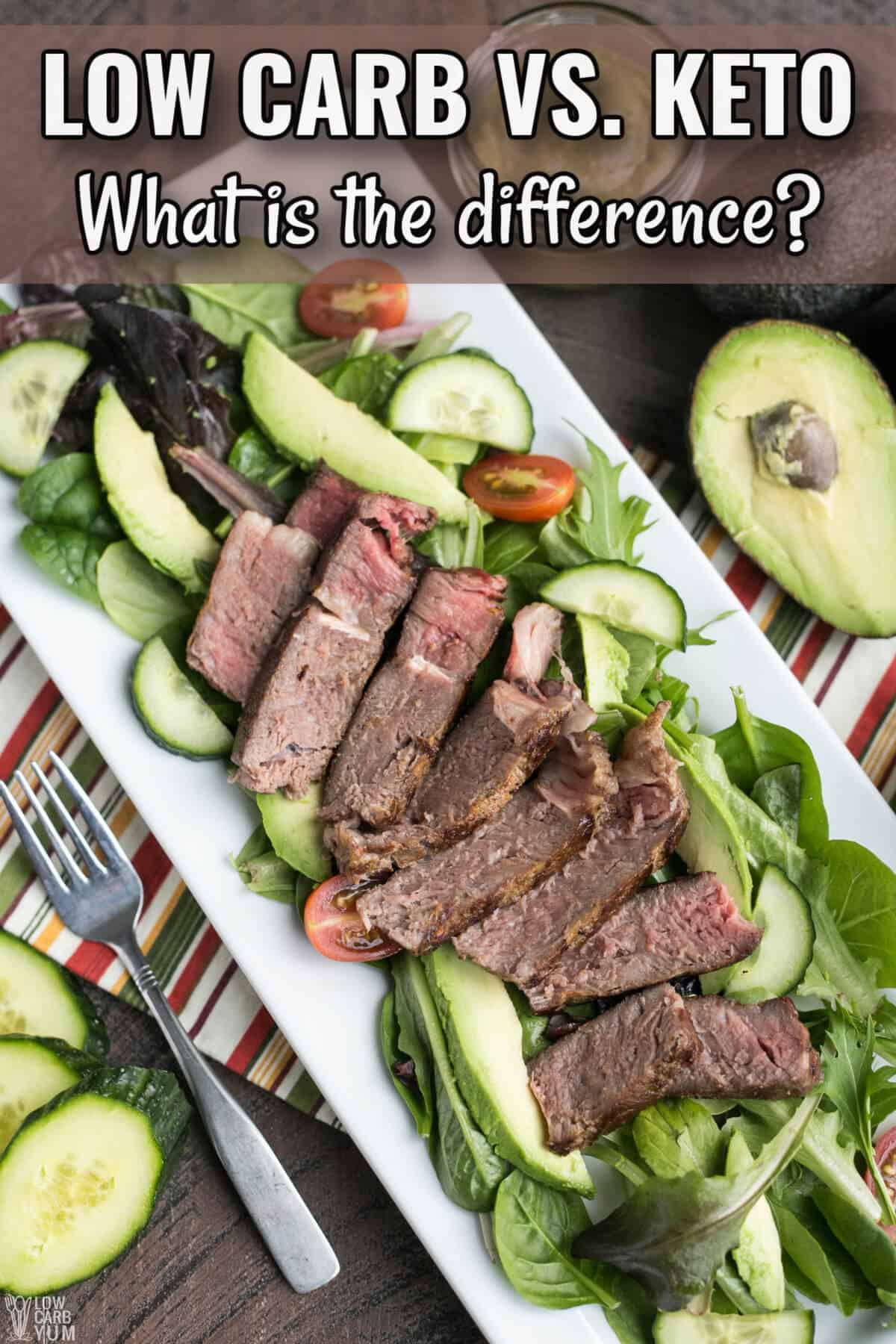 Article Index
Which Diet Is Better For You?
After years of being told dietary fat is bad, an ever-increasing number of people are now aware it isn't harmful.
Growing research now show sources of carbohydrates—other than low-starch vegetables and low-sugar fruit—are responsible for many preventable chronic disease. This explains the surging popularity of the ketogenic diet.
The practice of eating ketogenic foods is approximately 100 years old. But, the original purpose of the diet was to treat neurological disorders such as epilepsy rather than losing body fat.
Over the years, it was discovered that keto diets have many other benefits too. Losing weight is just one of the advantages of strict carbohydrate restriction.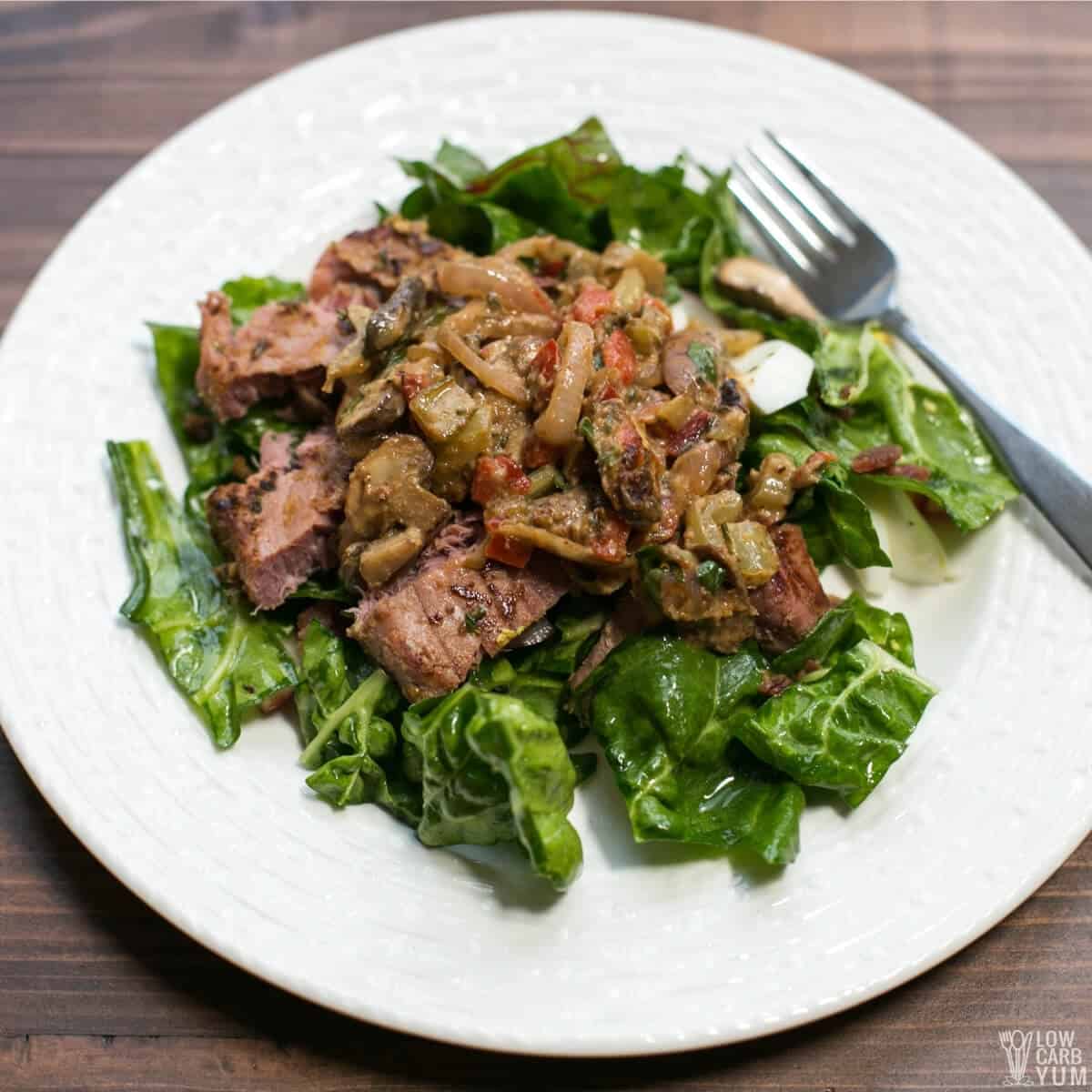 The Main Difference Between Keto and Low-Carb
The main difference between keto and low-carb diet is the macronutrients. When people follow the keto diet, they track how many grams of carbs, protein, and fat they eat so they stay in ketosis (more on that in a bit).
There are some people that slash carbs from their diet without being ketogenic (keto). This is the biggest difference when looking at low-carb vs keto.
But, how can this be?
Keto vs. Low-Carb: Ketosis
In order to follow a ketogenic diet, you need to be in a state of ketosis. This simply means that your body is burning fatty acids (ketones) for energy instead of carbohydrate stores (glycogen in the liver and glucose in the blood).
Now, it's possible to have dangerously high levels of ketones in the blood. This is a condition known as ketoacidosis. However, unless you have type 1 diabetes, you shouldn't have to worry about ketoacidosis.
The levels of ketones produced can be varied depending on daily macros. And, the amount of carbohydrates consumed is one of the big differences when looking at low-carb vs keto.
When you have normal levels of ketones in your bloodstream, your brain and the rest of your body are fueled by stored body fat. But, the only way to know for sure if you're in a state of ketosis is by confirming it through daily testing.
Ketosis Symptoms: How To Tell If You Are In Ketosis
There are blood, breath, and urine strips to help identify symptoms of being in ketosis. Some keto experts recommend testing breath over urine but, blood meters are the most accurate.
The reason many recommend breath testing is that the urine and blood strips can only be used only once, making them more expensive in the long run. A breath analyzer is reusable.
However, urine strips only represent the ketone levels that you pee out and anything you eliminate represents excess. Therefore, urine strips simply measure excess ketones whereas breathalyzers and blood meters show up-to-the-minute ketone levels.
Keep in mind that just because you reduce the amount of carbs you eat does not mean that you are now burning body fat for energy. In fact, you might be better off eating slightly more carbs than you are if you're not in ketosis! This is particularly true when initially moving from high carb eating to low-carb.
If your body is still burning carbs for fuel rather than fat in the case of ketosis, and you drastically reduce the amount of carbs you eat, you can feel very lethargic. Some even get what's known as keto flu.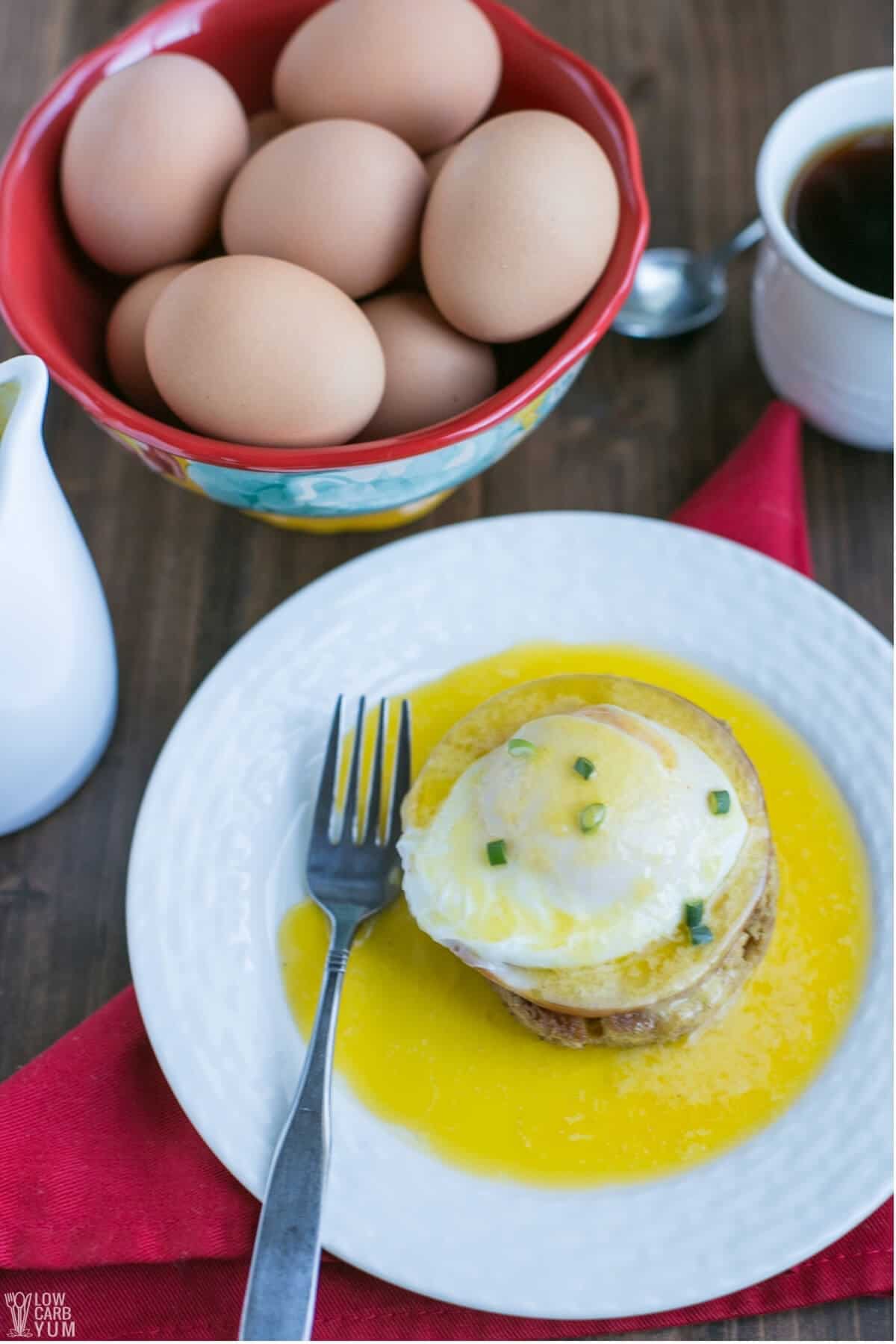 Low-Carb Eating Without Being In Ketosis
There's no need to be producing ketones to lose weight with low-carb. People who lower their daily intake to less than 150 grams a day have been successful in dropping pounds.
However, those who also reduce calories do better with a higher carb eating plan. That's because most of the carb intake should be from keto-friendly vegetables and fruits which are naturally low in calories.
Active people also tend to do better on a low-carb diet as fat is burned through exercise.
Need some examples of low-carb vs keto? I discuss different variations in ketosis in my guide on how to start a low-carb diet.
How To Eat Fewer Carbs
Say you used to eat several servings a day of high-starch and high-sugar carbs. We're talking heaping bowls of pasta, rice or other grains; bread; anything with white or wheat flour; ice cream; pastries, etc.
But now, you're only eating a couple of servings per day while following the low-carb diet tips. So now you've gone from eating 600 grams of carbs per day to only 150 grams.
The good news is that you're consuming far less carbohydrates that spike your insulin levels and produce wild blood sugar fluctuations.
The bad news is two-fold.
You still might be using your body's supply of carbohydrates for energy. Unless you're definitely in a state of ketosis, you're still not an efficient fat-burning machine.
If you're slashing carbs and not replacing those calories with mostly healthy dietary fat (avocados, fish oils, MCT oil, grass-fed butter, for example), you're at risk for feeling run down.
Importance of Healthy Fats
If your body was used to being supplied with tons of carbs, it may seem like you're in starvation mode now.
But in time, even if you're only eating 20 grams of net carbs a day, you will feel great and will burn fat. Of course, as long as you're eating enough calories, primarily from dietary fat.
But, what about weight loss? Will being in ketosis result in losing pounds faster?
Low-Carb vs. Keto: Weight Loss
It's possible to lose weight on both a low-carb diet and one of the ketogenic diets. But keep in mind that a ketogenic diet is a low-carb diet.
However, a carb restricted diet might not necessarily put you in ketosis. Which again, is why it's important to monitor daily if your goal is to use your own body fat for energy.
If you're simply eating low-carb but your goal is not to be in ketosis, you can still lose weight. This is especially true if most of the carbs you're eating are vegetables. And, you're exercising daily and your hormones are balanced.
Why It's Possible You Don't Lose Weight in Ketosis
As you can see, the differences between low-carb vs. keto has other factors besides the number of carbohydrates consumed.
If you are in a state of ketosis, it really is the best mechanism for weight loss. However, it is possible, theoretically, to be in ketosis but not lose weight.
For example, if your exercise routine involves weight lifting, you might weigh the same even after a couple of months of being in ketosis.
But one thing is for sure with ketosis: you will lose body fat.
As long as you remain in a state of ketosis, your body will be burning fatty acids for energy. So although your scale might read the same number after several days or weeks of being in ketosis, it's likely your pants will fit much looser.
Other Weight Loss Benefits Of The Keto Diet
There are several studies that suggest ketogenic diets are highly beneficial for obesity. It seems that when looking at low carb vs. keto for weight loss, being in a state of ketosis is an added benefit of keto.
This study concludes a ketogenic diet offers "physiological and biochemical basis and is able to induce effective weight loss along with improvement in several cardiovascular risk parameters."
In other words, a ketogenic diet isn't only great for weight loss but it also protects your heart.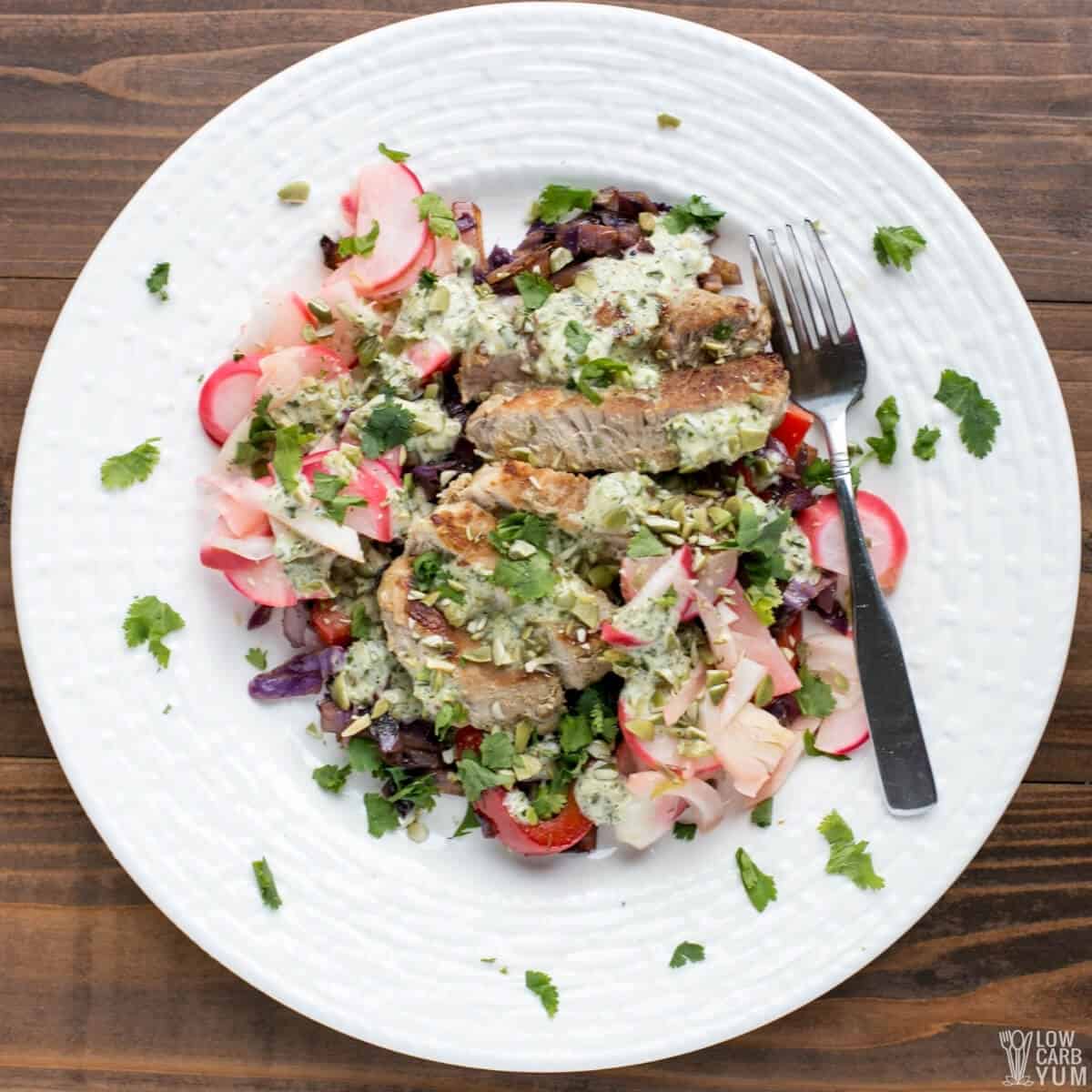 Protein and Gluconeogenesis While In Ketosis
Suddenly eating way less carbs? And now you're eating more protein to replace carbs? Well, if you have too much protein, the protein can convert into glucose (carbohydrate).
This process is called gluconeogenesis. If you're in ketosis, it means that the protein you eat is not being converted into glucose. Another win for the ketogenic diet compared to standard low-carb!
And it doesn't matter, just in case you're wondering if the protein is from healthy sources such as grass-fed beef. When you're eating too much protein, some of it may convert into carbohydrate.
Low Carb vs. Keto: Final Thoughts
When it comes to assessing low-carb vs. keto for overall health, both eating plans can be sensible. However, in terms of weight loss, or more specifically fat-loss, keto is more of a guarantee than low-carb.
And even if you're eating 100 net grams of carbs per day, that amount might actually shift you out of ketosis. For this reason, if you really want to get leaner, you may as well take the extra step and get into ketosis.
However, many do well on a standard low-carb eating plan where the majority of carbs come from vegetables and fruit.
So really, the best plan is the one that works the best for you.
Easy Low-Carb And Keto Diet Recipes
As you continue on your low-carb diet, here are some really easy recipes that will make it easier to cut out those carbs.
Follow us on FACEBOOK, PINTEREST, and INSTAGRAM for even more tasty keto-friendly recipes!