What do you know about the keto food pyramid? And how is it different from the traditional food pyramids we've grown up with? Here's everything you need to know about the keto diet pyramid, how to use it, and recipes to get you started!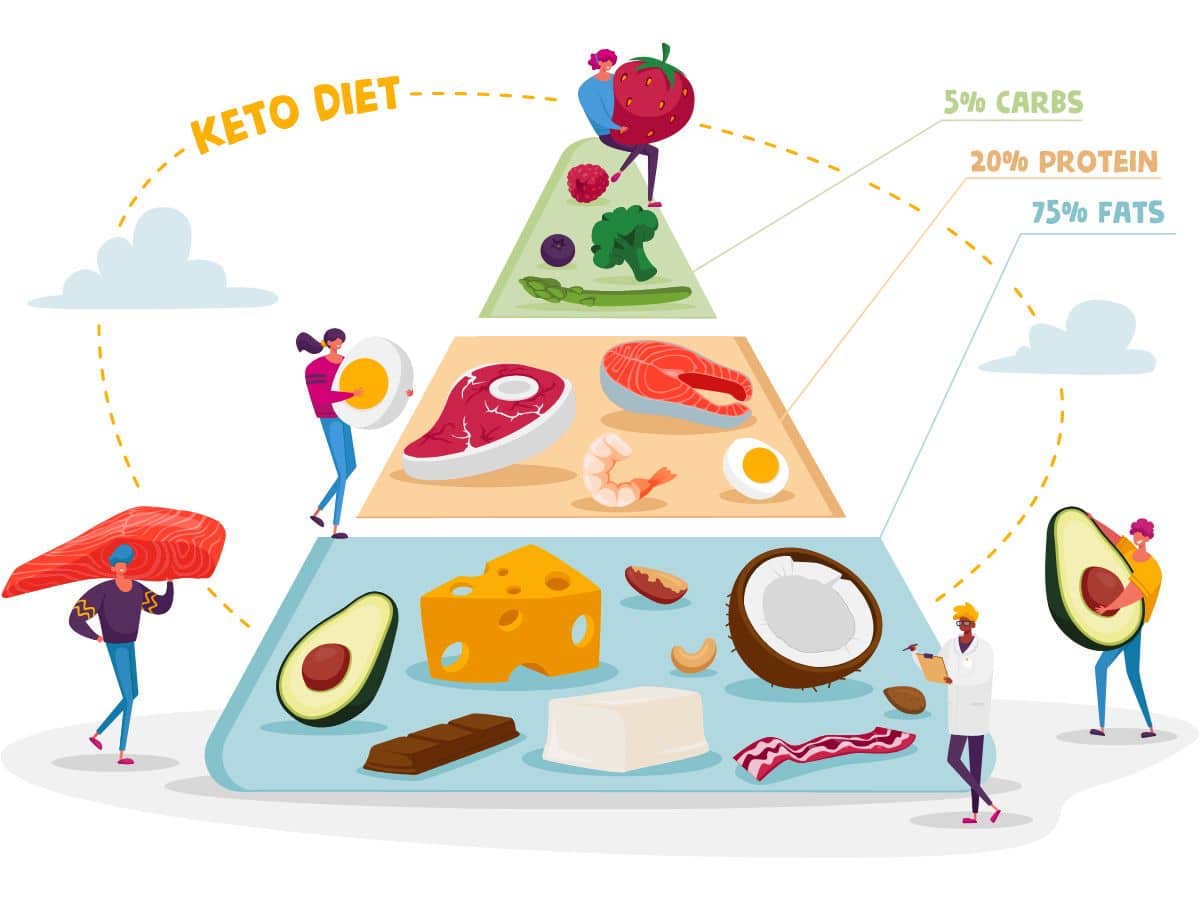 What is the keto food pyramid?
When you're starting a low-carb diet like keto, it can seem a bit overwhelming. Deciding what to eat and what to avoid on a keto diet, however, is very simple when you have the right tools.
Enter – the keto food pyramid!
The keto food pyramid is designed to help you determine what to eat and how much to eat of each food group while following a ketogenic diet.
This food pyramid focuses on low-carb foods that are consistent with the keto diet. It's separated into three sections to give users an easy-to-follow visual of the best keto food options.
Like most keto diets, the keto food pyramid champions healthy fats and low sugar intake, along with low-carb options.
How is the keto food pyramid different from other food pyramids?
The keto diet food pyramid differs from traditional food pyramids because it only includes foods that will help you achieve success on the keto diet.
While traditional models include non-optimal foods like sweets, sodas, and other junk food, the keto food pyramid has only keto-friendly ingredients, even in its smallest category.
The keto food pyramid also focuses on food quality over calorie consumption; it's separated into macronutrients rather than food groups.
Why do we follow the keto food pyramid?
The keto food pyramid is integral to weight loss! It's important to educate yourself to ensure that your diet is safe and that you don't lose or gain weight in a way that could damage your health.
In following the keto diet food pyramid, you can optimize your low-carb lifestyle while keeping things simple. It helps you track your macronutrients with an easy-to-follow visual model.
Dive into the keto food pyramid to create a meal plan that you can stick to!
Keto pyramid food groups
The keto pyramid is separated into 3 important sections, the lowest level being the most important for the keto diet.
As you go up the pyramid, you'll want to eat less of these foods. We're going to start from the bottom and work ourselves up!
Use this pyramid as a tool to create your perfect keto plate!
The base: Fats
Fats make up around 70% of the keto diet. In other words, they're super important! You can find great fat content in:
Fatty cuts of meat, eggs, fatty fish, and healthy fats
This keto food group makes up the largest part of the ketogenic food pyramid and, therefore, your diet! You should have 1-2 servings of fatty proteins (> 50% fat) per meal.
For this level, try chicken thighs, pork belly, and lamb chops.
Healthy fats
Include other forms of high-quality fats in your diet, like grass-fed butter, coconut oil, avocado oil, and vegetable oils.
Last but not least, incorporate high-fat fruits like avocado into your diet (nature's butter!).
Low-carb, full-fat dairy
Full-fat dairy is an important part of the keto food pyramid. Try to use 1-2 servings of full-fat dairy per meal plan.
The middle: Protein
Protein makes up the middle of the keto food pyramid. A good goal is to include 25% of protein in your diet. There are many keto-friendly protein sources to try!
Some that aren't particularly high in fat (not optimal) include:
Tender cuts of meat and seafood
Tender cuts meats should only be chosen if high-fat options aren't available. Fatty meats are more keto friendly and preferable to super-lean meats
Examples of this food group include shrimp, crab, and skinless turkey.
At this level, use 1-1.5 portions per meal.
The top: Carbs
Because we need to limit our carb intake to reach ketosis, carbohydrates are at the top of the pyramid in the smallest category.
Carb intake should be at about 5% of your diet (limited to 50g per day).
Non-starchy vegetables and high-fat fruits
Try integrating 1-2 handfuls of low-carb veggies and high-fat fruits into each meal. Favor non-starchy vegetables and low-carb vegetables like cauliflower, broccoli, and leafy greens over starchy veggies.
Keto-friendly fruits and nuts
The keto diet food pyramid places keto-friendly low-fat foods at the very top.
These foods should be eaten in moderation to avoid consuming too many carbs, at about a handful a day. This includes fruits like berries and citrus and nuts like almonds and peanuts.
Higher-carb fruits like apples and grapes are not considered keto-friendly.
Try these keto-friendly recipes!
Need help with low-carb meals? These keto recipes will do the trick. Here are some balanced keto meals to get you started on implementing the keto food pyramid into your day-to-day.
Keto Korean ground beef bowl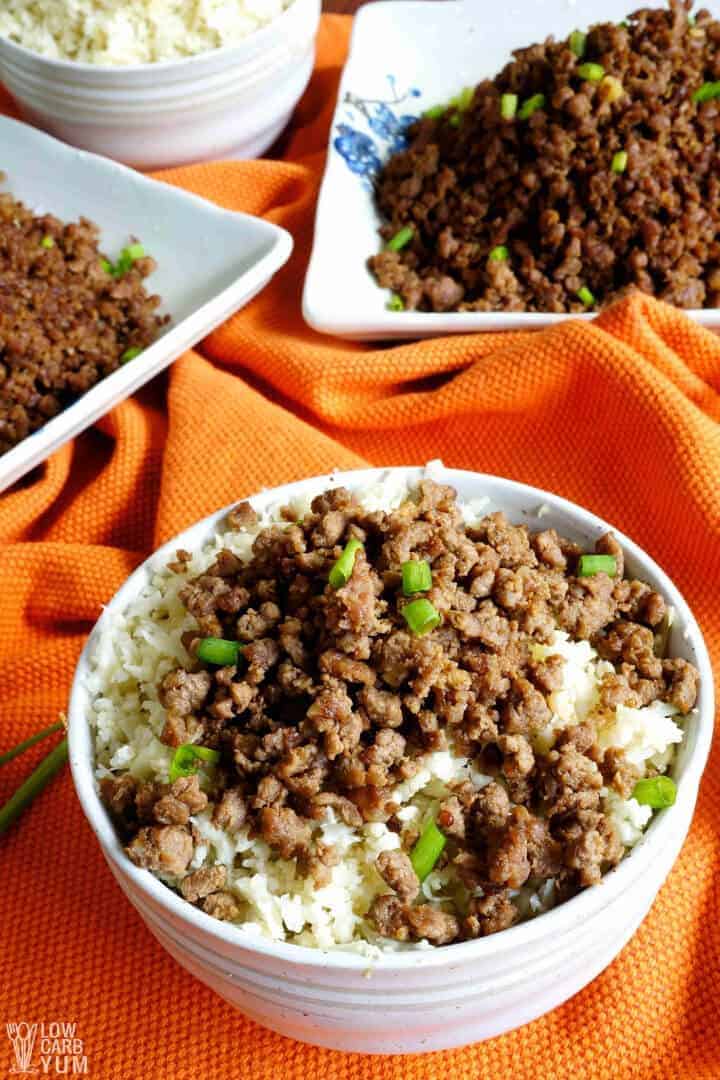 My keto Korean ground beef bowls combine lean ground beef with sweet and spicy seasonings for a quick low-carb dish that only takes 15 minutes to prepare.
Beef this recipe up with some cauliflower rice for extra nutritional value.
Fluffy almond flour pancakes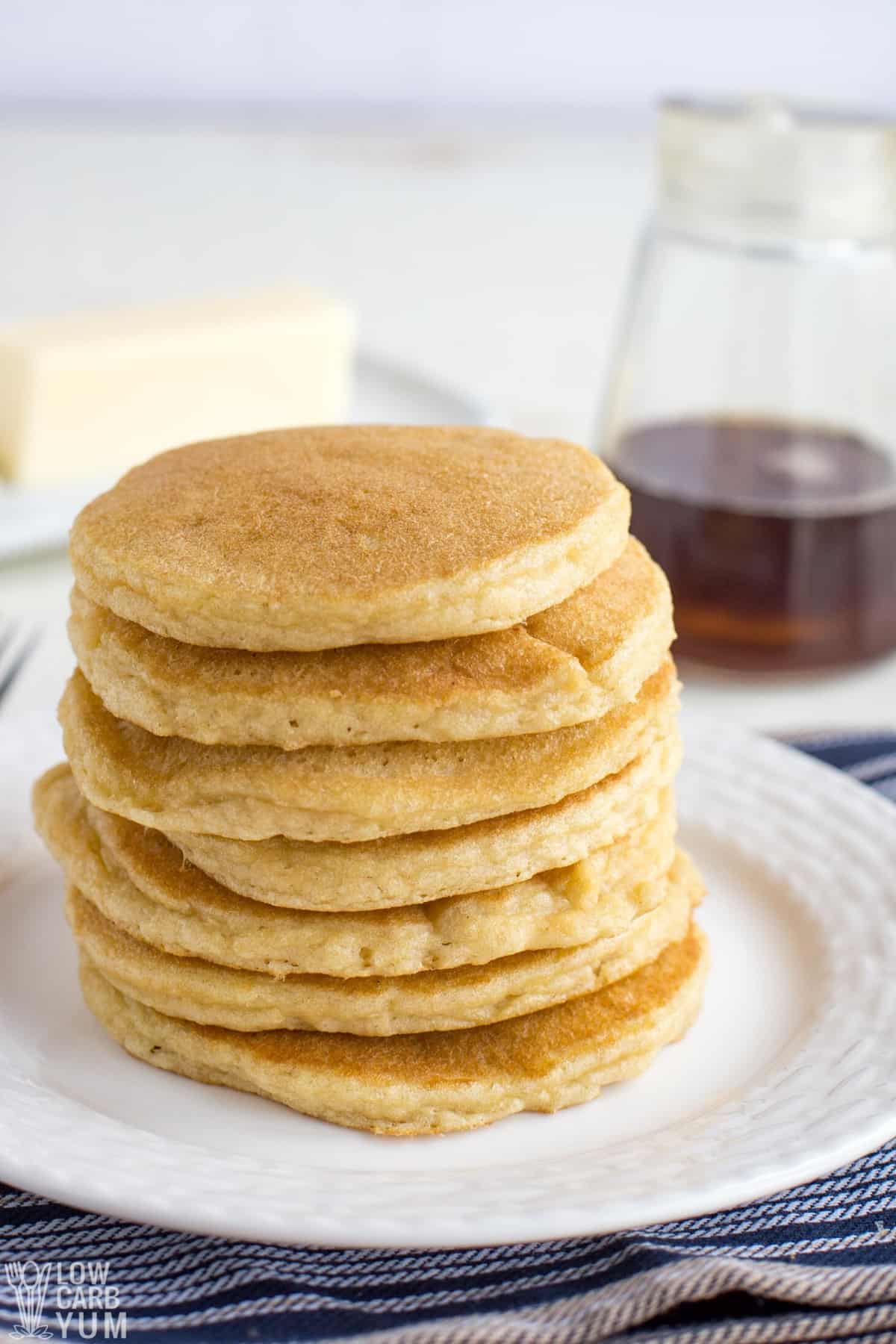 If you miss the comfort of a pancake breakfast, you can try a keto version with my fluffy almond flour pancakes.
This recipe is low-carb, packed full of healthy fats, and simple to prepare.
Almond flour offers a great alternative to all-purpose flour. It's also gluten-free!
Keto Big Mac cheeseburger salad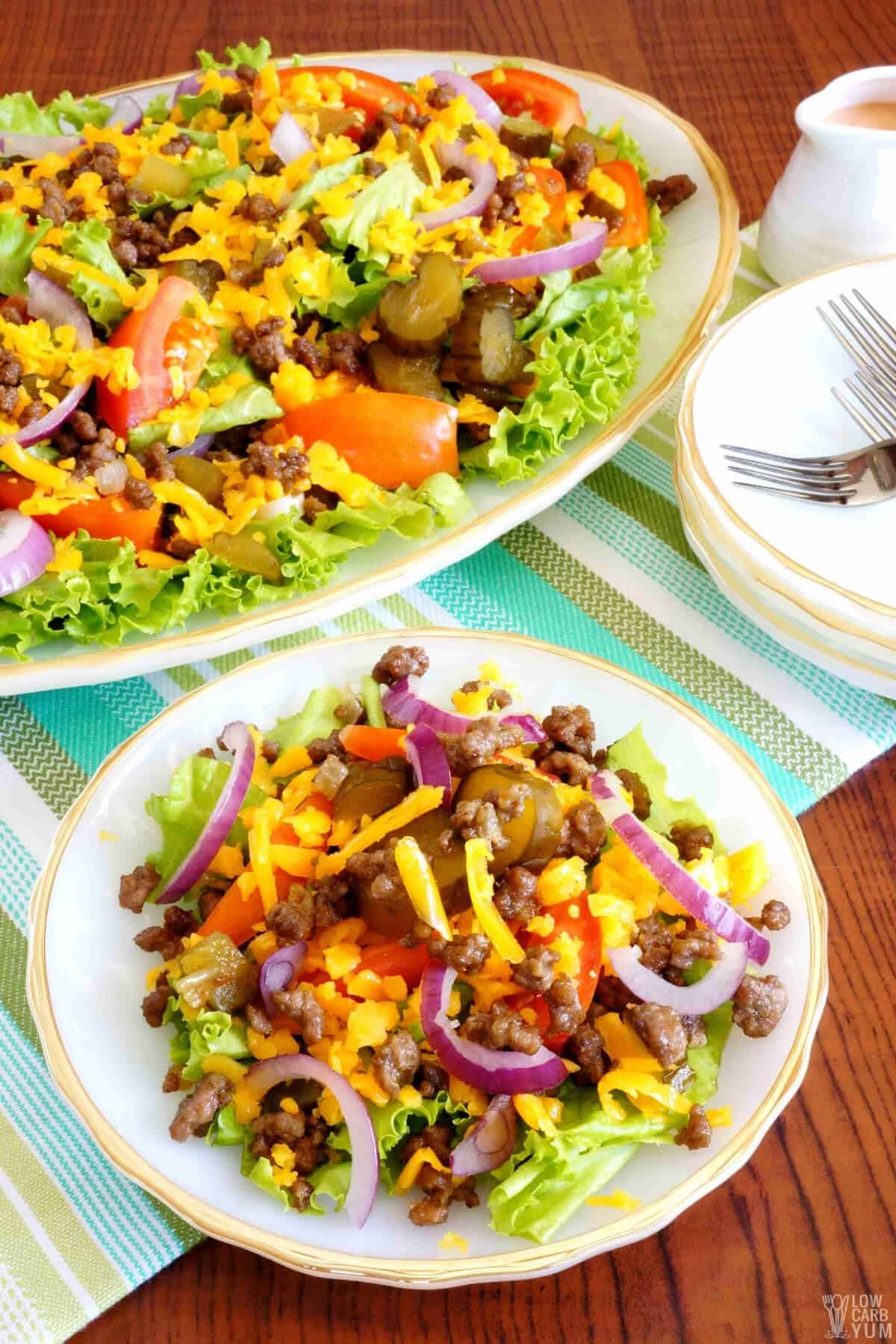 If you're having a burger craving, this keto Big Mac cheeseburger salad is the fix you need.
Big Macs are traditionally filled with high-carb sauce (not to mention the bun). This recipe, however, is laid on a bed of greens and topped with a keto-friendly dressing.
Chicken green bean casserole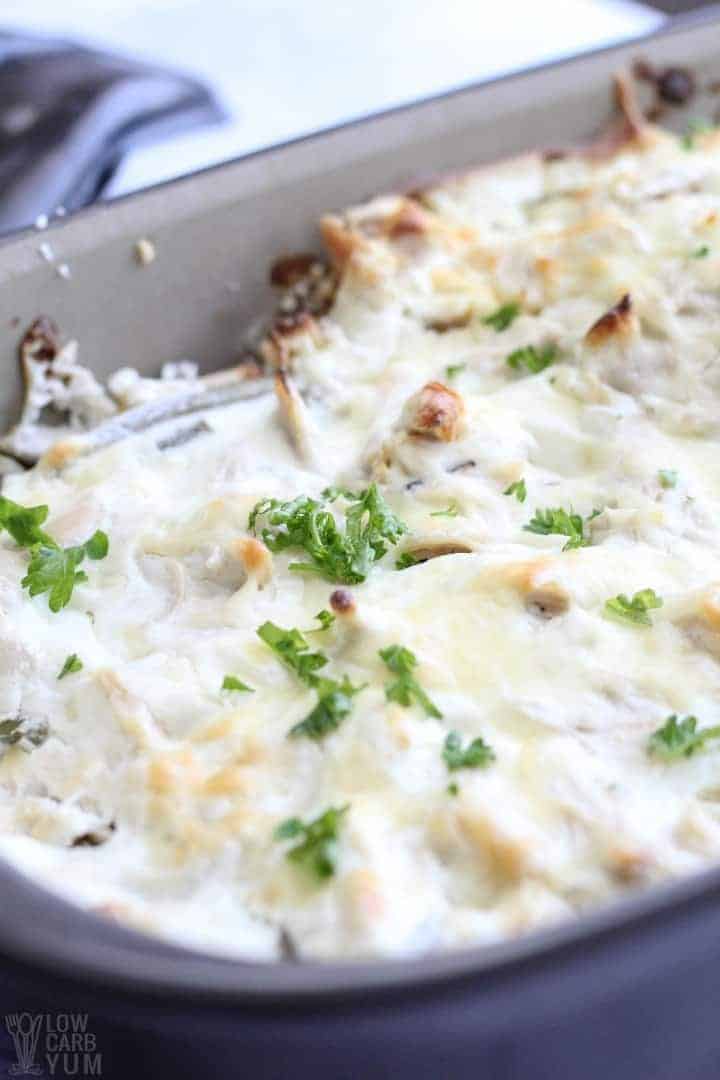 Combine shredded chicken, cut green beans, and a creamy cream cheese sauce to make my chicken green bean casserole.
This low-carb recipe is quick, easy, and great for meal prep.
Prawn curry with coconut milk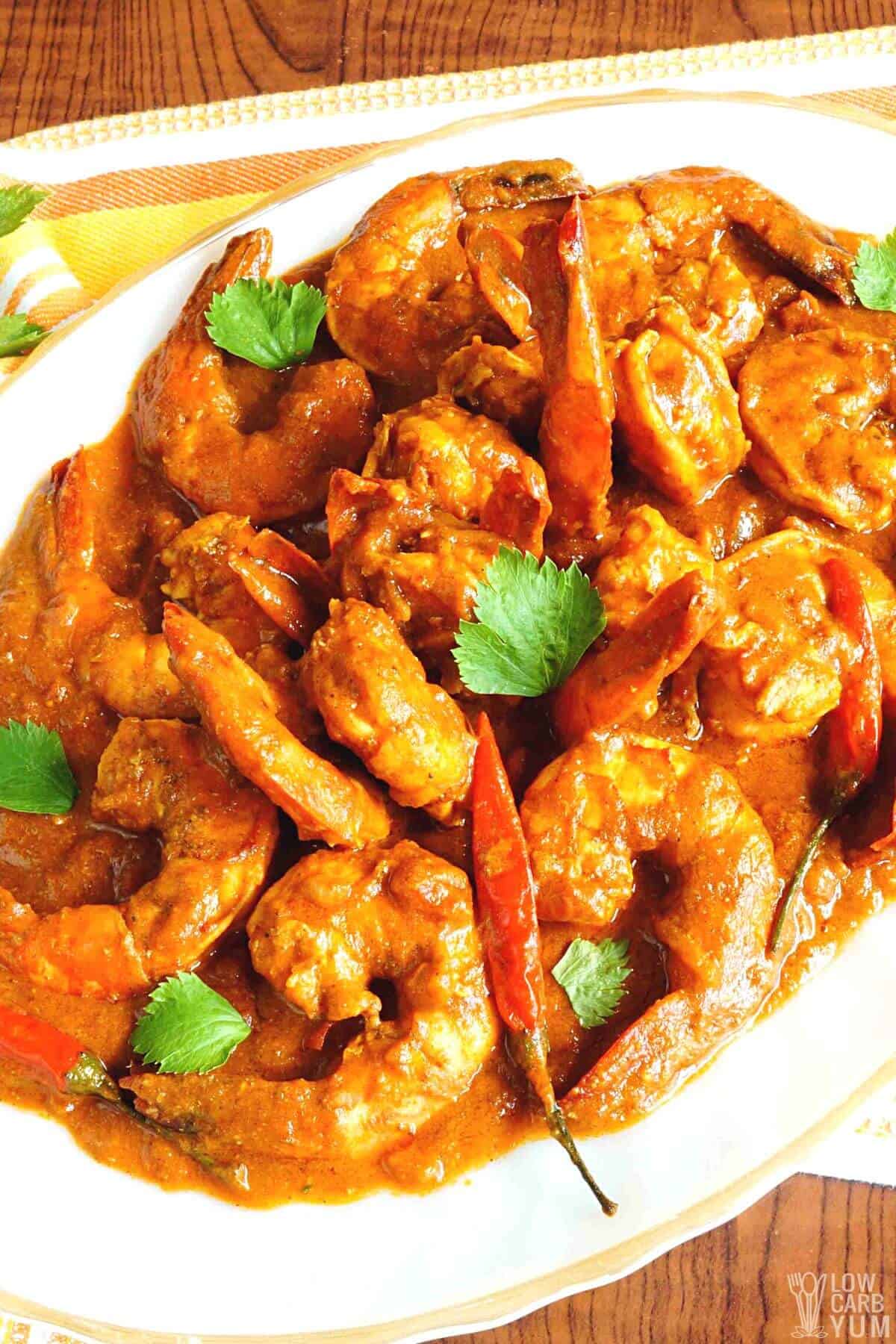 If seafood is your preference, you'll love this prawn curry with coconut milk! The full-fat coconut milk and spice mix make for an incredibly decadent sauce.
Keto shredded teriyaki chicken in the crockpot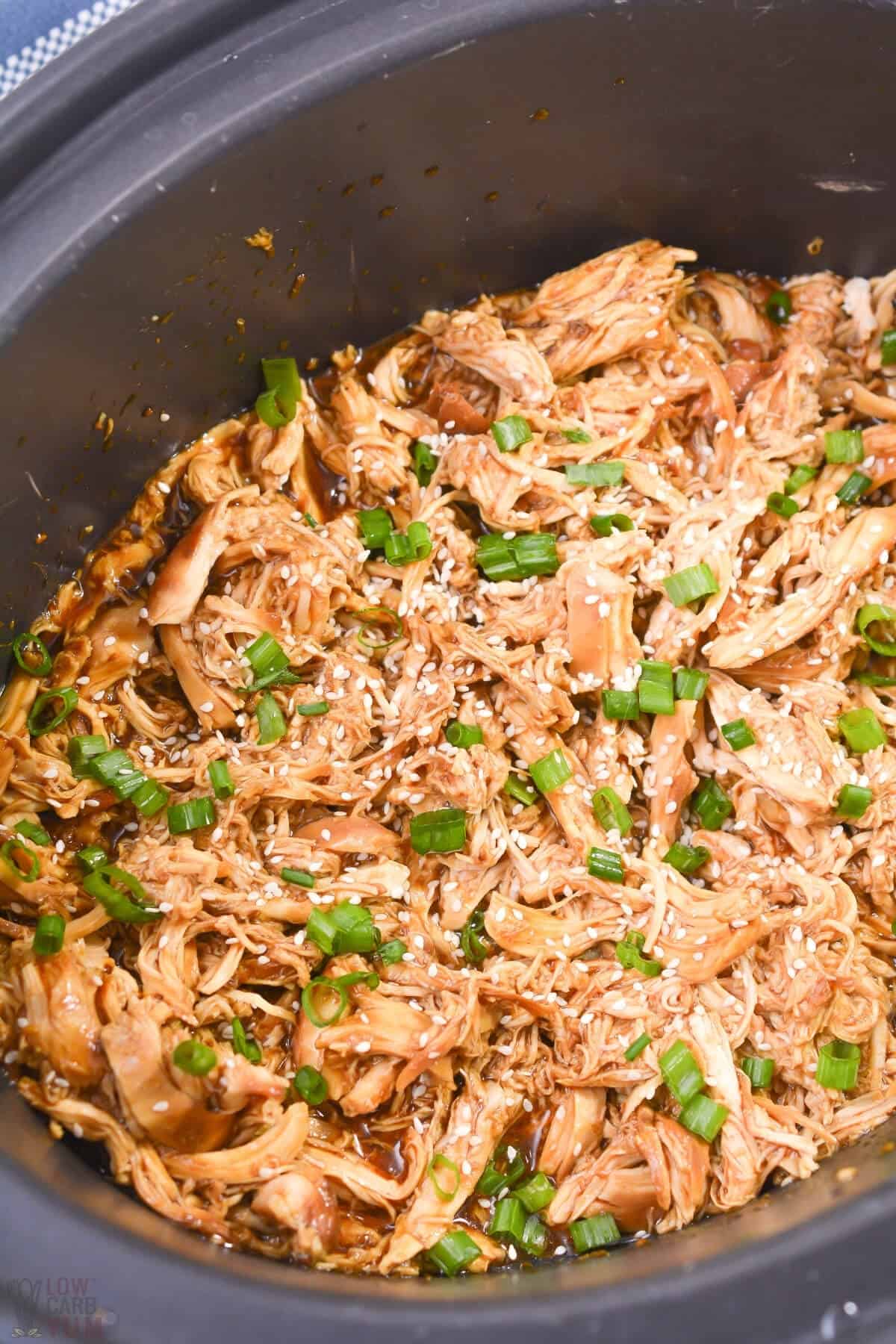 Give a crockpot recipe a go with this keto shredded crockpot teriyaki chicken. With 5 minutes and five simple ingredients, you can throw this meal together in the blink of an eye!
Enjoy a delicious low-carb version of teriyaki sauce in this recipe.
Keto sushi rolls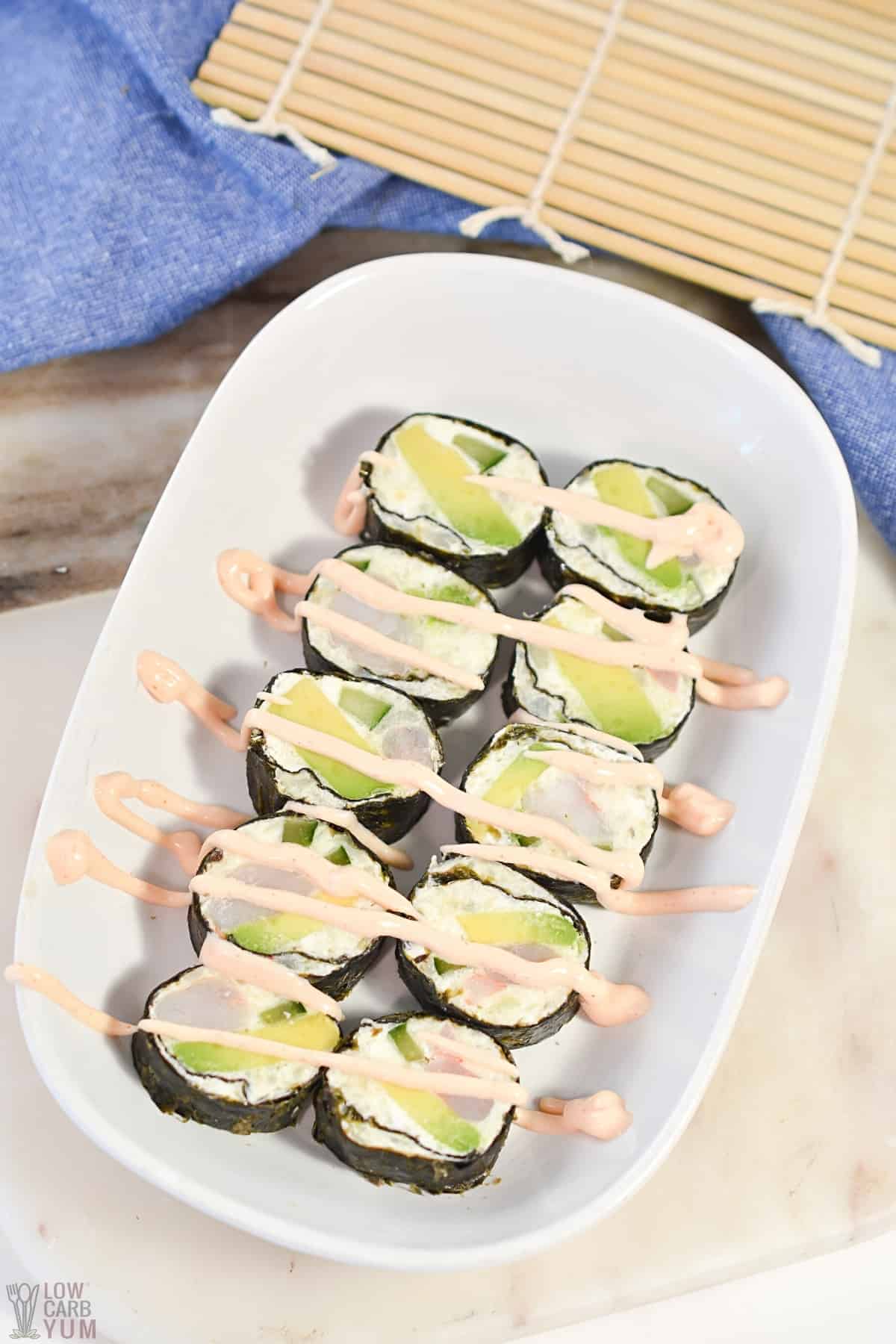 Sushi is usually a high-carb option, but my keto sushi rolls are the answer to your sushi needs.
These rolls are wrapped in cauliflower rice for a keto-approved meal.
Keto egg drop soup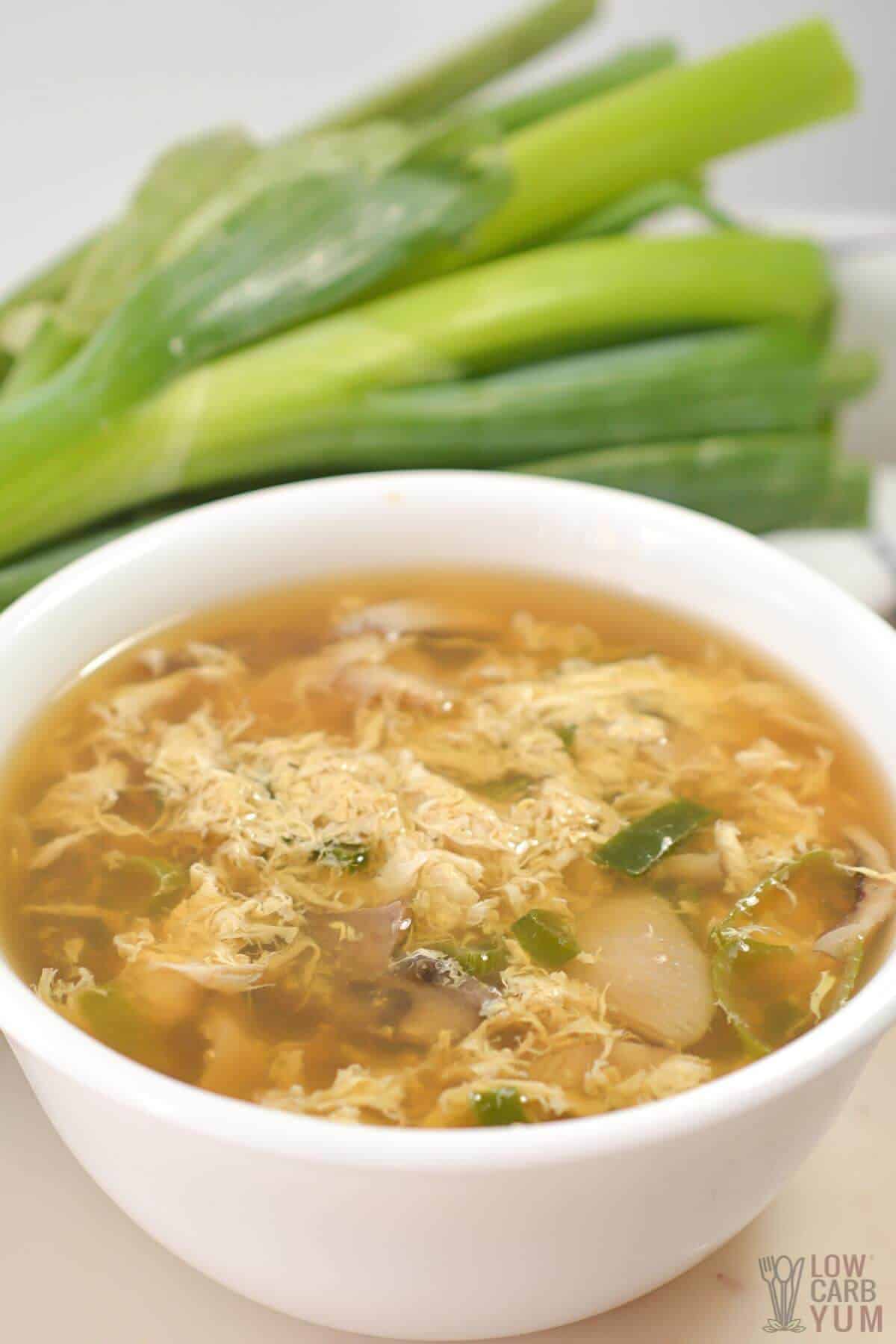 Try this light and savory keto egg drop soup for your next meal! The stars of this dish are the high-fat eggs from level five of the keto food pyramid.
This recipe tastes authentic while also being low-carb and keto-friendly.
Instant Pot smothered pork chops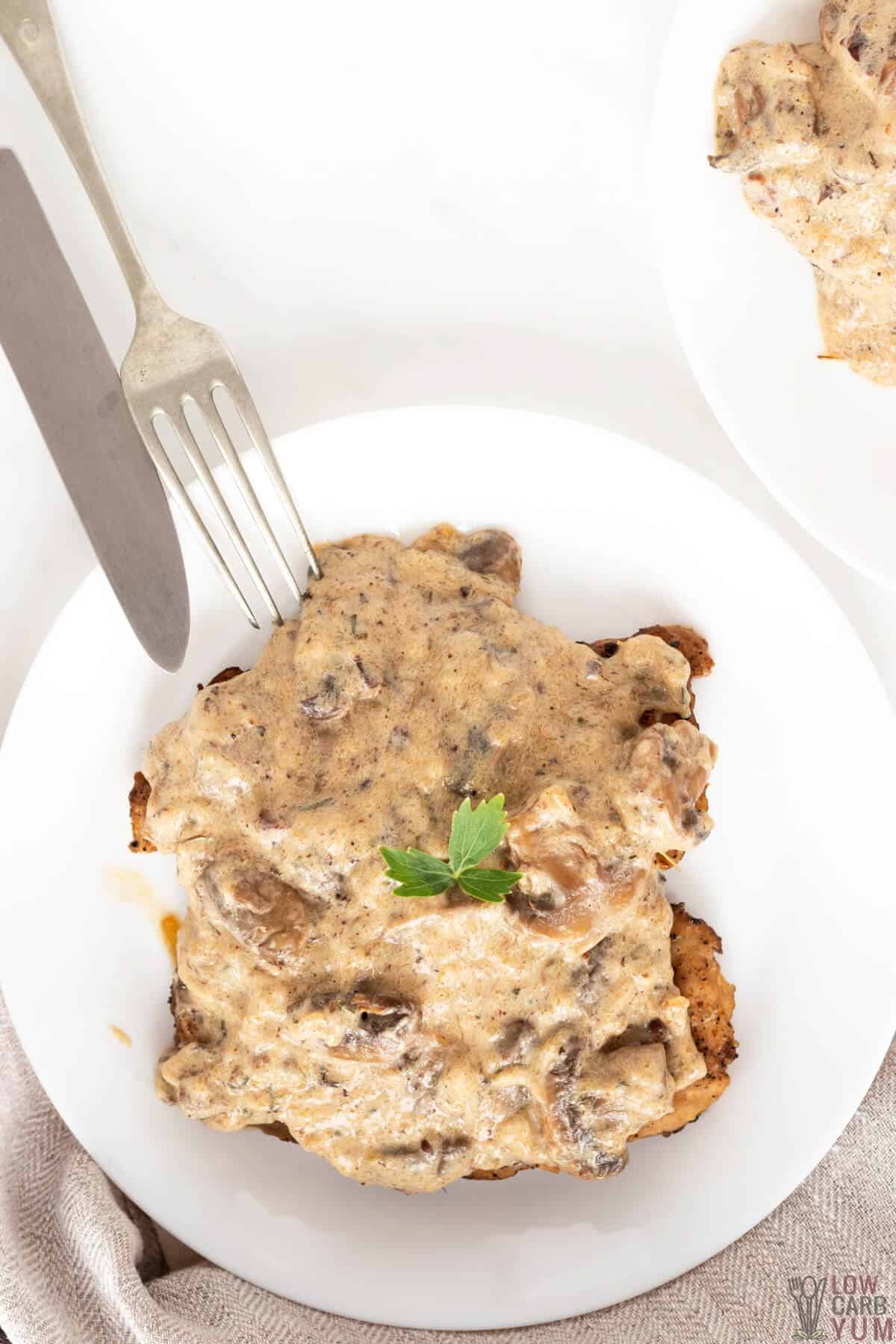 My Instant Pot smothered pork chop recipe creates tender, mouth-watering meat – every time.
Plus, this meal focuses on the important base levels of the keto pyramid, including fatty meats, healthy fats, and full-fat dairy.
Keto French onion soup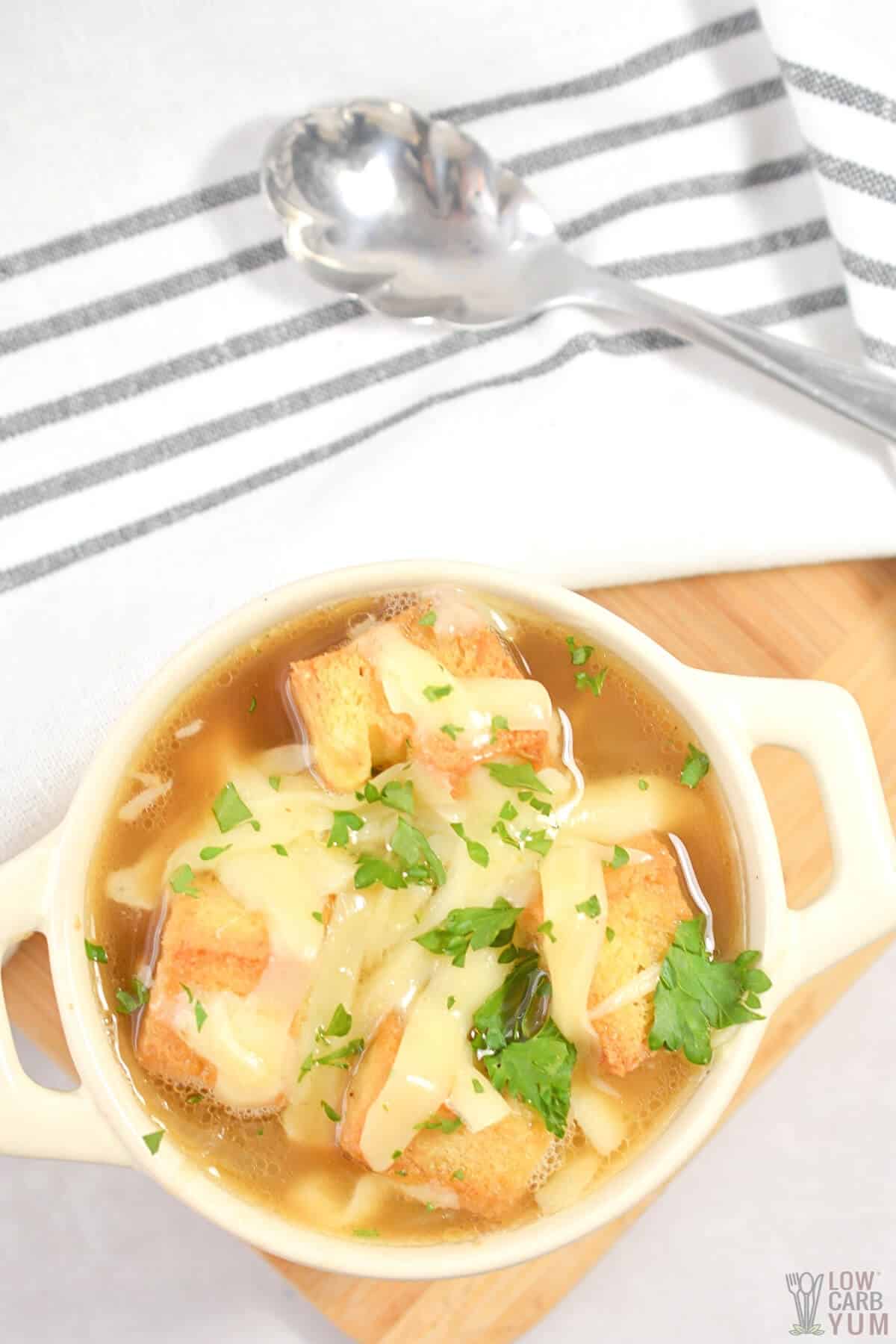 French onion soup is timeless comfort food. I created this keto French onion soup recipe that is filled with high-fat goodness, adhering to the keto food pyramid.
FAQs
Here are some questions that people often ask about what food groups to eat on the keto diet. If you don't see your question in this list, please leave it in the comments.
What is the perfect food for keto?
There is no perfect keto food. There are, however, some great, keto-friendly food choices that you can regularly use in your meal planning. Find examples with the best keto foods list for low-carb recipes.
And remember, when in doubt, you can always consult the keto food pyramid.
What food groups are in keto?
These food groups are outlined in the different levels of the keto food pyramid. While there are several models out there, these groups are pretty consistent.
They include some variations of:
-Fatty meats & healthy fats
-Tender meats & seafood
-Non-starchy vegetables & high-fat fruits
-Full-fat dairy
-Fruits and nuts
What is the biggest mistake people make on a keto diet?
The most common mistake people make when following a low-carb diet is eating too much protein! Excess protein in your diet will turn into glucose in your body and may prevent ketosis and, consequently, weight loss.
You may be thinking – hey! The largest part of the keto food pyramid is filled with meat. While this is true, our focus is actually on the fat content of these foods. Fatty cuts of meat should be supplemented with other healthy fats from this level on the pyramid.
How much protein should I eat on keto?
Though opinions vary, most ketogenic resources suggest a 10-20% intake of daily protein. This translates to a 70-80% fat intake and a 5-10% carb intake. If you want to know how to break down your macros based on your size, take a peek at my free keto macro calculator.
Keto food pyramid: Conclusion
If you're looking to lose weight, reduce body fat, and lower your blood sugar, you may want to consider a keto diet.
While the keto diet can seem tricky to start, the keto food pyramid is a wonderful tool to help you find success. In other words, it simplifies keto by laying out the main food groups you want to include in your diet.
Use the premise of the keto food pyramid, along with any of my keto recipes, to fuel your ketogenic diet.
More keto diet information
Here are a few more informational reads to give you confidence in your keto journey.
Follow us on FACEBOOK, PINTEREST, and INSTAGRAM for even more tasty keto-friendly recipes!