This free keto macro calculator will help you figure out how much fat, protein, and carbs you should eat on the keto diet for your size.
In today's post, I am going to share everything you need to know about calculating your macros when starting a low carb diet and how to use a free keto macro calculator to do just that.
Free Keto Macros Calculator
Ageyears
Weightstones lbs
Heightfeet inches
Body fat%
Net carbsgrams
Specify the amount of daily net carbs you'd like to consume. Typically, 20-30 grams is recommended to start with.
Results
Maintenance
Maintenance level is the level at which your weight remains stable.
| | | |
| --- | --- | --- |
| Your BMR is: | 1536 | kcal |
| Calories to consume: | 2027 | kcal |
| Your fat intake should be: | 184 | grams |
Net Carbs
Protein
Fat
25
grams
69
grams
184
grams
100
kcal
275
kcal
1653
kcal
5
%
14
%
81
%
Goal
Sorry, cannot offer any weight loss suggestions. Please use the Custom section for weight loss macro targets.
Your body fat is too low. You should have a minimum of 3% body fat (essential fat you cannot lose). It is not advisable for you to lose any more weight.
Based on the amount of net carbs you specified, it would impossible to lose any weight. Please, reduce the amount of net carbs and try again.
Below is a range of calorie deficits to help you lose weight. For best results, it is recommended that you opt for a moderate calorie deficit of 10-20%.
Small calorie deficit (11%)
| | | |
| --- | --- | --- |
| Calories to consume: | 1804 | kcal |
| Your fat intake should be: | 159 | grams |
Net Carbs
Protein
Fat
25
grams
69
grams
159
grams
100
kcal
275
kcal
1430
kcal
6
%
15
%
79
%
Moderate calorie deficit (22%)
| | | |
| --- | --- | --- |
| Calories to consume: | 1581 | kcal |
| Your fat intake should be: | 134 | grams |
Net Carbs
Protein
Fat
25
grams
69
grams
134
grams
100
kcal
275
kcal
1207
kcal
6
%
17
%
77
%
Large calorie deficit (33%)
| | | |
| --- | --- | --- |
| Calories to consume: | 1358 | kcal |
| Your fat intake should be: | 109 | grams |
Net Carbs
Protein
Fat
25
grams
69
grams
109
grams
100
kcal
275
kcal
984
kcal
7
%
20
%
73
%
Based on KetoDiet calculator
What are macros?
The word macros is short for macronutrients. There are three categories of macros that people need to track if they want to stay in ketosis - protein, fat, carbs.
Here is a little introduction to these three macros.
Carbohydrates - Includes sugars, starches, and fibers. They are found in grains, starchy vegetables, beans, dairy products, and fruit.
Fats - These have the most calories of all the macronutrients. It provides your body energy. Healthy fats are found in foods like oils, butter, avocado, fish, and nuts.
Protein - Proteins are the building blocks of muscles. How much protein you need depends on your body's composition, your age, and your overall health. Protein-rich foods include eggs, meat, beans, and tofu.
Our macro counter above helps keep track of how many of each of these that you need to consume daily.
Calculating macros on the keto diet
There are lots of factors that change how much of each macro your body needs.
Do you want to lose weight?
Do you need to just maintain your weight?
What is your age and activity level?
While it's possible to take all of this into account and calculate your macros on your own, I took all the hard work out of it! The easiest way to figure out how many macros you need is to use my keto macro calculator.
After you figure out how many macros you need, you can start tracking them in your meals.
Instructions
Here's how to use our keto calculator to determine your optimum daily macros:
First, choose which measurements you want - metric or US customary. Then, fill out all the fields as accurately as you can.
After all the fields are completely filled out, the results will automatically populate.
There are four different amounts of macros that will populate at the bottom of the calculator - maintenance (if you want to maintain weight) and three weight loss options. Choose the one that most closely resembles your weight loss goals.
Here's the free keto macro counter. Fill it in and discover exactly how many macros you should be eating every day.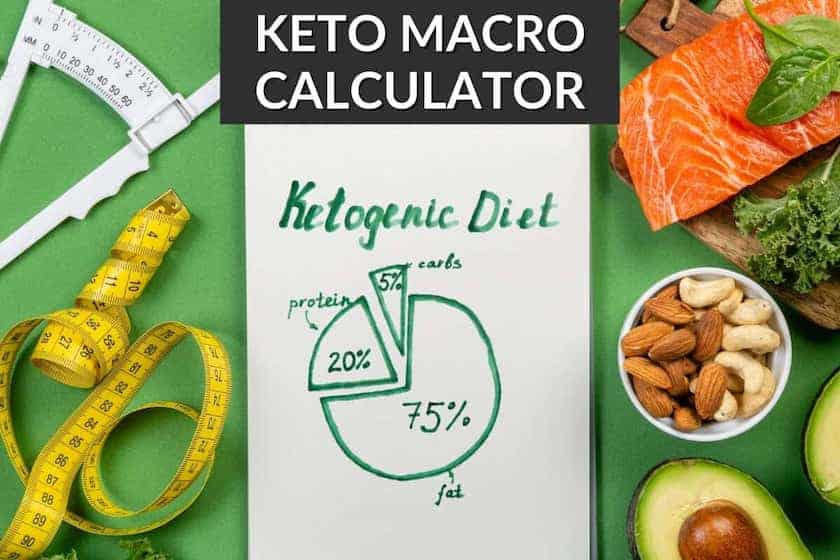 FAQs
This keto macro calculator is really simple to use and will help you understand how much to eat each day. If you have any questions about it, please leave them in the comments.
Here are some common questions most people might have about macros on the keto diet.
What is a lazy keto diet?
The lazy keto diet is one where people don't track their macros, they just try to estimate how much of each type of food they should eat.
Calculating and tracking macros takes time - so it's no surprise that people fall into lazy keto. The problem is that if losing weight is your goal, it's hard to do on a lazy keto diet.
If you don't eat enough fat, you won't go into ketosis and your body won't burn fat for energy.
How do I figure out my body fat percentage?
In order to get you the most accurate macros possible, you need to know your body fat percentage. If you have more body fat, you will need to eat more healthy fats. This is because it will keep you full longer and it will train your body to burn more fat as fuel.
If you have a scale that measures body fat, that is the easiest way to do it. If you don't, you can still calculate it manually. You'll need a measuring tape and this body fat calculator.
What is a calorie deficit?
Part of my keto macro calculator tells you how much of a deficit you should maintain in order to lose weight. A calorie deficit means that you are burning more calories than you consume.
You need to stay within a healthy deficit or else your body will go into starvation mode and lose less weight.
Why is activity level important for macros?
How active you are affects the minimum number of calories your body will burn in a day. Really active people will naturally burn more calories than sedentary people. This is why it is so useful to count your macros when dieting.
What is the best macro ratio for the keto diet?
Ratios change based on your activity levels and a bunch of other factors. This is why the free calculator is so important. It already figures all of that out for you and tells you the ratios based on your answers.
There are some general ratios that most people use. Here is what most people follow on keto:
70-80% Fat - 165 grams
5-10% Carbs - 40 grams
10-20% Protein - 75 grams
Why should I eat such a small amount of carbs?
There are lots of benefits of eating low carb foods on the keto diet.
The main idea behind this is that when your body stops burning carbs for fuel, it starts to burn fat for energy instead. This leads to weight loss and a bunch of other health benefits too.
Is eating too much protein on a low-carb diet bad?
Experts agree that a good range of protein to eat on a low-carb diet is about 0.7-0.9 grams per pound of body weight.
If you eat too much protein, it can actually prevent you from going into ketosis. Your body will start burning the protein as energy instead of fats.
Macro-friendly low-carb recipes
After you have used my keto macro calculator to figure out the number of macros you need when starting the keto diet, then you probably want some recipes that are so easy, you can make them without thinking.
These are some of my favorite quick keto recipes that take less than 30 minutes to prep.
Follow us on FACEBOOK, PINTEREST, and INSTAGRAM for even more tasty keto-friendly recipes!