Ever wondered if you need supplements when following a ketogenic diet? I have all the information you need about the best keto supplements to take when following a low-carb diet. Dive into supplement options, natural nutrient sources, and possible signs of nutrient deficiencies!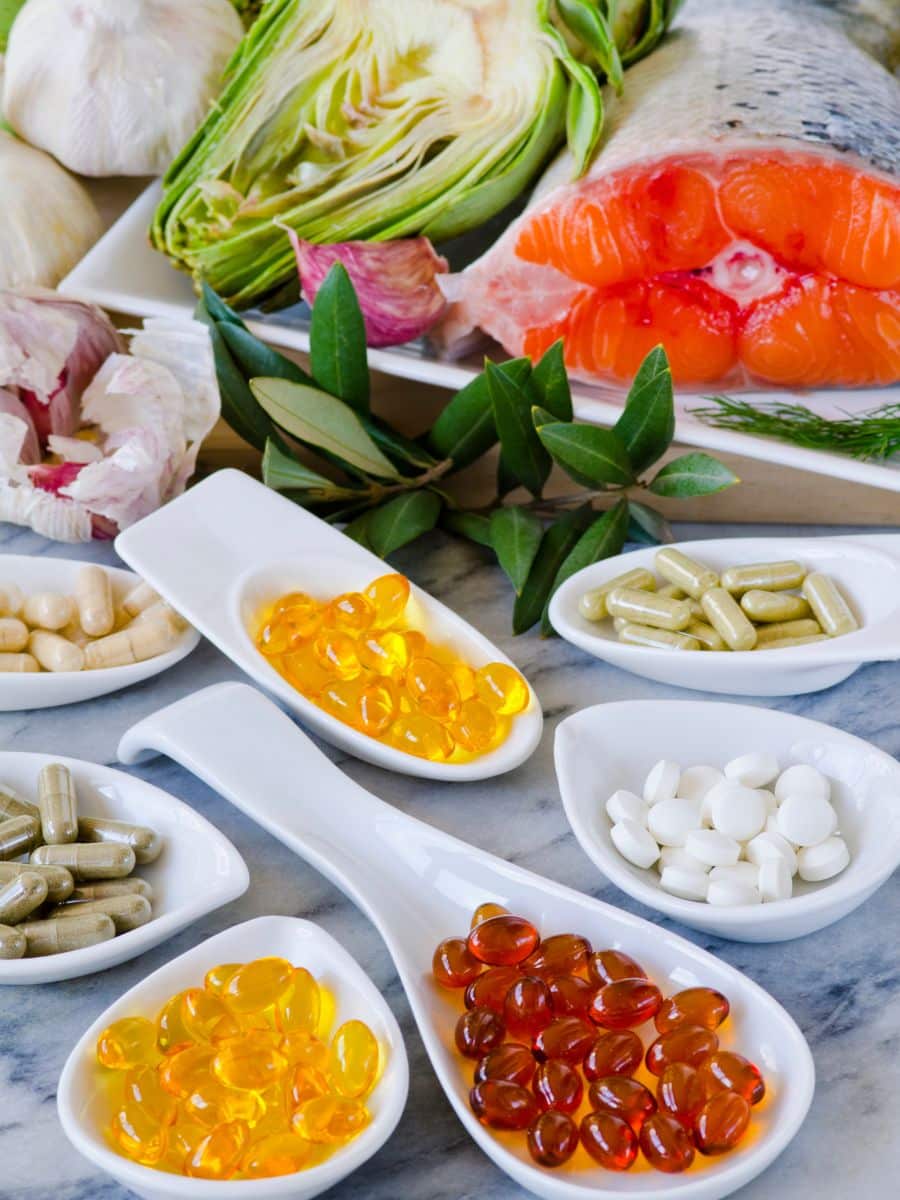 If you are new to the ketogenic diet, you may wonder whether or not you need to take dietary supplements. After all, a keto diet restricts quite a few vitamin-rich fruits and vegetables.
Is it still possible to get all the necessary vitamins and minerals you need for optimal health?
Keto dieters may want to consider taking certain supplements, especially when starting out. While it is possible to have a nutritionally fulfilling diet while following keto, it can be a little tricky.
One of the most noted health benefits of a ketogenic diet is weight loss, as it helps to reduce body fat. Keto also aids in ongoing health conditions (you can read more about the benefits of the keto diet here).
While many people equate weight loss with health, there's much more to nutrition than outward appearances!
If you'd like to take a look under the surface of this popular low-carb lifestyle, read on to discover ways you may want to supplement your keto diet.
Why do you need to supplement a keto diet?
You may not need to! It is possible to eat a balanced diet when on a keto diet. Still, dietary supplements can help fill in any possible gaps in nutrition and support your overall health.
They can also help treat any adverse effects some people experience on the ketogenic diet.
Note: If you're experiencing any of these symptoms, talk to your healthcare provider to help determine if a deficiency is the root cause!
Some reasons you may want to include keto supplements in your keto diet include:
Keto flu
Dieters often report feeling flu-like symptoms in the first few weeks of starting keto. This is a necessary adjustment period that your body and mind undergo when transitioning to a low-carb diet.
Keto supplements may be able to help you through some of these keto flu symptoms.
Nutrient & mineral deficiencies
When you transition to keto, your new ketogenic diet probably looks a lot different than your previous eating habits. Because of this change in diet, you may develop new nutrient deficiencies.
To combat this possible outcome, you can take nutritional supplements, including a variety of vitamins and minerals.
Physical symptoms
If you're experiencing poor physical symptoms on the ketogenic diet, like muscle cramps or low energy levels, this is a good sign that you need to introduce keto supplements into your regimen.
Mental symptoms
Vitamin deficiencies can have serious effects on your mental well-being. Some symptoms associated with vitamin deficiencies include:
Depression
Anxiety
Memory loss
Insomnia
Irritability
Keto supplements to consider
These keto diet supplements can benefit your health whether or not you're following a ketogenic diet.
Note: Before adding any supplements or additional vitamins to your diet plan, make sure to consult your primary healthcare provider to see if these supplements are best for you and your health.
1. Magnesium supplement
Magnesium is a powerful supplement that can help regulate your blood sugars, improve your energy levels, and give your immune system a boost.
It's also a good tool to combat symptoms of the keto flu, including:
Muscle cramps
Poor sleep
Bad moods
Should you supplement magnesium?
Magnesium deficiency symptoms include fatigue, muscle cramps, and numbness.
If you don't want to take a supplement, try incorporating magnesium-rich foods into your diet. Leafy greens, pumpkin seeds, and avocado are all high-magnesium foods that are also filled with great vitamins and minerals!
Click to learn more information on magnesium-rich foods.
2. Electrolyte supplements
When beginning a keto diet, your body will experience an increase in water loss because of your low-carb intake. This can also lead to low levels of magnesium, sodium, and potassium, which can cause overall fatigue.
While you can take a potassium supplement, there are plenty of potassium-rich foods to integrate into your diet. Try nuts, seeds, and leafy greens for a natural option!
Sodium intake can be increased by adding extra salt to your meals.
If you're wondering if you need to increase your sodium intake, ask your doctor for advice.
3. Multivitamin supplement
This is another supplement that isn't necessarily keto-focused but is beneficial to any diet.
Taking a daily multivitamin can support gut and bone health and provide you with essential nutrients and minerals. Double-check to make sure your multivitamin is keto friendly and not filled with sugar.
If you're not sure where to start with your keto supplements, begin with a multivitamin.
4. Vitamin D
Vitamin D deficiency is common in many people. And while those on a ketogenic diet aren't more susceptible to this deficiency, it's still a great keto supplement to promote overall health.
It's difficult to get enough vitamin D from food alone, so supplements are often recommended.
5. Omega 3 fatty acids
Omega 3 fatty acid supplements are made from fish oil. They are a great addition to any diet because they are known to reduce inflammation and lower your risk for heart disease.
Supplementing Omega 3 fatty acids on a ketogenic diet ensures you're getting these healthy fats and keeping a healthy omega-6 to omega-3 ratio.
If you want a natural source of omega-3 fatty acids, include lots of fatty fish like salmon, mackerel, and bluefin tuna in your diet!
6. Exogenous ketones
Some followers of the keto diet use outside supplements to increase their blood ketone levels. These outside supplements are called exogenous ketones.
This supplement can help you reach ketosis quicker, aid in muscle recovery, and decrease your appetite.
Exogenous ketone supplements are consumed through various compounds, including powders and ketone salts.
7. Essential amino acids
Amino acid can be a beneficial supplement to a keto diet. Branched-chain amino acids are particularly helpful as they have been shown to aid with muscle soreness, damage, and fatigue.
Amino acids are found in complete proteins, including beef, fish, and poultry.
8. MCT oil
MCT, or medium chain triglycerides, is a common keto supplement. You might consider using MCT oil if you want to up your fat intake, increase ketone levels, and prolong ketosis.
If you're on a ketogenic diet to lose weight, MCT has been shown to decrease hunger and promote weight loss. Many people add it to their bulletproof coffee in the mornings!
Natural sources of MCT oil can be found in coconut and palm oils.
9. Digestive enzymes
High-fat diets like the keto diet aren't always kind to your digestive system. So, avoid gastrointestinal symptoms by supplementing your diet with digestive enzymes.
10. Fiber supplements
Because the keto diet is a low-carb diet, it is often low in fiber as well. This can lead to uncomfortable bloating and irregular bowel movements.
Taking a fiber supplement will help with digestion and keep everything "regular" on your keto diet.
If you're looking for keto-friendly, natural sources of fiber, you can try:
Berries
Avocado
Nuts and seeds
Asparagus
Broccoli
Keto recipes to add to your diet plan
These tasty low-carb meals would make excellent additions to your ketogenic diet. Try them out for yourself!
Oven-roasted asparagus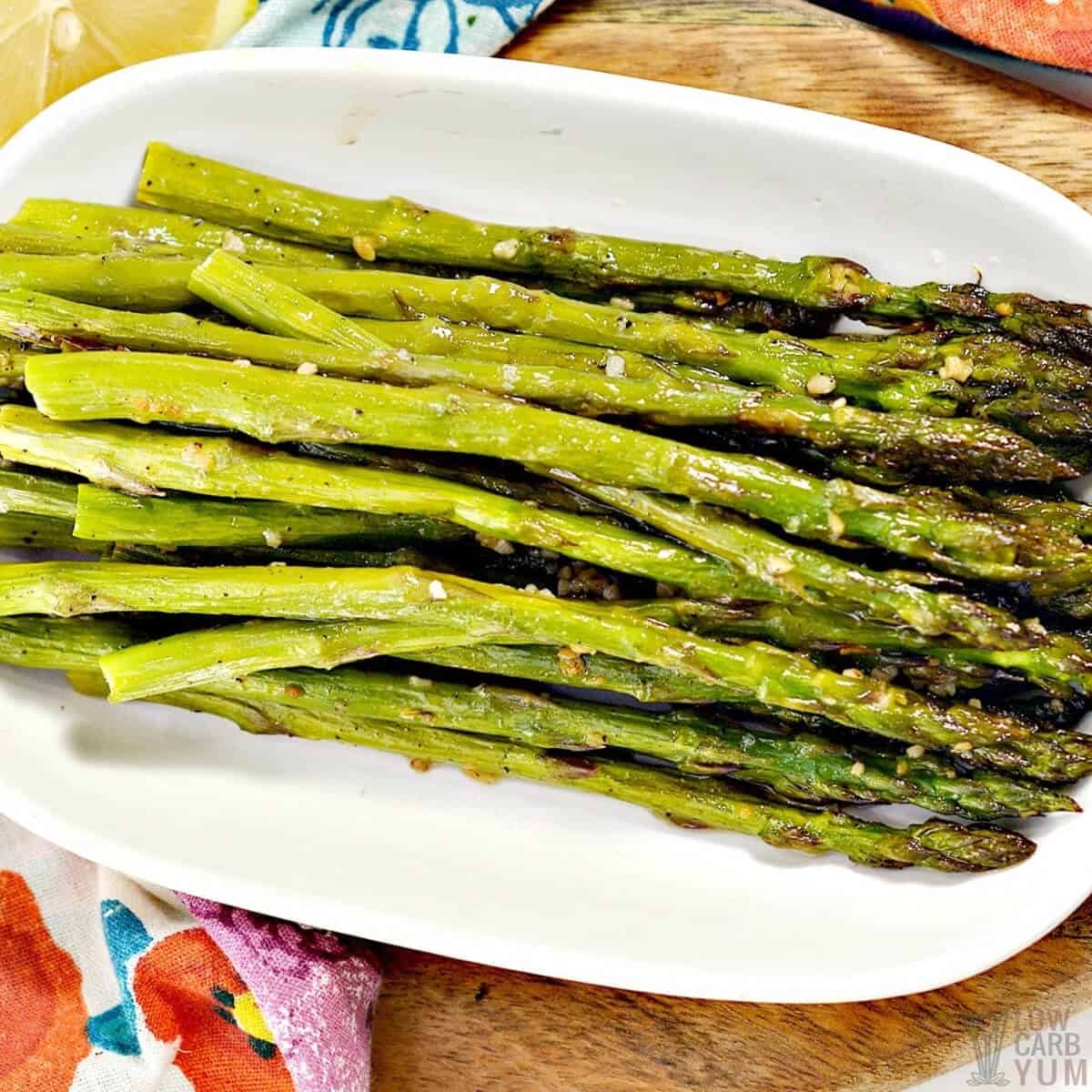 My oven-roasted asparagus is the perfect side dish for any keto meal. Dressed with fresh lemon, garlic, and high-fat olive oil, this is the best way to cook asparagus.
Use this recipe for fresh or frozen asparagus spears.
Bulletproof keto coffee recipe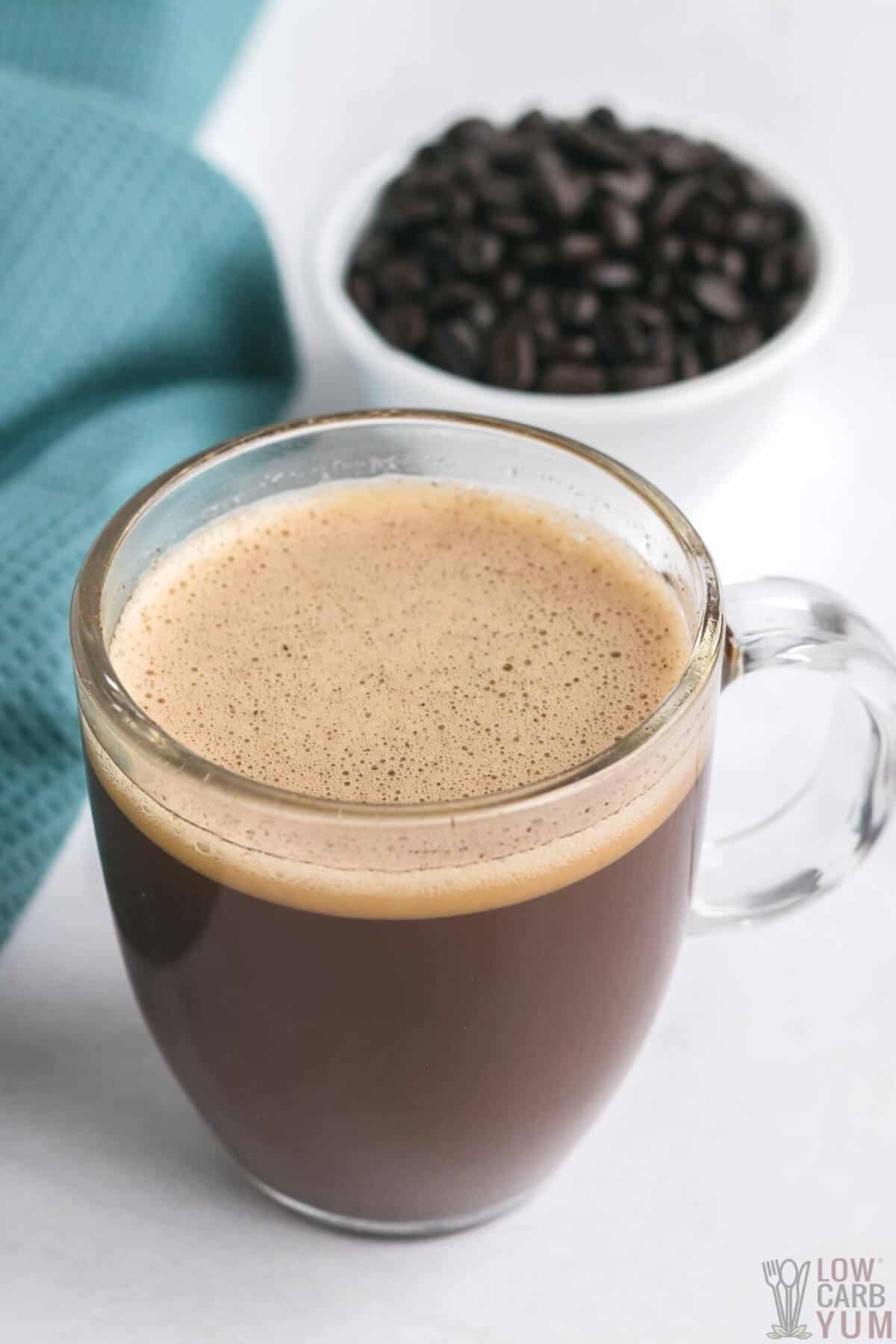 Have you heard of bulletproof coffee? This keto diet coffee contains canned coconut milk, ghee, and a few secret ingredients.
Up your morning routine with my bulletproof keto coffee recipe!
Sugar-free keto hot chocolate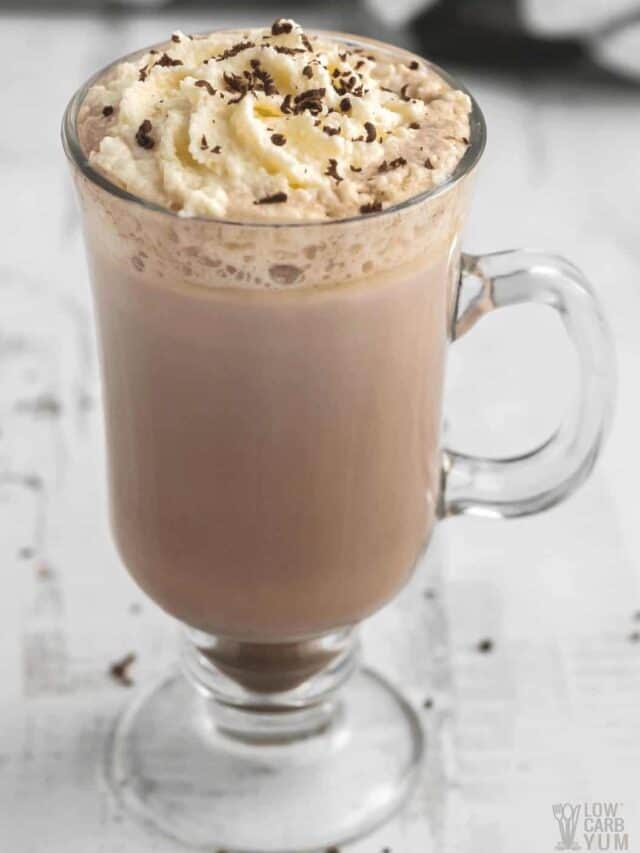 This keto hot chocolate is so decadent, you'd never guess that it is sugar-free!
Heavy cream, cocoa, and sugar-free whipped cream make a delicious cold-day treat. The best part? – the addition of chocolate extract takes the flavor to new heights.
Keto mozzarella sticks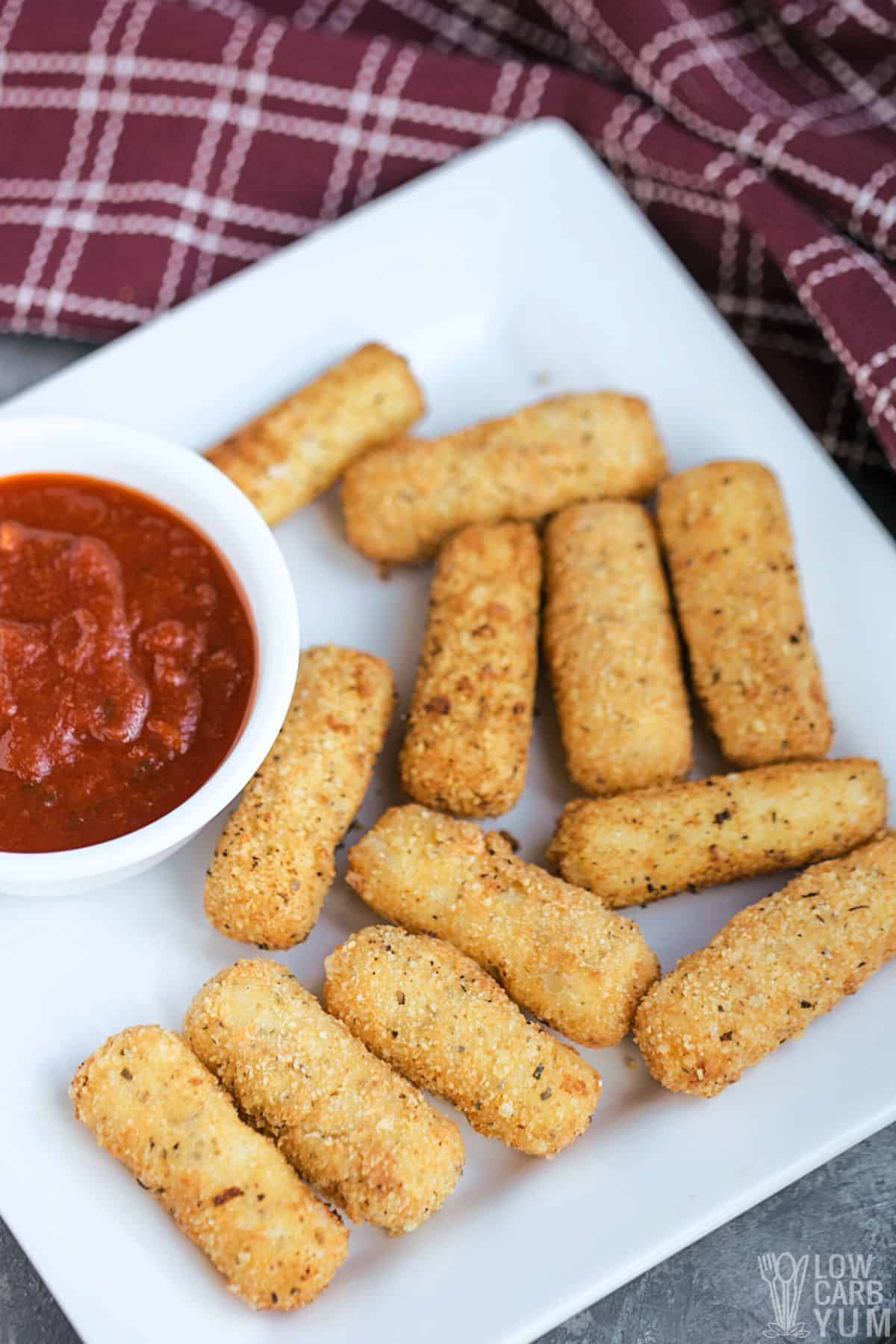 This fun finger food is made keto with almond flour and two types of cheese!
Try a twist on an old classic with these keto mozzarella sticks. Make it as an appetizer, or eat them as a meal (I won't tell).
Crispy keto jicama fries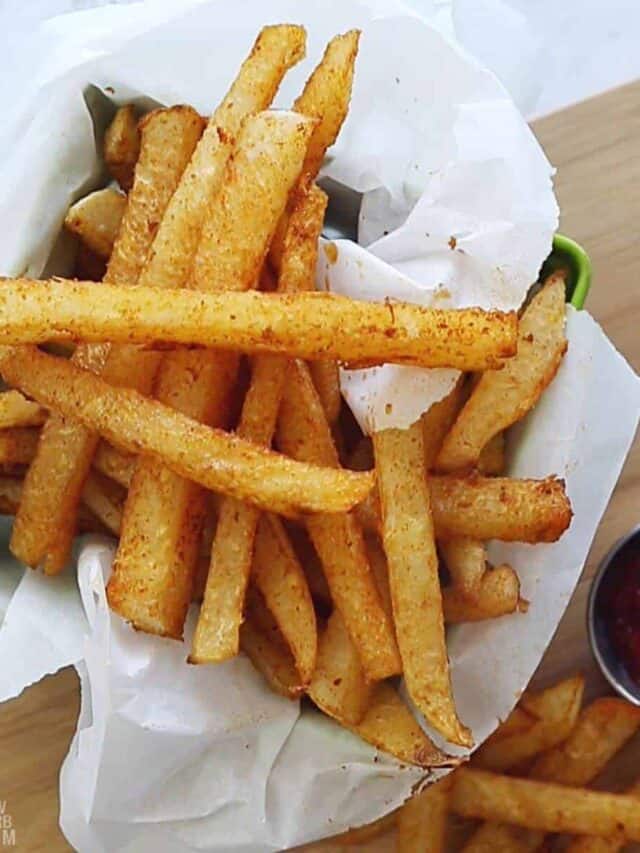 Have a french fry craving? Try these perfectly crispy keto jicama fries.
Jicama is a fabulous low-carb vegetable that crisps up beautifully! This spice blend is really tasty, but feel free to customize it to your preference.
Easy keto lobster bisque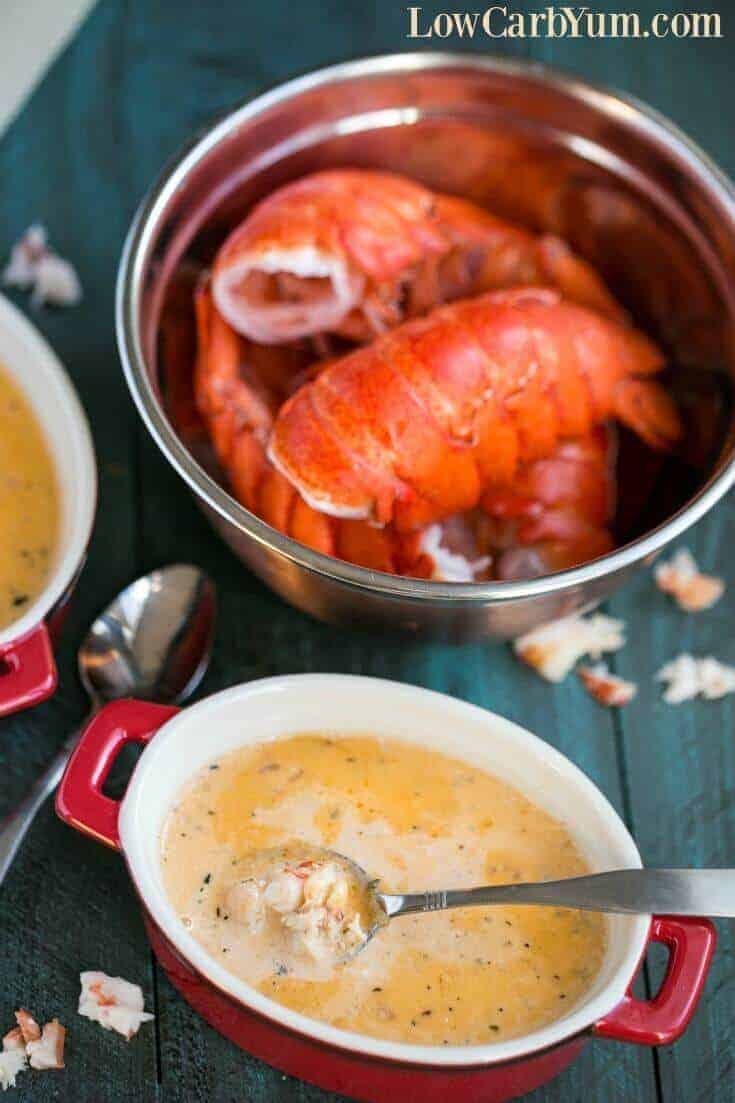 Looking for your new favorite soup? Dig into this easy keto lobster bisque. This recipe is nothing short of gourmet, all from your home kitchen.
It includes lobster, heavy cream, and butter for a high-fat, low-carb dish.
Low-carb keto hamburger buns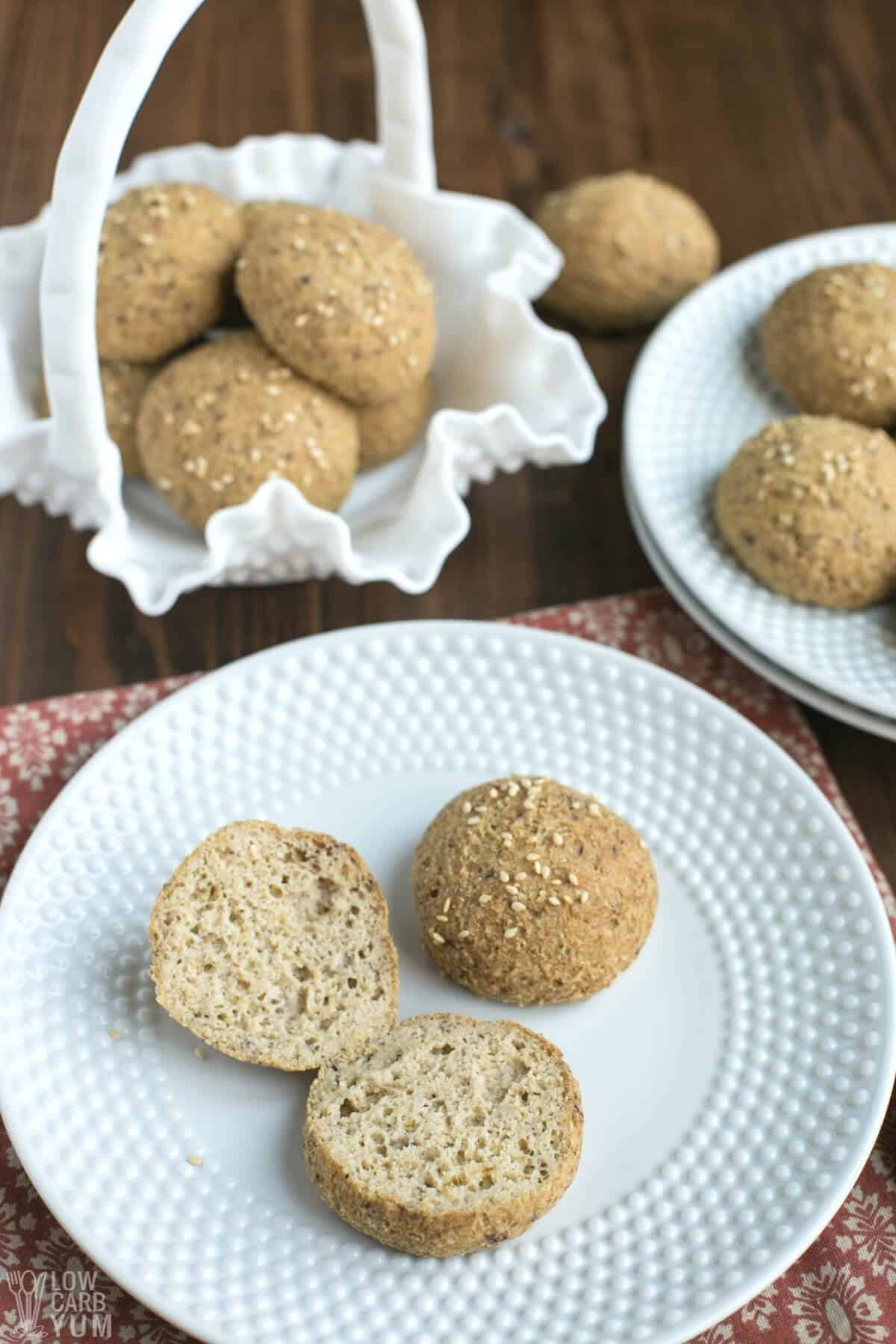 Burgers don't always need to be eaten protein-style on a keto diet. Enjoy these low-carb keto hamburger buns for the full cookout experience.
Have leftovers? Use them for sandwiches the next day.
Keto hamburger cabbage casserole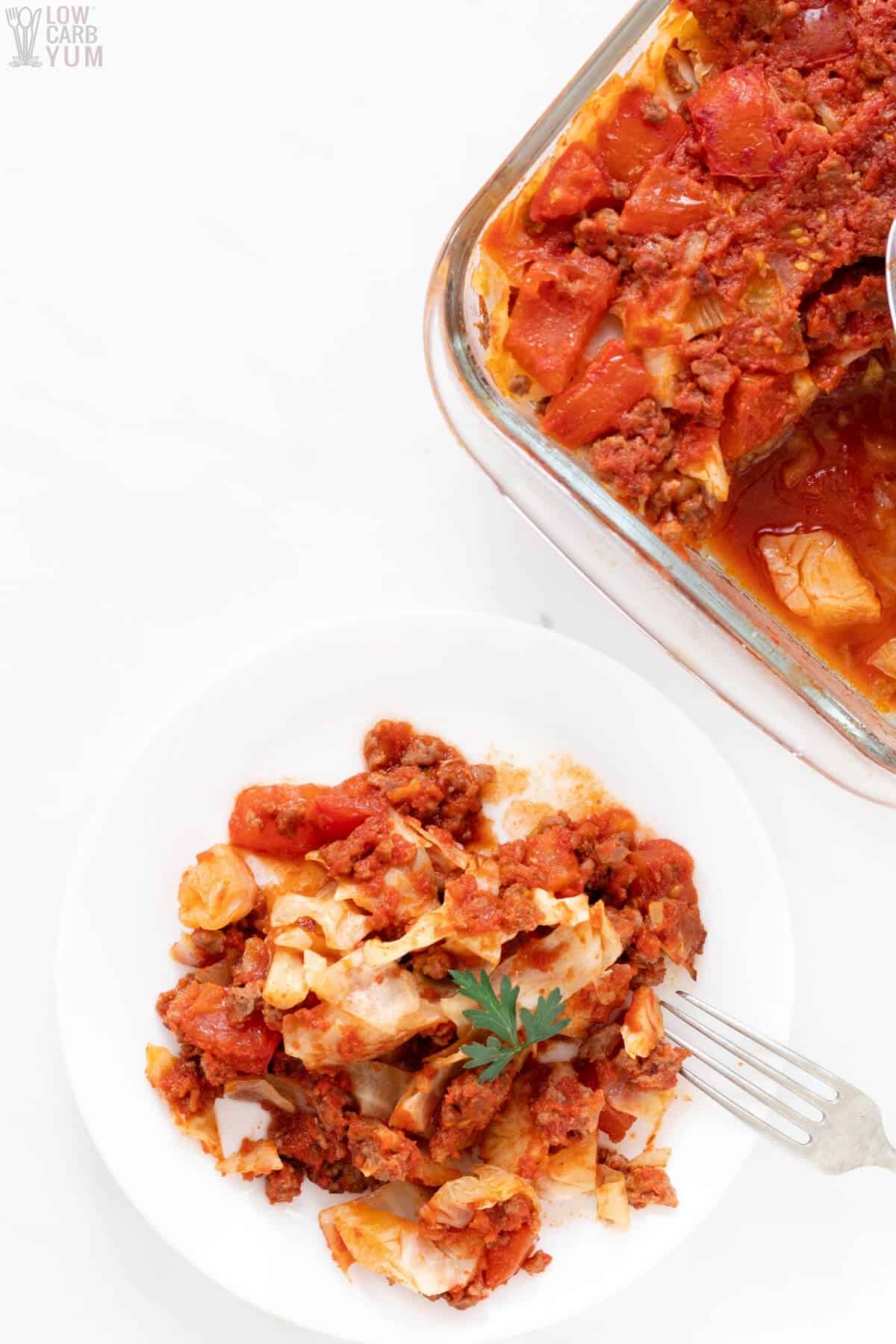 Casseroles make quick and easy dinners for any night of the week. This keto-friendly hamburger cabbage casserole is super tasty and easy to prep ahead of time.
I love using cabbage in recipes because it is such a chameleon; it provides great texture to this dish while soaking up all the delicious flavor from my spice blend.
Instant Pot spaghetti squash with meat sauce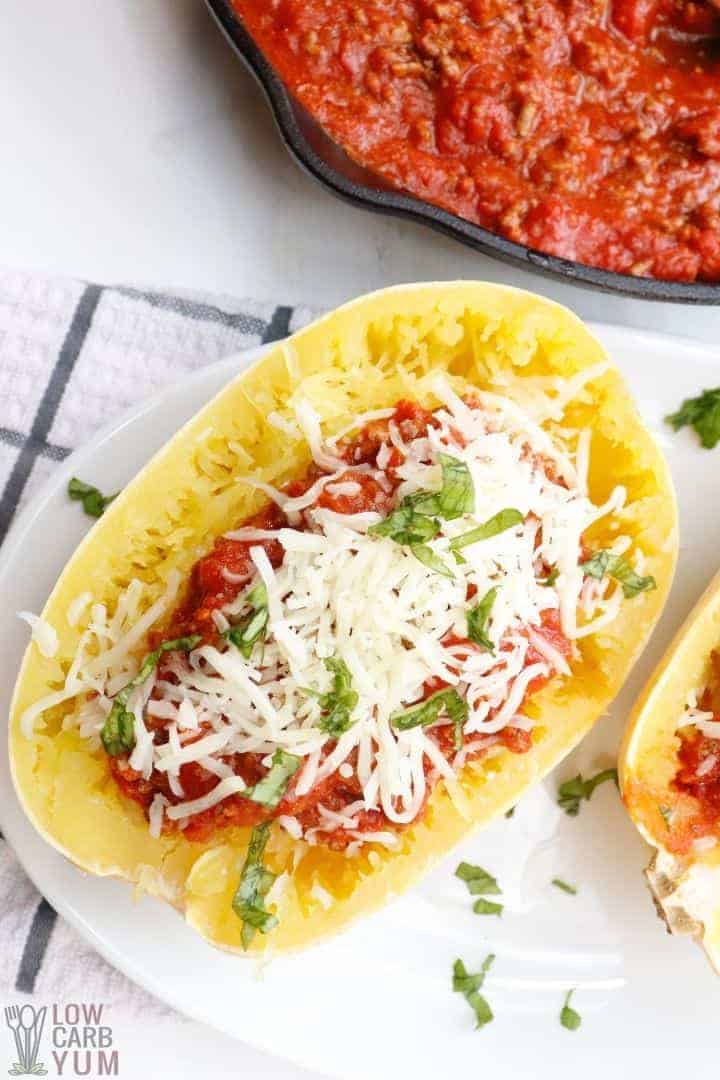 Try this savory spaghetti squash with meat sauce for a keto dinner in a pinch! This recipe uses an Instant Pot, so it comes together really quickly.
Top your spaghetti squash with browned beef and tomato sauce. The parmesan cheese is optional but recommended.
Best keto chocolate cake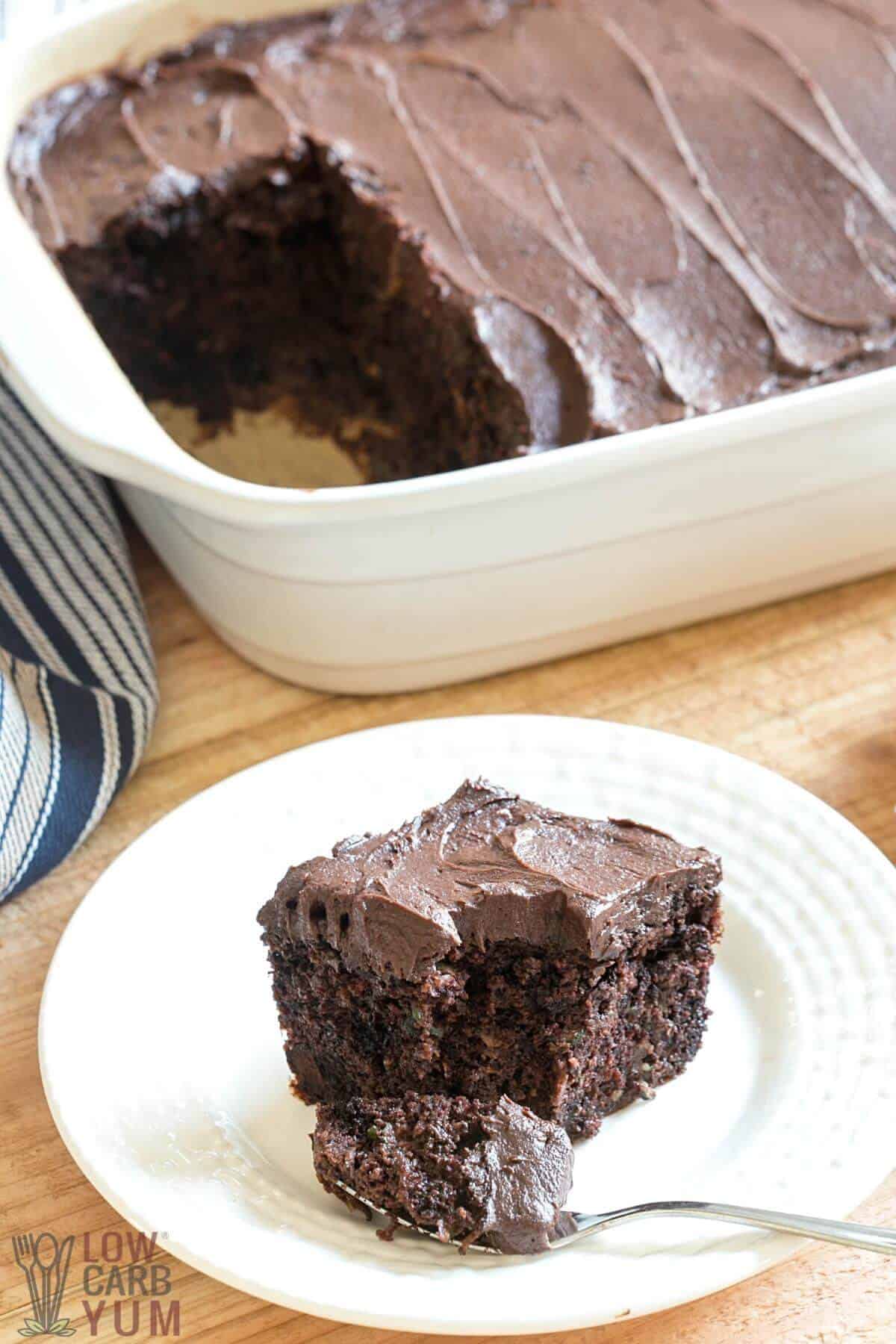 You can have your cake and eat it too with my recipe for the best keto chocolate cake. This recipe is healthy, low-carb, and tastes amazing.
I used coconut flour, unsweetened cocoa powder, and stevia concentrated powder to make this divine creation. Please try it – you won't be sorry!
FAQs
Here are some common questions I get about adding supplements to a ketogenic diet.
Do you need to supplement on a keto diet?
Not necessarily. It is always preferable to get supplements directly from your food sources. It's less expensive than buying several keto supplements and often more convenient. If you find your nutrition is lacking in some form on the ketogenic diet, you can try supplements or make alternative food choices.
When in doubt, contact a medical professional like a registered dietician to help ensure your diet is nutritionally complete.
Can keto supplements cause weight loss?
Keto supplements can lead to additional weight loss though the process is not so cut and dry. These supplements are by no means "magic pills."

For example, exogenous ketones and MCT oils are both known to cause a decrease in appetite. While these supplements don't result in direct weight loss, they could contribute to you consuming less food and, in turn, losing weight.
How much magnesium should I take on keto?
If you're experiencing magnesium deficiency symptoms on a ketogenic diet, try supplementing 200-400 mg of magnesium citrate a day. Consult your medical practitioner to help you find the correct dose.
What is the best multivitamin on a keto diet?
While there is no perfect multivitamin, this one is a great choice for keto dieters. The Nutri-Align Multivitamin is sugar-free and suitable for all low-carb diets. This keto supplement includes 20 vitamins and minerals, including vitamin C, vitamin D, magnesium, and zinc (all helpful additions to a keto diet).
Will multivitamins break ketosis?
Simple answer: nope! As long as you're choosing a multivitamin that is sugar-free, it will not disrupt ketosis. When selecting your vitamins and supplements, be aware of extra additives that could break ketosis.
Related posts