This post may contain affiliate links which won't change your price but will share some commission.
Full Disclosure
A light and airy sugar free cheesecake keto mousse recipe that's quick and easy to prepare. This low carb dessert is great with chocolate or fruit sauce.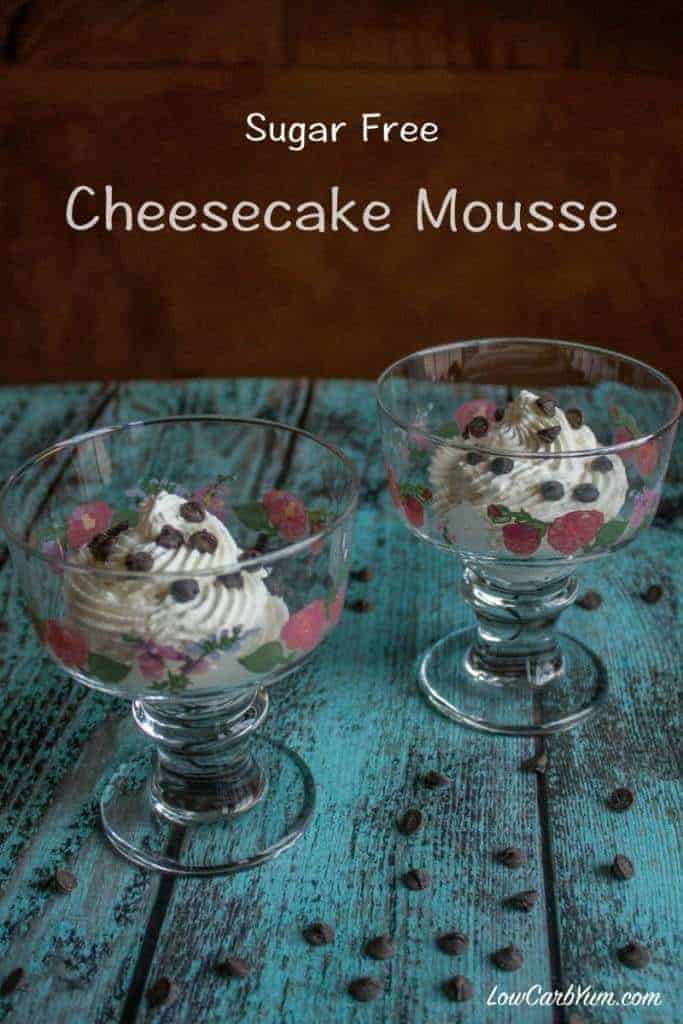 You can probably tell from my previous recipes that I like mousse. Some of the low carb mousse recipes I've posted include chocolate mousse, dark chocolate mousse, key lime mousse, raspberry mousse, and peanut butter mousse.
Now I've got another great recipe to share with all you low carb fans. Sugar free cheesecake keto mousse!
This is a super yummy dessert that whips up quickly. If you like the taste of cheesecake, you are going to love the flavor of this mousse.
I see real possibilities with this recipe. You could dress this one up with some sweet cinnamon almond meal sprinkles to mimic graham cracker crumbs and add some drizzled strawberry sauce for a strawberry cheesecake parfait.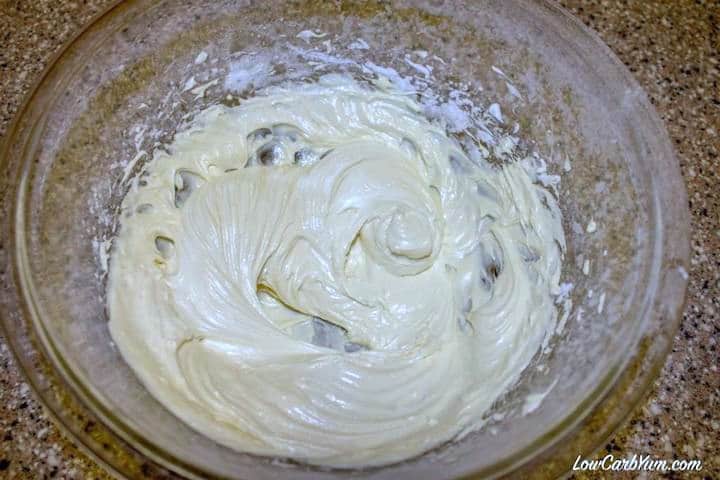 Maybe you want to put some chocolate shavings on top of the sugar free cheesecake keto mousse. Or maybe you prefer a low carb fruit sauce.
For a quick topping, I sprinkled sugar free chocolate chips on each serving. Another option would be to double the recipe and use it as a light and airy no-bake cheesecake filling. You can even blend it with another low carb mousse like this strawberry one from Low Carb Maven!
For this recipe, you start with softened cream cheese and add your favorite sweetener. I love using a mix of erythritol and stevia, but feel free to use the sweetener(s) of your choice.
You can always taste test to get the amount right. The recipe needs about 1/2 to 3/4 of sugar replacement depending on how sweet you like it.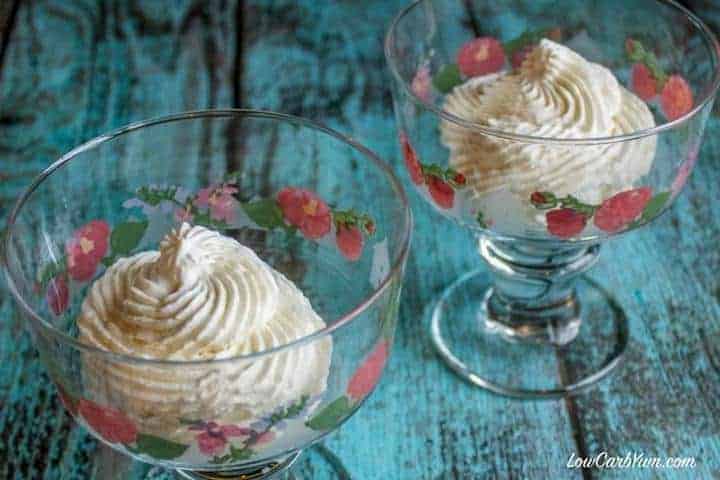 For this yummy sugar free cheesecake keto mousse, I use cream cheese right out of the refrigerator. Then, I put it in the microwave for about 30 seconds to soften it. You need to make sure you start with softened cream cheese, otherwise you could end up with lumps.
The sweetened cream cheese mix is excellent by itself before adding the whipped cream. However, to get the airy texture, you'll want to incorporated the cream by folding it in first which prevents too much deflation and then whip the entire mixture together.
You can pipe or spoon the mousse into individual serving dishes right away or do it after the mousse has chilled in the refrigerator. I prefer chilling first and then putting into serving dishes.
Using a pastry bag to pipe the mousse into single servings gives a pretty look, but scooping out with a spoon is fine as well. I enjoyed this low carb cheesecake mousse so much that I'm already planning to make it again.

Sugar Free Cheesecake Keto Mousse Recipe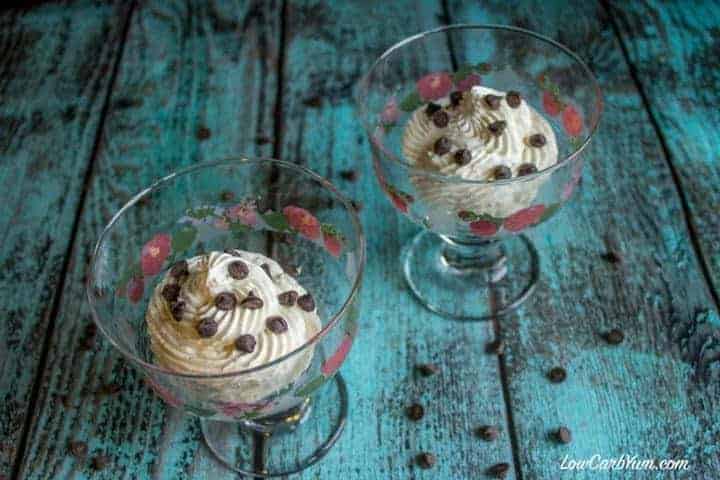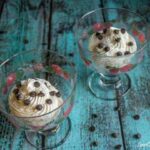 Sugar Free Cheesecake Keto Mousse
A light and airy mousse recipe that is quick and easy to prepare. This low carb keto dessert tastes great with chocolate or fruit sauce.
Instructions
Beat cream cheese until smooth.

Mix in erythritol, stevia, vanilla, and lemon extract until well combined.

In separate bowl, beat heavy cream with mixer until stiff peaks form.

Fold half of the whipped cream into cream cheese mixture until well incorporated. Fold in the other half of the whipped cream.

Beat with an electric mixer on high until light and fluffy.

Refrigerate for at least two hours. Pipe or spoon into individual serving dishes. Top with fresh fruit or sugar-free chocolate, if desired.
Recipe Notes
Double recipe to use as a pie filling.
Makes 6 servings.
Nutrition per serving: 269 calories, 27.8g fat, 127mg sodium, 16.5g carb, 14.4g erythritol, 2.1 net carbs, 3.7g protein
Nutrition Facts
Sugar Free Cheesecake Keto Mousse
Amount Per Serving
Calories 269
Calories from Fat 250
% Daily Value*
Total Fat 27.8g 43%
Sodium 127mg 5%
Total Carbohydrates 16.5g 6%
Protein 3.7g 7%
* Percent Daily Values are based on a 2000 calorie diet.
Related Posts