A chocolate coated sweet coconut candy bar that I call my low carb Almond Joy candy bar. It truly will have you jumping for joy when you take a bite.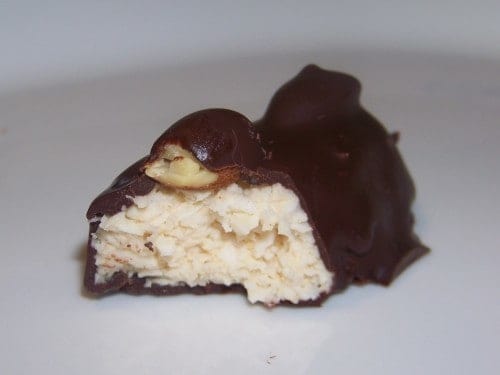 There are several recipes for a homemade low carb Almond Joy Candy Bar that I've found on the internet. A couple are low carb versions. I've had my eyes on these for quite some time. As always, I like to tweak things in the recipes I find to make it my own. I used a can of Nestle Table Cream which is pretty easy to find in a Walmart store in the Hispanic food section.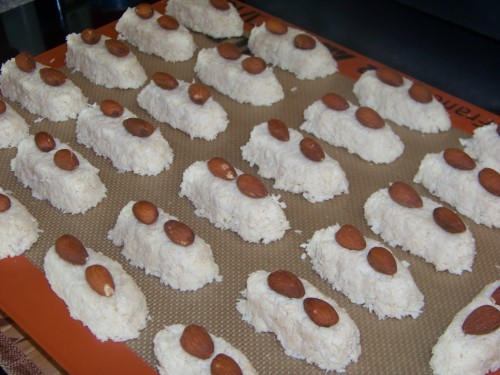 This is my version of the famous chocolate covered coconut with almond candy bar that better known as a low carb Almond Joy candy bar. Most regular sugar recipes use sweetened condensed milk and I'm sure this makes for a chewy bar. I'm not sure how this chewy coconut center can be done without real sugar. However, the unsweetened coconut does hold together well with table cream and liquid sucralose. Although I didn't try this with a erythritol and stevia blend for the coconut mixture, I'm sure the cream will still hold the coconut center together.
FREE eBook!
​LOW CARB TIPS and TRICKS
Subscribe now to receive your free copy of Low Carb Tips and Tricks which includes 20 easy to prepare recipes. Plus, get access to the weekly newsletter and special offers only for subscribers!
The hardest part to making this low carb Almond Joy candy bar recipe is staying away from these candies once they are finished and stored in the refrigerator. I had to hide them in the back so I don't see them every time I open the fridge. If you love coconut as much as I do and miss eating Almond Joy candy bars, this is a recipe that is well worth your time.
Low Carb Almond Joy Candy Bar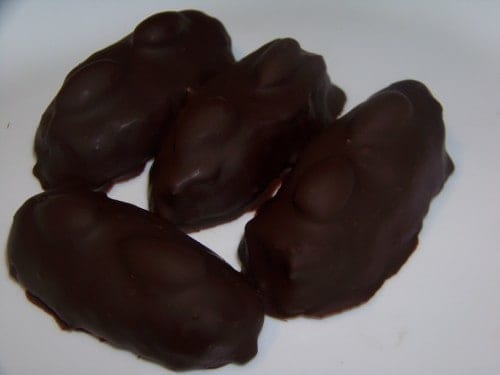 Low Carb Almond Joy Candy Bar
Author:
Lisa | Low Carb Yum
Nutrition Information
Serving size:

1 candy bar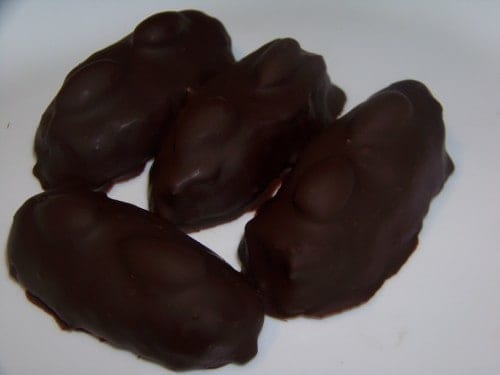 A chocolate coated sweet coconut candy bar that I call my low carb Almond Joy candy bar. It truly will have you jumping for joy when you take a bite.
Ingredients
Filling:
1 7.6 oz can Nestle table cream
1 cup equivalent sugar substitute, I used liquid sucralose
1 tablespoon vanilla extract
2 ½ cups unsweetened shredded coconut
50 unsalted roasted almonds (leave these out to make Mounds candy bars)
Chocolate Coating:
8 ounces unsweetened baking chocolate, I prefer Ghirardelli unsweetened baking chocolate
2 ounces food grade cocoa butter
6 Tablespoons Swerve
¼ teaspoon stevia extract powder
1 teaspoon vanilla extract
Instructions
In a large bowl, stir together table cream, sweetener, and vanilla extract. Mix in the unsweetened coconut.
Using about one tablespoon of coconut mixture each, form into a log and set onto a parchment paper or silicon mat lined baking sheet.
Place two almonds on each log (or omit nuts if making Mounds bars).
Put baking sheet of logs into freezer while making chocolate coating.
In a chocolate melter or double boiler, melt all chocolate coating ingredients together.
Remove the coconut logs from the freezer.
Place each coconut almond log on a fork and dip bottom into melted chocolate. Then use a spoon to drizzle chocolate over top and sides until log is completely covered in chocolate.
Wipe excess chocolate off bottom of fork on side of melter and then set on non-stick sheet to harden.
Repeat steps until each log is covered in chocolate.
Place finished sheets of candy in refrigerator.
Let sit at least an hour then remove and place in covered container. Store in refrigerator.
Notes
Makes 25 candy bars

Net carbs per bar: 2g
Related Posts