What are the best low carb keto sweeteners that are natural based? Is it stevia, monk fruit, sugar alcohol, inulin, or others? And how do they compare?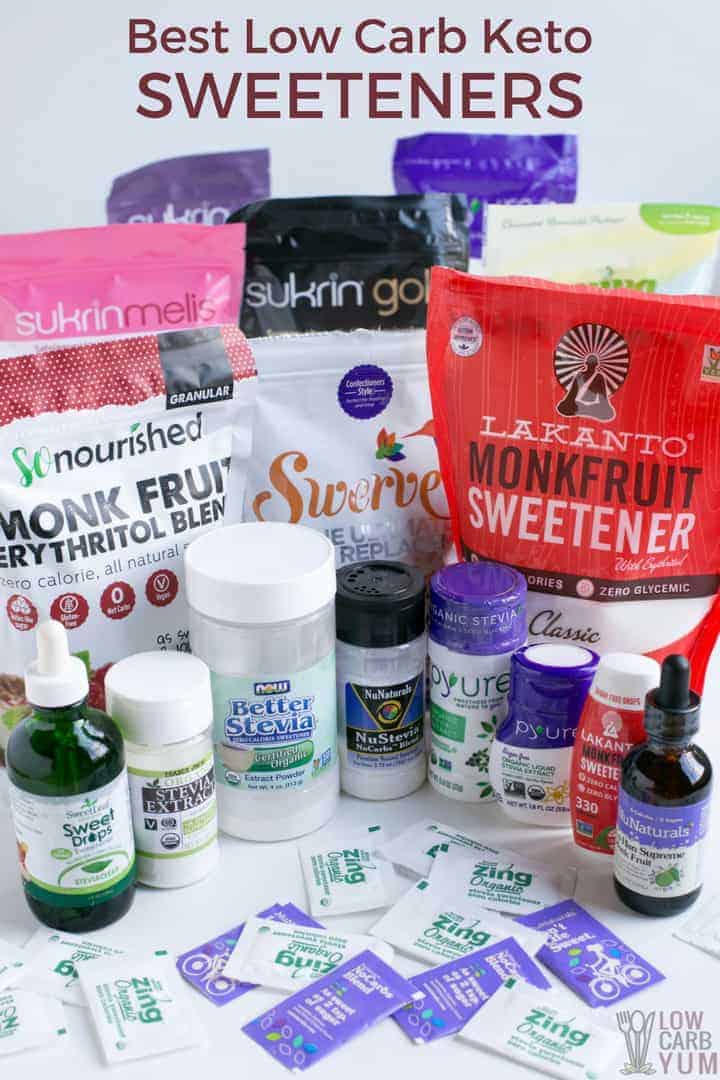 Asking what's the best low carb sweetener is like asking what's the best place to go on vacation.
Do you like nature or urban hustle and bustle? Or do you like museums or amusement parks?
And like vacations, sweeteners should be indulged in only on occasion. They shouldn't be a regular part of the diet.
When it comes to natural sweeteners, it also depends on your preferences.
Are you a strict Keto dieter? Do you obsess over purity?  Are you trying to limit calories as much as possible?
Do you have a strong sweet tooth? One that needs to be tricked into being satiated by the sweetest-tasting sweetener?
Want the best low carb sweetener that has zero calories, tastes great, and doesn't raise blood sugar? Then try monk fruit extract.
However, be ready to spend more money than you would for most other keto friendly sweeteners. Monk fruit tends to cost a bit more.
Best natural based keto sweeteners: stevia products?
Don't want to spend a lot of money but still want a zero-calorie natural keto sweetener? You're probably familiar with stevia.
Stevia comes from a plant and it's many times sweeter than regular table sugar. In fact, stevia is about 250-300 times as sweet as sucrose (white table sugar).
Stevia contains zero calories and will barely raise insulin and blood glucose levels. Therefore, stevia is one of the best low carb sweeteners for many people.
Stevia: problem #1
But here's the first problem with stevia. Many brands of it contain other sweeteners. And these added sweeteners aren't always the best keto sweeteners.
On the contrary, some of them are artificial or may cause side effects. Consider the product Stevia in the Raw. There are two ingredients in Stevia in the Raw.
Stevia plant isn't listed as the firsts sweetener. It's actually maltodextrin. Maltodextrin comes from corn starch as well as other starches.
Because corn is very cheap, food producers typically use it as a sweetener. Moreover, the corn from which maltodextrin is derived may come from GMO corn.
There are other problems that may arise from maltodextrin, including it can actually spike your insulin. In addition, it can hinder probiotics from colonizing in the gut.
However, in all fairness to Stevia in the Raw, there's less than half a gram of sugar per serving. But sugar in any amount should be avoided on keto.
However, liquid stevia drops, as opposed to stevia in bulk powder form, typically contain no additional sweeteners.
Best low carb sweetener … Stevia: problem #2
Because stevia is up to a few hundred times sweeter than sugar, some people do not like the taste of it. And it can be difficult to use in a pure form.
In addition, a common criticism of stevia is it possesses a metallic aftertaste. For those who detest stevia's taste, monk fruit better satisfies the palette.
But some liquid stevia varieties are closer on the sweetness scale to sugar. Stevia glycerite is one example.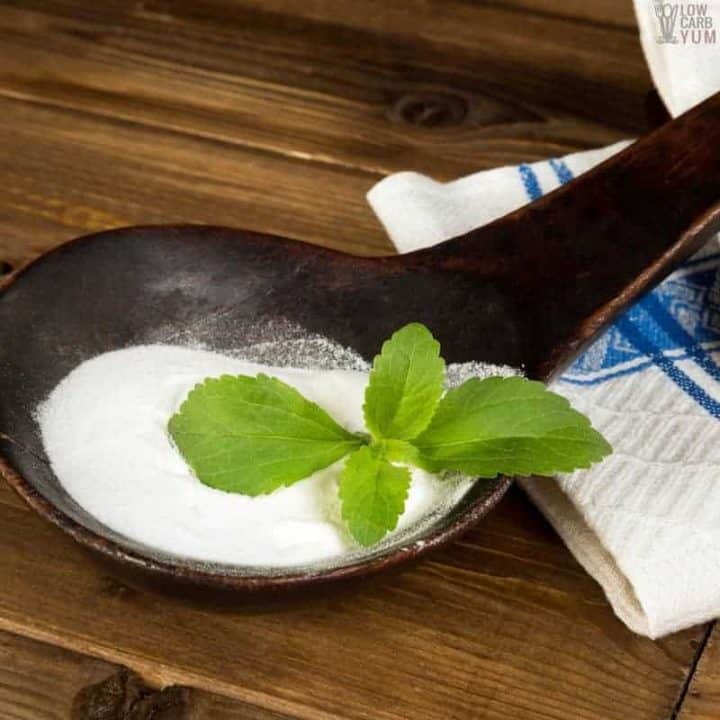 Monk Fruit: Worth the cost?
If you don't like the taste of stevia or can't tolerate it due to a sensitivity or allergy, monk fruit is an excellent alternative.
The biggest downside to monk fruit as an alternative to other keto sweeteners is that it generally costs more.
Like stevia, monk fruit has zero carbs and zero calories. This makes it one of the best low carb sweeteners to use.
Monk fruit extracts are more than 100 times sweetener than white sugar. Some products have been shown to be as high as 250-300 times sweeter than sugar.
To make it easier to use, monk fruit extract is often blended with erythritol. Products such as Lakanto and So Nourished are monk fruit and erythritol blends.
However, if controlling blood sugar and sweet cravings is important to you, it's best to stick with pure monk fruit without other added low carb sweeteners.
What are the best monk fruit keto friendly sweeteners? We like the NuNaturals liquid and powdered monk fruit products.
The biggest benefit to monk fruit is that it's very low on the glycemic index. And most people prefer it over stevia as it has a cleaner taste.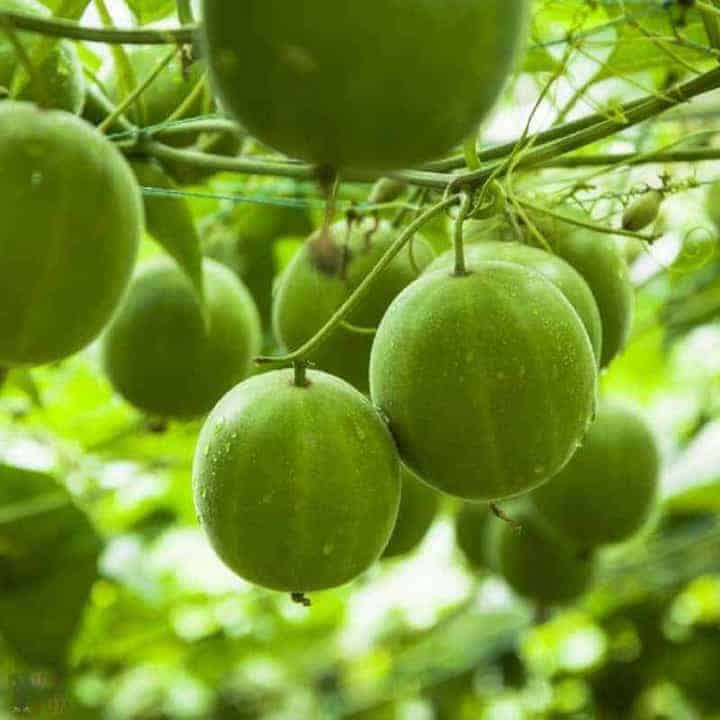 Does monk fruit impact insulin?
There seems to be conflicting results on whether monk fruit extract can spike insulin. Since there is no sugar or carbs, the extract doesn't raise blood sugar.
However, there is a study where monk fruit did impact insulin. In this study it was shown that mogrosides, the naturally sweet compounds in monk fruit, increased insulin secretion.
This increased insulin response may actually be beneficial, though. Stimulating insulin secretion benefits those with insulin resistance because it helps them to  respond better to glucose.
What about allulose?
Allulose is the talk of the town right now in keto circles. Why? It's a natural sugar that doesn't raise blood sugar making it one of the best keto sweeteners.
In fact, if you hate homemade low carb ice cream because it freezes hard, you must give this low carb sweetener a try.
Since allulose behaves more like sugar it gives homemade keto ice cream a softer texture. And, using it in baked goods also results in a softer texture.
Like monk fruit, allulose scores a zero on the glycemic index. This is because it isn't metabolized like other sugars
It's known as a rare sugar because it's found in very few foods. There are trace amounts of it in figs, raisins, dragon fruit and maple syrup.
The calories in one gram of allulose are far less than regular table sugar. White sugar contains 4 calories per gram while allulose has only 1/3 of a calorie per gram.
There may even be benefits to consuming this rare sugar. One study shows that it can improve insulin resistance and lower blood sugar levels.
However, because it's still fairly new, allulose tends to be more expensive than other keto sweeteners. So, you may want to hold off until the price comes down.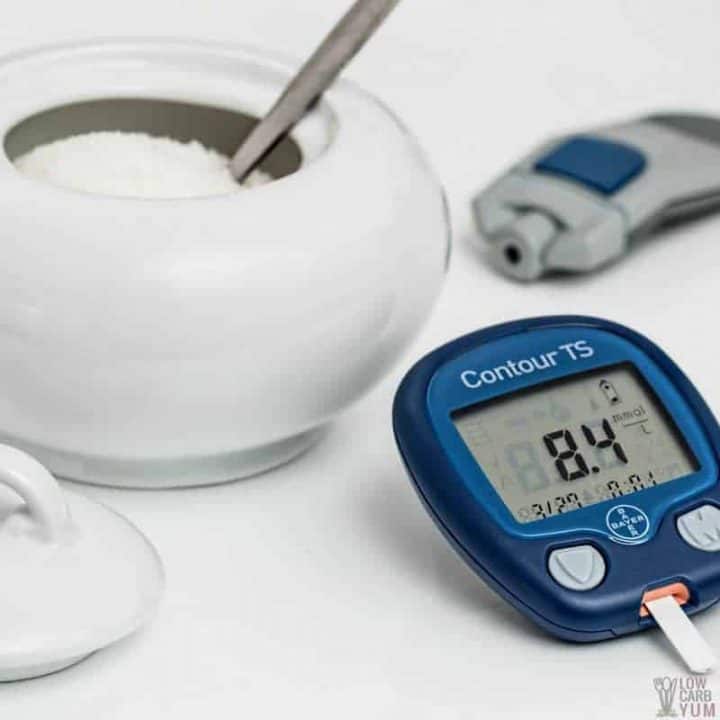 Another best sweetener for keto: inulin
Say you're an accomplished baker. You can make your own brownies like these paleo brownies using stevia instead of pure maple syrup.
But most stevia products contain no nutritional benefit. Other natural low carb sweeteners do.
And there are keto friendly options to use instead of raw honey and maple syrup. Inulin is one of them. It's typically not used to sweeten tea and coffee, though.
However, inulin is often added with other keto sweeteners to bulk up the texture of various snack foods like chocolate bars. Inulin is a prebiotic.
Prebiotics are the fiber that the probiotics in your gut snack on. Consider it food for your good bacteria.
Some healthy foods naturally contain inulin. Bananas and asparagus are a couple examples.
Again, if you want sugar packet substitutes for on the go use, inulin isn't it.
However, if you're making your own healthy treats, inulin is good for blood-sugar control and possibly even weight management.
Fiber helps you feel full. Thus, if you're using inulin (like chicory root) in your recipes, it might help with portion control.
Sugar alcohols: good or bad low carb sweeteners?
Sugar alcohols are all natural low carb sweeteners. But that doesn't mean they're the best low carb sweeteners for everybody.
Sugar alcohols are not well tolerated by some people with food sensitivities to certain sugars.
You may have seen some of the following sugar alcohols on ingredient labels: erythritol, sorbitol, xylitol, maltitol, lactitol, mannitol.
Zero-sugar natural sodas are typically sweetened with erythritol added to stevia and or monk fruit. Sugar-free gums sometimes contain sorbitol.
Reese's Sugar Free Peanut Butter mini cups contain 27 grams of carbs. But 20 grams of those carbs come from the sugar alcohol maltitol which typically can have an impact on blood sugar.
Sugar alcohols don't count towards the total net carbs per serving. So instead of there being 27 grams of net carbs in the Reese's sugar free mini cups, there's only 7 net grams of carbs.
However, for all sugar alcohols with the exception of erythritol, at least half of those carbs should be counted as there is some impact. Therefore, it's much better to make your own keto peanut butter cups!
Carbs in erythritol
Because erythritol has become a popular low carb sweetener, let's take a closer look at it.
Erythritol is way less sweeter than stevia. In fact, it's even less sweet than regular table sugar.
However, it doesn't raise your insulin or blood sugar levels. And, it's got zero calories.
The main problem with erythritol is, like maltodextrin, it often comes from GMO corn. One popular brand name low carb sweetener with erythritol is Truvia.
Truvia might be better for your blood sugar than sweetening your coffee with several spoonfuls of sugar.
However, according to DrAxe.com, Truvia with erythritol may have insecticidal properties.
In light of this, if insects don't want to have anything to do with erythritol, perhaps it's not good for humans to ingest it?
Moreover, another reason to avoid erythritol is your digestive system can't break it down. Certain natural foods contain erythritol.
However, most food products you'll find sweetened with it may contain the processed form, with GMOs.
Any food that's not natural has the potential to trigger adverse effects by the immune system.
Your body may recognize it as a harmful substance. When this happens, your body triggers inflammation.
Chronic inflammation leads to disease. Having a zero-calorie sweetener isn't worth getting sick.
But, erythritol shouldn't be an issue as long as it's used in moderation and you stick with non-GMO.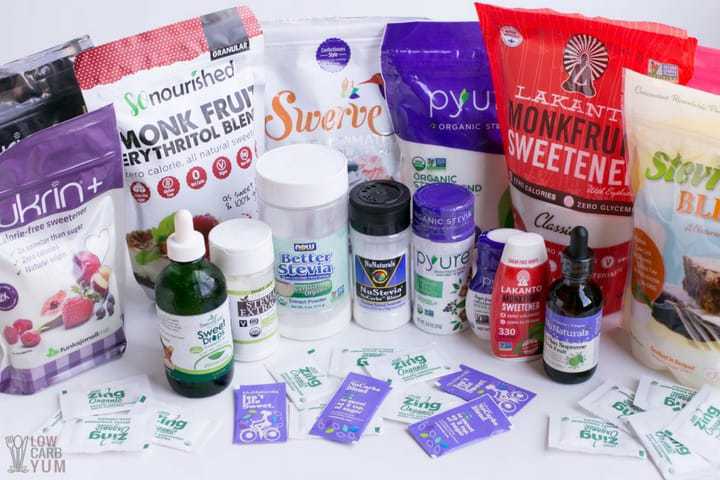 Best stevia for keto
If you're on a ketogenic diet and need to stay in a state of ketosis, stevia can help. But as mentioned above, not all stevia brands are equal.
Liquid stevia drops instead of granular stevia with added erythritol will be your best bet. The brand SweetLeaf Sweet Drops can help you stay in ketosis.
Stevia in general contains about a handful of grams of carbs. But that's not per serving (teaspoon). That's per 100 grams, which is about 20 teaspoons.
As long as you use a pure stevia extract with no maltodextrin or dextrose (another sugar from corn), stevia is keto-friendly.
Is Truvia Keto Friendly?
For a couple reasons, Truvia is not the best keto sweetener. One little packet contains three grams of carbs.
If the rest of your total daily carb intake is still low and you remain in ketosis, Truvia may technically be Keto friendly.
However, Truvia is not a natural sweetener. It was created by the Coca Cola company (along with food giant, Cargill).
Though it mostly contains the sugar alcohol, erythritol, it also contains undisclosed ingredients when it lists "natural flavors". As mentioned above, your body can't fully digest erythritol.
So if you want a natural low carb sweetener, something with GMO corn probably won't meet your needs.
But stevia, especially pure liquid extract, still reigns over all other low carb sweeteners. You might just have to get used to its taste, though.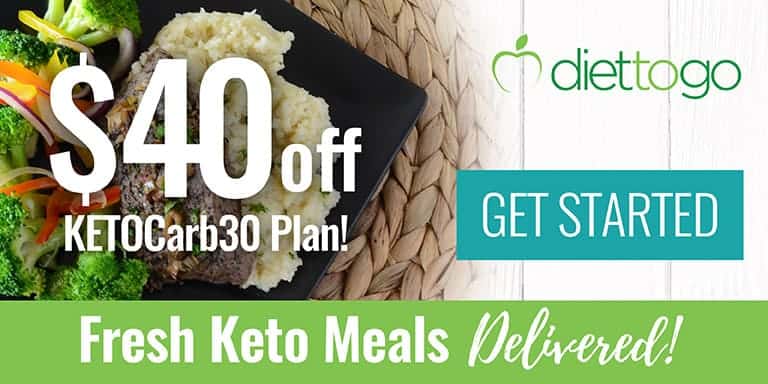 And, if you don't like the taste of stevia extract, try blending it with monk fruit extract. We find that to be the perfect low carb sweetener blend.