You'll find them at farmer's markets, but are peaches keto? Keep reading to learn how healthy they are and whether eating peaches is a good idea when you follow a low-carb diet.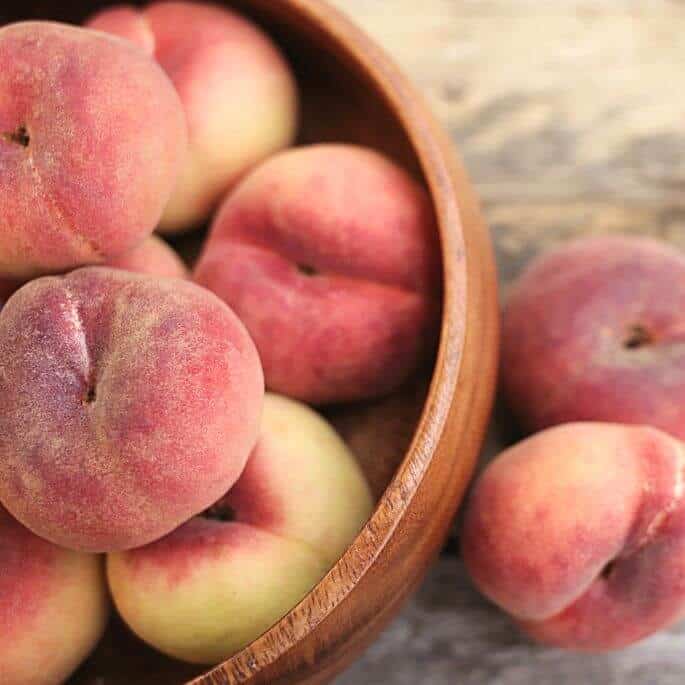 When you are on the keto diet, one of the most essential things you pay attention to is the number of net carbs you eat. So let's see where fresh juicy peaches fall with this in mind.
When it comes to low-carb fruits, you have to be careful with this one. I made a peach cobbler that has 6 grams net carbs in each serving - and that's pretty high for a low-carb dessert.
Peaches are okay on a low-carb diet in moderation. When it comes to making keto recipes, the fewer peaches you use, the better - and lower the carbs will be.
Generally speaking, peaches have too many carbs to be enjoyed without counting your net carbs.
On low-carb diets, the net carb count is more important than the total carb count. To figure this out, you subtract the number of grams of dietary fiber from the total carbs. Many keto dieters only pay attention to net carbs.
So, are peaches keto-friendly? In this guide, I'll explain how many net carbs are in peaches, the different types of peaches, and the different ways you can prepare them.
Note: For more information about keto-friendly fruits, check out this keto food list. It's perfect for anyone that is starting the ketogenic diet.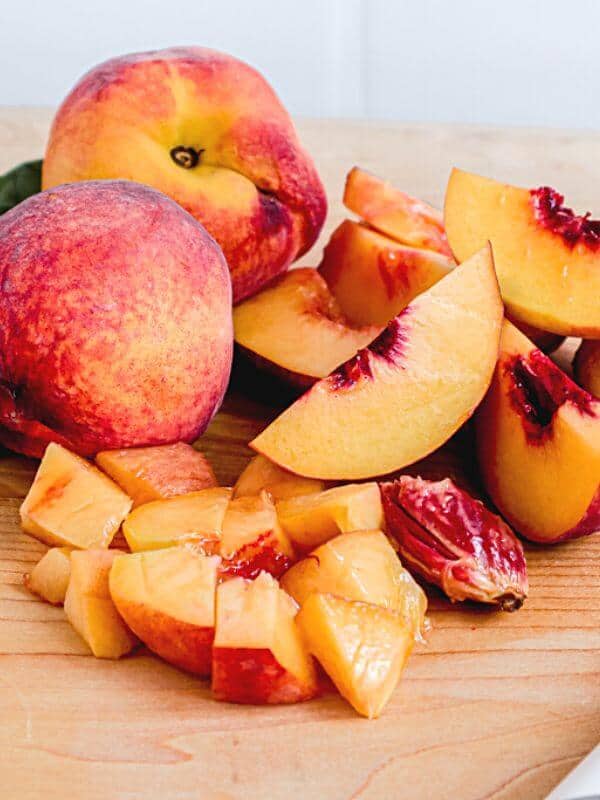 Types of peaches
There are more than 2,000 varieties of fresh peaches out there. Most of them have very similar nutrition profiles but unique flavors and textures.
I'm not going to go into detail about all of them. Instead, I'll explain the three most common types - clingstone, freestone, and semi-freestone. All three types have the same fruity peach flavor.
Clingstone
Clingstone peaches are the kinds that have fruit that clings tightly to the seed (or stone) in the middle of the peach.
These varieties have a soft flesh and are some of the juiciest peaches you will ever find.
Freestone
Freestone peaches have a pit that falls out really easily. They tend to be firmer, and the tastes are completely different, depending on which variety you are eating.
Semi-Freestone
As the name suggests, these peaches are a combination of the two mentioned above. The flesh still clings to the seed, but it is easier to remove as the peach ripens.
Most peaches at the grocery store are freestone or semi-freestone.
Canned peaches
Most types of canned peaches are clingstone. They are easier to slice and use for peach pie or peach cobbler.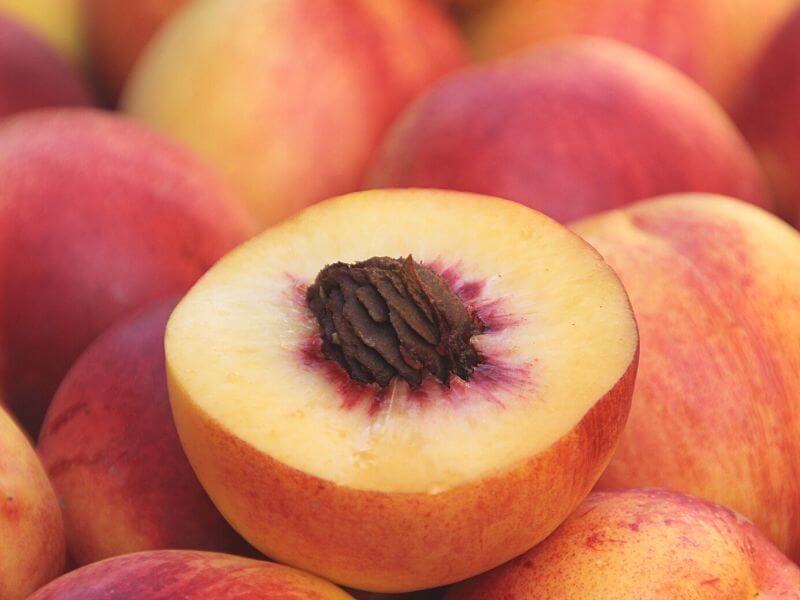 Are peaches keto?
Let's look at the net carbohydrates in peaches to figure it out. You find this by subtracting dietary fiber from total carbohydrates.
In just one fresh peach, there are 12 grams net carbs and 2 grams of fiber. This tells me that you can enjoy a small number of peaches on the keto diet.
Moderate amounts of peaches are a good choice for low-carb dieters. Not only this, but they are good for you too.
You'll have to decide whether you indulge in peaches or omit them. Since they have quite a bit of carbs, I've only used them in one recipe (a keto peach cobbler), but it's a safe option for you if you count your carbs.
The basic nutrition profile of all types of peaches might vary a bit but are roughly the same.
In one raw medium peach (147 grams), there are:
14

grams total carbohydrates

2 grams fiber
50 calories
1 gram protein
17% daily value of vitamin C
Health benefits
You can't deny the health benefits of peaches when it comes to different types of keto foods!
They are high in soluble fiber. With 2 grams of fiber, it helps keep your gut healthy and aids in digestion.
Peaches are nutrient-dense. Vitamin C, copper, and manganese all work together to boost and strengthen your immune system.
High in antioxidants. The antioxidants protect your cells from damage-causing free radicals.
Ways to prepare peaches
There aren't many keto-friendly peach recipes due to their seemingly high carb count compared to other types of fruits.
However, here are some of my favorite ways to eat peaches in moderation!
Raw
All types of peaches are safe to eat raw. When you eat them raw, you are ingesting more soluble fiber, which lowers the overall carb count.
Toasted or roasted
You can also toast or roast peaches. This caramelizes the sugars in the peaches, which makes the taste even sweeter.
Frozen peaches
You can add a few pieces of frozen peaches to your favorite protein smoothie for some natural sweetness and flavoring.
Peach extract
The best way to get the same fruity flavor without the carbs is to use peach extract and lemon juice in your smoothies. It is carb-free and adds lots of flavor and taste.
FAQs
Here are some questions people often ask about eating peaches on the keto diet. If you don't see your question in this list, please leave it in the comments.
Are peaches keto-friendly?
Generally speaking, peaches are not a good idea to eat if you are not tracking carbs. You can eat a few of them without worrying, but you have to track how much you are consuming.
Are canned peaches keto-friendly?
No, sliced canned peaches are not keto-friendly, especially if they are packed in syrup. I would not eat canned peaches on a low-carb keto diet unless I rinsed them off really well first.
Is it possible to make a keto peach cobbler?
Yes, I made a delicious peach cobbler with almond flour and melted butter. It's delicious - but definitely higher in carbs.
Can I eat dried peaches on a ketogenic diet?
Dried peaches are not low-carb. A few pieces might not kick you out of ketosis, but they have way too much sugar and too many carbs to be a good idea.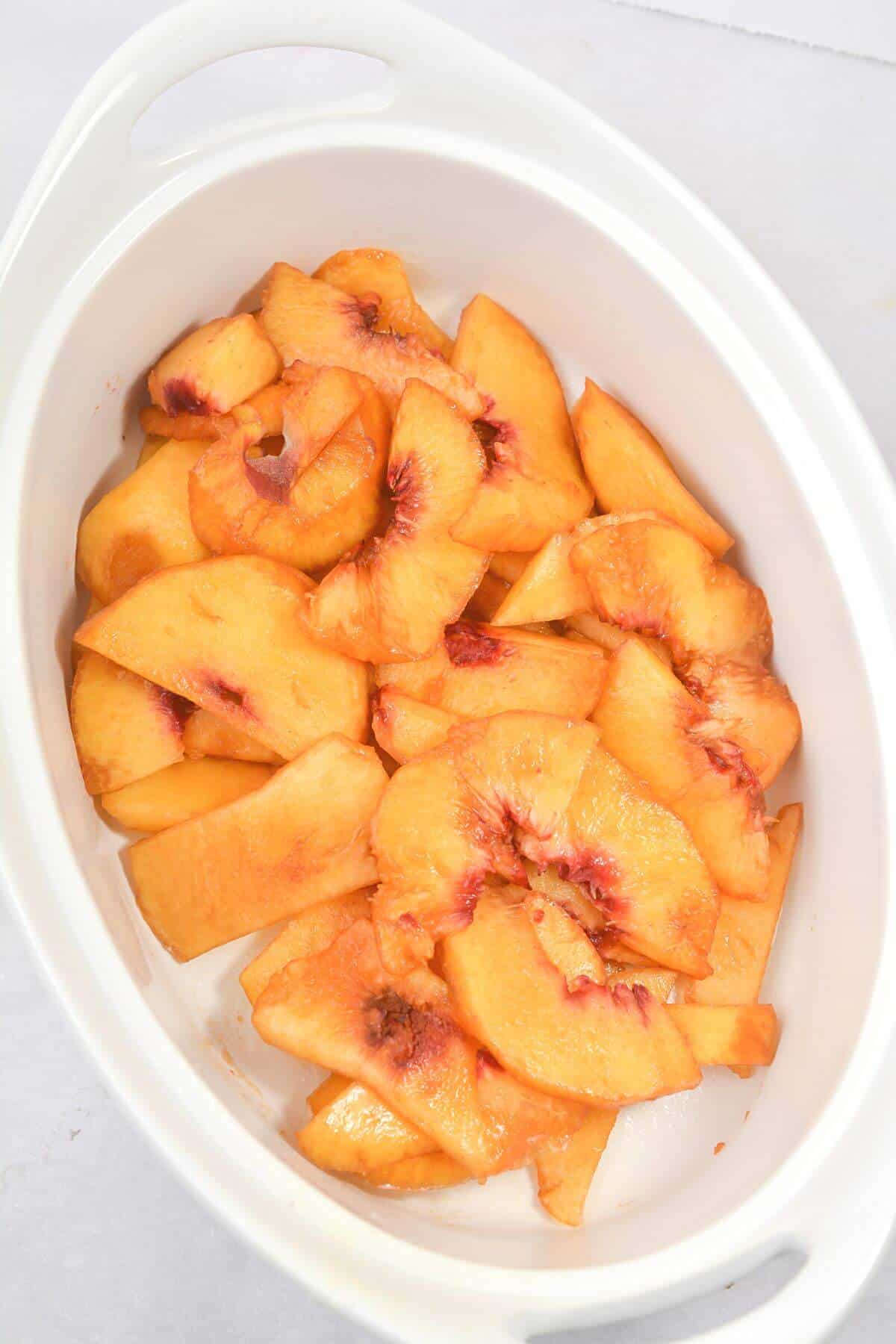 Recipes
Now that you know how peaches fit into a keto diet, here are some keto recipes that use other types of fruit. They all fit easily into a low-carb lifestyle.
Follow us on FACEBOOK, PINTEREST, and INSTAGRAM for even more tasty keto-friendly recipes!