A moist low carb blueberry cream cheese coffee cake. The gluten free cake layer is topped with cream cheese, blueberry, and cinnamon streusel layers.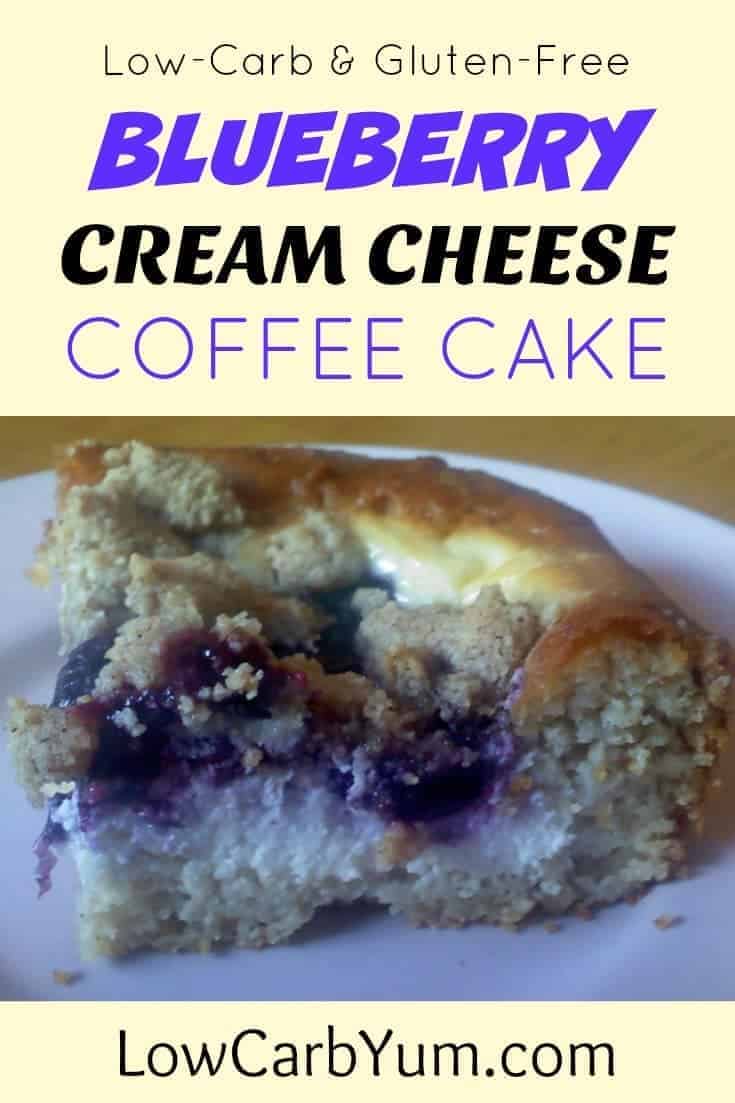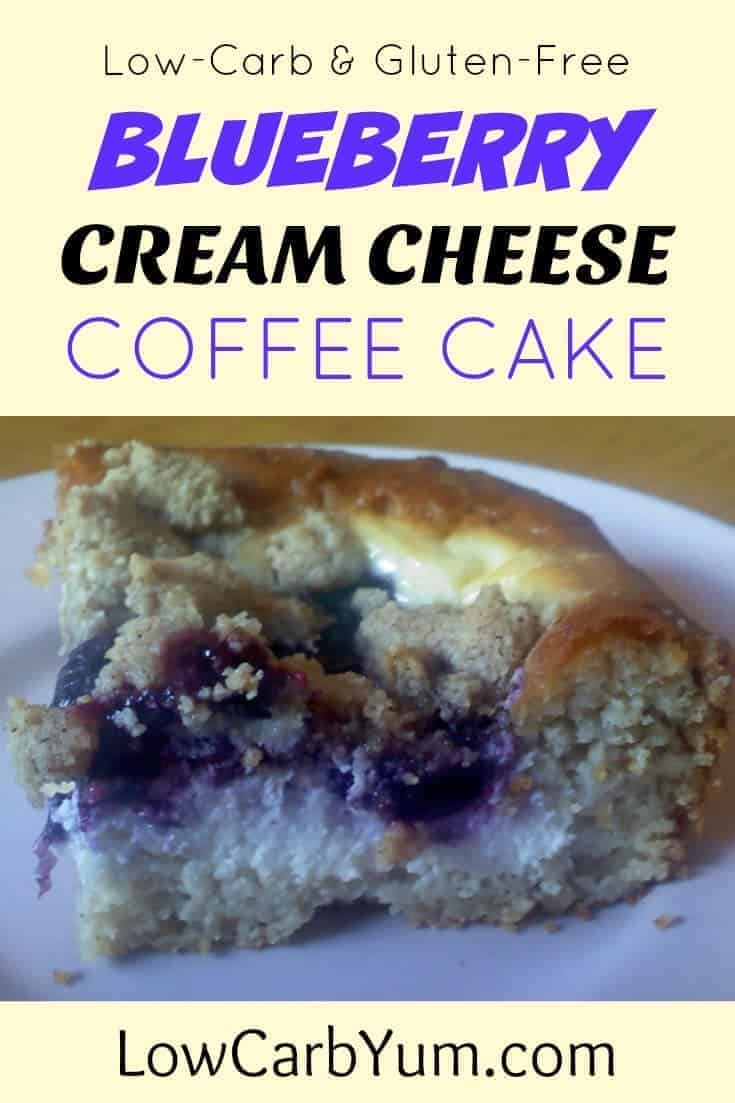 We just picked over ten pounds of blueberries so I was looking for a yummy way to bake some of them up. I found a recipe for low carb blueberry cream cheese coffee cake that got great reviews on the Low Carb Diet site at About.com so I decided to give it a try.
It's a pretty easy cake to prepare. But, I will likely modify it next time I prepare it. I thought it could use a little more cream cheese and blueberries.
The filling in this blueberry cream cheese coffee cake does taste similar to a cheese danish. However, it would be much better to have more of this cheesy goodness. I'll use a whole 8 ounces of cream cheese when I make it again.
FREE eBook!
​LOW CARB TIPS and TRICKS
Subscribe now to receive your free copy of Low Carb Tips and Tricks which includes 20 easy to prepare recipes. Plus, get access to the weekly newsletter and special offers only for subscribers!
The gluten free cake layer was very moist. At first, I thought it could have been a little sweeter, but I wouldn't want to add any more sweetener as there is a good amount in the entire recipe. And, if you've been on a low carb diet for a while, you may actually want to reduce the sweetness.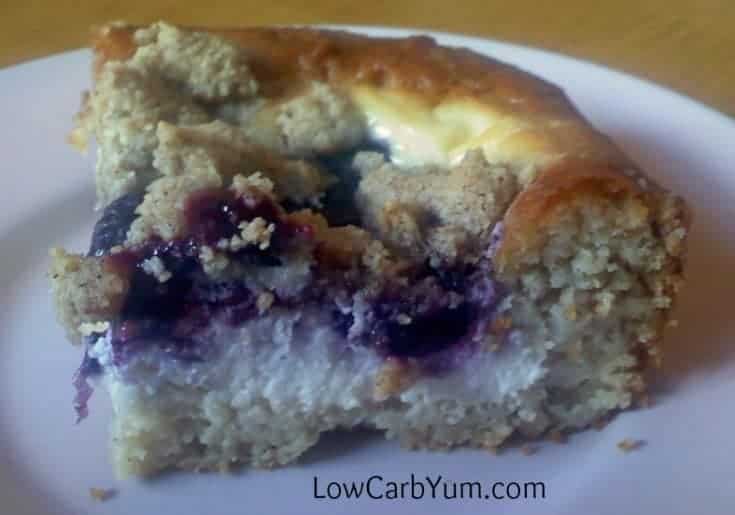 I think it would be better to use natural sweeteners like stevia and erythritol, though. I've decided to stop using artificial sweeteners and use only natural based ones.
Stevia is my favorite sweetener, but it can have an aftertaste if used alone. That's why I like a blend that contains erythritol, a non-impacting sugar alcohol.
If you decide to give this low carb gluten-free blueberry cream cheese coffee cake a try, I'd love to know what you think. And, also any modifications that you made.
Low Carb Gluten-Free Blueberry Cream Cheese Coffee Cake Recipe
Blueberry Coffee Cake – Gluten Free
Author:
Lisa | Low Carb Yum
A moist blueberry coffee that has a luscious cream cheese filling. Almond flour is used to make this delicious low carb and gluten free cake.
Ingredients
Topping
1 cup almond flour
1 teaspoon cinnamon
1/2 cup Splenda or equivalent liquid sucralose
1/8 tsp Salt
4 tablespoons butter, chilled and cut into small pieces
Cream Cheese Layer
Cake Layer
2 cups almond flour
1 t. baking powder
1/2 teaspoon baking soda
1/4 teaspoon cinnamon
1/2 teaspoon salt
3/4 cup Splenda or equivalent liquid sucralose
1/2 cup sour cream or Greek yogurt
2 Tablespoons oil
2 teaspoons sugar-free vanilla extract or 1 teaspoon each vanilla and almond extracts
2 eggs
1 cup blueberries
Instructions
Preheat oven to 350°. Butter or oil 9X9 inch pan.
Topping:
Mix 1 cup of the almond meal, 1 teaspoon cinnamon, ½ cup sweetener, a pinch of salt and the 4 Tablespoons butter until crumbly. Set aside.
Cream Cheese Layer:
Mix cream cheese, 1 egg, and ¼ cup sweetener. Set aside.
Cake layer:
Mix 2 cups of almond flour, baking powder, baking soda, ¼ teaspoon cinnamon, ½ teaspoon salt, and ¾ cup sweetener (if using a powder). Set dry ingredients aside. Blend the sour cream (or yogurt), oil, extracts, liquid sweetener (if using), and 2 eggs and mix well. Add the mixed dry ingredients and blend well.
Assembly:
Spread the cake layer in the pan, and spread the cream cheese on top (if it's the larger amount of cream cheese, you won't be able to spread it evenly, but that's OK). Then sprinkle the blueberries on the cream cheese and the streusel on the top of that.
Bake for 30-40 minutes or until toothpick not inserted into center comes out clean. Cool and slice.
Notes
16 servings

Net carbs per serving: 3 g
Related Posts