A delicious low carb chicken enchilada casserole made with an easy homemade sauce. It's a delicious keto casserole that the whole family will love.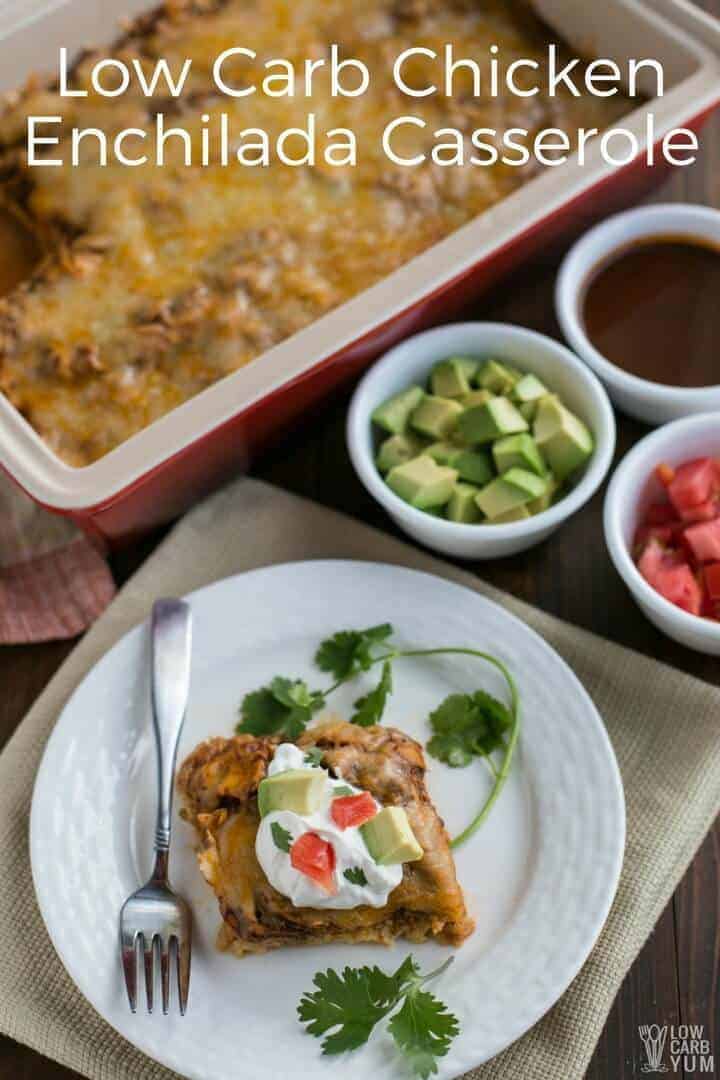 Article Index
I just love making low carb Mexican recipes. They are so easy to throw together for simple weeknight dinners. That's probably why my Mexican Zucchini Beef recipe has become so popular.
Blogging in the low carb niche has had it's ups and downs. Although I started this food blog in 2010, I took most of 2013 and 2014 off after my youngest daughter was born.
To be honest, I didn't think I would ever get back to the blog. But, when money was tight after my son started college in 2014, I decided to see if the website could earn some much needed college money.
It's unbelievable how much Low Carb Yum has grown over the last three years. And, I couldn't have done it without the support of other bloggers.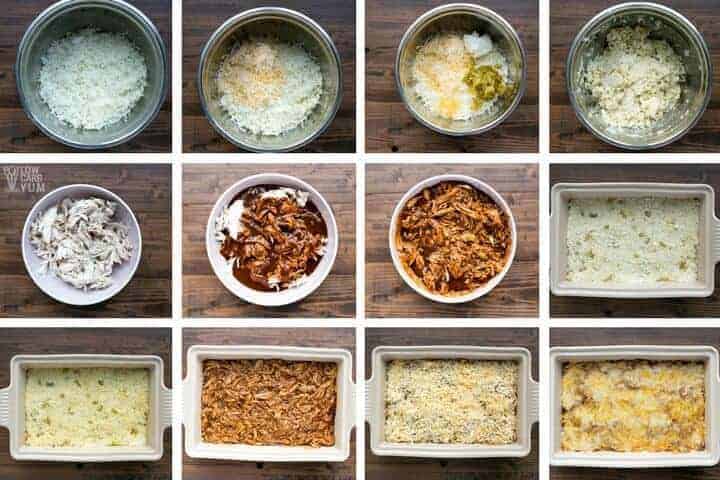 One of the nicest bloggers I've met is Kim over at Low Carb Maven. And, this low carb Chicken Enchilada Casserole is a recipe that I made using Kim's homemade enchilada sauce.
Earlier in the year, I had a low point in my blogging career that almost caused me to walk away. However, my true blogger friends provided the much needed support to get me through that rough time.
Had it not been for other bloggers like Kim, I may have sold this blog to move on to other things. There is a darker side to blogging that's rarely discussed. But with all the competitiveness out there, it's inevitable.
Back when I started this blog in 2010, there weren't that many low carb bloggers. I was only one of a handful that I knew of. But now, there seems to be a new keto blog showing up weekly.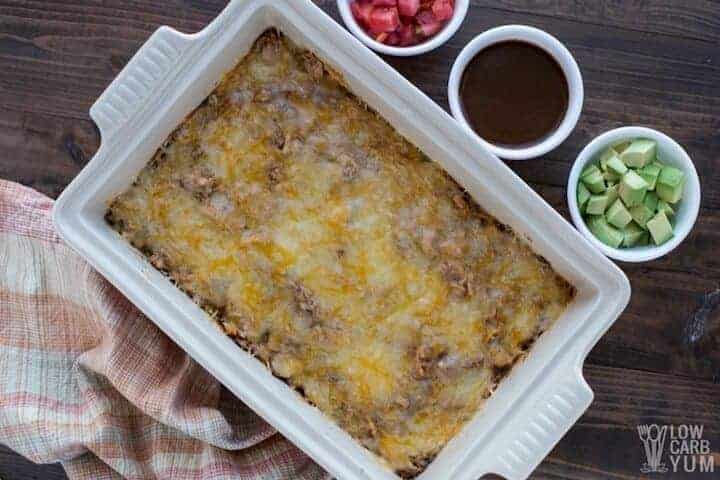 The low carb keto diet has become super popular over the last year. And, it looks like even more people will jump on board in 2018. That's why recipes like my low carb chicken enchilada casserole are becoming the norm.
If you read the latest Atkins book, "Atkins: Eat Right, Not Less," it states that about 150 million people have moved to a low carb lifestyle. That's a lot of people who have discovered the health benefits of cutting carbs.
And, it's easier than ever to stay on a low carb eating plan these days. There's so many lower carb options available like low carb meal delivery along with keto subscription boxes.
Although there's a lot more low carb friendly convenience foods available, you do need to be careful to read the labels. You don't want to over-indulge in any overly processed foods.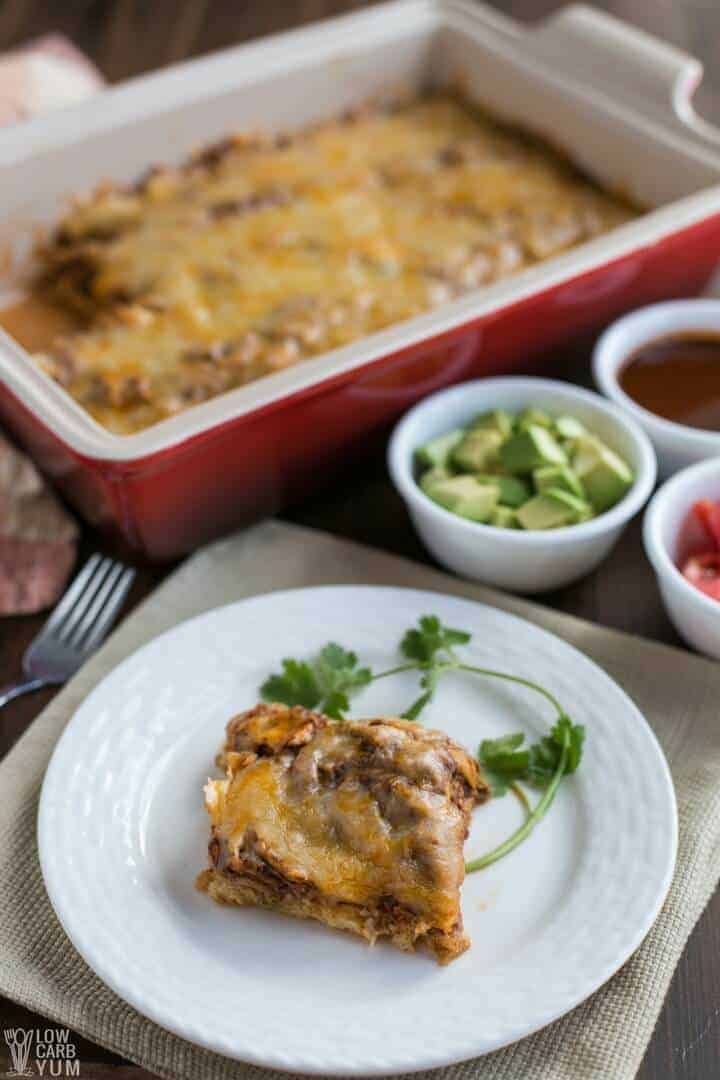 There's really no excuse not to make your own low carb meals. This low carb chicken enchilada casserole is just one of many simple dinners that are easy to prepare.
Just take a look at all the main dish recipes I've posted over the last seven years on this site. There's certainly a lot of variety to suit any preference or taste.
And, I'll be focusing more on paleo friendly recipes this year. Although I love my cheese and diary, I really need to cut back. So, I'm planning to focus more on eating mainly meats and vegetables in 2018.
Keto Low Carb Chicken Enchilada Casserole Recipe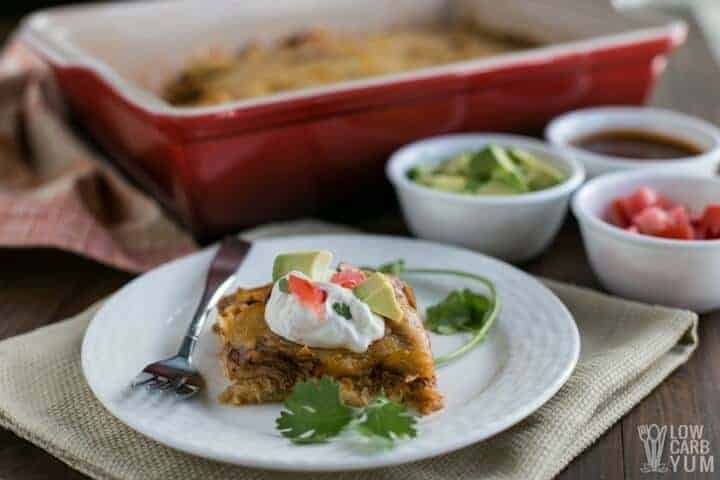 It's a great time to set goals as we head into a new year. My main goal is to focus more on real foods that fit within the autoimmune protocol.
So, these cheesy low carb casseroles may become a thing of the past. However, it's the holiday season right now which is a perfect excuse for not being so restrictive with an eating plan.
I certainly enjoyed this low carb chicken enchilada chicken casserole. And, the homemade enchilada sauce by Kim at Low Carb Maven is definitely a keeper.
Follow us on FACEBOOK, PINTEREST, and INSTAGRAM for even more tasty keto-friendly recipes!
Ready to check out the recipe? It's posted over at Low Carb Maven and can be found by clicking on the link below:
GET THE RECIPE HERE >>> Low Carb Mexican Chicken Casserole at Low Carb Maven