Using peanut flour as a substitute for all-purpose flour is a great allergy-friendly and low-carb option. Not only is it low in carbs and gluten-free, but it is also rich in protein!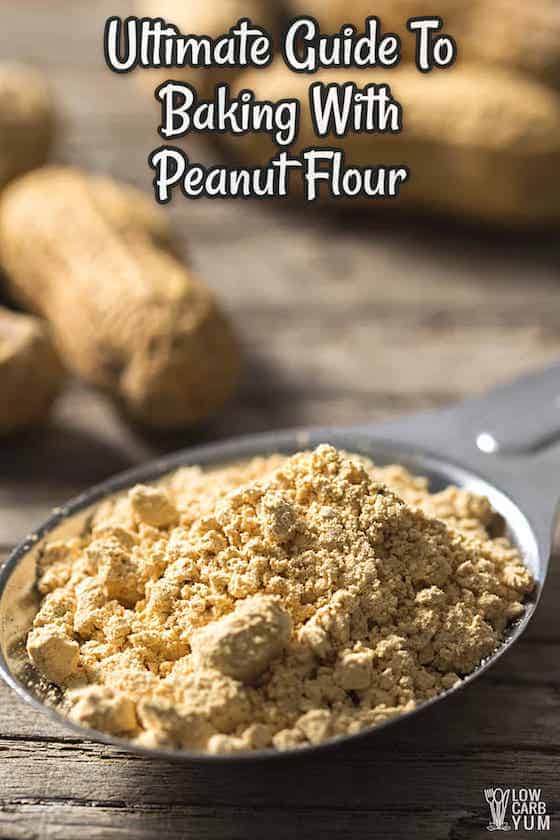 Article Index
Peanut flour is a great alternative if you are looking for flour options that are keto-approved or if you have gluten sensitivity. This flour substitute allows you to still enjoy baking delicious treats without having to use ingredients that aren't beneficial to you.
I love to use flour made from peanuts as a substitute in all of my chocolate and peanut butter baked goods because the strong peanut flavor pairs perfectly with those kinds of recipes.
If you are new to legume flours, you're in luck because it's not difficult to work with at all. Peanut flour is also kid-approved.
Make anything with this low-carb ingredient, and your children will be gobbling it down!
Can You Use Peanut Flour Instead Of All-Purpose Flour?
Peanut flour is a great alternative to traditionally all-purpose flour, especially if you are looking for something keto-friendly. You can use it just like you would any other kind of flour - just use equal amounts as a substitute in recipes.
Because this is a legume flour, it will slightly alter your recipe, especially flavor-wise. But it tastes like peanuts, which isn't always a bad thing!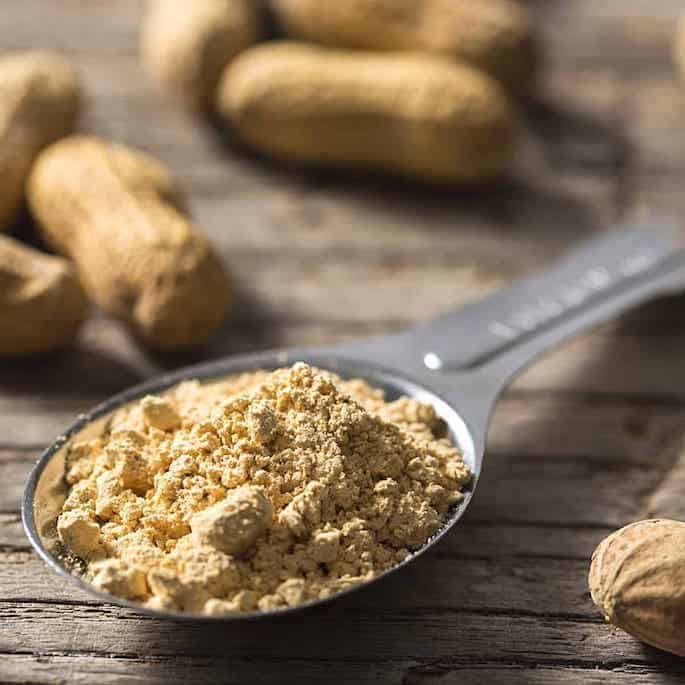 Is Peanut Flour Healthy?
Peanut flour is considered to be very healthy because much of the fat content has been removed, yet large amounts of protein are left behind. This is not the case with most nut and legume flours, making this alternative a more nutritious option than some others.
It is great for all kinds of lifestyles, whether you are keto, gluten-free, vegan, vegetarian, or just low-carb. It is also a great flour option to use if you want to add more protein to your diet.
Nutritional Information
In case you were wondering, here are the nutritional facts behind this nut alternative flour. These amounts apply to 60 grams or one cup of this baking ingredient.
257 calories
20 grams of protein
13 grams of fat
9 grams dietary fiber
Because this kind of flour has plenty of dietary fiber and no sugar, the total net carbs are very low. This makes it an excellent keto-friendly flour alternative!
Is Peanut Flour Okay for a Keto Diet?
Flour made from peanuts is a great option for those following a ketogenic diet because it is generally low in net carbs (as long as there aren't any additives like sugars).
Peanut-made flour is a tasty choice, especially for baking on the keto diet. It is full of protein and can really give your ordinary baked goods a nutritional and flavorful boost.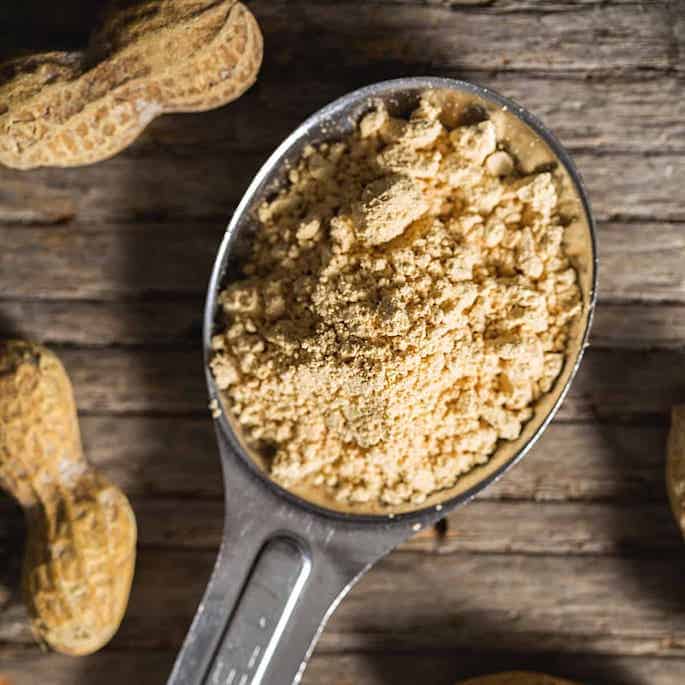 What Is Peanut Flour Made Of?
This flour comes from a simple process. First, peanuts are ground into a paste, and then the oil is pressed out, creating a less fatty and more protein-rich product. Then, the remaining paste is dried or roasted to create a flavorful flour.
So, peanut flour is basically the concentrated form of all of the good stuff in peanuts. It isn't overly fatty but still has plenty of protein and nutrition.
Baking With Peanut Flour
Baking with this type of flour is really pretty simple. It is one of the flour substitutes that is pretty low stress and easy to work with.
Peanut flour has a fine texture that is perfect for recreating light and airy baked goods. It won't weigh them down as heavier nut flours can, and it keeps the texture the same as a recipe made with regular flour.
The most important thing to keep in mind is that peanut flour has a distinct nutty flavor. It tastes like peanut butter even though the fat had been removed. Because of this strong flavor, you can't use this flour in just any recipe. You will need to make sure that it will taste good with the recipe that you are adding it to.
This flour can be complementary to chocolaty desserts or even certain fruit desserts. But, you will need to keep in mind that this is not a mild-tasting flour. It will take over the recipe if you don't keep its strong flavor profile in mind.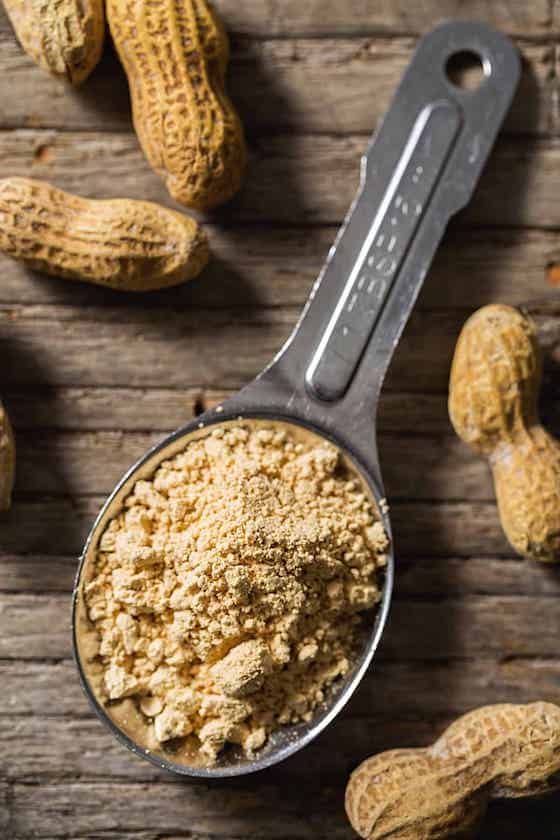 The Best Tips When It Comes To Baking With Peanut Flour
Like any flour substitute, making the switch can sometimes be tricky. So, here are some tips to help you use peanut flour successfully in your recipes!
Store the flour in a cool, dark place inside of an airtight container. Because it is made from peanuts, it can spoil quite quickly if not stored correctly. You will know if it has spoiled if the smell becomes more musty and stale.
Try using peanut flour in recipes that actually call for it specifically. This will help you get the hang of using it before you start to try it out as a substitute.
If you don't enjoy the texture that comes from using peanut flour, you could blend it with another kind like coconut or almond flour to mix it up.
Even though most of the fat has been removed from peanut-made flour, it is still a rich flour option. If your baked goods are coming out dense or oily, try cutting down on the other high-fat ingredients in the recipe.
If you find the peanut flavor to be too strong, you can blend it with other low-carb flours or only use it in certain recipes. Chocolate recipes generally taste amazing when made with this alternative ingredient.
Keto Peanut Flour Recipes To Try
If you are interested in using this type of low-carb flour, you should test out these recipes for yourself. They are all delicious and made using peanut flour!
Follow us on FACEBOOK, PINTEREST, and INSTAGRAM for even more tasty keto-friendly recipes!