There aren't a lot of peanut flour recipes out there and I was looking to bake up a plain sweet bread made with this flour substitute. I thought about adding peanut butter to give a more intense taste, but chose to leave it out. I wanted to see how much peanut flavor came through in the flour.
The peanut flavor is there, but it is not very strong. Although I didn't put any in my bread, chopped nuts or chocolate chips would be a nice addition. A drizzling of melted chocolate on top would really dress this bread up or it could be baked into donut molds and frosted with chocolate. It is a plain recipe so dress it up as you would like. If you want a sweeter bread, go ahead and up the sweetener to one cup.
Gluten Free Peanut Flour Bread
Author:
Lisa | Low Carb Yum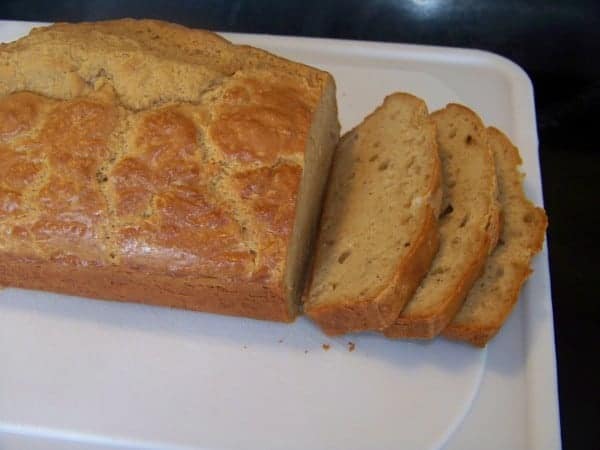 A sweet low carb peanut flour bread that is high in protein and great for snacking. This gluten free bread is delicious with a sugar free chocolate spread.
Instructions
Preheat oven to 350 degrees. Grease loaf pan.
Cream together butter, cream cheese and Splenda until light and fluffy. Beat in the eggs one at a time. Stir in vanilla extract. Combine peanut flour, guar or xanthan gum, and baking powder. Beat the flour mixture slowly into the butter mixture. If desired, chopped nuts or sugar free chocolate chips can be added at this point.
Pour batter into prepared loaf pan. Bake for 50-60 minutes or until golden brown and toothpick inserted in center comes out clean. Allow to cool about 10 minute, then remove from pan and cool on rack.
Notes
Makes 12 servings

Net carbs per serving: 3g
FREE eBook!
​LOW CARB TIPS and TRICKS
Subscribe now to receive your free copy of Low Carb Tips and Tricks which includes 20 easy to prepare recipes. Plus, get access to the weekly newsletter and special offers only for subscribers!
Related Posts